Try your hand at these fun GTA Online Jobs, crafted by members of the amazing Creator community - featuring a collection of Captures (which will earn you Double RP through May 26th as part of the ongoing Capture Week), plus a Last Team Standing, a Race and a Team Deathmatch that all take place in and around Bolingbroke Penitentiary. Read on below for details on each of these brutal prison yard confrontations, including links to bookmark them for easy access during your next GTA Online play session.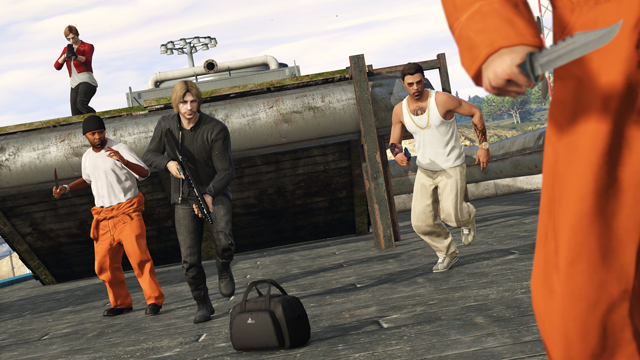 Penitentiary Panic by madminer95 (PC)
"The prisoners are protesting on the roof of Bolingbroke Penitentiary but its quickly turning into a riot. Take this opportunity to compete with the enemy team to steal the prisoners' stashes of drugs in the ensuing chaos."
This Capture, sent to us by the Leader of the Facepalm Community Crew, will have you and your Teammates gunning down not only the opposing Team on your hunt for two Duffel Bags, but also Bolingbroke's very own residents - the ornery Prisoners. With forced Assault Shotguns, you must make your way up to the roof, where the prisoners' stashes of drugs wait to be brought back to your Capture Point. Since the bags respawn when a drop-off is made, we recommended keeping several members of your Team camped out up top to snatch the newly spawned Duffel before the opposing Team can.

High Profile Transport by Caetano414 (Xbox 360 & Xbox One)
"A high profile inmate is to be transported to Bolingbroke Penitentiary. Police have increased security to guarantee his arrival."
Caetano414 from the L S Police Dept Crew set this Capture up as an inmate convoy in jeopardy of being compromised. One Team plays the part of the couriers, driving or shepherding the Police Prison Bus containing the precious cargo. The other Team starts a little further away, and must intercept the transport before it makes it to the Penitentiary's yard. If you are on the transport Team, have one of your guys hop into the Bus while the rest pack into the adjacent Police Riot armored vehicle. The Police Riot will provide your Team with a safe vantage point to protect the transport.

Prison Yard LTS by l-BuGs-l (PC)
This LTS has a rich array of cover options and ammo, necessitating strategic movement as you take out the enemy Team without putting your own single life in jeopardy. You're going to want to play the long game in this match, as rushing the opposing team is sure to get you taken out in the yard. There are plenty of pick-up options in the form of Sawed-off Shotguns and AP Pistols, but a properly lobbed Grenade may be just what you need to circumnavigate the abundance of cover in this map.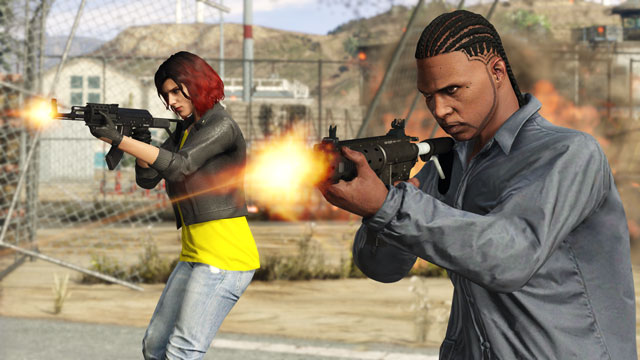 Prison Break by FIB-Agent_0 (PS3 & PS4)
FIB-Agent_0 has created a perfectly chaotic prison break in the form of this Capture in (and out) of Bolingbroke Penitentiary. Using Combat MGs, fight your way past Prisoners, Prison Guards, and the opposing Team to make your great escape. Only one of your Team needs to grab the Police Prison Bus and deliver it to your Capture Point, so have the rest of your Team grab up the RPGs and Miniguns to take out aerial and ground enemies, and provide cover fire for your fellow escapees.

Central Unit by alex777now (PS3 & PS4)
"Breaking out of prison, two rival gangs get in each other's way."
This well-crafted TDM pits two rival prison gangs against each other in an epic battle for domination of the jail yard. With choices ranging from Advanced Rifles to Molotovs, make your way to the high ground for the best possible advantage for raining down mayhem on your enemies. In the video below, Stronktank of the Content Creators PS4 Crew shows how to own this atmospheric Deathmatch, with a ridiculous 10 kill streak straight out the gate, and an impressive 3.25 KDR.

Prison Trench Run by EvolDave (Xbox 360 & Xbox One)
Now that you've escaped the pen – it's time for a victory lap in EvolDave's off-road Land Race. With tumultuous turns and some deep trenches to navigate, the Creator warns "DO NOT USE A SANCHEZ OR BLAZER!!!", as these will surely have you eating dirt. Another pro-tip from EvolDave – "Careful jumping across the trench, and duck when you go under the satellite dish."
Have you constructed your own uniquely-themed Job? Make sure to share it in the Newswire comments section for others to enjoy, or send it to Rockstar via Mouthoff so we can check it out and possibly share it with the GTA Online community here in the future.

Previously:
Player-Created Jobs featuring Lowriders: Custom Classics
Fun Sniper Jobs and Challenges from the GTA Online Creator Community
GTA Online Player-Created Jobs: Inspired by The Epsilon Program