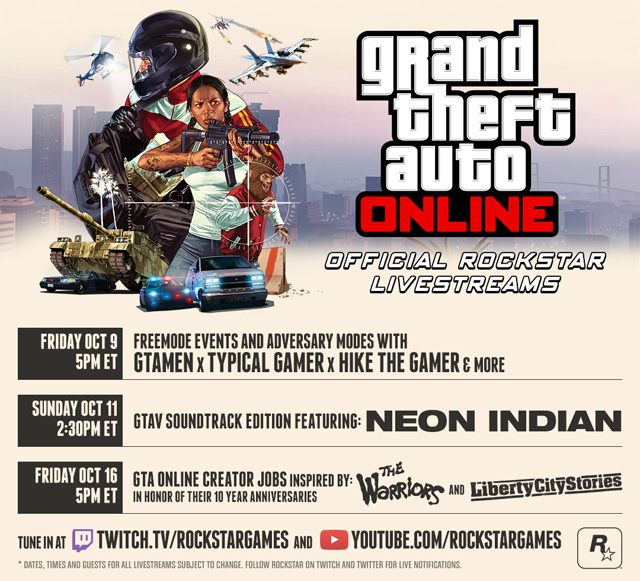 Get ready for a lineup of special GTA Online livestreams at the official Rockstar Twitch and YouTube Gaming channels this and next week featuring guests from the GTAV soundtrack and much more:



Friday Oct 9 5pm ET*
Freemode Events and Adversary Modes with GTA community guests
Visiting NYC all the way from the Netherlands, ubiquitous GTA fan and Rockstar livestream veteran Gtamen (aka The Liberty Lunatic) will be co-hosting this session alongside other special guest players including Typical Gamer, Hike, Casey from GTAGaming, Juan from GTA-Growth and more. Alongside the Rockstar Broadcast Team of Bangers, British Voice, Jersey Voice, Klang, Tex and Wolfman, we'll be playing the new Freemode Events and Adversary Modes and a best-of selection from Gtamen's weekly Top 3 Creator Maps live on stream.

Sunday Oct 11 2:30pm ET*
GTAV Soundtrack Edition featuring NEON INDIAN
Responsible for signature GTAV Soundtrack tune "Change of Coast" (heard on Radio Mirror Park and on The Music of Grand Theft Auto V OST), Neon Indian's new LP VEGA INTL. Night School is coming out next week October 16. We're excited to welcome Alan and the band for their first appearance on the Rockstar livestream while in town for a tour stop at Webster Hall - they'll be previewing tracks off the new album and getting into some GTA Online Adversary Modes and more. We're also planning on doing some autographed GTAV soundtrack CD giveaways on Twitter immediately following the stream so make sure you're tuned in on Sunday.

Friday Oct 16 5pm ET*
GTA Online Creator Jobs Inspired by THE WARRIORS & GTA LIBERTY CITY STORIES (10 Year Anniversary Throwback Jobs Stream)
It's been ten years since the release of GTA Liberty City Stories and our videogame adaptation of The Warriors - and to celebrate, we'll be hosting a special GTA Online Throwback Jobs stream featuring creations directly inspired by those titles. If you've made a Job of any sort in honor of either The Warriors or Liberty City Stories, make sure to have them tagged as either #Warriors #TheWarriors #LibertyCityStories #GTALibertyCityStories #GTALCS or #LCS as we're actively playing through your homages and picking great ones to play live with community guests.

Mark your calendars for these broadcasts and stay tuned for more to be announced.

* Please note that with all livestreams, dates and times are very much subject to change. Follow twitch.tv/rockstargames, youtube.com/rockstargames and twitter.com/rockstargames to get live notifications of when streams begin.