Gilded guns, unabashedly gaudy fashions, gull-winged sports cars taking flight, and hedonistic Los Santos citizens celebrating their ILL-GOTTEN GAINS and greedily sopping up special opportunities to reap bonus GTA$, RP and more - it was all part of last week's GTA Online Event Weekend. Read on for the official winners of the Event Weekend's #illgottengains1 Snapmatic contest, highlights from our action-packed Event stream with the Funhaus boys and surprise guest Lui Calibre, and more. Make sure to stay tuned for info on the ILL-GOTTEN GAINS Update Part Two coming soon!
GTA ONLINE SESSIONS: ILL-GOTTEN GAINS PART ONE FEATURING FUNHAUS + LUI CALIBRE + LAZLOW
To kick off the ILL-GOTTEN GAINS Part 1 Event Weekend we were joined on the official Rockstar Broadcast Event livestream by Adam Kovic, Bruce Greene, James Willems, Lawrence Sonntag and Sean "Spoole" Poole – collectively known as FUNHAUS. Rockstar Broadcast veteran Lui Calibre happened to be visiting the FUNHAUS offices that day and joined in the festivities as a special surprise guest to put Lazlow and the Rockstar Broadcast Team to the test. Check out the vid above to see some choice highlights.
Bookmark and give these featured Ill-Gotten Gains themed Jobs and challenges a try for yourself:
COLLECTIBLE DESIGNER T-SHIRTS: BONUS ENEMA T-SHIRT AVAILABLE IN CRATE DROPS NOW FOR A LIMITED TIME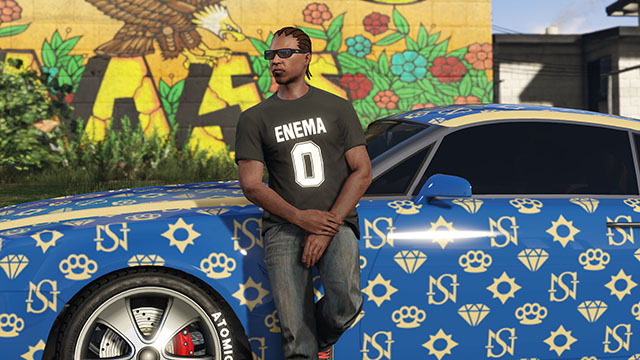 If you missed out on collecting the weekend-exclusive quartet of designer tees, not to worry – we've got an additional bonus tee available starting today bearing the name of one of Portola Drive's luxury retailers (pictured above). The Enema 0 t-shirt will be available in all Crate Drops for a limited time only - so jump in your Osiris or Swift Deluxe to race there first.

You may also notice another new addition in the GTA Online menus while you're heading into the game - we've made it easy to launch a Playlist full of the popular Adversary Modes - with the new Featured Playlist option on GTAV's launch screens. There will be an updated collection of fan-favorite Adversary Modes every week, so you'll have plenty of chances to put our Adversary Mode Game Tips into practice.
#illgottengains1 SNAPMATIC WINNERS
Photographers were quick off the mark in taking imaginative Snaps inspired by and featuring content from the ILL-GOTTEN GAINS Update: Part One. Having scoured Social Club for the best, we're pleased to present our favorite selections here, each of whom receives GTA$1M. We've also included a few honorable mentions - great work to all for doing such a bang up job showing off all their spoils, including rides, weapon skins and everything in between.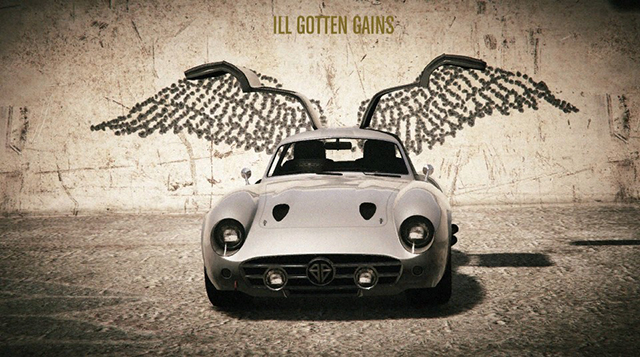 Wings have been earned with this sweet bullet art / car pr0n from bee1108.fellow of the always prolific GTAPhotographers.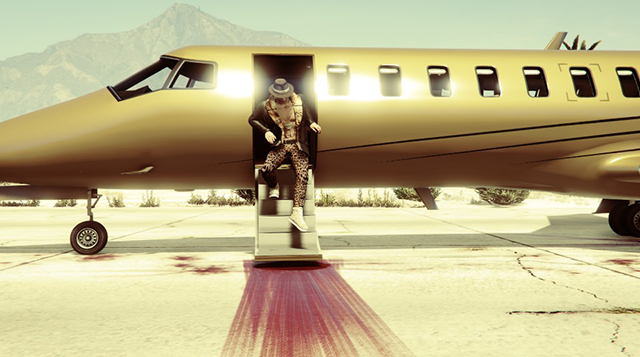 Snapmatic Art's quaid86 may have been around the world on the new Luxor Deluxe but by the looks of that eponymous "Red Carpet" of blood, he's the one doing the player hating. Extra style points for rocking the fresh leather fur.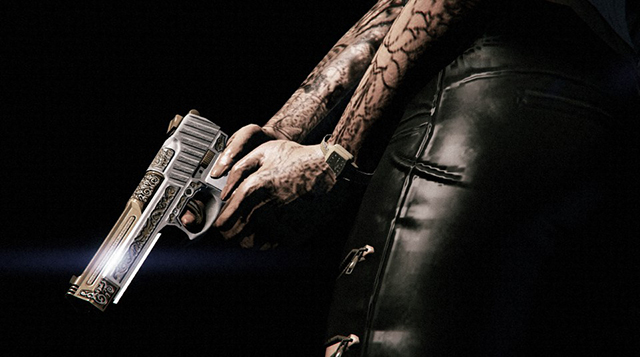 Hell bent in leather. missnxkolette knows it's all in the details as she perfectly captures her pistol's Yusuf Amir Luxury Finish - getting the light to shine on her ".50" piece just right.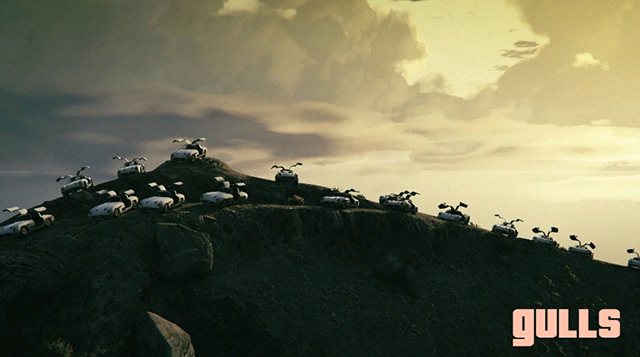 We recently recognized zebfar's talent for cinematic adaptations and now we are proud to welcome zeb to the illustrious hall of Snapmatic contest winners for this brilliant entry, "Gulls." Using the magic of the Creator, zebfar captured this flock of seagulls Stirlings in repose atop Mount Gordo.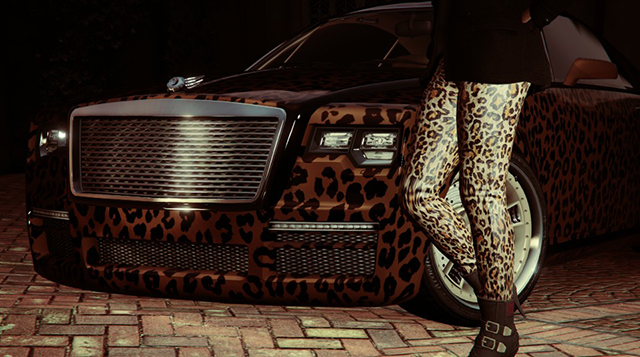 There's something to be said for good accessorizing. In "I'LLGOTTENKITTY," chaoszake coordinates the leopard pants with the Cheetah-skinned Windsor.
Honorable Mentions...
EVENT SWEEPSTAKES WINNERS
We're right in the midst of contacting and verifying winners of the Social Club Event Sweepstakes gear giveaway - don't forget to check your inbox for an email from Rockstar. We've had one response so far, and still have four more prizes to award. If you don't respond within 24 hours, we'll be forced to select new potential winners, so keep an eye out... or you'll potentially miss out.
Stay tuned for details on ILL-GOTTEN GAINS Part 2 and its corresponding Event Weekend in the near future.


Previously:
The ILL-GOTTEN GAINS Event Weekend: Part One - June 12th-14th
GTA Online ILL-GOTTEN GAINS Update: Part One Now Available