This past Saturday, the second instalment of the Red Hook Crit 2016 Championship Series in London delivered powerhouse performances, intense competition and the most elite field of cyclists in the history of the Crit. Series leader Colin Strickland took his third consecutive RHC win with another commanding display in the men's field, while Great Britain's own Olympic gold medalist and three time world champion Dani King won in a dominating first-time RHC appearance.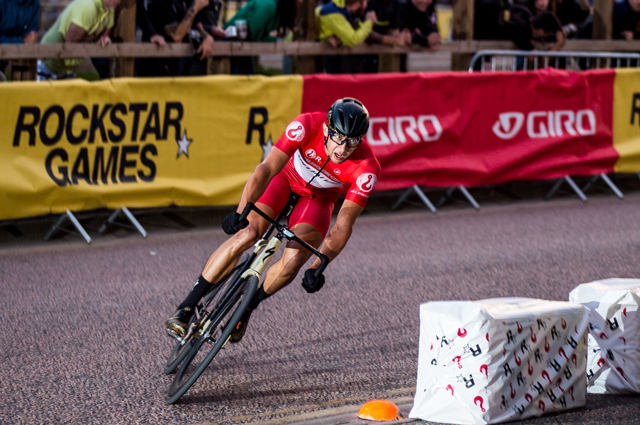 Brooklyn No.9 winner Colin Strickland. Photo: @tornanti_cc
King earned pole position in the afternoon's qualifying sessions, followed by 2015 series champion and five time RHC winner Ainara Elbusto qualifying merely a few tenths of a second behind King. Contenders Jo Smith, Ash Duban, and Vittoria Riati were also present to vie for the win.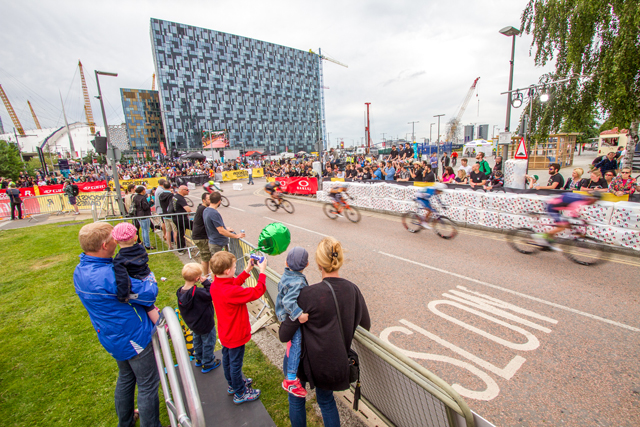 Spectators watching the women's feature race. Photo: @tornanti_cc
Elbusto, characteristically, won the first lap prime before King forced the others into action two laps later as she attacked into turn one taking Elbusto and Jasmine Dotti with her. Meanwhile, multiple riders attempted to either chase or bridge but only Ash Duban was able to separate herself from the main group and bridge to the leaders.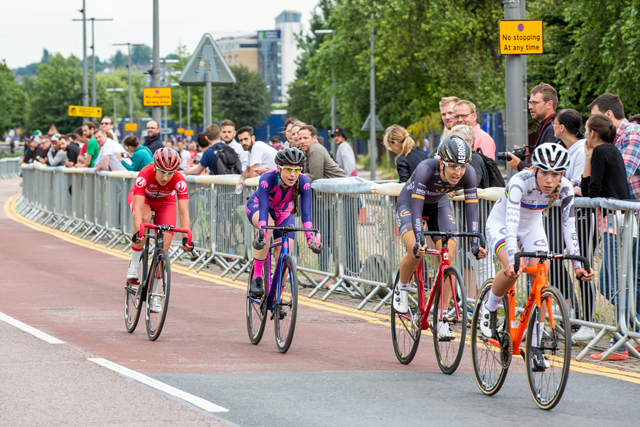 Dotti, King, Duban and Elbusto Leading the race with a large gap. Photo: @tornanti_cc
Suddenly, mechanical failure for Elbusto changed the dynamic of the race. With a perennial favorite and King's main rival now out of commission, King attacked again and quickly distanced herself from Duban and Dotti. King rode aggressively, gaining precious seconds and sweeping away a portion of the field on each lap (in the RHC, riders are forced to drop out if they are lapped). King's herculean effort ultimately dropped all but the top three riders from the race.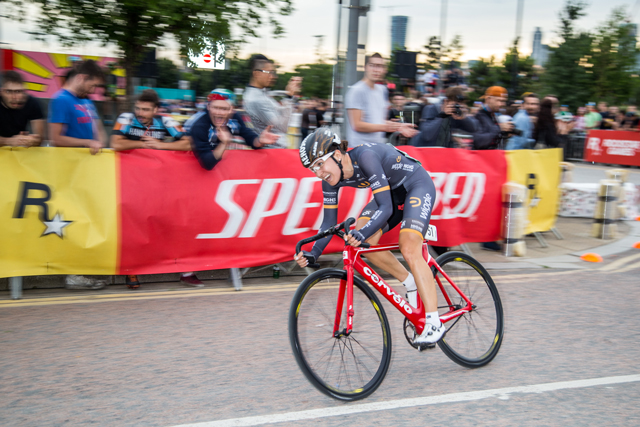 King receiving cheers on her home turf while powering through a turn. Photo: @tornanti_cc
Never before has the Red Hook Criterium seen this level of domination from any rider, male or female. Given King's Olympic pedigree, many anticipated that she would contend for the podium, but no none thought she'd upend the race so completely, and she rode across the finish line to deafening cheers from the assembled crowd.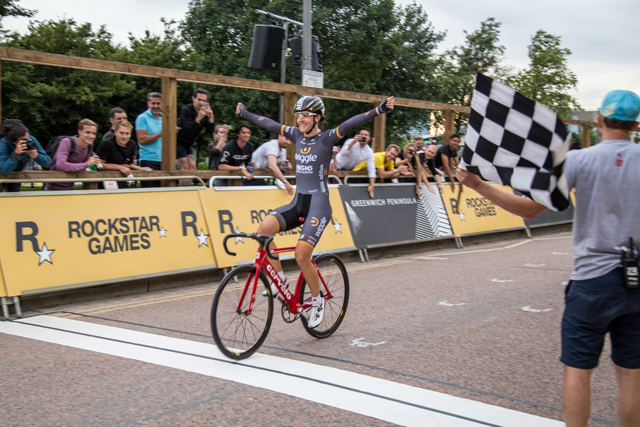 Great Britain's own Dani King brings home a win in London. Photo: @tornanti_cc
WOMEN'S RESULTS
1. Dani King (Wiggle High5, UK)
2. Jasmine Dotti (Ridewell Oscar Cycling, IT)
3. Ash Duban (Affinity Cycles, US)
1st lap (breakfast prime): Ainara Elbusto, ES
Mid-way (dinner prime): Dani King, UK
Fastest Lap Qualifying Time: Dani King, UK (1:19.198)
Rockstar Games Top Antagonist: Ash Duban, US
WOMEN'S SERIES STANDINGS
1. Ash Duban – 57 Points
2. Vittoria Reati – 44 Points
3. Ainara Elbusto – 44 Points
4. Jo Celso – 40 Points
5. Kiera McVitty – 40 Points
6. Francisca Campos – 39 Points
7. Dani King – 38 Points
8. Veronika Volok – 33 Points
9. Johanna Jahnke – 33 Points
10. Jasmine Dotti – 30 Points
Meanwhile, in the men's field, 95 athletes from 38 countries, including national road and criterium champions, world tour and professional six-day track racers, lined up to start the Red Hook Criterium London No.2 in the deepest field in the race's history.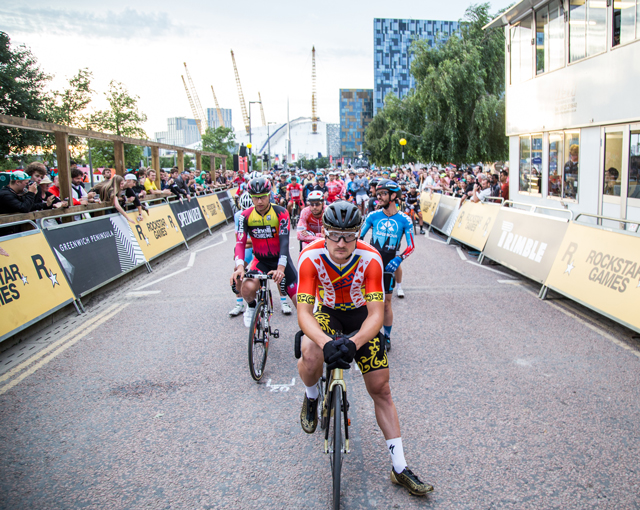 Aldo Ilsec qualified pole position, followed by 2015 series winner Ivan Ravaioli and Augusto Reati. Photo: @tornanti_cc
After Great Britain's Alec Briggs won the first lap prime, no clear leader emerged as multiple riders shuffled positions forcing rider after rider off of the back of the field. Current American road and criterium national champion Daniel Holloway, and ex-pro tour rider Ignazio Moser each sought to force a lead but were kept in check by eager riders behind.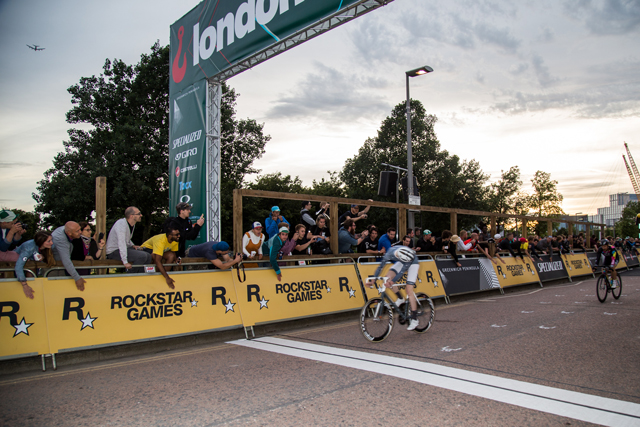 Alec Briggs checks his gap as he takes the first lap prime. @tornanti_cc
An opportunity to make a decisive move finally materialized after Strickland countered Luis Junquera's mid race prime win. The attack, accompanied by fellow American David Santos proved to be short-lived as the main field was quick to prevent Strickland from riding away by himself for the third race in a row.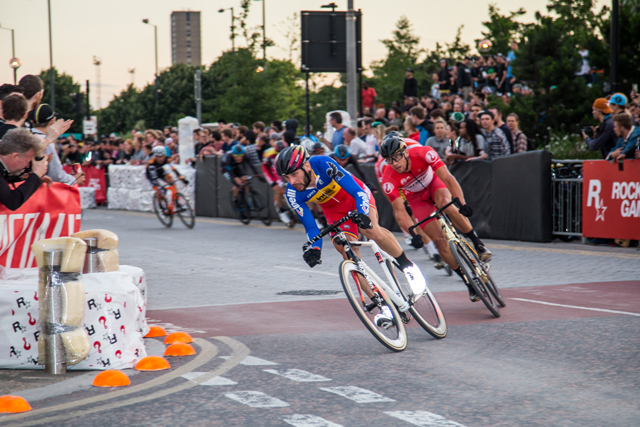 Strickland close on Petrache's rear wheel. @tornanti_cc
Amazingly, despite the pack's concerted efforts, Strickland counter-attacked with his own move to establish a small gap with Marius Petrache, current national road champion of Romania, joining in his slipstream. However, Strickland soon grew frustrated with Petrache's pace and set off on his own.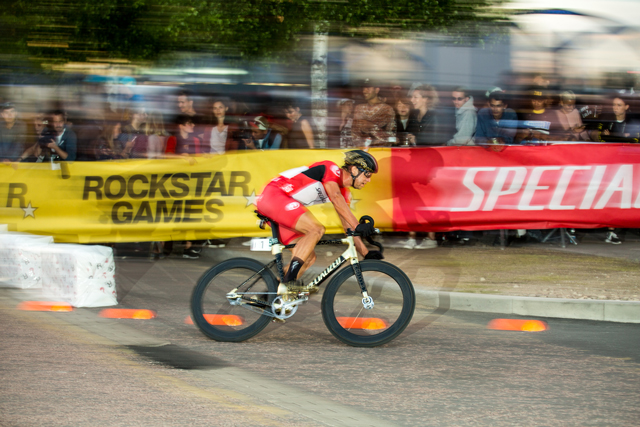 Strickland on his breakaway before taking the win. @tornanti_cc
Other riders, including Stefan Schafer, Ivan Ravaioli and Loic Chetout, gave chase and traded places at the front of the pack, while Strickland's loyal teammate Aldo Ilesic surfed the front as a deterrent to any larger chase effort.
After multiple failed attempts to rally the chasing pack around him, a huge effort by Chetout with only four laps to go nearly bridged the way to Strickland alone – while ultimately fruitless, this impressive move earned Chetout the Rockstar Top Antagonist Award and second place, as Strickland powered to his third consecutive win.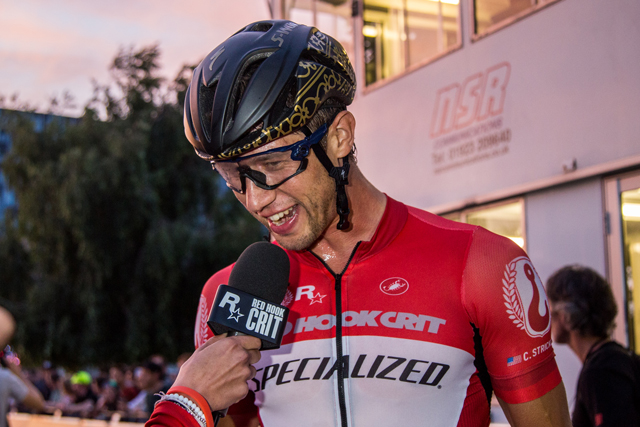 Strickland wins his third consecutive RHC. @tornanti_cc
MEN'S RESULTS
1. Colin Strickland (Allez Allez Specialized, US)
2. Loic Chetout (Cofidis Credit Solutions, FR)
3. Aldo Ino Ilesic (Allez Allez Specialized, SL)
4. Ivan Ravaioli (Team Cinelli Chrome, IT)
5. Daniele Callegarin (Ridewill Oscar Cycling, IT)
6. David Santos (Aventon Factory Team, US)
7. Marius Petrache (Team Cinelli Chrome, RO)
8. Alvise Zanasca (Bahumer Racing TEAM, it)
9. Stefan Schafer (Maloja Pushbikers, DE)
10. Alec Briggs (LaClassica Racing Team by Speedgang, UK)
1st lap (breakfast prime): Alec Briggs, UK
Mid-way (dinner prime): Luis Junquera, ES
Fastest Lap Qualifying Time: Aldo Ino Ilesic, SL (1:11:158)
Rockstar Games Top Antagonist: Loic Chetout, FR
MEN'S SERIES STANDINGS
1. Colin Strickland – 73 Points
2. Aldo Ino Ilesic – 54 Points
3. Ivan Ravaioli – 54 Points
4. Daniele Callegarin – 46 Points
5. Alec Briggs – 38 Points
6. Olivier Leroy – 34 Points
7. David Santos – 32 Points
8. Loic Chetout – 30 Points
9. Augusto Reati – 28 Points
10. Daniel Holloway – 22 Points
Congratulations to all of this weekend's fierce competitors, we're looking forward to another spirited race later this summer in Barcelona on August 27th. And for more details about the series, make sure to visit redhookcrit.com or the official Instagram, Facebook, and Twitter.

Previously:
The Red Hook Crit Championship Series Continues in London on Saturday, July 9th