True to form, GTAV fans have continued to share some phenomenal photos of Los Santos and Blaine County that at times nearly have us rubbing our eyes and scratching our heads in disbelief. Scroll down the page for some of our recent favorites, and be sure to keep a close eye on the Trending photos at the Snapmatic section of Social Club to stay up to date with the latest and greatest photographers, and perhaps even find inspiration for your next photo-scouting expedition.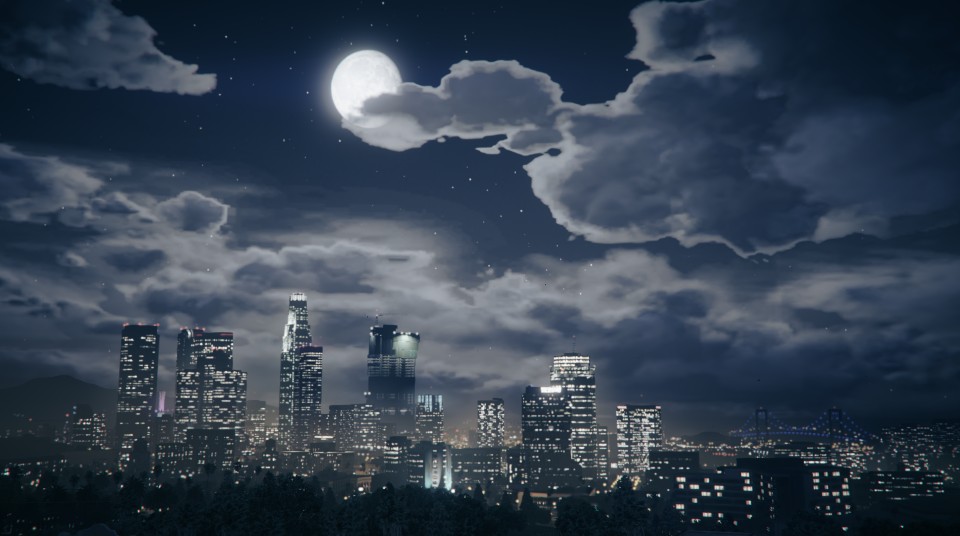 A full moon shines through passing clouds to illuminate the city of bloodshed and broken dreams. Credit to akbar24601 for this ethereal nightscape of the Los Santos skyline.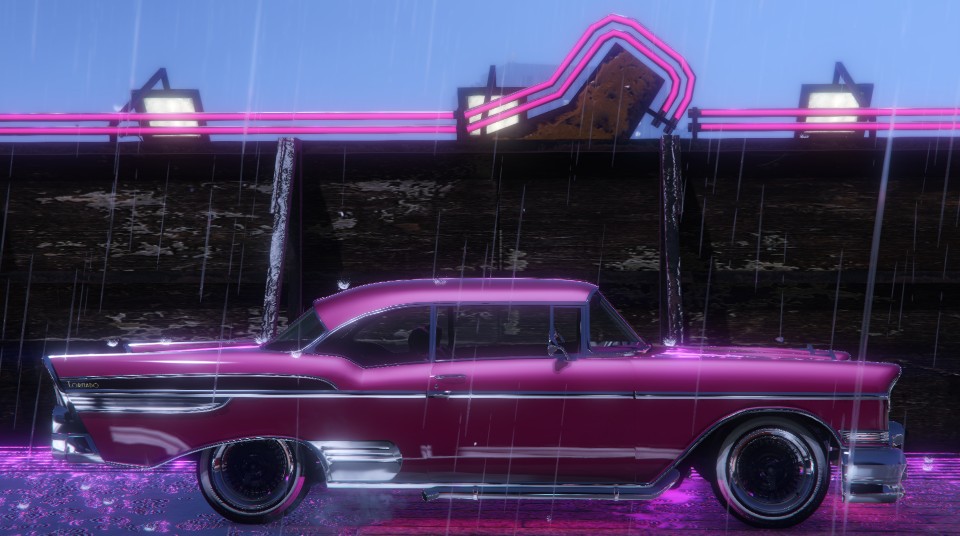 We really love the play on colors in repdek's snapmatic showing off his hot pink Declasse Tornado on top of the Vanilla Unicorn.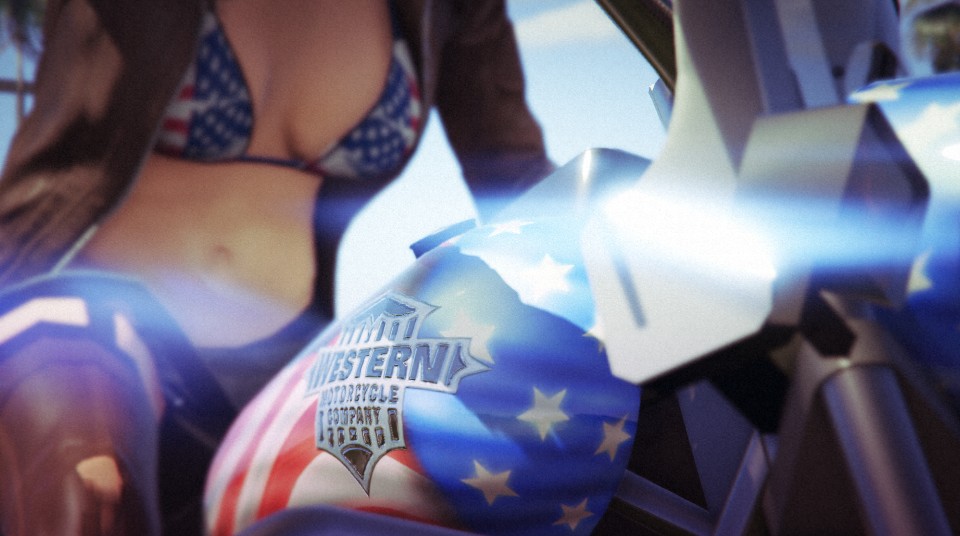 sickbiyatch's Western Sovereign with a bikini clad patriot only brings one thing to mind... 'Murica.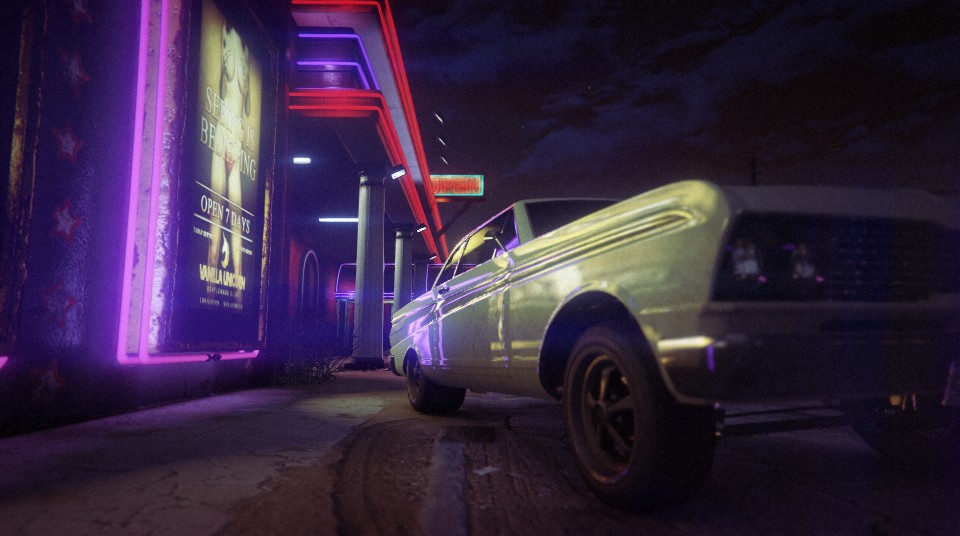 Seeing Is Believing - baya88's Vapid Blade makes an unscheduled pit stop at a reputable and well-known location in a back-alley in Strawberry.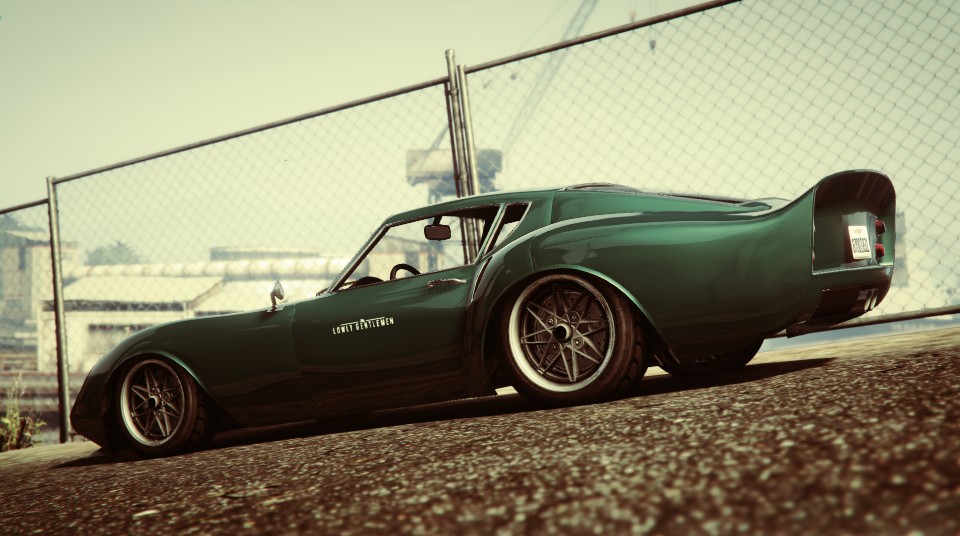 hanzen2402 proudly represents the infamous Lowly Gentlemen Crew near the LSI tarmac.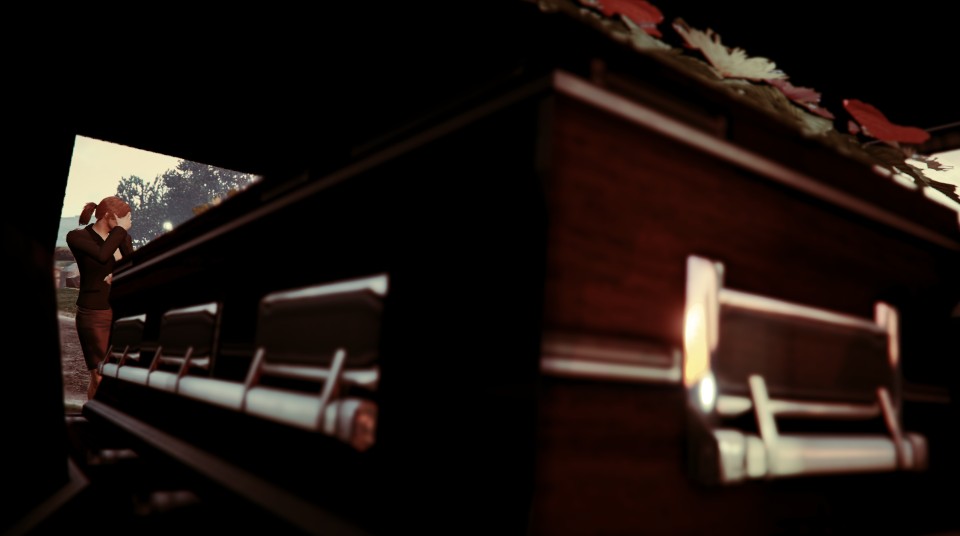 ChaosZake shows that not everyone in Los Santos has the luxury of respawning.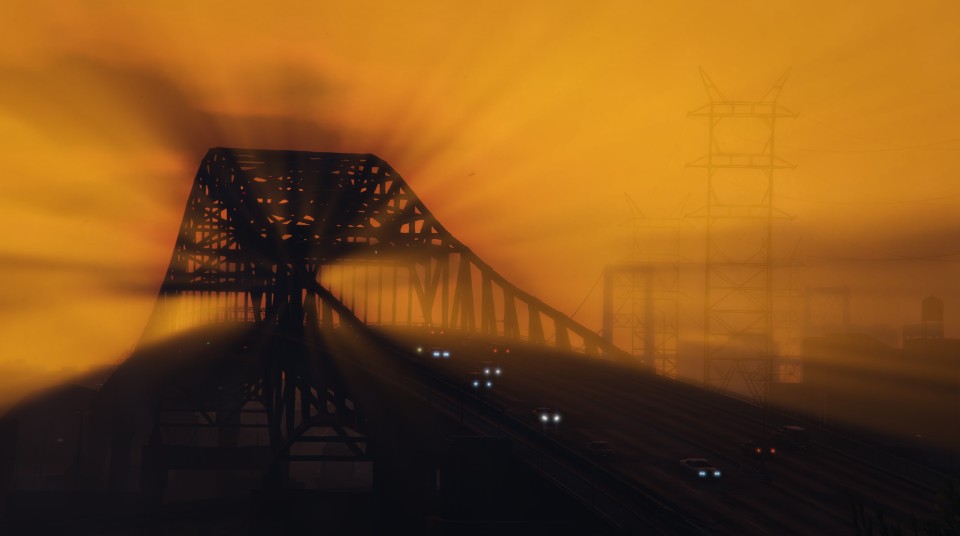 Arioza perfectly captures the last rays of the day coming through the steel lattice of the El Burro Heights bridge. Check out a recent interview with Arioza about her particular style of GTA photography on the recenty featured illsnapmatix website.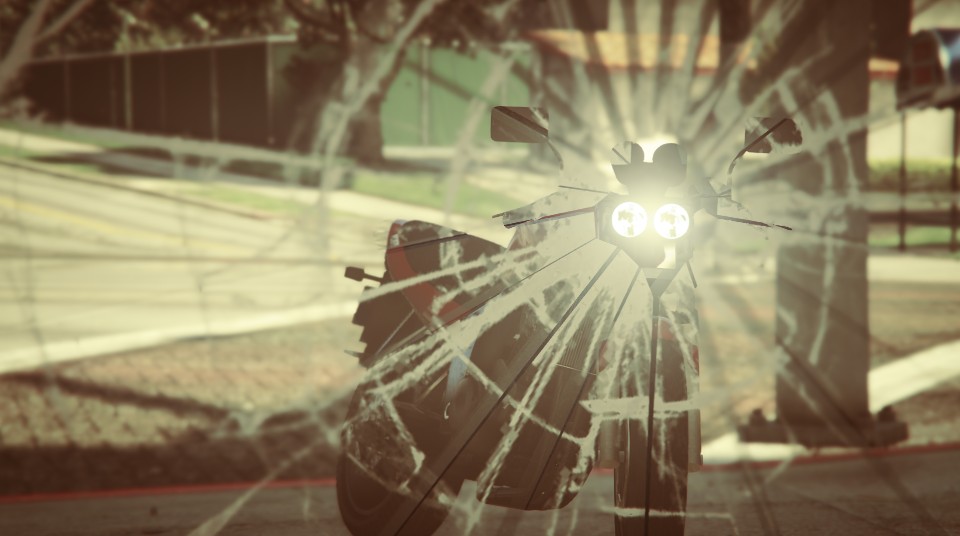 Motorbike headlights pierce Cratoz911's cracked windshield in a creative and refreshing contribution to the recent trend of broken glass Snapmatics.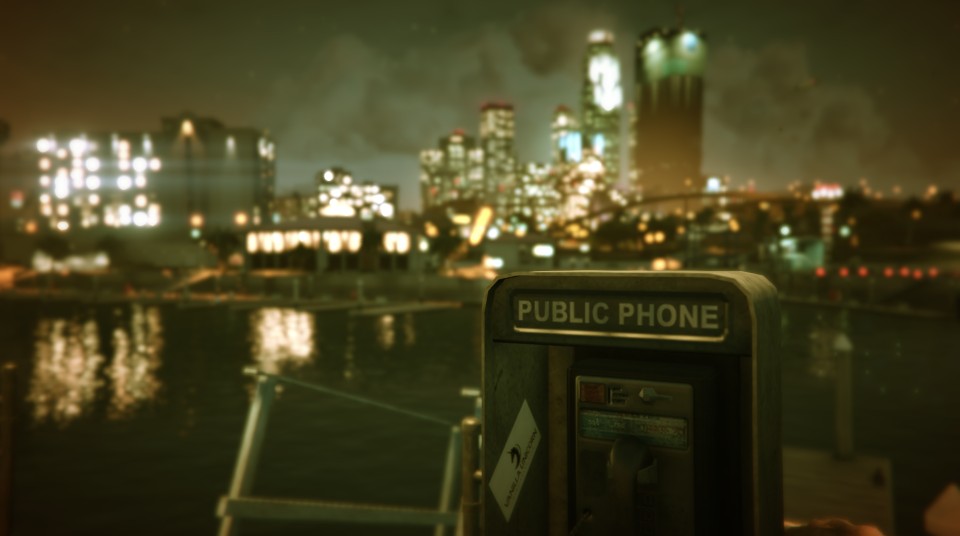 .Bjodjus. captures this ancient relic: the public telephone.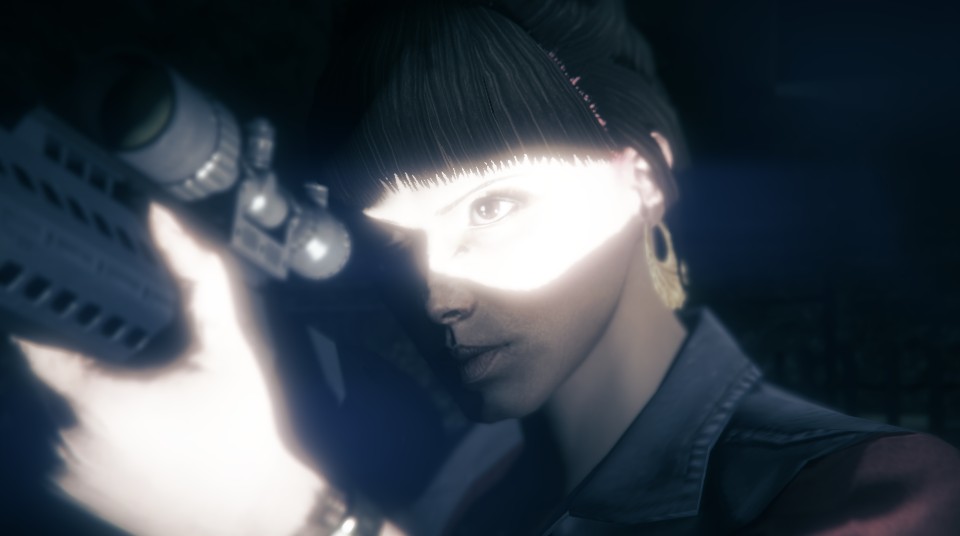 An unlikely but determined sniper takes aim at oncoming headlights near West Vinewood. Taken by Duffi_21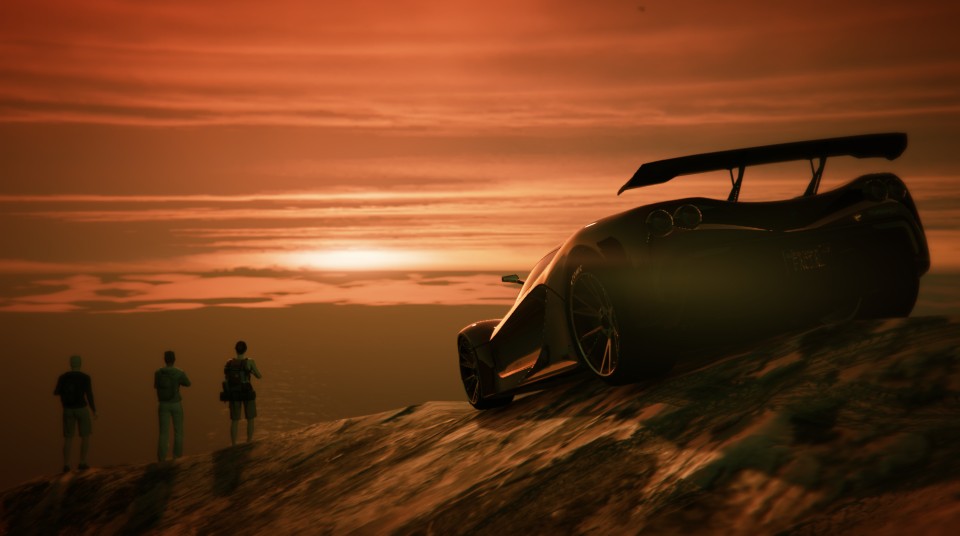 FKJackFacial demonstrates that hiking isn't the only way to get to enjoy the majestic views from the top of Mount Chiliad.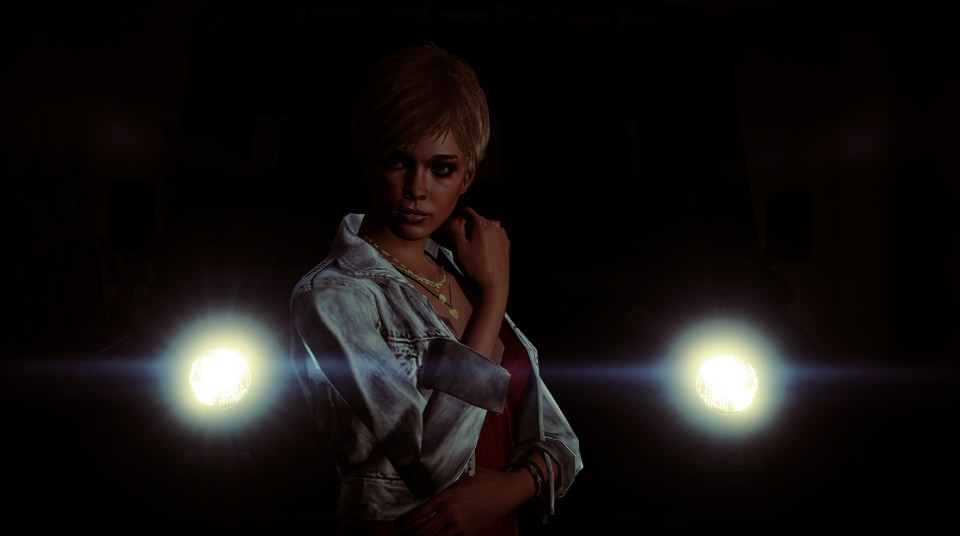 Unfazed by the oncoming headlights, this sultry nocturnal urbanite got caught making eyes at FKJackFacial near Vespucci Beach.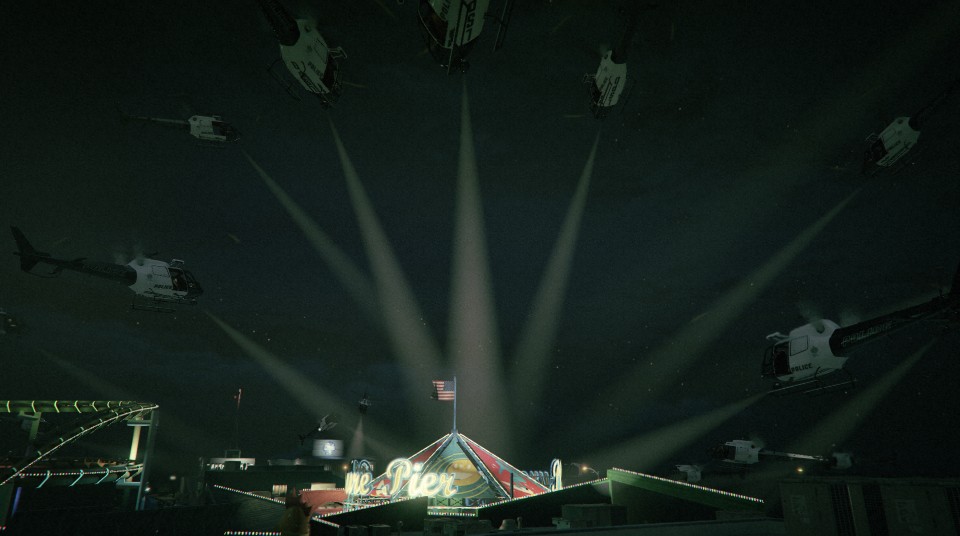 You can run..... The LSPD birds corner a fugitive hiding under the big top at Del Perro pier. Taken by R1CHIEC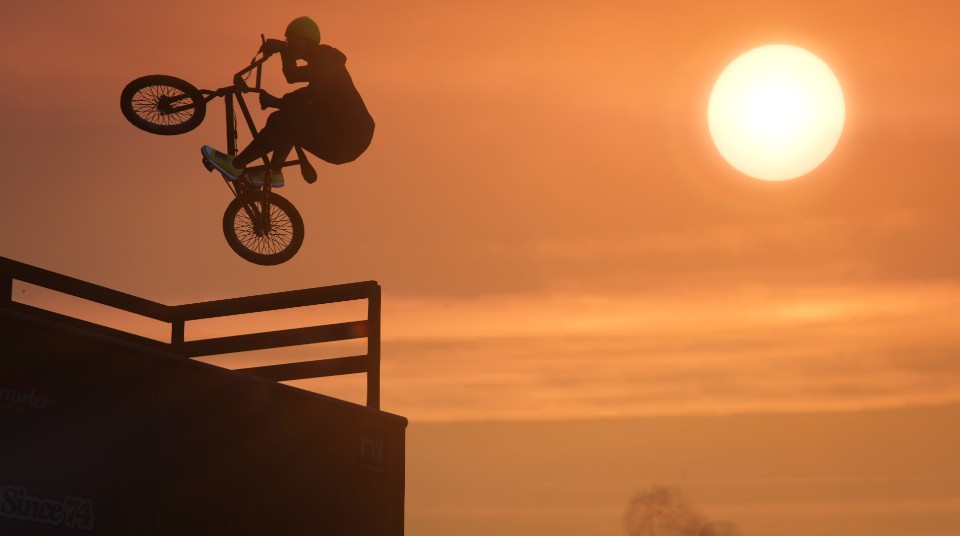 Hanging out at the half pipe near Chamberlain Hills, MrTohoto perfectly captures a BMX rider's silhouette against the setting sun .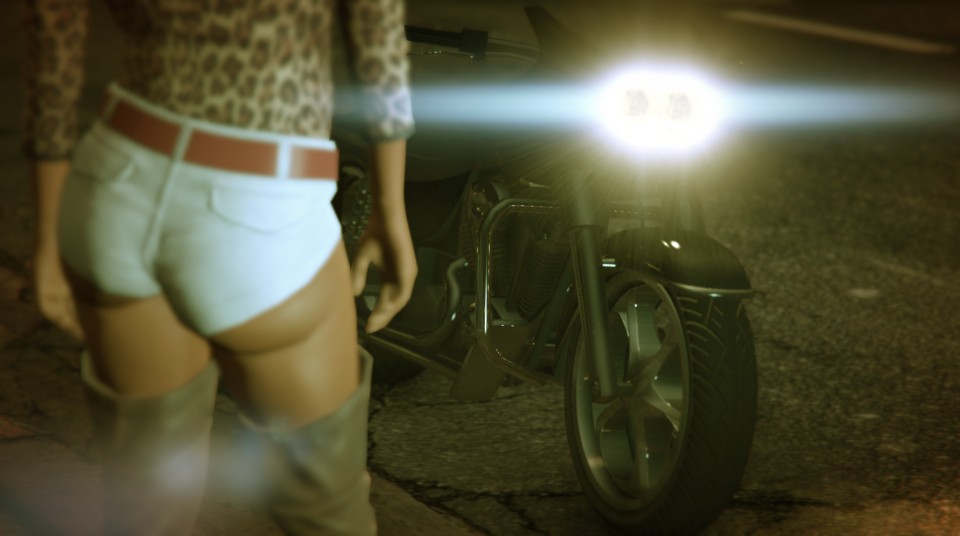 Looks like there's still enough room on the back for a comfortable ride along. Taken by Riff_Raff_702.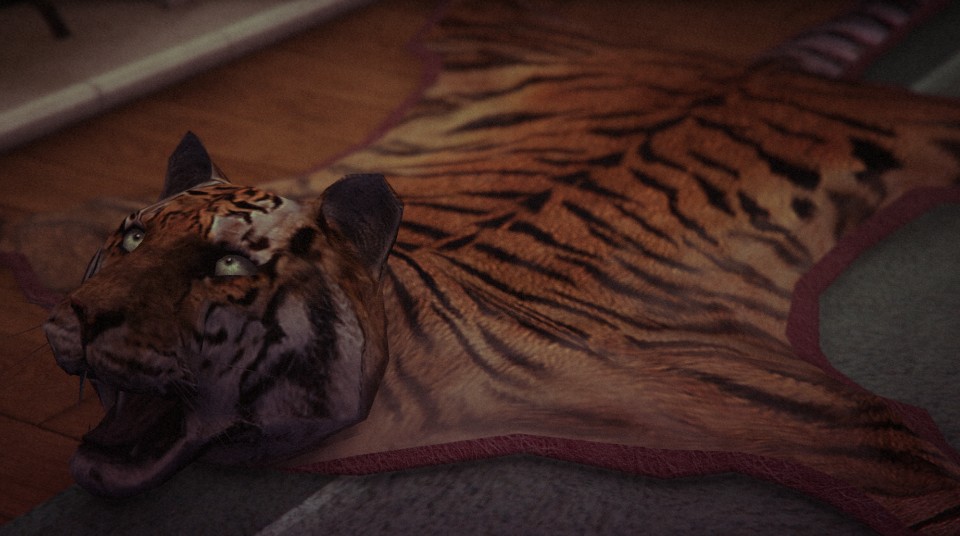 This Bengal tiger looks as surprised as any to find himself laid out on the floor of a Rockford Hills mansion. Taken by SilverFox1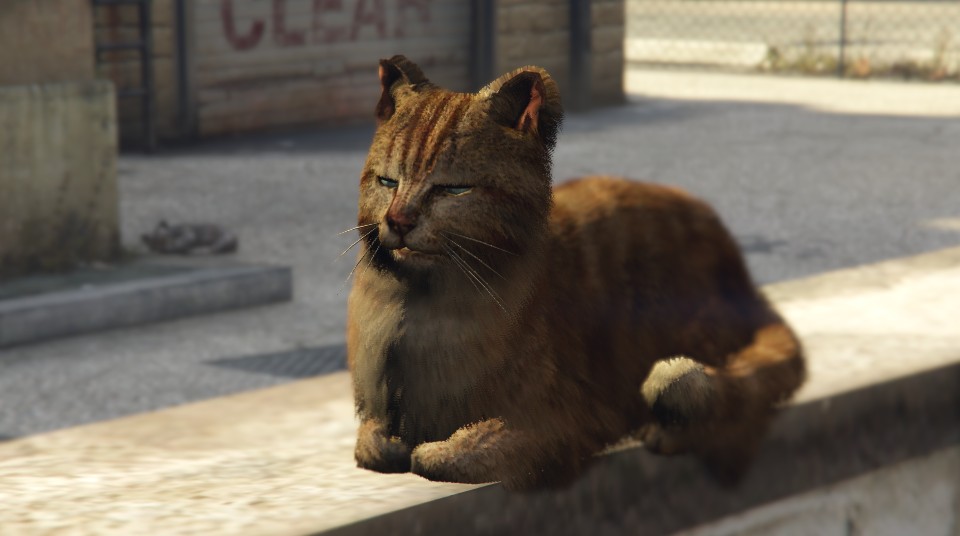 By contrast, this "tiger" looks perfectly comfy resting out in the open near Sandy Shores. Taken by JS516Hunter.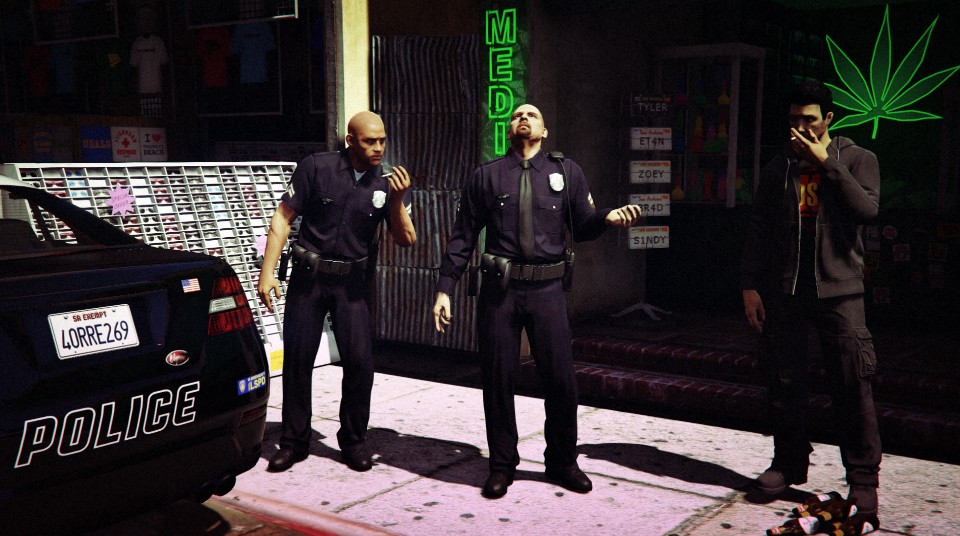 HairyHole grabs a quick shot of Los Santos' Finest leading a thorough investigation of the Smoke On The Water dispensary.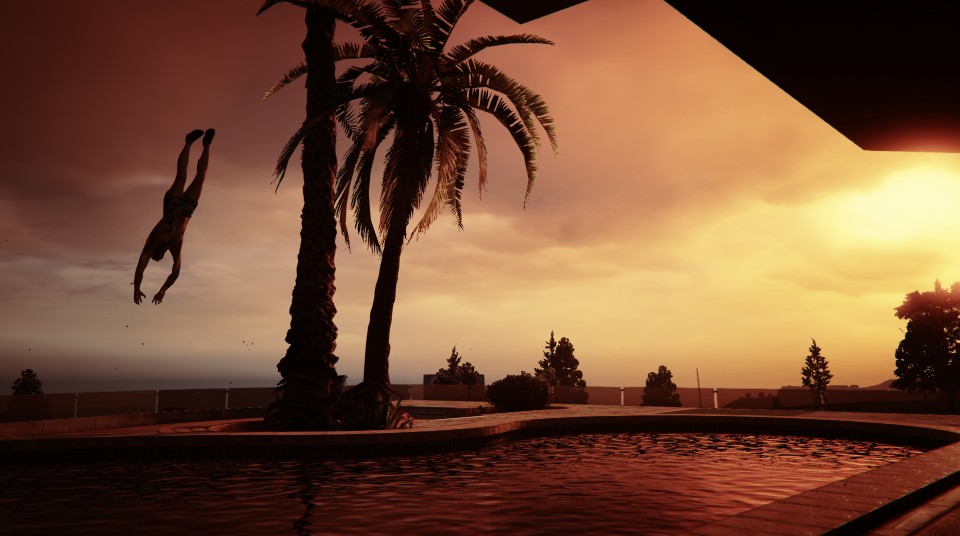 A Vinewood Hills resident enjoys an early evening swim in defense45's perfectly framed advertisement for the high life.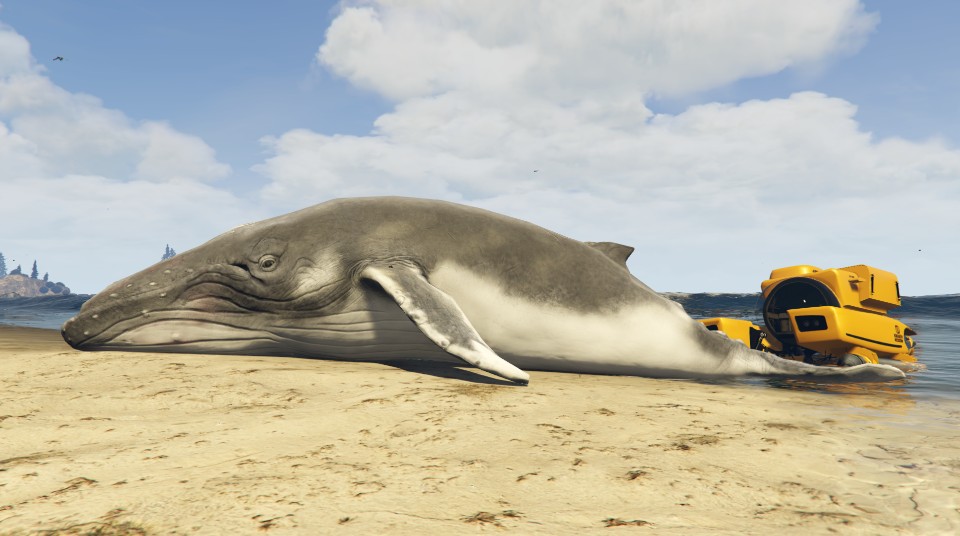 We're not sure if Randydevil26's Kraken is here to save the day or simply showing off its latest catch.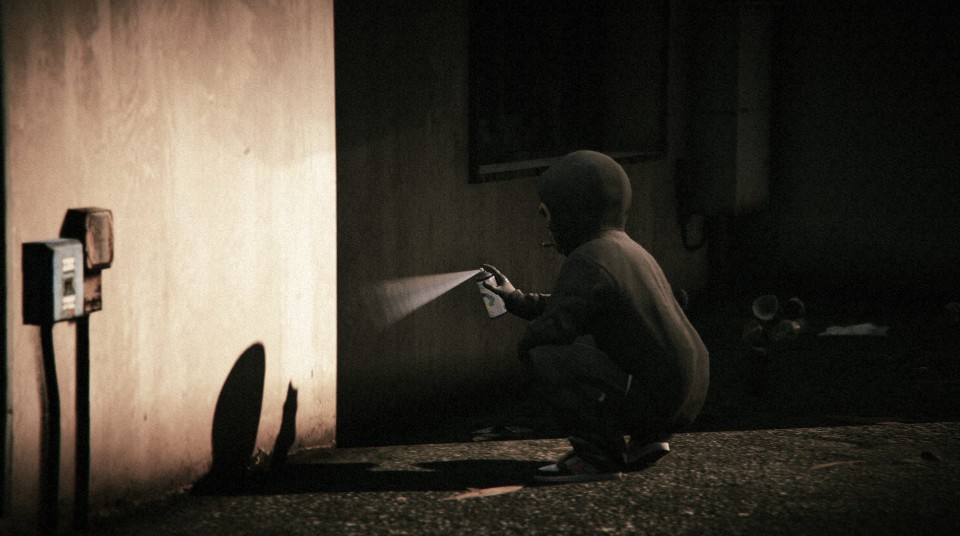 -Entre-axe-67's hunt to track down all the Monkey Mosaics in Los Santos just happened to lead him to this mysterious fellow squatting near Burton.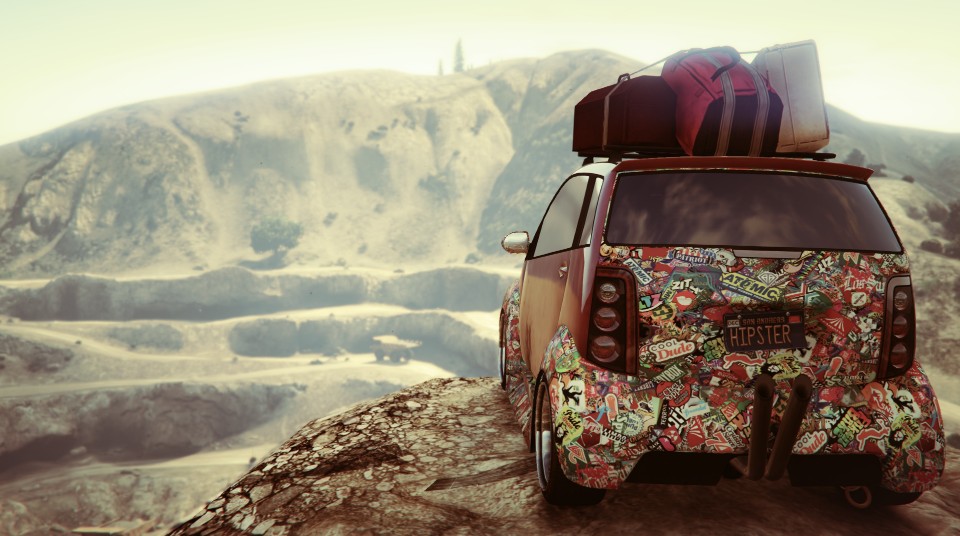 This shot of this fully customized Benefactor Panto overlooking Davis Quartz is appropriately dubbed "Endless Roadtrip". Glad to see ZazDillinger still rocking the HIPSTER license plate earned as part of the #IMNOTAHIPSTER Snapmatic contest.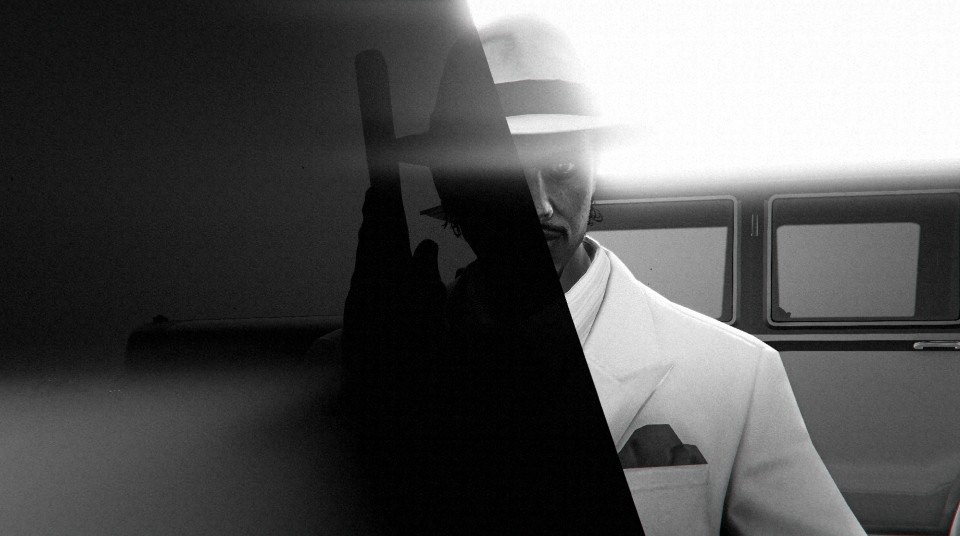 ChaosZake arranges the perfect angle to pull off this shot titled, "Half Gangster". Great use of the Snapmatic filters makes for a cerebral shot.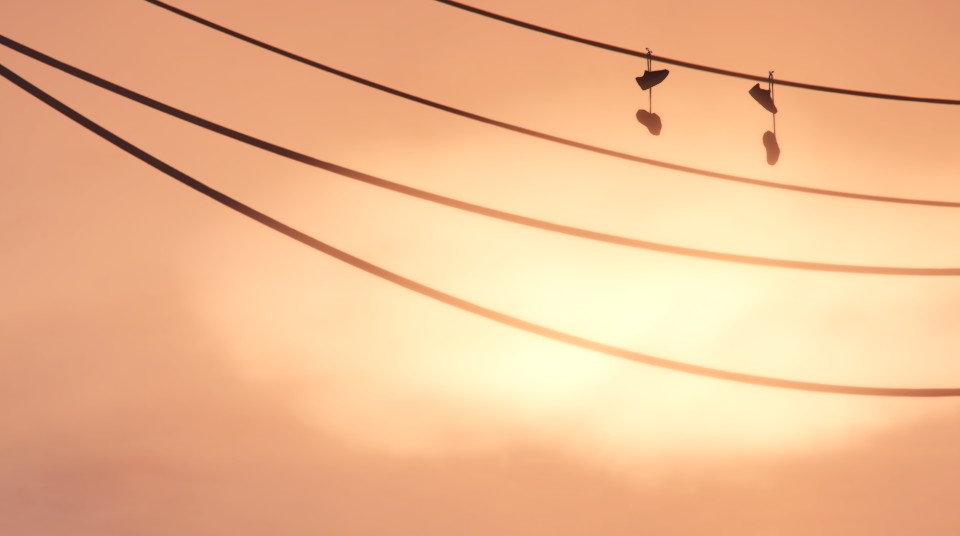 K1LL3R.BUST3R's snap indicates there may be something a bit more nefarious going down on Grove Street than just misplaced shoes.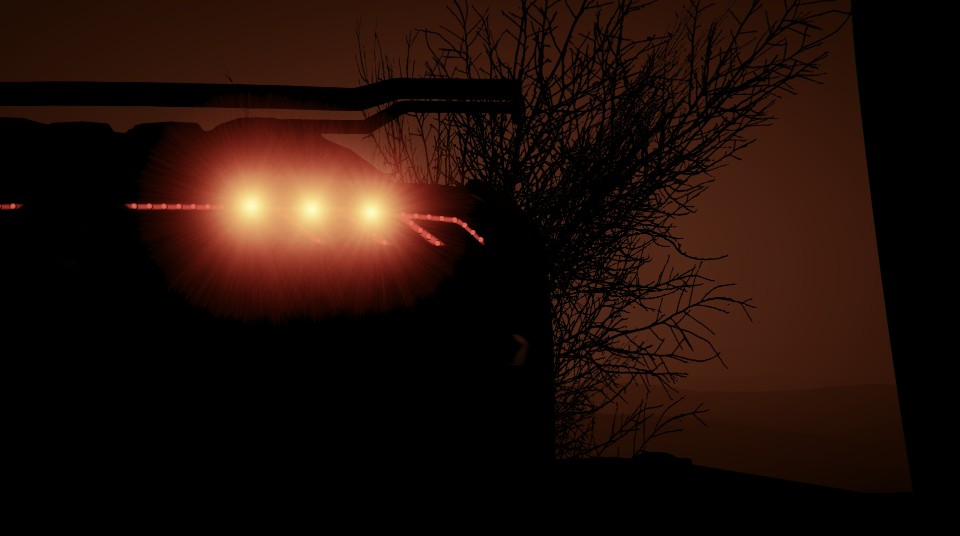 In yet another creative silhouette, ChaosZake allows this Pegassi Zentorno to spread its wings.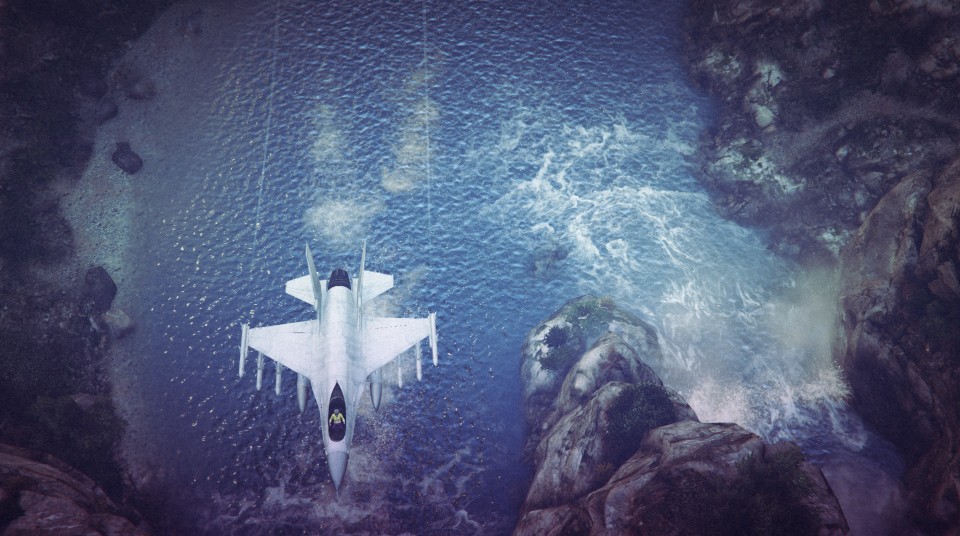 Finally, ace photographer Kokonitos captures a great overhead shot of this P-996 Lazer zipping along Cassidy Creek. Keep an eye on Kokonitos' Twitter feed for regular tweets showcasing her best recent Snapmatics.
Have a great Snapmatic photo you'd like to share? Be sure to drop a link to it in the comments below for us and the rest of the Social Club community to check out. We'll certainly be keeping an eye out for the best and the brightest. And if you aren't already, make sure you're following us on Twitter, where we've been regularly sharing awesome shots from the community as well.
Previously:
Picturesque Profiles, Interior Decor and More Captivating Snapmatic Photography from GTAV on PS4 & Xbox One
Still Lifes, Car Shows and More Amazing Snapmatics