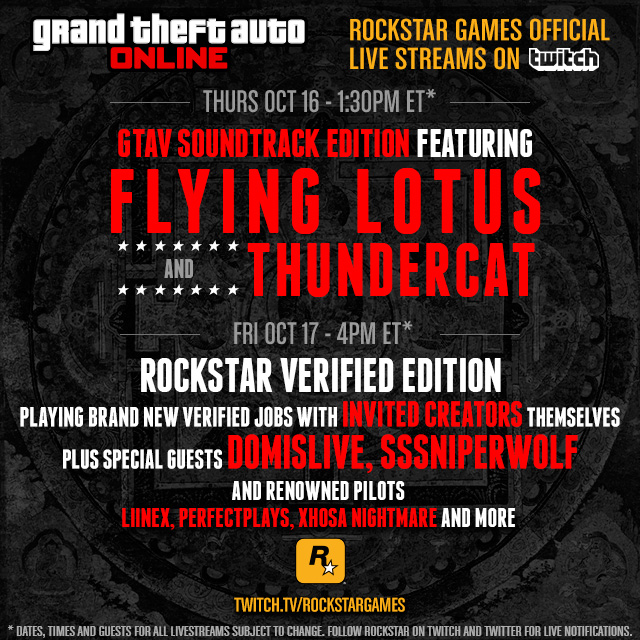 Tune in this week at the Rockstar Twitch channel for a pair of very special GTA Online livestreams:



Thursday Oct 16th 1:30PM Eastern*
GTAV Soundtrack Edition featuring FLYING LOTUS and THUNDERCAT
We're honored to welcome FLYLO FM's own Flying Lotus and Thundercat to the official livestream tomorrow afternoon live from Rockstar NYC while the guys are in town touring in support of the new album You're Dead!. Word is Fly Lo and Thundercat are both pretty fierce GTA players in their own right; we'll be going head to head with them across a variety of Jobs and game modes. Tune in and join us in the chat where we'll be also fielding select questions from fans for Fly Lo as well.

Friday Oct 17th 4PM Eastern*
Rockstar Verifieds Edition featuring invited Creators plus special guests DomisLive, SssniperWolf and more
Join us Friday as we get down in a Playlist of this week's 10 new Rockstar Verified Jobs including the winning Air Race selections of the #FlightSchool Creator Competition. We'll be joined by some of the makers of the Jobs themselves to walk, talk and play through their creations live with us - as well as special guest YouTubers DomisLive, SSSniperWolf and more to be announced including some of the most renowned GTA Online pilots on the YouTube scene that we've featured here at the Newswire in the past such as LiiNEX, PerfectPlays and Xh0sa NightMare.

* Please note that with all livestreams, dates and times are very much subject to change. Follow twitch.tv/rockstargames and twitter.com/rockstargames to get live notifications of when streams begin. And stay tuned for many more Rockstar livestreams in the weeks ahead to be announced.