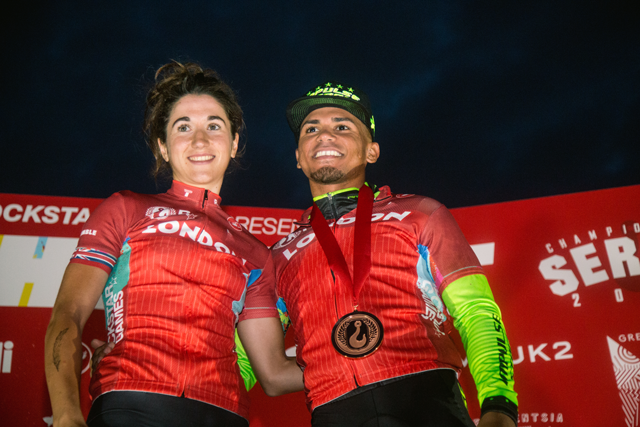 Red Hook Crit London 2015 winners Ainara Elbusto Arteaga and William Guzman on the podium. [Photo: Francesco Rachello & Eloise Mavian]
Thousands of spectators turned out in beautiful London weather to witness cycling speed and thrills as the Red Hook Crit made its UK debut outside of the O2 Arena on London's Greenwich Peninsula. Congratulations to William Guzman and Ainara Elbusto Arteaga for taking first in the Men's and Women's final respectively. The 1.1km circuit was deceptively challenging, requiring both fine-tuned handling skills to negotiate a series of technical corners and raw strength to power away from the field down the wind-swept straightaways.
Onboard video footage from Neil Bezdek of Red Hook Crit London No.1#redhookcrit #rhcl1

Posted by Red Hook Criterium on Sunday, July 12, 2015
In the women's race, the first lap prime* saw local British rider Jo Smith take command by out sprinting Series Leader and Spanish rider Ainara Elbusto Arteaga to start the evening. A series of attacks on the backstretch kept the pace high and it was an attack through the start-finish by Kacey Manderfield Lloyd that only Arteaga was able to follow. This continued a fierce, competitive rivalry that began in Brooklyn and would continue throughout the inaugural race. Over the course of a few laps, four more riders bridged to Lloyd and Arteaga including Ash Duban, Sammi Runnels, Fleur Faure and Jo Celso. Artega, Runnels, Duban and Lloyd did most of the pulling while Faure and Celso were rarely on the front until the final 6 laps when Faure began her series of attacks that would win her the Rockstar Games Award for Top Antagonist, in recognition of her aggressiveness and determination throughout the race. The race ended with a dramatic surge sprint from Lloyd in the final 100m, forcing Arteaga into a showdown for the finish as she held off Lloyd's charge by a wheel length to take the race in thrilling fashion.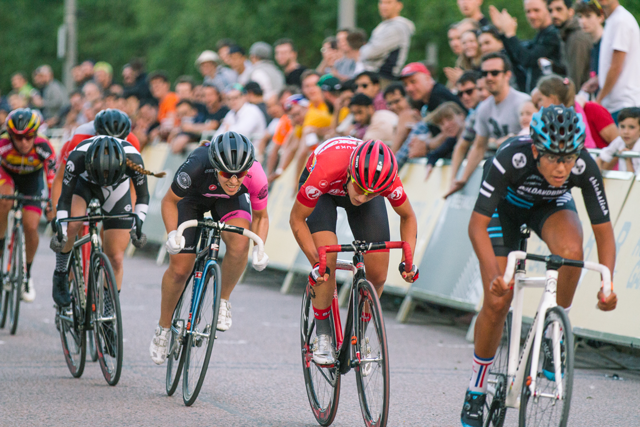 Manderfield-Lloyd (black and pink jersey) makes a move for the lead but eventual race winner Artega (red jersey) holds out in front. [Photo: Francesco Rachello & Eloise Mavian]
The sun began to set and the crowds of spectators continued to wrap around the circuit before the men's feature race. With the top ten riders on the grid posting qualifying times all within one second of each other, we knew the race was going to be a fast one.
Brooklyn No. 7 winner Thibaud Lhenry, gained an early advantage but it was local Londoner Alec Briggs and Italian Nicholas Varani who made the race's first breakaway. Back in the field, however, series veteran Mario Paz Duque and American Zac Felpel were spurred on by the prime bell and Paz Duque powered through to take the first lap prime, his 4th consecutive first lap prime extending back to Barcelona in 2014. That move would cause alarm in the field and American Addison Zawada took to the front to bring the gap down and neutralize the break.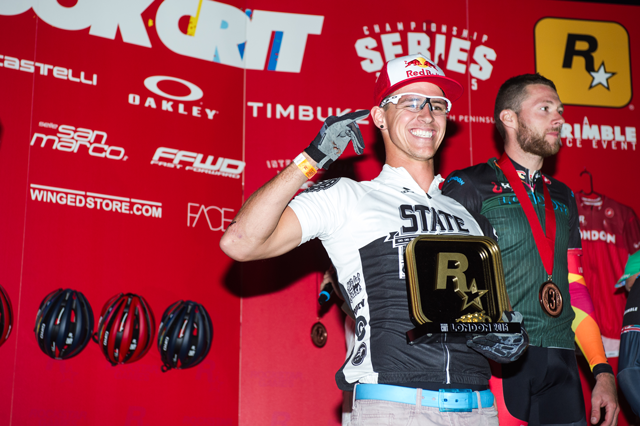 A very happy Addison Zawada holds up his Rockstar Top Antagonist trophy. [Photo: Jack Chevell]
The split between the front and back halves of the field extended in the second half of the race and ultimately a pack of 31 riders made up the front pack going into the final lap. Top favorites including Ivan Ravaioli, Paz Duque, Lhenry, Augusto Reati, and surprise finishers from Brooklyn No. 8 William Guzman and Raul Torres Pagaza were all in the lead pack and any of these athletes were capable of winning the race.
But it was fastest qualifier Guzman, who had been lying in wait for the previous 23 laps, who displayed a phenomenal finishing sprint in the final 300m to take the victory.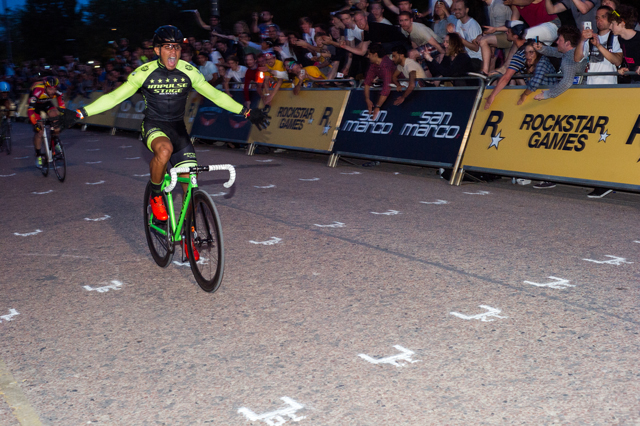 William Guzman crosses the finish line after a gutsy sprint to take the first Red Hook Criterium London. [Photo: Jack Chevell]
Despite the challenging course, the race boasted the largest finishing field ever, with 70 riders completing the race – more finishers than any other race in RHC history. There is now a tie in the overall Men's Series standings between William Guzman and Ivan Ravaioli, at 59 points each. Thibaud Lhenry jumped to 3rd place overall edging out Raul Torres Pagaza, who sits 4th. In the Women's Series, Ainara Elbusto Arteaga continues to lead with 79 points, followed by Kacey Lloyd and Fleur Faure.
The series continues to Barcelona with part three of the four-part championship taking place on September 5th.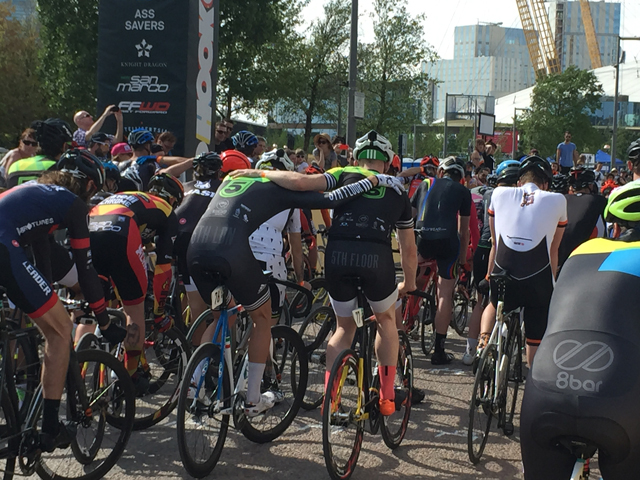 Reece Wood and George Garnier of London's 5th Floor Racing steady each other on the start line of the first Red Hook Crit London.
Men's Results
1. William Guzman (PR)
2. Mario Paz Duque (CO)
3. Thibaud Lhenry (FR)
4. Ivan Ravaioli (IT)
5. Fabio Scazaratti (IT)
6. Augusto Reati (IT)
7. Daniele Callegarin (IT)
8. Zac Felpel (US)
9. Roberto Barone (IT)
10. Raul Torres Pagaza (MX)

1st Lap (Breakfast prime): Mario Paz Duque (CO)
Halfway (Dinner prime): Nicolas Variani (IT)
Fastest Lap Qualifying Time: William Guzman (PR)
Rockstar Top Antagonist: Addison Zawada (19th place) (US)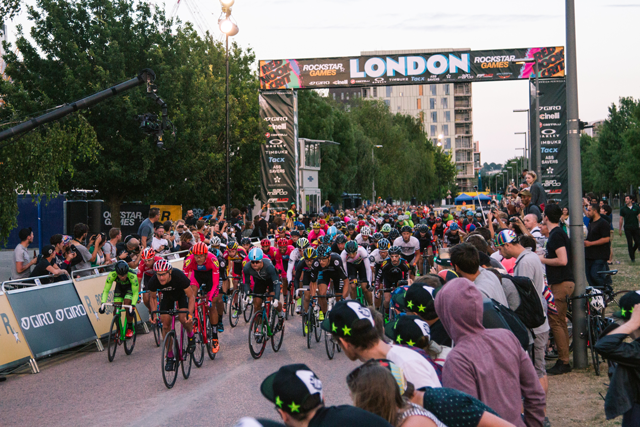 The Red Hook Criterium London is underway – a record 70 riders would go on to finish the race. [Photo: Francesco Rachello & Eloise Mavian]
Women's Results
1. Ainara Elbusto Arteaga (ES)
2. Kacey Lloyd (US)
3. Ash Duban (US)
4. Sammi Runnels (US)
5. Fleur Faure (FR)
6. Jo Celso (US)
7. Jo Smith (GB)
8. Gretchen Stumhofer (US)
9. Keira McVitty (GB)
10. Stefania Baldi (IT)
1st Lap (Breakfast prime): Jo Smith (GB)
Halfway (Dinner prime): Ainara Elbusto Arteaga (ES)
Fastest Lap Qualifying Time: Ainara Elbusto Arteaga (ES)
Rockstar Top Antagonist: Fleur Faure (FR)
*Prime: A prize offered to the first rider across the start/finish line on a designated lap. RHC offers a first lap and mid-race prize.

Previously:
The Red Hook Crit Heads to London for the First Time, This Saturday July 11th