This weekend, the finale of the 2016 Red Hook Crit Championship Series presented by Rockstar Games returns to the streets of Milano, Italy for the city's seventh consecutive year hosting the thrilling track bike racing series.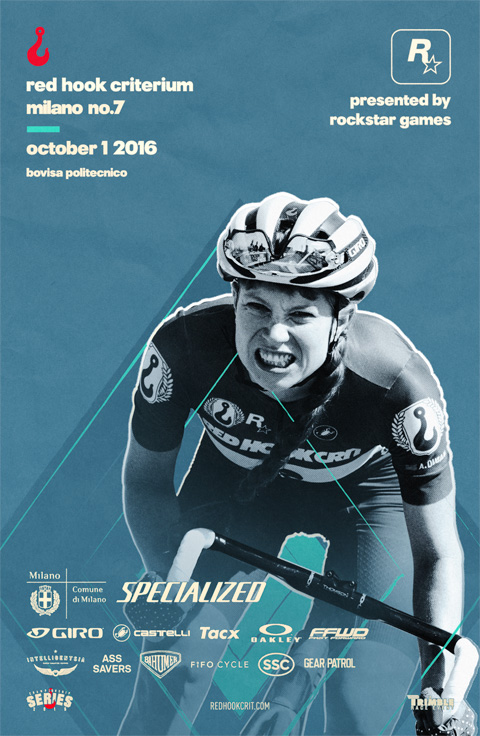 Once again, the Red Hook Crit draws in another huge and internationally diverse field, with more than 350 athletes from 36 countries descending upon Bovisa Milano on Saturday, October 1st to compete and see who will be crowned the 2016 World Champion.
Ash Duban (74 points) – seen above on the official Milano poster – took the women's series lead after the standings shake up in London and has held her position ever since. She'll need a top finish to defend the championship against the likes of Keira McVitty (67 points), 2015 Champion Ainara Elbusto (64 points), Vittoria Reati (60 points) and Jasmine Dotti (57 points). The women's field has the makings for an epic race; Duban has proven herself on the Milano track taking the win over Elbusto in 2014, but Elbusto was the one to walk away with first place in 2015.
The men's series is led by Colin Strickland (108 points) and teammate Aldo Ino Ilesic (81 points), followed by 2015 Champion Ivan Ravaioli (76 points). Strickland has won every race this season to establish his commanding lead in the men's series and is the current RHC Milano champion having won here in 2015. Tristan Uhl (48 points) and Daniele Callagerin (46 points) sit 4th and 5th respectively in the series standings but will be looking to cause an upset on the podium with strong performances this Saturday.
The Red Hook Crit Milano race will be held at Raffaele Lambruschini, 7, 20156 Milano and is free for all spectators and we encourage everyone in the area to attend and enjoy some world class cycling. For more details on all things Red Hook Crit, visit redhookcrit.com or check out their Instagram, Facebook and Twitter.