The Red Hook Criterium 2016 Championship Series kicked off in thrilling fashion on Saturday in Brooklyn, with Texan Colin Strickland capturing his first victory in Brooklyn after taking Milan last year and 2015 Championship Series winner (and perennial favorite) Ainara Elbusto of Spain taking the women's race - her second straight win at the Brooklyn Cruise Terminal.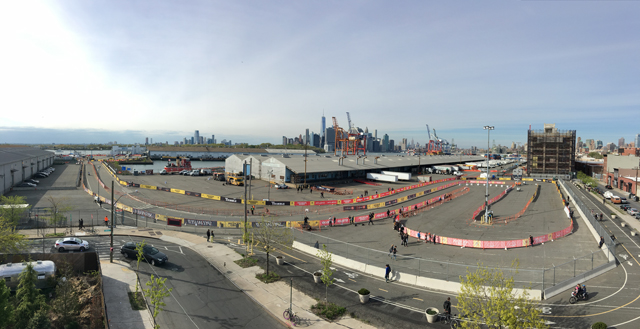 A daytime view of turns 1 – 7 including the double hairpin before qualifying. Photo: JW Zhang
With this year's race attracting 375 cyclists and 400 runners representing 48 countries, the afternoon's qualifying sessions were accompanied by fans eager to enjoy the beautiful weather, food trucks and early race action. Cyclists familiarized themselves with the new course design as they attempted their fastest lap, with American Addison Zawada (State Bicycle Co.) earning men's pole position with the fastest time at 1:25:74; and Ashley Faye (Team Cinelli Chrome) of The Netherlands taking women's pole position at 1:37:57.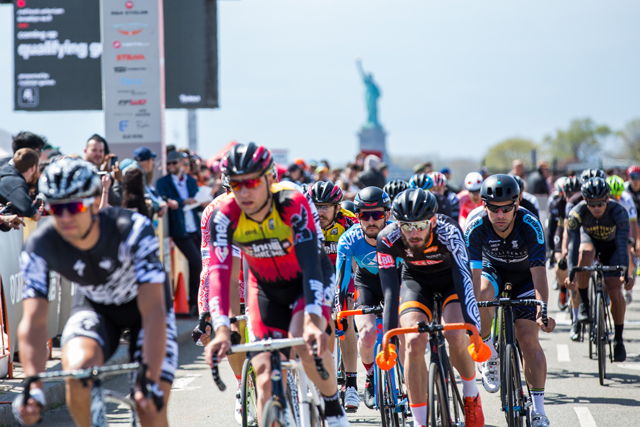 Men's qualifying group 1. Photo: @tornanti_cc
The late afternoon brought about the men's Last Chance Race – where qualifiers who set the 86th to 150th fastest qualifying times compete for 10 spots on the starting grid, followed by the women's and men's 5k races.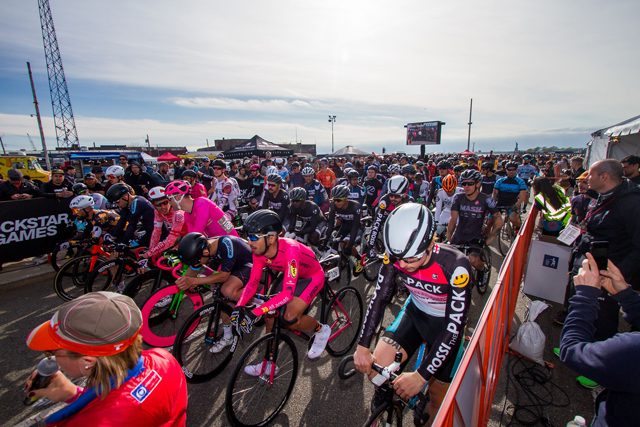 Last Chance Race hopefuls line up to compete for a spot on the starting grid. Photo: @tornanti _cc
The Red Hook Crit 5k continues to draw elite running talent, with blistering times posted by the winners. Congratulations to men's top finishers Abebe Sihine Mekuria, Jack Davies and Kumsa Adugna Megersa, and Zeineba Hasso Hayato, Jennie Cohen and Allison Goldstein from the women's field. The Strava team competition was won by the New York Athletic Club on the men's side and North Brooklyn Runners for the women's. Each team got their top five runners across the finish line before any other team.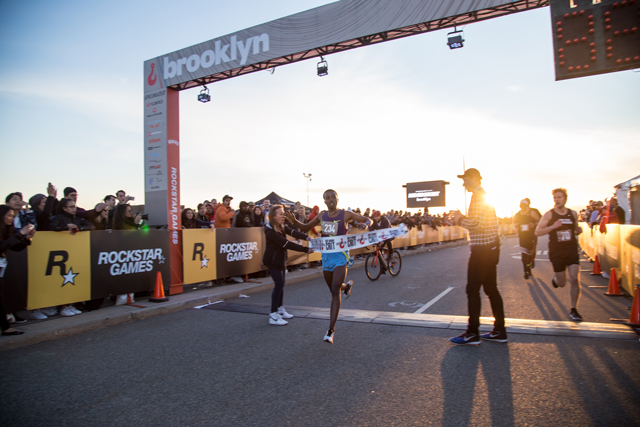 Ethiopia's Zeineba Hasso Hayato (West Side Runners) finishing at 14:45.925 followed by American Jack Davies (New York Athletic Club) at 14:52.703. Photo: @tornanti _cc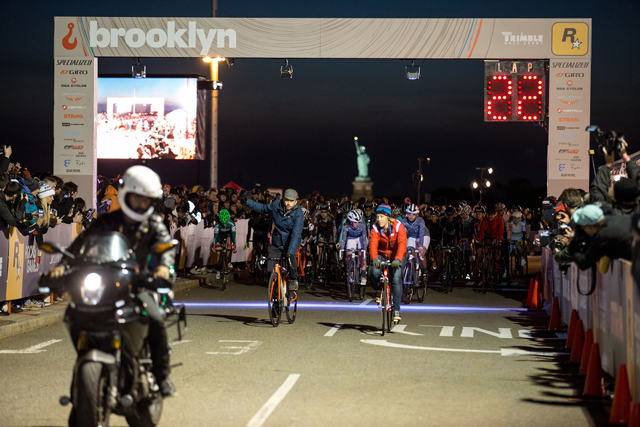 The traditional neutral lap led by repeat RHC winner Kacey Lloyd and race director David Trimble Photo: @toranti_cc
The crowds continued to grow after sunset in anticipation of the women's criterium, featuring its largest field of athletes to date. With the race underway, perennial favorite and 2015 Championship Series winner Ainara Elbusto (Conor WRC) handily claimed the first lap Breakfast Prime, setting a furious pace for the lead pack of thirty riders.
Early attacks from Katherine Sherwin (Affinity Cycles) and Vittoria Reati (LaClassica Racing p/b SpeedGang) trimmed the lead group while Elbusto patiently sat in second position, maintaining control at the front of the pack and allowing her to take the midway Dinner Prime.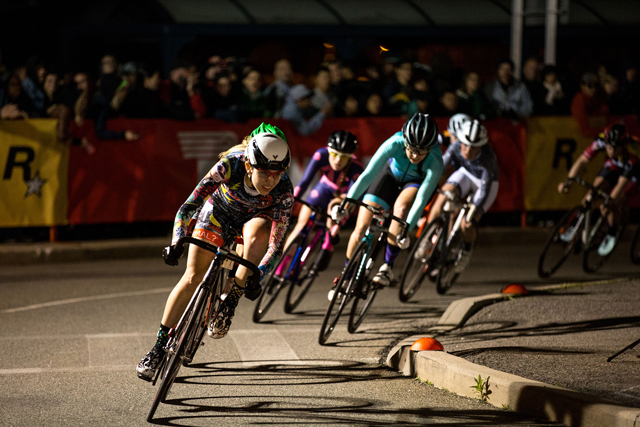 Rockstar Top Antagonist winner Kiera McVitty rounding turn 10 Photo: @tornanti _cc
British Rider Kiera McVitty continued driving the pace with several attacks, earning her the Rockstar Games Top Antagonist Award. Past winner and RHC veteran Ash Duban (Affinity Cycles), along with Kim Lucie (State Bicycle Co) and McVitty made moves to string out the field in the final laps of the race. With just over a lap to go, a crash in the final turn took out a handful of riders, with Elbusto, Duban, Reati, McVitty and Irene Usabiaga (Poloandbike) among others escaping to battle through one final lap. Elbusto took the win through a strong final sprint, with Duban finishing in second narrowly edging out Reati, Usabiaga and McVitty.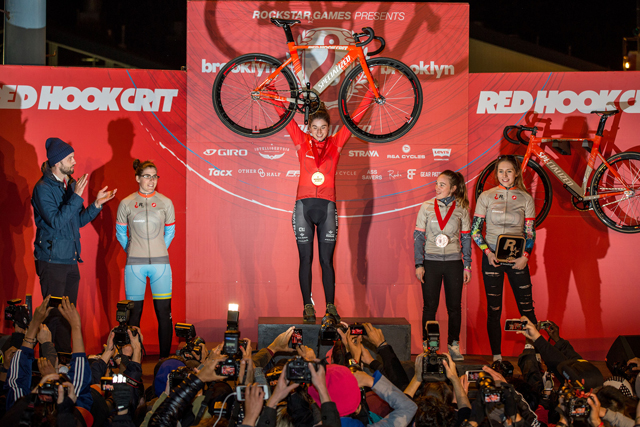 Ainara Elbusto continues her RHC dominance Photo: @tornanti _cc
Every Red Hook Criterium is unique and Saturday was no exception. As the men's race began, the lead moto – an essential race vehicle that rides ahead of the peloton to sweep for lapped riders and provide a visual and audible alert to riders, spectators, course marshals and medical teams of the approach of the lead pack – stalled only moments after the race start. A dramatic pileup occurred, forcing a race restart.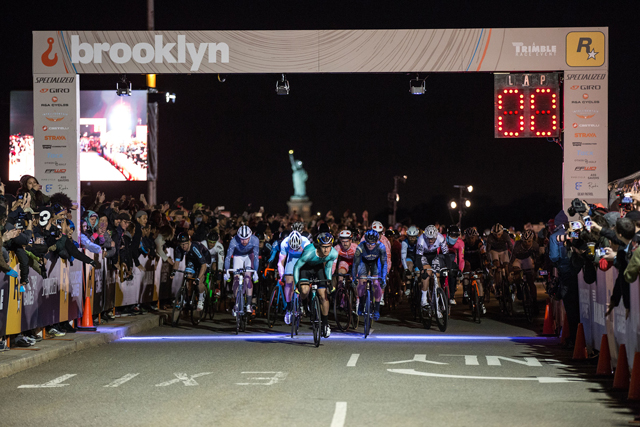 Addison Zawada leading the men's race start Photo: @tornanti _cc
With the race underway, Mario Paz Duque (IRD Carerra) leapt ahead from tenth on the starting grid to first across the finish line to take his seventh the first lap Breakfast Prime. Soon after, Aldo Ilesic (Allez-Allez Specialized) took the lead – a key strategy that allowed for teammate Colin Strickland break off the front in lap five and establish a four second lead while Ilesic controlled the pursuing pack.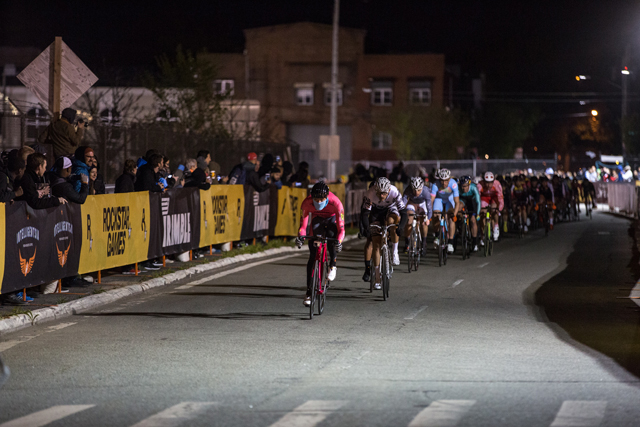 Paz Duque taking the lead on his way to win the Breakfast Prime @tornanti _cc
The chase group of 25 riders led by Daniel Holloway (Intelligentsia GR) were met by Ilesic's defensive play to keep his teammate in first wheel. By the time Strickland came around on the next lap, the gap had grown to 10 seconds with the chase group stringing out behind him. By the mid-point of the race, Strickland had created a monstrous 20-second lead gap.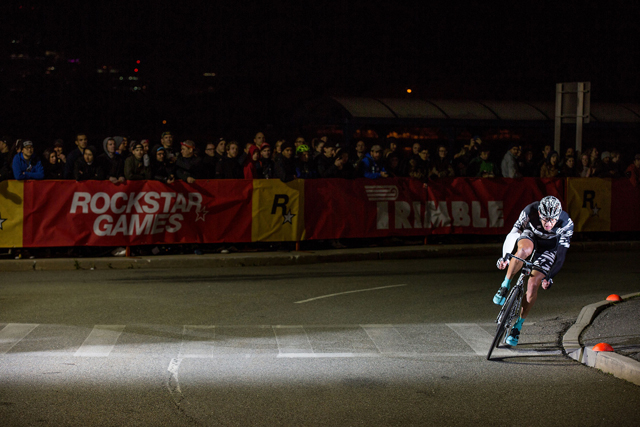 Lone wolf Colin Strickland from Texas pushes his massive lead on the field @tornanti _cc
Ilsec continued to thwart attempts from Alec Briggs (LaClassica Racing Team by SpeedGang), Marius Petrache (Team Cinelli Chrome), and Tristan Uhl (Aventon Team Factory). With Strickland handily winning – thanking the crowd in his final lap – 2015 Series Champion Ivan Ravaioli (Team Cinelli Chrome) outsprinted Ilsec in the final moments for second place, followed by Ilsec in third.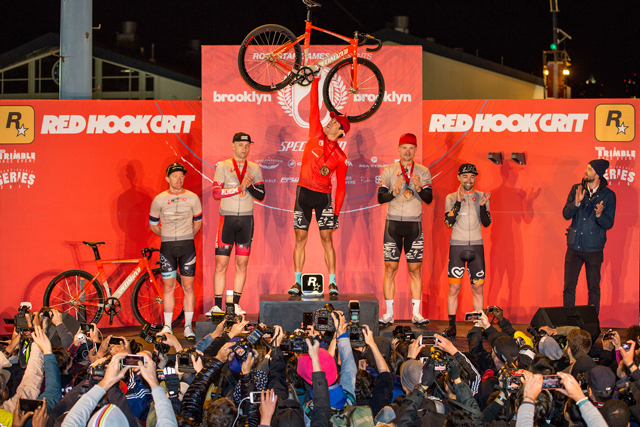 Strickland enjoys the fruits of his dominant performance – a new specialized bike and the Rockstar Top Antagonist Award @tornanti _cc
Congratulations are in order for all who participated in the day's events, and we are looking forward to the next edition of the championship series in London on July 9th. For more details about the Red Hook Crit Championship Series and upcoming events, visit redhookcrit.com.