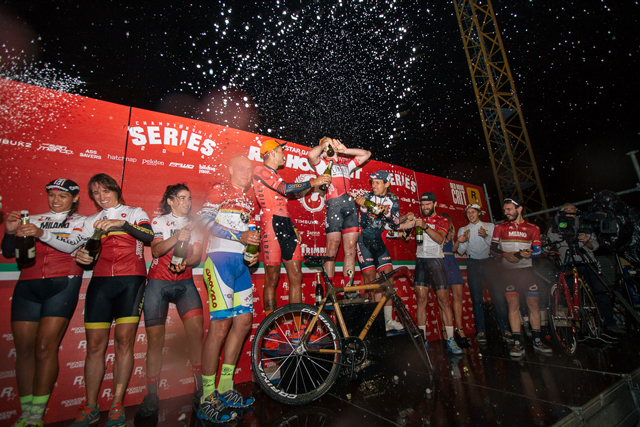 Race and series winners gather on the podium to share a well-deserved drink as the 2015 Red Hook Criterium Championship Series draws to a close. Photo by Francesco Rachello.
The rain in Milan held out just long enough for the winners to celebrate on the podium, as Eduard Grosu of Romania won the final stage of this year's men's Red Hook Criterium and France's Thibaud Lhenry took the series championship after finishing in 16th place on the day. Ash Duban from Austin, Texas took the gold in the women's race followed by Barcelona winner and this year's women's champion Ainara Elbusto Artega from Spain.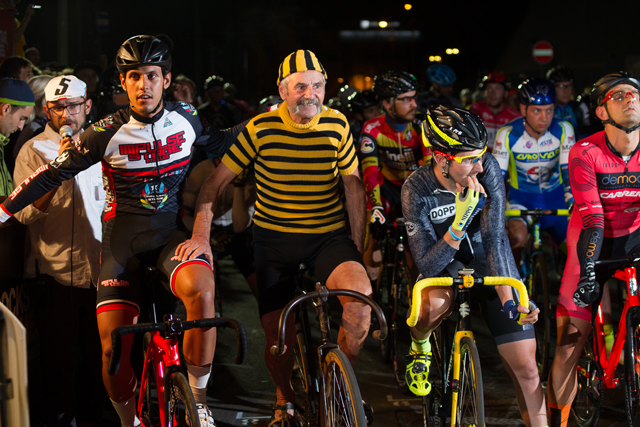 Cycling icon Luciano Berruti lines up with the athletes before taking them out on the lead out lap – a tradition of the RHC Milano race. Photo by Francesco Rachello.
Grosu rode to victory in the men's race at Milano for the second straight year, and was followed by former pro and RHC newcomer Ivan Ravaioli and Barcelona winner Julio Padilla, finishing second and third respectively. In the women's race, Fleur Faure captured third behind Duban and Artega. Congratulations also go out to team series winners Iride-Demode Sc for Men's and Desgena for Women's. And special shout out to Team Cinelli Chrome for taking second place in the Men's team points series - Cinelli is a truly passionate co-sponsor and their team's riding abilities are elite.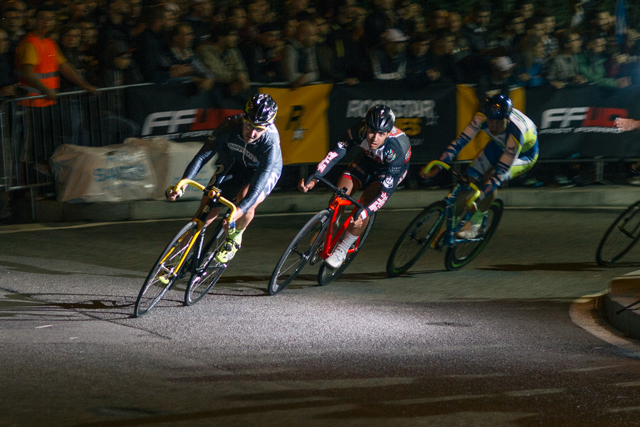 Race winner Eduard Grosu taking one of the fastest corners of the circuit. Photo by Francesco Rachello.
With a course designed for speed, the race was incredibly fast. With a pace clocking in at around 30mph, the field stretched out into a long, snaking chain of 95 competitors. Pole position was fiercely contested by the likes of series veteran Evan Murphy, Ravaioli and Padilla. Not far behind was Diego Yepez from Mexico, whose constant attacks on the front kept a fire lit under the race winners to keep their spots, and earned him the Rockstar Games Award for Top Antagonist.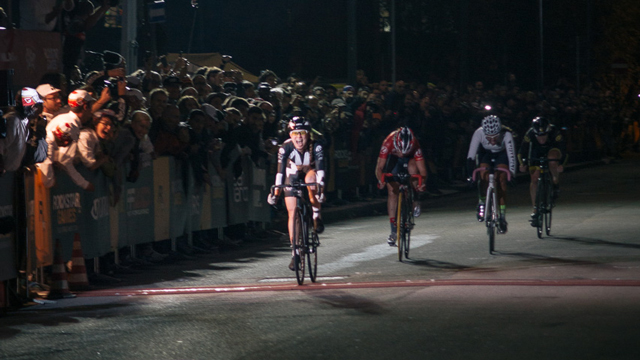 Ash Duban shouts in celebration as she crosses the line to take first place in the women's race. Photo by Francesco Rachello.
As the cycling season draws to an end, it has been amazing to watch just how much the Red Hook Crit has grown once again this year. With thousands of spectators attending the races rain-or-shine in New York, Barcelona and Milan, plus increased coverage from major sports and news outlets, we cannot wait to see what the 2015 series will bring. Be sure to keep up with the Red Hook Crit on Instagram, Facebook, Twitter and Tumblr, plus keep an eye on the Rockstar Warehouse for official Red Hook Crit Rockstar gear coming soon.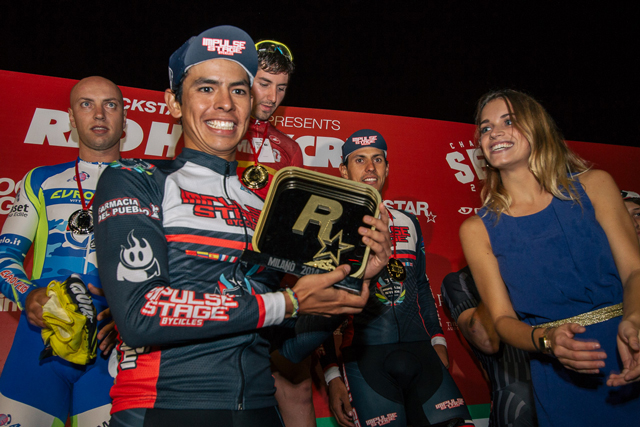 Diego Yepez is all smiles as he joins the race winners to collect the Rockstar Games Top Antagonist Award. Photo by Francesco Rachello.
Previously:
The Red Hook Crit Championship Series Finale Heads to Milan
The 2014 Red Hook Criterium Championship Cycling Series