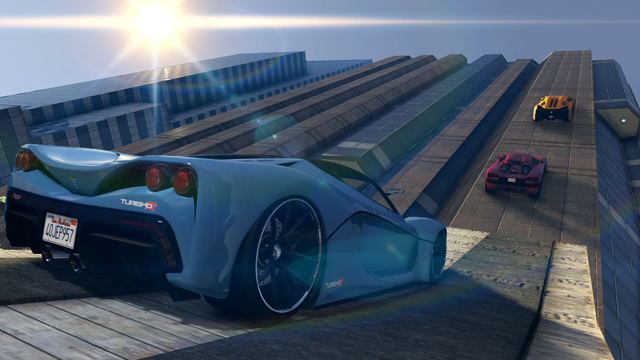 Super cars defy gravity downtown in California Car Surfing.
Much like a classical composer creating an opus through a series of musical movements, the ability of a GTA Online Creator to weave several Jobs into a Playlist that can more fully express an idea, tell a story or deliver maximum hilarity, is a bit of an art form.
We've been scouring the Social Club to find those who are using Playlists in ways that a single Job could not hope to emulate. Below we've highlighted a trio of exemplary Playlists to check out (one for Xbox 360 & Xbox One, one for PC and one for PS3 & PS4). And just like with individual Jobs, you can bookmark these Playlists on Social Club so that the next time you jump into GTA Online, they'll be waiting.
Z-Games Rallycross Tournament by Kelchan (Xbox 360 & Xbox One)
"A 4-track list of technical tracks in and around the Maze Bank Arena, chock full of fast and slow sections, sharp corners, kicker jumps, a big jump, corkscrews, cross-sections, narrow passages, and speedy straightaways."
If you're looking to flex your drifting muscles, this Z-Games themed Playlist created by the Commissioner of the Children of the Nite Crew, is just the ticket. The Races become increasingly difficult as you make your way to the Z-Games Rallycross Finals. If you're committed to the challenge of (high plains) drifting, you can take a stab at Kelchan's San Andreas Rallycross as well.
To be Rich and Bored in LS by Coach_Wargo (PS3 & PS4)
"Spoiled rich kids in the Lake Vinewood neighborhood get together to kill some time."
A brilliantly conceived and wonderfully executed series of Jobs that illustrates the lengths privileged Vinewood Hills teenagers will go to relieve themselves of their intense existential ennui. With a series of Job descriptions as good as any we've seen, Coach_Wargo, the commissioner of the Red Rum Racing Crew deserves the plaudits for this unique Playlist. If you enjoy this, be sure to check out Coach_Wargo's other themed Playlists on Social Club.
PC Master Race by ZerkaaHD (PC)
Rockstar livestream alumnus and prominent GTA Online Youtuber, ZerkaaHD (of The Sidemen) has curated this particular Playlist featuring Jobs made by xzulas, Commissioner of the GTA ELITE STUNT CREW, and alex94kumar, Commissioner of THE NFWA. From the expertly created AIR TUNNEL RACE to the topsy-turvy CALIFORNIA CAR SURFING, there is something for every skill level to enjoy. Watch The Ultimate Sidemen make their way through the entire Playlist in the above Funny Moments compilation.

Have you constructed an uniquely-themed Playlist? Drop us a link either here in the Newswire comments section or via Mouthoff so we can check it out and possibly share it with the GTA Online community.
Previously:
GTA Online Creator Player-Made Challenges: Human Darts, Skeet Shooting, Triathlons and More
Player-Created Jobs Throwback to the days of Smuggler's Run, Manhunt and Midnight Club
Player-Created GTA Online Jobs: LSIA and Fort Zancudo Are Open for Business