Cunning Stunts has taken the GTA Online racing world to wild new heights and with new wheels to burn, tracks to run and attire to look the part, there's been plenty for the talented Snapmatic community to capture.
Presenting the winning photographs from our #STUNTS Snapmatic Photo Challenge, including our top five winners and a fantastic group of honorable mentions.
#STUNTS SNAPMATIC WINNERS
Thanks to everyone who submitted their entry to the #STUNTS Snapmatic contest and congrats to our five winners, who each earned a GTA$1,000,000 award.
Racers and their superbly color-matched bikes take the sharp turn of an apex corner in snowgoose95's tightly timed and well synchronized winning snap.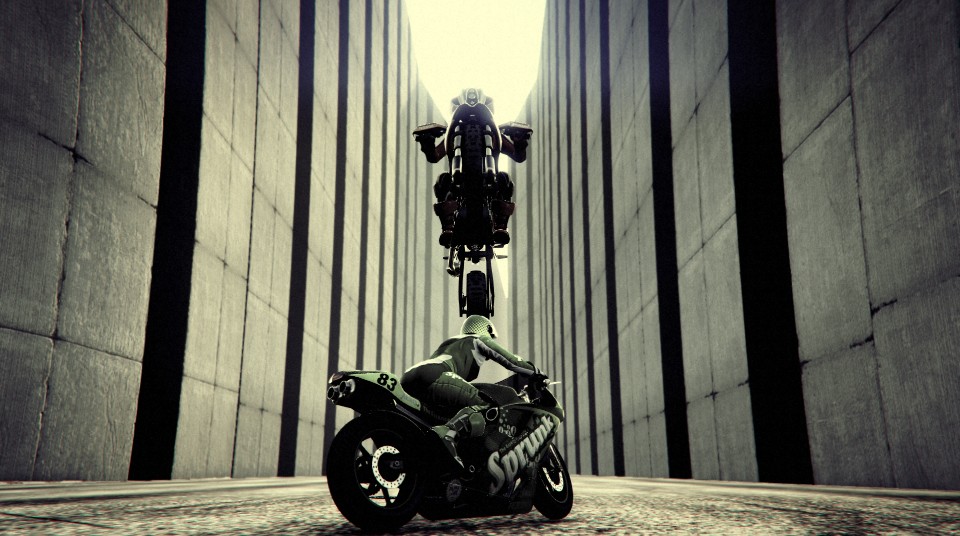 Grand Senora Desert by Six-Face
In between the concrete, high-rise walls of the Stunt Race Trench 1, Six-Face beautifully frames the Nagasaki BF400 mid-flight as a racer on a Bati 801RR spectates from below.
Riding the asphalt in a blaze of glory, def9779 showcases the Stunt-ready Obey Omnis in full, scorching triumph as it makes its mark on the road.
Basimatic's jubilant snapshot neatly sums up the classic phrase "to the victor go the spoils". With not one but two Annis RE-7Bs on display and the Jock Cranley Black Jumpsuit making an appearance amid the celebrations, it's a tantalizing glimpse of what awaits a winner.
Walk-away action shots don't come more explosive than this. Against a fireworks display of a flaming Declasse Burger Shot Stallion, Bravado Redwood Gauntlet, Vapid Piswasser Dominator and a cluster of bikes blasting skywards behind them, greatler's trio of racers take it all in stride.
Other Honorable Mentions...

​SWEEPSTAKES WINNERS
A thank you again to all those who took part in the Official Cunning Stunts Event Sweepstakes. Congratulations to the winners, who each nabbed a GTAV prize pack: evil_jacques1, ImJustD3lirious, ZacTheCreator13, monkeyb33r and g00ber121.


Previously:
Play 5 New GTA Online: Cunning Stunts Races Today + New Vehicles, Bonuses and More
New Stunt Races and Vehicles Added to GTA Online: Cunning Stunts
GTA Online: Cunning Stunts Now Available