In this edition of the Crew Cut, we cover an ongoing tournament that promises to be packed to the brim with action, more Crews meeting up IRL, a new Reddit squad causing chaos and a couple of awesome Crew propaganda videos that caught our attention. First up, a few of our favorite Crew Snapmatics from recent weeks: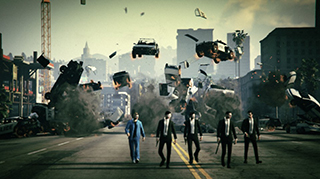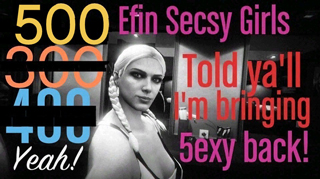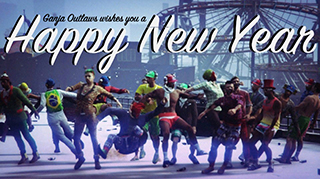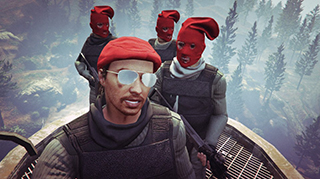 Clockwise from top left: During production of Malicious Intentt's Reservoir Dogs tribute video, co-Lieutenant greatler took a moment to grab this behind-the-scenes shot of MAIN keeping their cool amongst the chaos; Efin Secsy Club Crew Leader ThunderChild09 has been updating this Snapmatic every time the 5EXY Crew member count reaches another century - not far til' the next one! GT69-Racing Crew look surprisingly intimidating with The Festive Surprise Stocking Masks on their head, in leader SANFORD55's menacing selfie; The Ganja Outlaws Crew celebrate the New Year with a bang.
TOURNEY TIME
Seasoned GTA Online tourney producers HOT_KIMERA and his CAP PILLAS Crew kicked off their GTA Online Body Bangers Tournament this past weekend and things got off to a banging start. Round one of this thirty-Crew Free Aim tournament on PS4 saw Crew Cut vets such as the CAP PILLAS and Ineffable Arts Crews and lots of newcomers including the SouthVinewood Ballas, SEVILLE DIABLOS, Underworld Mob Kings and many more. Congrats to all the first round winners: Ineffable Arts and CAP PILLAS, the DIABLOS and Mob Kings, iTS A Blurr, KiLLIN ALL ON SiGHT, CASHOUTGANGG, Masked Terror SquaD and TRAPMOBB BROUGE AVE. You can check out all the action from last weekend in the highlight vid above, plus part two here with a part three coming soon. Round two begins today at 4pm ET and carries on through Sunday - watch the battlin' live on Kimera's Twitch channel. Good luck to the remaining Crews! Have a tournament or special Crew event you're hosting or participating in that you think we should know about? Hit us up with the details at community@rockstargames.com.
CREW SPOTLIGHT: The LosSantos Aliens

Alien Nation: This "average Crew session" is total chaos with redditors The LosSantos Aliens (SNOO).
The LosSantos Aliens Crew caught our eye thanks to the ridiculous gif posted above, which shows exactly what a free roam Crew session should be all about. SNOO are the official Crew of the /r/GrandTheftAutoV sub-reddit and have strong ties to fellow redditors the GTAAdventures Crew who we've previously featured for their part in this sick Skyfall recreation and tilt-shift Toy Soldiers collab with 8-Bit Bastard. A quick glance at The LosSantos Aliens sub-reddit points to committed squad hosting regular meet-ups of all kinds on all four different platforms. If you need any more convincing to get involved, check out this vid filled with more Crew mayhem. It's easy to see why, in the 6 weeks since their inception, they've nearly filled their roster. With the remaining spots going fast, head over to their application form if you wish to join.
CREWS IN REAL LIFE
Hillbilly Agenda Crew have been at it again, hand-delivering more custom Crew license plates across the country to their fellow Crew members. This time Crew Leader KnoxNerd and his son MarkusMerk flew themselves from Tennessee to Virginia to deliver a plate to co-Lieutenant IgnesousJester29. Exceptional effort guys! Merryweather IMF Crew have continued this trend, over an even greater distance. When Aussie co-Lieutenant the_killer_ewok was travelling through Europe, he stopped off in Germany to sample some "local culture" with Crew Leader NAVAL_SEABEE. After a few steins at a local brewery, NAVAL_SEABEE presented the_killer_ewok with a Crew T-shirt he designed himself. A noble gesture and just rewards for journeying such a distance.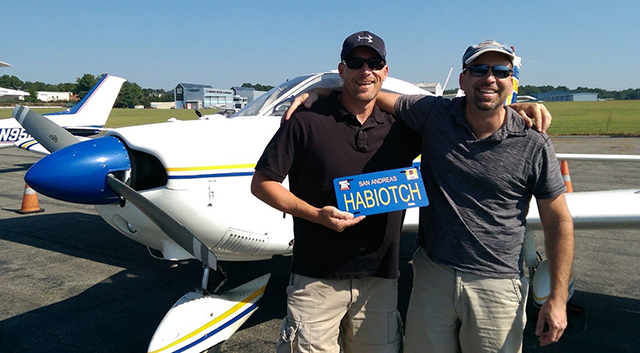 Hillbilly Agenda (HBAG) Crew co-Lieutenant IgnesousJester29 is the latest member to get a hand-delivered custom plate from Leader KnoxNerd.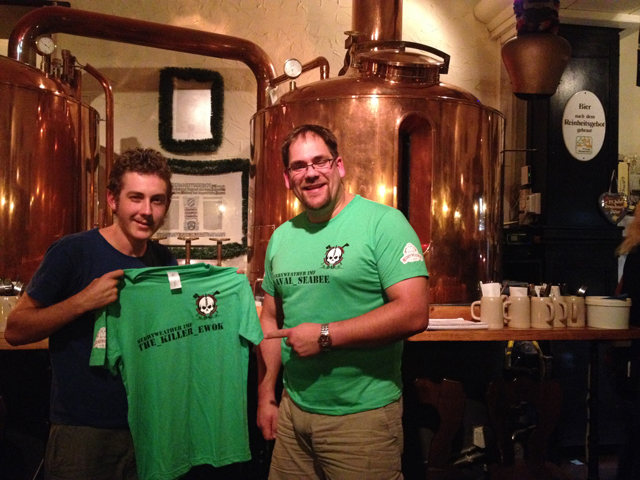 Merryweather IMF (MIMF) co-Lieutenant the_killer_ewok shows off his new Crew tee personally delivered by Leader NAVAL_SEABEE.
CREWS ON FILM
Merryweather IMF's camaraderie is clearly evident in-game as well, with this follow up to last year's tongue-in-cheek recruitment video. As NAVAL_SEABEE explained it to us, in the past 8 months MIMF have culled down 1,000+ applicants to just over a hundred elite operatives, committed to protecting the Freemode city from red dot psychopaths, play crazy custom Missions, and overall have a great social experience. KDR hitmen, proficient gunners, expert pilots and great GTA cinematographers are all welcome to apply for second phase of the Crew: Gone Rogue. To find out more, check out the following recruitment video:
Reuchlin5 of the Merkalot Crew was sure to hit record in this Team Deathmatch Crew Battle against the MexicanMafia1MXx Crew that saw MERK shutting 'em down 3-0. Want to show off your Crew's battle skills? Hit us up on CrewChallenges@rockstargames.com to take the good fight to our official Twitch channel for a live Crew vs. Crew Battle. Keep an eye on our Twitter and the Rockstar Newswire for Crew Battle announcements in the future.
Finally, an awesome recruitment video from Social Club stalwarts the Ganja Outlaws - showcasing the organization and creativity we've come to expect from them. In this one, WEED take advantage of the expanded lobbies on PlayStation 4 and Xbox One in this Toots and the Maytails inspired highlight reel that showcases exactly what you can expect from their next-gen Crew meets. We also enjoyed this montage of them Smokin and Ridin' their way around Los Santos. Keep up the good work fellas. If you've created a video showing off the best of your Crew, please post them in the comments below or send them to us direct via mouthoff@rockstargames.com.
Previously:
The Flight Crew Special
A Crew that Hand-Delivers IRL License Plates, Plus F.C.-Themed Squads and More
Camera Clubs, Creator Collaborators and the Latest Crew VS Crew Battles