Truth seekers rejoice, the time is nigh to partake in player-created GTA Online Jobs inspired by the Epsilon Program. Don't be an antithesis, bookmark these Epsilon Program-themed Jobs on Social Club to experience them for yourself. Kifflom!
Cult of Cash by Reaper-5150 (PC)
"Cults love money, but so do you. Steal back the money from the Epsilon Program! KIFFLOM"
You and your team find yourselves battling it out in and around The Epsilon Program headquarters in the second Job created by the Leader of the Benvenuti Family on PC. You're up against not only the rival unit, but also droves of cultists protecting the apocalypse funds they've bilked over the years. There are tons of Health and Armor pickups within the gates and a respawn will land you on a motorcycle that will allow you to easily maneuver your way back into the Epsilon Building.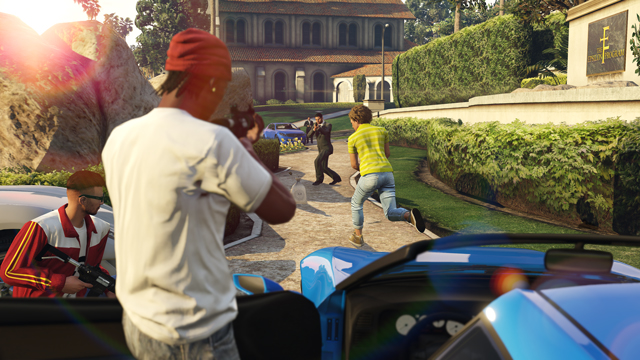 Gunshots ring out at the Epsilon Headquarters in Cult Of Cash.
* BLOOD N' FIRE * by GerardDepardieux (PS3 & PS4)
"Violent fights on top of Mount Chiliad. Take a drink. Enjoy the view. KIFFLOM"
This Team Deathmatch fittingly takes place at the location of the first Epsilon Tract. Set to night with forced Molotovs as your starting weapon, put the flame to your enemies as you gather the Baseball Bats, Crowbars and Nightsticks that have been scattered around to finish off your charred foes.
Altruist Camp Offensive by Griefballer99 (Xbox 360 & Xbox One)
"The cultists must defend themselves against the Cult Stoppers. The cultists have a wide range of weapons but no transport, and the Cult Stoppers are armed with Military vehicles but only a Combat MG."
As Leader of The Shrekist Church, a Crew whose followers dedicate their lives to the Ogrelord Shrek, Griefballer99 may know a thing or two about cults. In this LTS, the Cult Stoppers have shifted their focus from the Epsilon Program to target the Altruists. Mentioned in the Job's description, one team will have a variety of transport options while the other will have heavy artillery. If you've spawned at the Paleto Forest Sawmill, your best bet is to grab up the Insurgent-Pickup fitted with its powerful .50 caliber machine gun. If your home base is the Altruist Camp, have a teammate head up to the guard tower where there is a strategically placed RPG to take out the opposing team vehicles.
Going With The Downflow by DannBoeing (PC)
"Let go. Let the flow wash over you. Let it wash away all your troubles. Breathe. Leave the city behind you. Let Kraff take the wheel. Envelope yourself in his warm embrace. Enter the 10th Paradigm. Listen to the words of the wind and the trees. Only the descendants of Kraff can hear them. Let the flow be your guide. Hydroplane yourself to enlightenment. A new plane of existence. Be one with Kraff. Kifflom Brother! And may infinite peace and wisdom be yours!"
The Leader of the Don't Judge Me Monkey Crew has created 26 Races so far on PC. This particular Epsilon-inspired one spans Tongva Hills, Tongva Valley and Banham Canyon. To make for a more challenging Race, use the default laps and weather settings so you can "hydroplane yourself to enlightenment".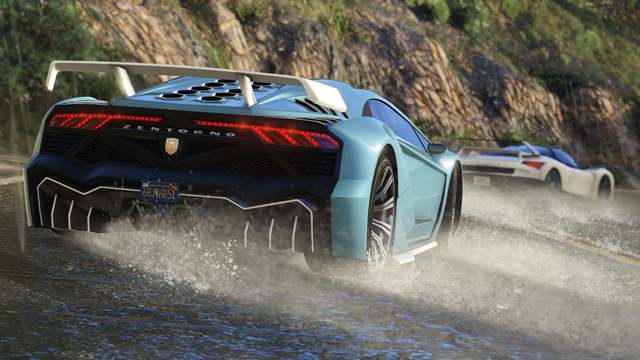 Supercars hydroplane round a tight turn in Going With The Downflow.
Kifflom! by Kingglo_the_Pro (PS3 & PS4)
"The antitheses attacked our Epsilon Center. It's time to fight for Kraff, brother-brother! Kifflom!"
This Deathmatch in the heart of The Epsilon Program Headquarters has Spawn Points spread out evenly throughout the map, so while you won't know where you'll end up you can rest assured that you'll land not too far from a much needed Armor or ammo refill. Head for higher ground and make use of the Sniper Rifles strategically placed around the roof, or nab some Sticky Bombs and attach them where your enemies least expect it.
San Chianksi Race by chocolate83 (Xbox 360 & Xbox One)
"Venez arpenter ces vertigineuses montagnes reputés selon Fabien Larouche et Cris Formage pour y dégager un karma très bienveillant. Il est indéniable de dire que vous y trouverez la paix éternelle.....littéralement." (Translation: "Stride across these breathtakingly high mountains, famous for emitting a benevolent karma, according to Fabien Larouche and Cris Formage. There is no doubt that you will find... eternal peace there.")
LE Clan Pasta's own chocolate83 has created this challenging Bike Race starting at the San Chianski Mountain Range, winding through Mount Gordo and finishing in the industrial community of Grapeseed. Don't go too fast as you make your way on the spines of the mountain ranges, one wrong move and you will find yourself face first in a mound of dirt. Since a majority of this race is off-road, hop on a custom Sanchez for your best shot at "eternal peace".
And make sure to tune in this Friday, August 28th at 5pm ET (that's 10pm BST and 2pm Pacific) to watch The Rockstar Broadcast Team playing these Jobs live with invited creators and other special guests – at youtube.com/rockstargames and twitch.tv/rockstargames. Make sure to subscribe and follow Rockstar in both places to get automatically notified when the livestream begins.

Have you constructed a uniquely-themed Job? Drop us a link either here in the Newswire comments section or via Mouthoff so we can check it out and possibly share it with the GTA Online community.

Previously:
GTA Online Player Created Playlists: Z-Games Rallycross, Killing Time at Lake Vinewood and More
GTA Online Creator Player-Made Challenges: Human Darts, Skeet Shooting, Triathlons and More
Player-Created Jobs Throwback to the days of Smuggler's Run, Manhunt and Midnight Club