The Crew Cut highlights exceptional grassroots community activity, events, accomplishments and other happenings across the thriving Social Club Crew scene. If your Crew is doing something special that you think the Social Club community needs to know about, hit us up at mouthoff@rockstargames.com and tell us all about it – you might see your Crew featured in an upcoming edition of the Crew Cut.
CREWS LIVING THE LOW LIFE
Now that Benny's Original Motor Works has officially opened its doors, Los Santos citizens have been flocking to customize their new rides for the car shows and bounce-offs being organized all over Southern San Andreas.
Exhibiting a true show of force, the REBL PC Crew put together this Rockstar Editor video to showcase their new whips as well as their skills with the Machete and Machine Pistol.
Oozing style and color, these videos by the Ivaneh and Six Star Street Racers Crews beautifully show off their newly acquired rides by bouncing high, popping hoods and leaning low to the side.
Cruising the streets of Los Santos in their new Lowriders, Anonamix and his Crew the Traffickers keep it low n' slow.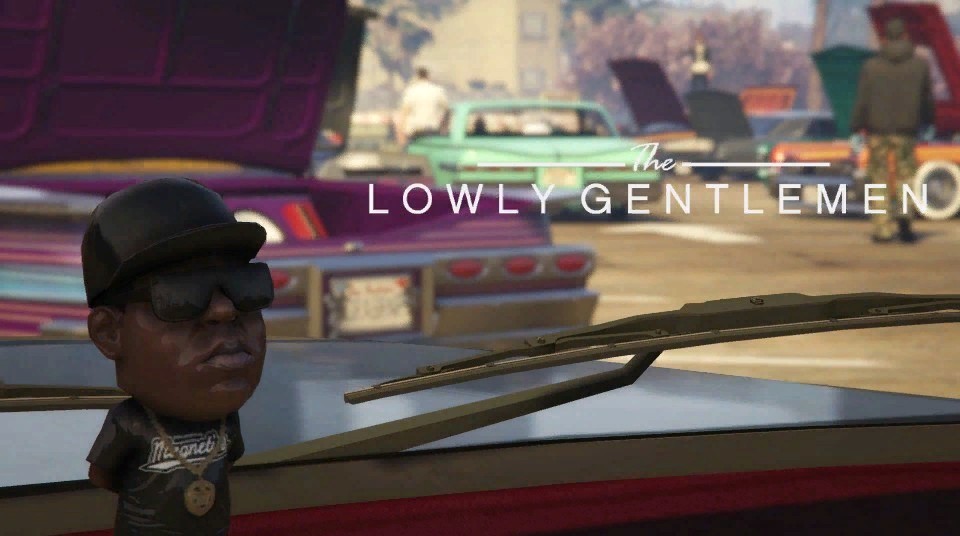 And you just know the Lowly Gentlemen were amongst the Crews positively chomping at the bit to take these new rides to an all-star car meet.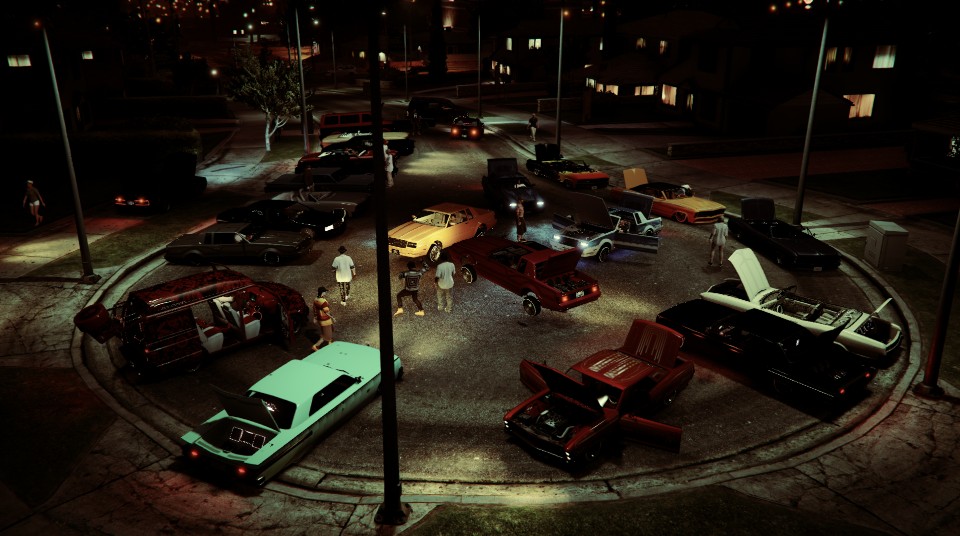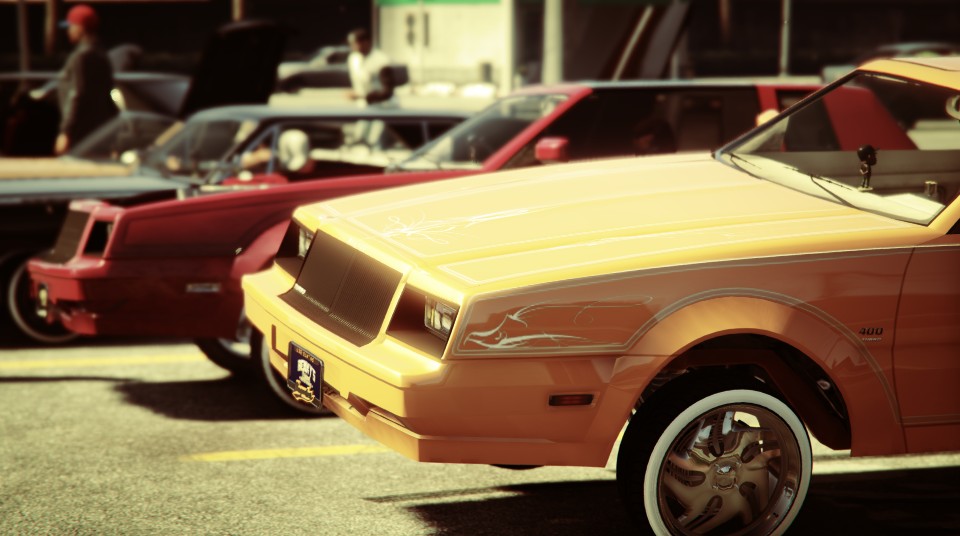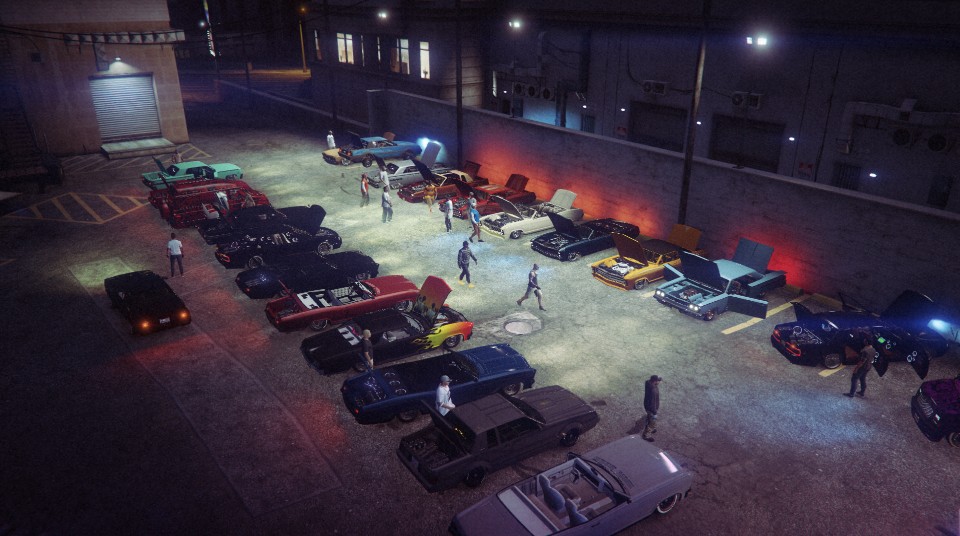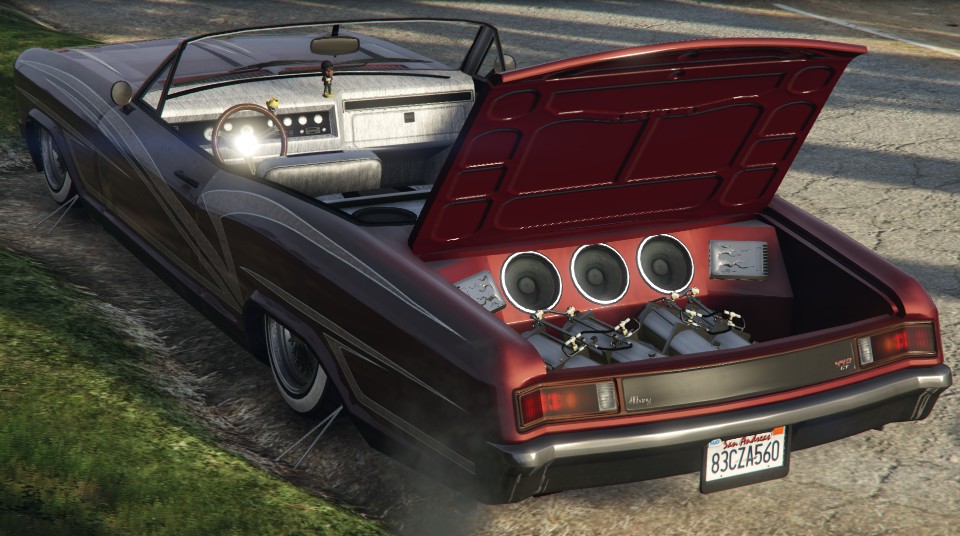 LOS DEMONIOS – THE SAGA CONTINUES
With the Rockstar Editor now added to the PlayStation 4 and Xbox One versions of GTAV as part of the recent Freemode Events Update, there's been an influx of console-based directors releasing high-quality Crew recruitment videos and other Crew productions taking advantage of the Editor's robust suite of tools. Ever since appearing on the Crew Noticeboard last September, Los Demonios MC have exhibited a flair for the dramatic in their mission to put a fresh spin on traditional Motorcycle Clubs. Their latest recruitment video effort really dials up the production value and is truly amongst the best recruitment videos we've seen yet, as Leader EPMUSICMAN attests: "We have so many talented members in our group, and especially with the addition of the R* Editor to the XB1 platform, our GTA experience has been brought to a whole new level of creativity!"
SKY CHILDREN IRL SKYDIVER CREW
The Sky Children join Vice City Crime Mob, Hillbilly Agenda and Merryweather IMF as one of a handful of Crews who have notably let their passion for in-game Crew comradery translate into real life friendships. However, it's not every Crew member who can convince their Crewmates to put down their game controllers and step out of a plane door in real life at 12,000 feet with nothing but a piece of silk and some positive thinking between them and solid ground. SKYZ have done just that.
Social Club member Mechluvin managed to compile this footage video entitled "A Journey" - chronicling the in-game and real-life skydiving adventures of his fellow Crew mates making the legit transition from the rarefied air above Los Santos and Blaine County to the open skies above Florida, France, New Zealand and Australia as a unified Crew of daring free fallers.

To see more cool sky diving feats by the Sky Children Crew be sure to subscribe to the Sky Children Collective on YouTube.
Pushing the limits of skydiving on GTA Online since August 2014, this over 400-member Crew houses over 50 real life skydivers and counting. In their video, we see some of the top brass of the Crew Hierarchy openly defying gravity all over the globe, with Commissioners redeyejediOgre, DirkDigglerRules, ShReD_Nz, MrNimbus69 (an actual tandem instructor with over 1500 jumps), Foo-Hurru and (recently certified) Crew Leader EpicLeftz all taking part in Accelerated Free Fall jumps.
A special congratulations to Crew Leader EpicLeftz who recently gained the qualification to jump without a licensed tandem skydiving partner. In regards to his recent graduation jump, EpicLeftz said:
"So my moment has finally come where I am able to say I am a certified skydiver! This journey has brought me through some of the most mentally challenging situations I've ever been in and I have made myself proud because July 10th marked the day my life began."
With his new qualification under his belt, EpicLeftz and fellow Floridian Foo-Hurru plan to meet up with JDM_SKIRK, Mechluvin, Nimbus and Skysha6 at Missouri River Valley Skydivers for a Crew dive sometime in the next year.
Describing themselves as a collective of "Basejumpers, skydivers, pilots, photographers, creative minds and free spirits", the Sky Children play on all platforms and have a roster that includes such esteemed players as "Queen of the Skies" Ash0191 and backwards skydive stunt originator weezlb who you can see soaring through the containers on the lower right of the quad above.
DEATH DEALERS TOURNAMENT UPDATE
HOT_KIMERA and the The H0T CLAN Crew are at it again with a massive Crew vs. Crew Tournament featuring 32 Free Aim specialist Crews battling it out in a 5-against-5 knockout style contest. Early voting after the third round appears spot on with Gooniemafia soundly leading with a K/D of 1.68 and 183 kills. Other notables include death dodgers Shoot To Kill with a K/D of 1.31 after defeating the Reapers Reach MC 2-0.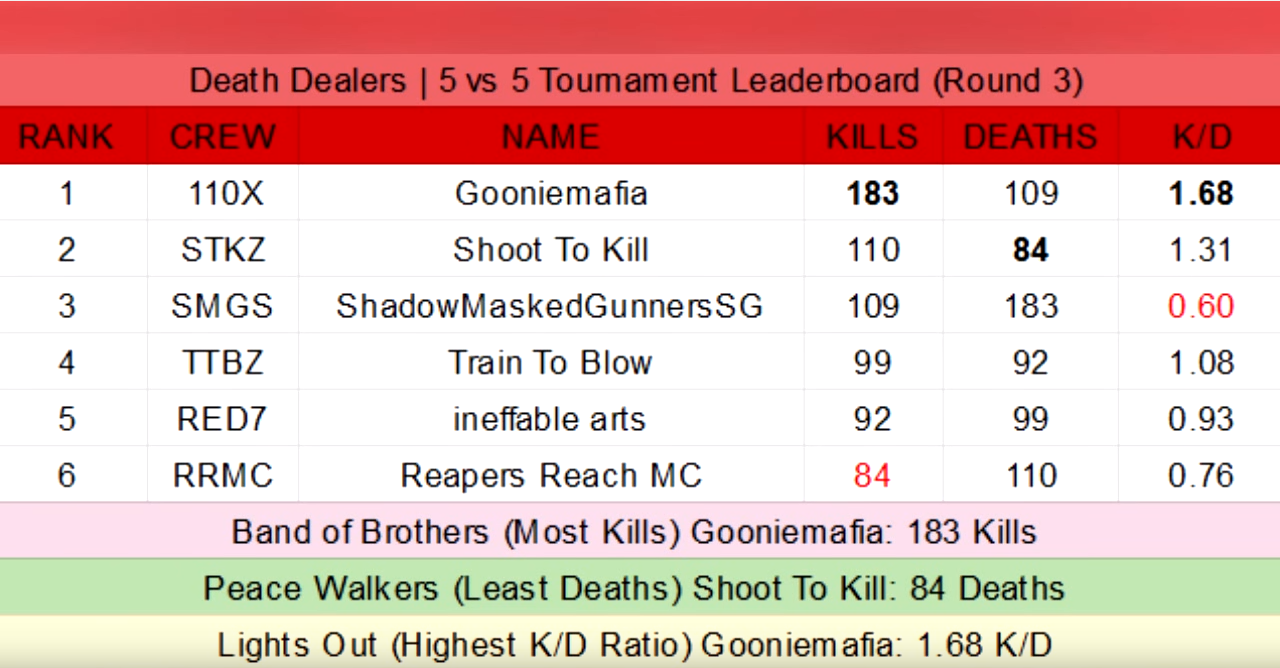 The current Death Dealers Tournament standings. Follow HOT_KIMERA on Twitter and YouTube to stay up to date on future rounds and check out the highlights video showcasing action from Round 3.

Previously:
Top Daily Objective Crews & The Off-Road All Stars
Car Meet Carnivals and the Top Head Hunter Crews on Social Club
The STNC x GLRY Euro Car Meet, "The Five" TDM Tournament and More Crew Events