The Crew Cut highlights exceptional grassroots community activity, events, accomplishments and other happenings across the thriving Social Club Crew scene. If your Crew is doing something special that you think the Social Club community needs to know about, hit us up at mouthoff@rockstargames.com and tell us all about it – you might see your Crew featured in an upcoming edition of the Crew Cut.

A DAILY OPERATION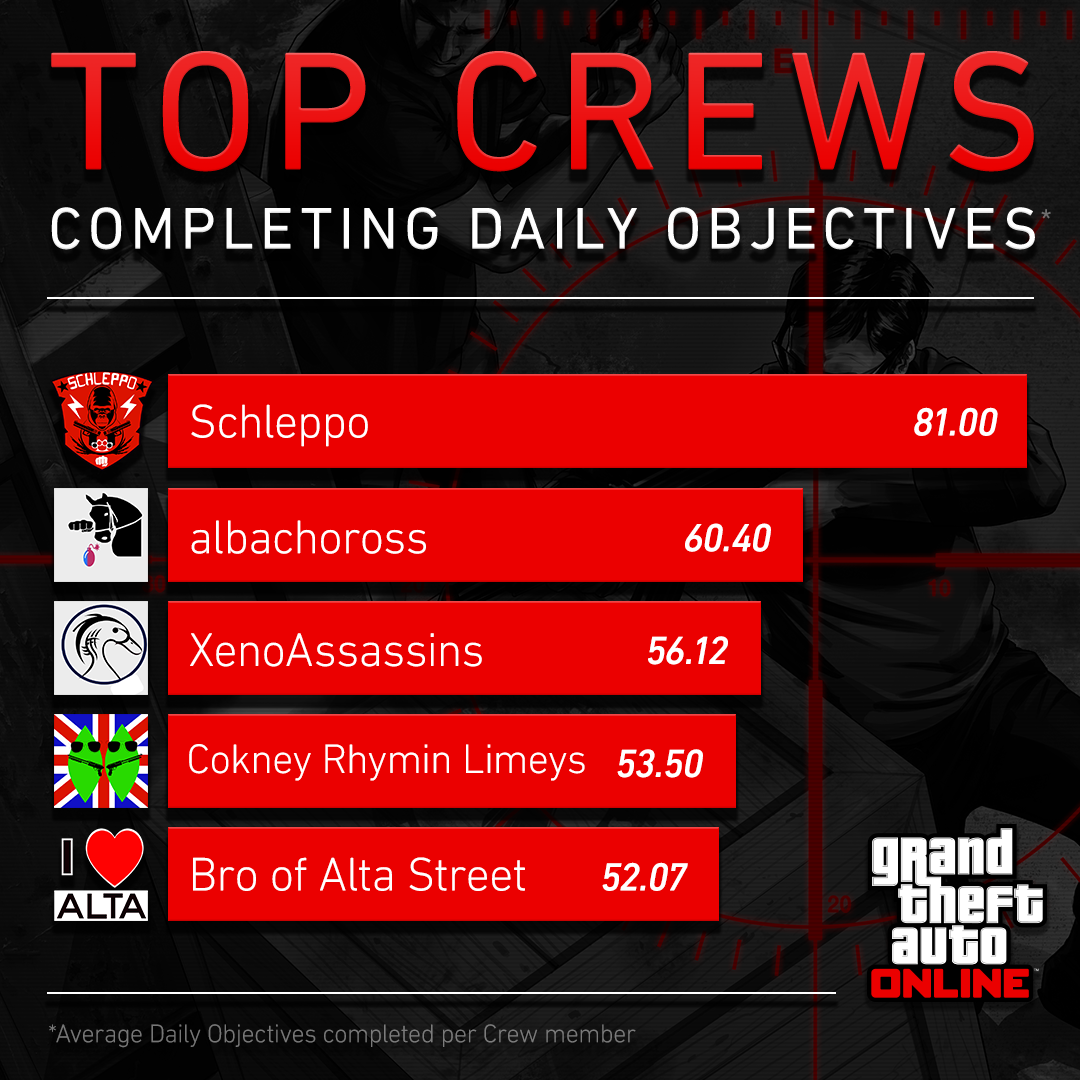 It takes commitment and often serious teamwork to complete the GTA Online Daily Objectives, particularly if you're gunning for the weekly or monthly stacking bonuses. For a whole Crew to be as committed to completing them as Schleppo is, that's quite impressive. The 10 members of this squad have completed 810 Daily Objectives between them. Even without the stacking bonuses, completing 810 Daily Objectives is worth around GTA$7M - or if one person had completed them on consecutive days, a massive GTA$14.5M.
Shout out to the Crews rounding out the Top 5. Albachoross are an all-Japanese PS4 Crew who have just recently celebrated their 6 month anniversary on Social Club. The XenoAssassins, led by MissTwisted GTA, are "all about gaming - LIKE A BOSS!" on Xbox 360. The Cokney Rhymin Limeys will have been flying their whimsical flag for 2 whole years now, having originally been formed just in time for the original launch of GTAV on PS3 and Xbox 360. Finally, Bro Of Alta Street take their name from one of the central roadways in Downtown Los Santos, where we can presume they hang out when not completing their average of more than 52 Daily Challenges each.
OFF-ROAD ALL STARS: ROAR RALLY CHAMPIONSHIP

For more info on future Off-Road All-Stars events be sure to check out their official rally site at: http://www.roar-rally.co.uk/.
Since appearing in the Crew Noticeboard back in May, the Xbox One-based Off-Road All-Stars, led by charismatic Crew Leader and YouTuber IvI-Ph03nix-IvI, have gone from strength to strength, putting together a comprehensive website and even distributing their own elaborate and high-quality e-zine. Recently, Ph03nix collaborated with Commissioners Stevedogg51 and Yello Cactus to bring this Crew's vision for an official Racing Championship to fruition. The Rally Championship has its own separate website with information on how to sign-up, previous results and the forthcoming schedule. Here's how it works:
The championship consists of four major rally rounds known as The McKenzie Rally, The Chiliad Mountain Rally, The Redwood Classic and The Palmer Taylor Trophy. The lowest cumulative time across all four rounds determines the winner. Designed with multiple dates for players to post their time and no limit on the number of competitors taking part, players who sign up are asked to pick one custom ride from a specific vehicle class and use that same selection throughout the championship round. Each round's selected track is posted a week in advance to allow all competitors time to practice. Check out this promo video for a quick summary.
On the designated Race Night, all entrants join the Race and go for three laps, which break down as follows:
First lap: a warm-up lap tackled as a group to learn the course. All Racers must pull off the track before hitting the last check point.
Second lap: Racers take turns to set their time over the course of the second lap. This is recorded on the rally leaderboard.
Final lap: completed in group formation for a show of unity.
The primary reason behind the inclusion of having only one hot lap is to add to the pressure of each Racer to perform to their utmost best in front of their peers. To make the rally truly interactive, the rounds are broadcast on Twitch in cinematic mode with live commentary from none other than Ph03nix herself.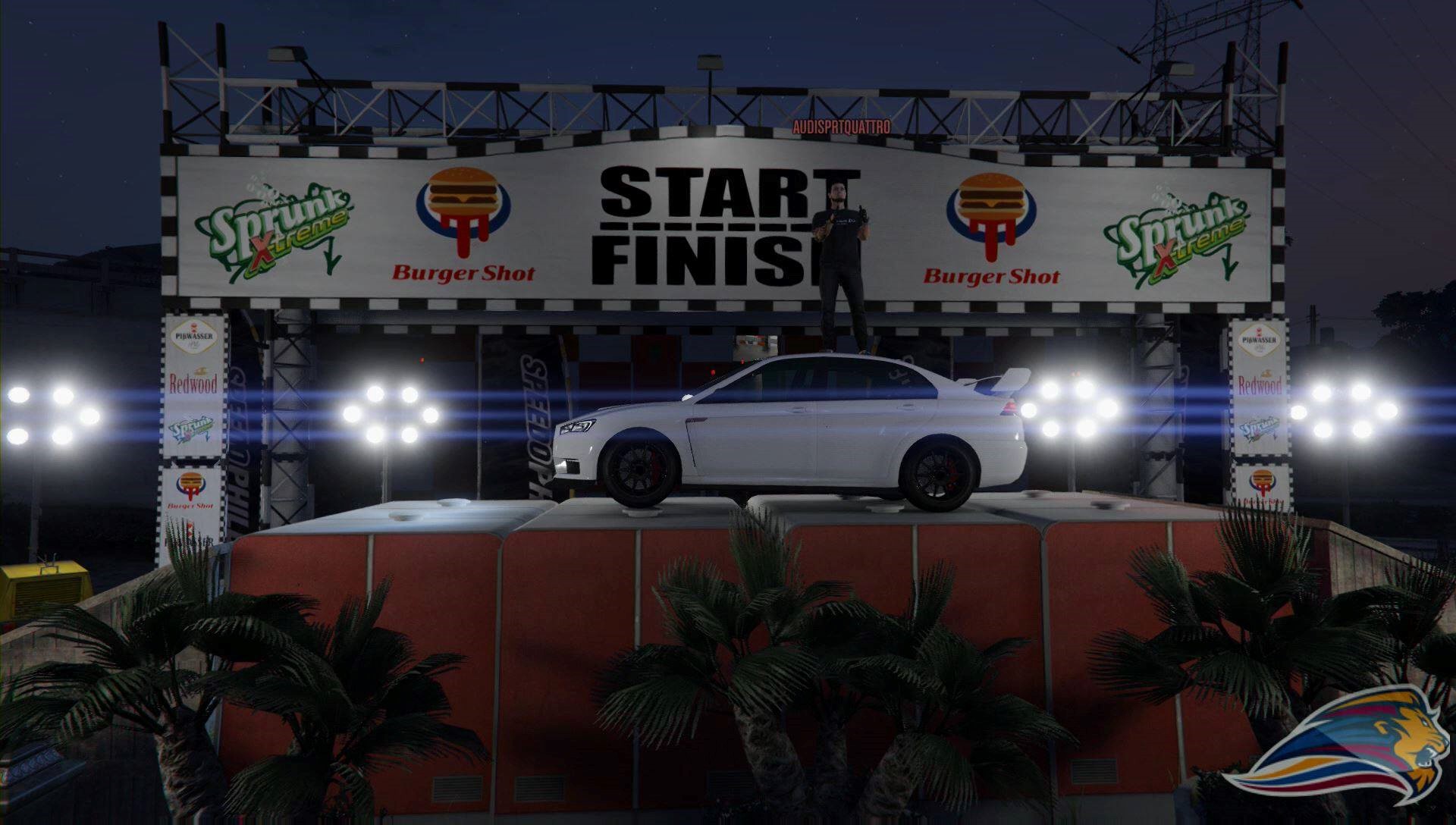 Above we see McKenzie Rally winner AUDISPORTQUATTRO taking the ROAR podium with an impressive finishing time of 5:27.571, placing a full 13 seconds in front of 2nd.
All throughout July and August, racers took part in the McKenzie Rally with AUDISPORTQUATTRO taking 1st place. Moving towards September, Racers are now practicing and preparing for the Chiliad Mountain Rally - a trek that takes drivers through unforgiving cliff-side tracks along Raton Canyon straight out to the Alamo Sea and North Chumash. On this course, ROAR organizers warn:
"One mistake could cost you the stage, round or even the Championship. Undulating and uneven tracks make every corner a challenge. Too fast and you'll flip off the cliffs and lose time, too slow and your rivals will eclipse your time. So then, what are your tactics going to be?"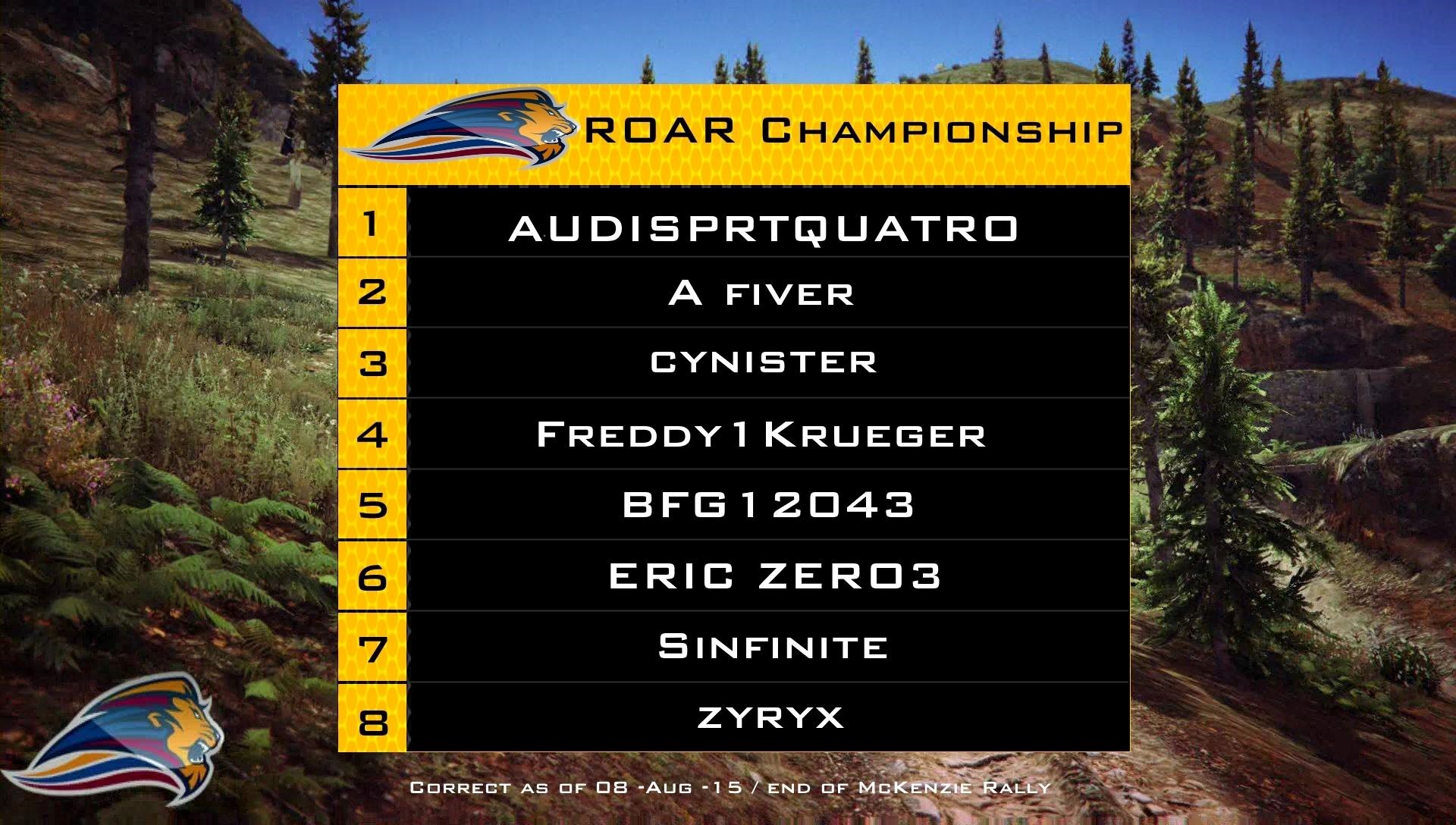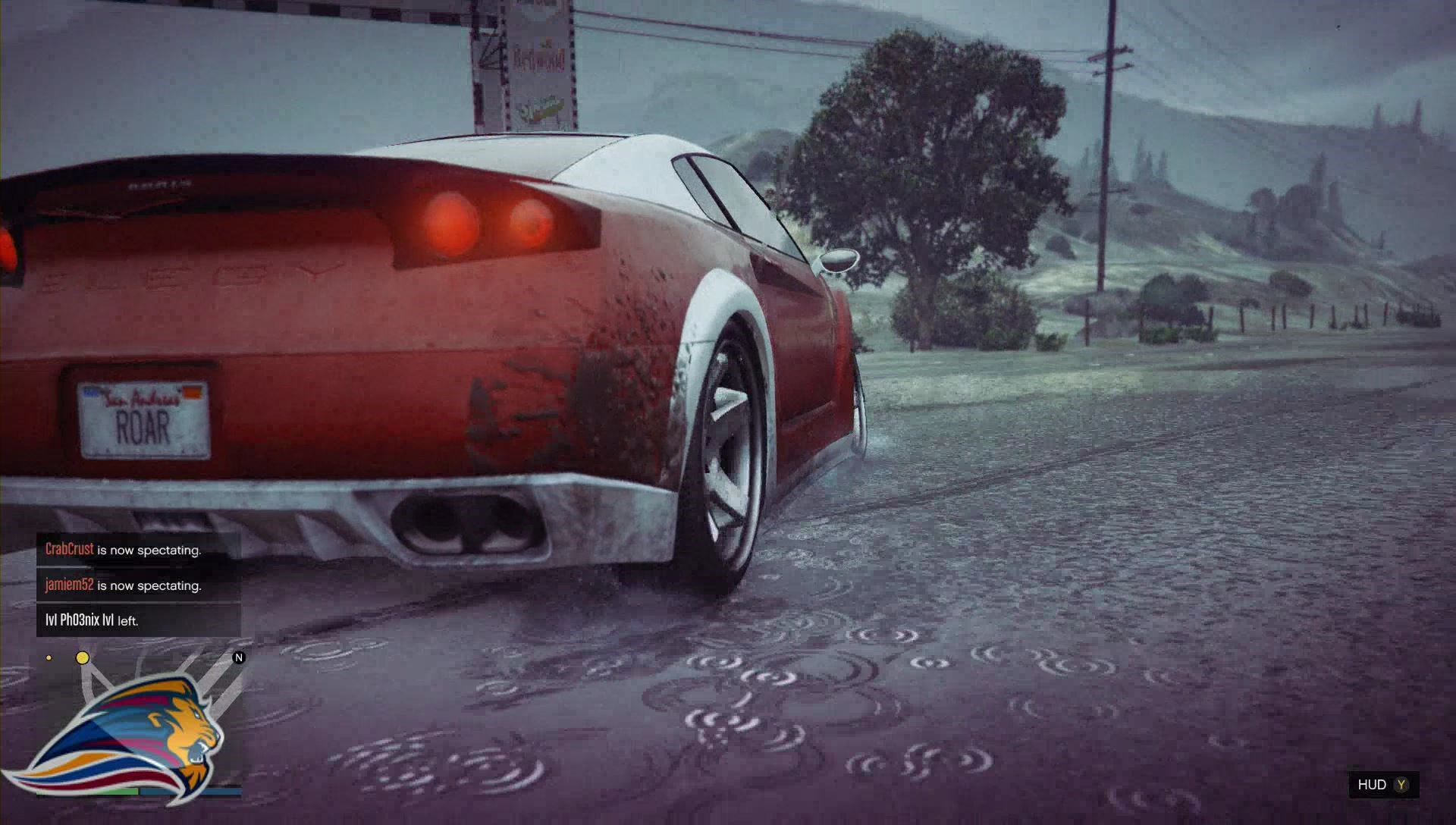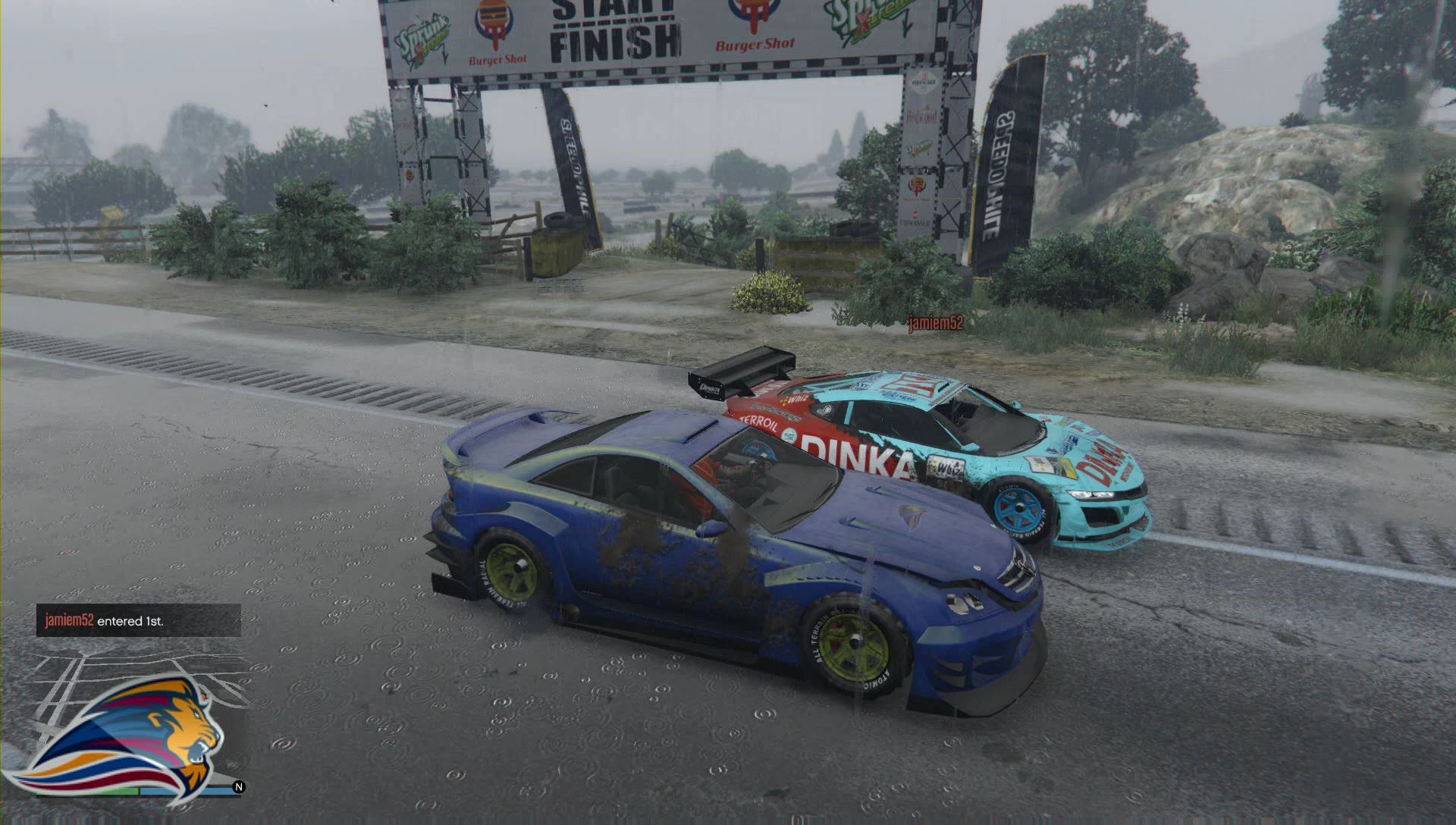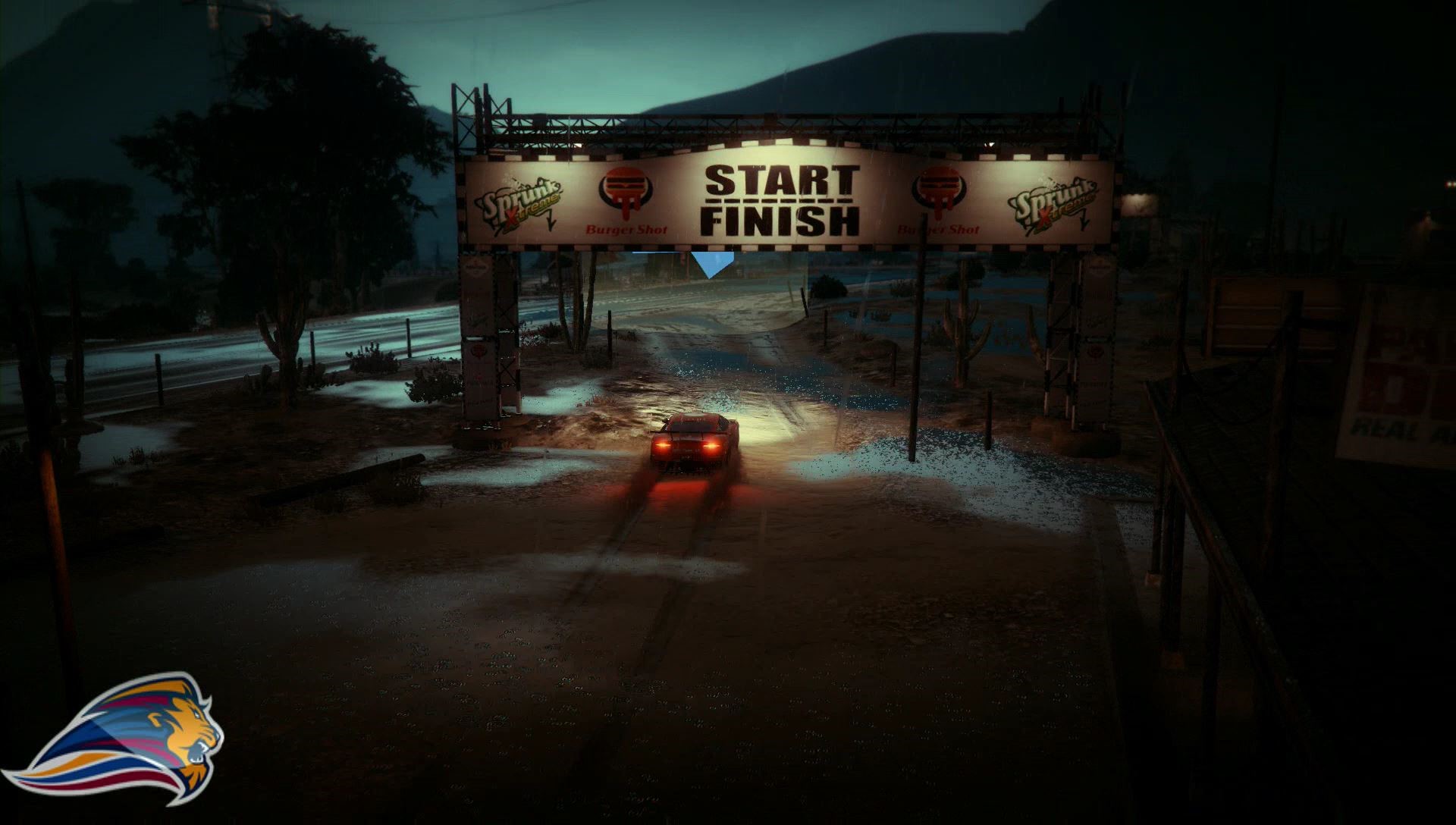 From dusk till dawn, these shots from the first rounds of the rally reveal some pretty grueling racing conditions out in Grapeseed.
The Off-Road All Stars also recently launched PC and PS4 chapters for their Crew. There's still plenty of room on the roster if you want to get involved. The original Xbox One Crew is now maxed out, but if you ask Pho3nix nicely she may set-up an overflow Crew so that you can join them. However, the Group A section of the ROAR Rally Championship is open to all Crews so definitely hit up Stevedogg51 and Yello Cactus if you think you have what it takes to compete alongside some solid racers.
ON THE ROAD AGAIN
Hillbilly_Agenda Crew Leader KnoxNerd reached out recently to let us know that his IRL quest to hand-deliver custom plates to his fellow Crew members continues. This time, his travels took him out to the Northwestern climate of Oregon, more specifically the small town of Vernonia, where he and fellow Crew member Gnarlinshreds attended the Vernonia Friendship Jamboree & Logging Show - which seems appropriate given the Crew's focus on outdoor life and comradery.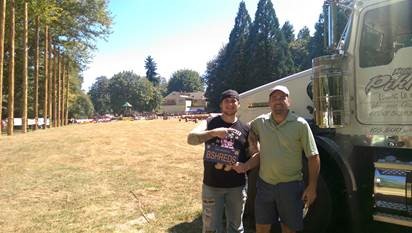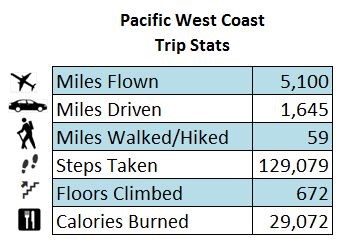 [Left] Hillbilly_Agenda's KnoxNerd handing off the "BSHREDS" custom plate to Gnarlinshreds (PSN B3NNY_SHR3DS). [Right] We can see by the numbers, that Knox is always willing to go the extra mile for his Crew mates.


Previously:
Car Meet Carnivals and the Top Head Hunter Crews on Social Club
The STNC x GLRY Euro Car Meet, "The Five" TDM Tournament and More Crew Events
Down Since Day One Founder Crews, Bullshifters Crew Spotlight & More