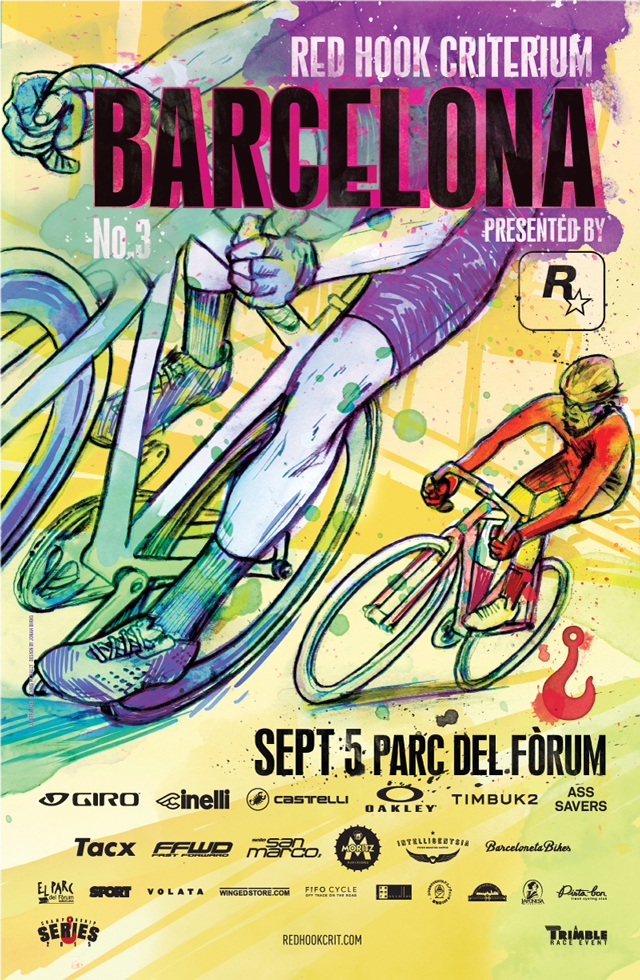 The Red Hook Criterium Championship Series continues on to Barcelona for the third consecutive year this Saturday, September 5th, as 300 athletes from over 30 different countries will convene at a beautiful water-front circuit in Parc Del Fòrum to compete in the ongoing race series. With all top ten competitors in both the men's and women's fields returning, there's likely to be an intense battle for the final podium in the third race of the four part series that began in Brooklyn this past April and continued on to London in July.
The women's series is led by pro cyclist Ainara Elbusto Arteaga (79 points) who has been an absolute force, placing on the podium in the past 4 events. Kacey Lloyd (57 points) – sporting the Rockstar Games racing suit – is in the hunt with two podium finishes over the 2015 series, closely followed by France's pro rider Fleur Faure (52 points). The women's field is growing in Barcelona, including representation by Olympic Chilean mountain biker Francisca Campos.
The men's field is tied between two ferocious riders. Red Hook Crit newcomer William Guzman (59 points) raised eyebrows in Brooklyn with a 4th place finish in his RHC premier, then dazzled crowds at London with a dramatic sprint in the final 300m for first place. He shares first place with Brooklyn winner Ivan Ravaioli (59 points), followed by perennial favorite Thibaud Lhenry (50 points). We are excited to see road cyclist David Santos and US Criterium pro Rahsaan Bahati try their luck in their first appearances at the Red Hook Crit.
For friends of Rockstar in Barcelona or nearby, entrance is free to enjoy a full day of cycling and an evening of high-intensity racing. For more information visit redhookcrit.com or check out the official Facebook, Instagram, and Twitter.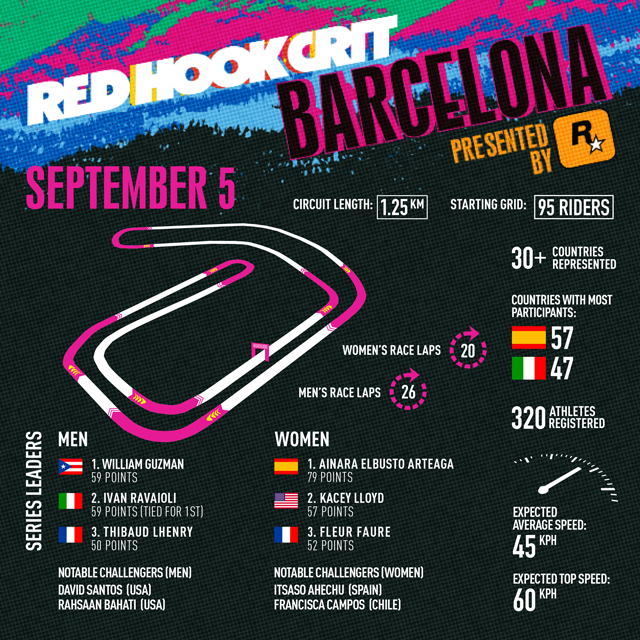 Previously:
William Guzman and Ainara Elbusto Arteaga Power Past the Field to Win the Inaugural Red Hook Crit London
Red Hook Crit Brooklyn No. 8 Recap