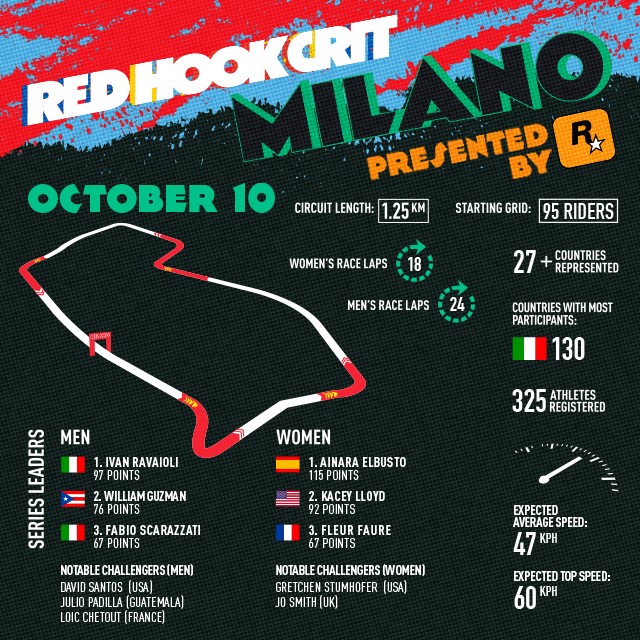 The final race of the 2015 Red Hook Criterium Championship Series presented by Rockstar Games is this Saturday in Bovisa, Milan. Following races in Brooklyn, London and Barcelona, the final leg sets up to be one of the most thrilling conclusions yet. 325 athletes from over 27 countries will descend upon Milan to compete in the city's 6th annual Red Hook Crit finale.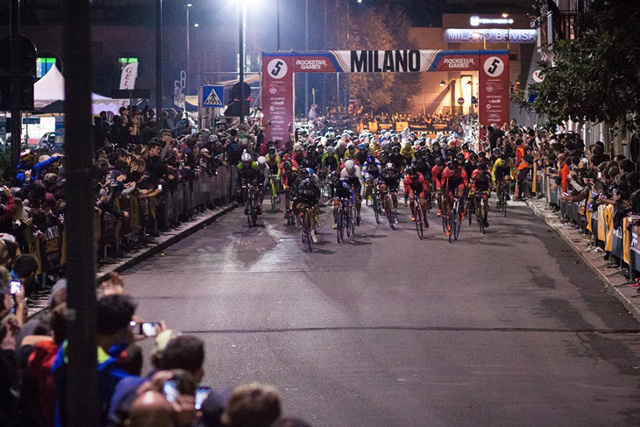 A view of the crowds at the start of the Men's race at last year's Milano No. 5 (Photo: Mauro Tittoto)
Women's series leader Ainara Elbusto has a commanding 115 point lead. Second to her is Kacey Lloyd (92 points) who – sporting the Rockstar Games jersey – outsprinted Elbusto in the final stretch of the Barcelona race to win in dramatic fashion. Barcelona's Top Antagonist Winner Fleur Faure (67 points) sits in third place followed closely by last year's Milan winner Ash Duban (62 points). We're looking forward to seeing newcomer Gretchen Stumhofer (45 points), who placed eighth in her Red Hook Crit debut at London, then third last month at Barcelona.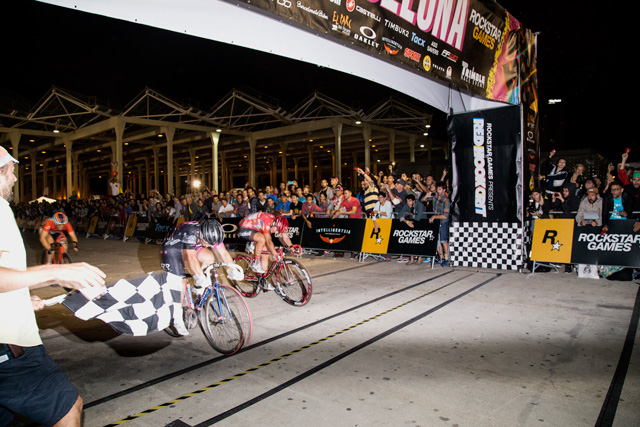 Kacey Lloyd's final sprint against Ainara Elbusto at Barcelona No. 3, followed closely by Gretchen Stumhofer. Photo: @strict / @eloisemavian
In the men's series, led by Italy's own Ivan Ravaioli (97 points), the top 5 are all still mathematically viable to win the overall championship series. While Puerto Rico's William Guzman (76 points) sits second place with powerhouse performances in all three races so far this year, we saw a heated battle develop between Ravaioli and Mario Paz Duque (66 points) in Barcelona – and look forward to seeing how the competition will unfold in Milan. Not to be counted out are Italian dark horses Fabio Scarazzati (67 points) and longtime RHC competitor Augusto Reati (66 points).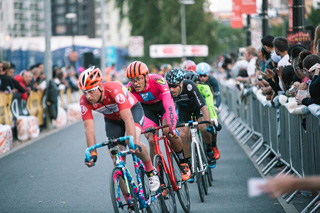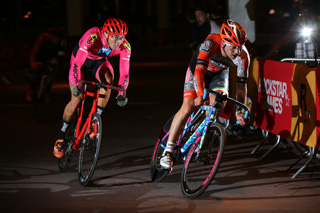 Mario Paz Duque and Ivan Ravaioli battle in London and Barcelona (Photos: @strict / @eloisemavian)
While the men's field grows more competitive with the likes of French pro Loic Chetout making his first RHC appearance, and the return of David Santos - perhaps one of the most notable changes is the absence of Eduard Grosu, who has back-to-back wins in Milan the past two years.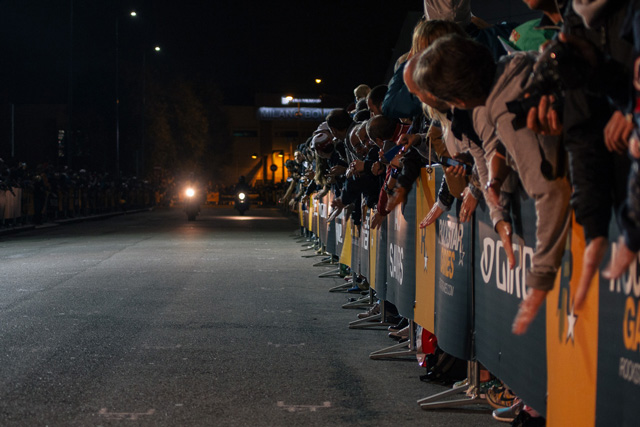 Spectators bang barrier panels and ring cowbells to cheer athletes approaching the start/finish straightaway at Milan No. 5 (Photo: @strict / @eloisemavian)
For anyone in or nearby Milan, the race is free for all spectators and will surely be a day of world-class racing. The qualifications will begin around 12:30 with the final races beginning around 20:00. Best of luck to all of the athletes and for more information visit the official Red Hook Crit website and follow them on Instagram, Facebook and Twitter.

Previously:
Red Hook Crit Barcelona No. 3 Recap
William Guzman and Ainara Elbusto Power Past the Field to Win the Inaugural Red Hook Crit London
Congrats to Eduard Grosu and Ash Duban, Winners of the Red Hook Crit Milano Race