In our second selection of Rockstar Editor focused tips, we're honing in on how to use some of the Camera Effects and Soundtrack settings to your advantage. If you missed our initial write-up on Capturing Footage from last Friday, be sure to check that out, along with our Rockstar Editor tutorial guide on Social Club.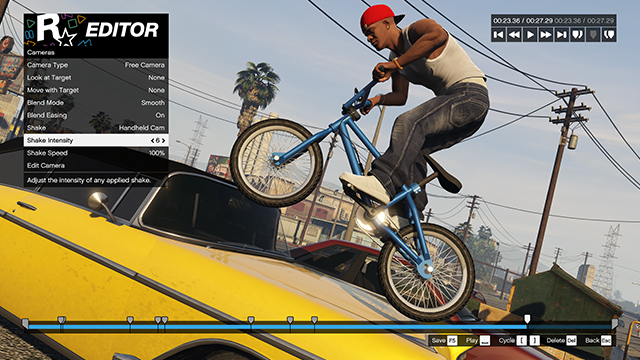 Experiment with different camera effects, but be sure to make the camera effect fit the action.
CAMERA EFFECTS
There are a wide array of camera effects that can really make your scene unique. We've highlighted just a few here, but take the time to play around with different effects to see what works for you. Once you've found the perfect combination, try to keep some consistency throughout your film - constantly shifting between different filters and styles will only disorientate the viewer, and might make your film seem unpolished.
Blends are an excellent cinematic tool, and only possible in the Rockstar Editor. There are a couple of options for Blends which you should be clear on: "Easing - Off" will move the camera the same speed through every frame of the blend, which you might want in a fast action scene with fast cuts to make the movements more sudden and jerky. On the other hand, "Easing - On" will increase and decrease camera speed as the camera moves in and out of the blend for more fluid movement. You also have a choice between Linear and Smooth Blend. A Linear Blend will move the camera directly between the Blend Markers so you know exactly where the camera will be and what will be in the frame when it reaches a Marker. A Smooth Blend will make the camera travel in a curve to go to the approximate positions of each Marker on your Blend, but there will be no sudden change of direction when it hits intermediate Markers.

If you find that during a Blend your subject matter goes out of frame, you can add in an extra Marker at the point where the subject is out of frame and use that to reposition the camera slightly (while editing in Free Cam). You can see a good example of how to do this in Olli43's tutorial video. For even more precision editing, try putting the scene in slow motion to nail down the perfect timestamp for your Marker.
Get to grips with the Depth of Field tools available; these allow you to draw the viewer's eye by focusing on specific areas and blurring out others. Resist the temptation to overuse it though as it won't have the same impact when used sparingly.
SOUNDTRACK
Score intensity changes can sound really epic, and when paired with the action in your film make the whole piece feel more cinematic. Note that Music intensity settings only work for scored instrumental tracks, but if you're editing to a track like "Leave" by "Wavves" (for the current Rockstar Editor contest), you may wish to raise and lower the volume to add extra weight to the scenes in your video. Have an action scene with explosions and gunfire? Crank up the SFX for that scene and drop down the music and dialogue. Silence can also be useful in places to catch the viewer's attention. Check out Spike Jonze' video for The Beastie Boys' "Don't Play No Game that I Can't Win" to see how music levels and sound effects really change the action.
For entrants to the contest, don't forget to use the Skip To Beat function to make sure your editing keeps up with the beat. Timing a particular cut to match up with a change in music can have a dramatic effect on the punch of that edit.

Previously:
Rockstar Editor Tips: Capturing Footage