Whether you already consider yourself a seasoned veteran of the Rockstar Editor, or are just now starting to come to grips with this powerful new game feature in the hopes of winning the current Rockstar Editor Video Contest, you'll want to have a good grasp of how cinema is used as a language to convey themes and drive a narrative. The third installment in our Rockstar Editor Tips Series offers a look at some popular methods to achieve this.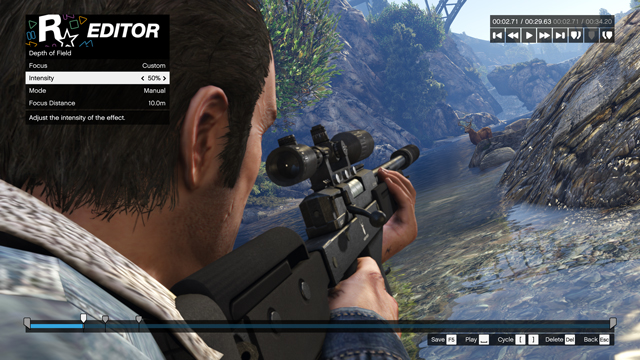 Try manual focus pulls between objects at different distances for an intense cinematic effect.
Dive into some real world cinema studies for great examples of how to effectively do this. John Hillcoat (The Proposition, The Road) created a short film based on Red Dead Redemption several years back which uses key techniques such as establishing shots, montage, flashback, zooms, and pans. Take the time to critically assess the work of your favorite directors and consider what the aesthetic choices they've made are and more importantly, why they've made them. For real life directors who are famous for work in the arena of music videos, may we recommend checking out the back catalogue of Michel Gondry, Chris Cunningham, Greg Bunkalla and Gangrene's own Jason Goldwatch. Some specific recommendations to this point below:
A beginning, a middle and an end is the core structure to any narrative, so don't just launch into the action! Even in a short three or four minute film, a three-act structure is essential to making a story coherent. Running, Man is an excellent example of this: In act one, Trevor shows purpose and direction looking over Blaine County from Mt. Chiliad. In act two, we have the core action of Trevor running and growing the beard. Act three is the pay off: Trevor's journey reaches a satisfactory conclusion, he looks across the ocean and turns back to keep running as the music kicks back in.

Establishing shots are essential to setting the scene in your first act; a strong opening image can also imply the themes and action to come in a story. For some inspiration, check out El Serpe's remake of the House Of Cards opening titles. This remake is an excellent series of establishing shots that showcase all of the horror and the beauty of Los Santos.

Use fades to show the passage of time. Instantly cutting from a character at one location, to the same character at another location can be jarring and imply that they warped or that there are two cloned characters. It's much better to show the character walking off-camera, followed by a fade-out, then a fade-in at a new location with the character there. (That said, John Hillcoat actually eschews fades in his opening establishing shots of John Marston crossing the deserts of West Elizabeth. However, notice how in three consecutive shots, Marston is in the same part of the frame and travelling left to right across the frame. In this way we see that he is on one continuous journey across a great distance.)

The GTAV player cam has a deliberately wide field-of-view to aid gameplay, so the player can see more of what is happening around them. However, films often tend to use much tighter shots, whether to give a sense of more speed in action scenes like car chases (since objects are crossing the frame more quickly) or more intensity in close-up shots of actors' faces. Keep this in mind when framing your shots in free cam and use the Zoom feature to get the ideal field-of-view.

The Rule of Thirds – an important technique not just in films but in all forms of visual art. Placing objects/actors of interest within one third of the image in line with imaginary intersections increases the attention drawn to them rather than just centering the view on them. Scenes tend to look cooler using this technique. Previously featured and mentioned in the initial Rockstar Editor Tips Series, Boris the Blade's Super Clown uses this technique well.

If you have any more tips for using the Rockstar Editor please feel free to share them in the comments section below. Alternatively, if you've made a video that illustrates any of these tips, or any of your own, you can also share those with the community below. And best of luck to everyone entering the contest to create the Official Music Video for "Leave" by Wavves. You've got until June 8th to submit your cinematic masterpiece for a shot at the custom G910 Orion Spark Gaming Keyboard and G510 Proteus Core Gaming Mouse, plus a prize pack of GTAV gear and a $100 Rockstar Warehouse gift card.

Previous Rockstar Editor Tips:
Capturing Footage | Camera Effects & Soundtrack