Social Club stalwart and Video Editor all-star FugetSudo created this pretty awesome video of Niko Bellic himself getting in on the November 29th GTAIV PC event fun live from Tw@ cafe.
Thanks to Social Club members worldwide for joining us last month for a stacked set of Multiplayer Events battles across Max Payne 3, Red Dead Redemption and GTAIV - and those we've seen continuing to fight the fight in the current Winter events calendar with action unfolding well into the New Year. We'll have a December recap soon looking at all of the most recent action including the skulls holiday unlock Max Payne 3 extravaganza that happened this past weekend.
The final month of the Fall Calendar kicked off with November 16th's intense 6-hour doubleheader of Red Dead Redemption and Max Payne 3. Our two live-streaming players, RedDeadDev3 and RedDeadDev4, started with a Gang Shootout in which Dev4 took out 3 opponents in the opening duel and then raced to 13 kills for only 6 deaths. However, the opposition clung on thanks to solid work from KALD_KSA_F-15 (PSN ID) and mad2oo8m (PSN ID), leaving only $50 in it with three minutes to go. Dev4's teammate justaway56 (PSN ID) came to life here with a series of quick fire kills to claim the win for Dutch's Gang and come away as top player with 19 kills notched.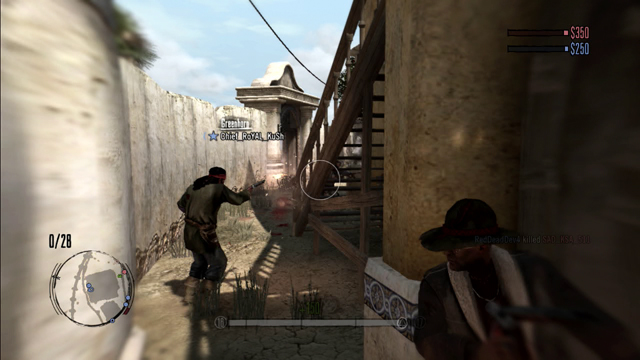 RedDeadDev4 waits for the perfect moment to take out Chief_RoYAL_KuSh
Following a spontaneous mass brawl in Free Roam, Dev3 entered a Grand Prix in Carrera Del Diablo with DemonLord B7R, Mazzkulin, AkA x MaFiAzZ, ClaudeSpd, ListeKing, StrappedRuby303 and Samuel4000. Dev3 saw an early lead diminish as weapons went live and DemonLord BR7 immediately put his horse down. It was an uphill struggle from there but our dev almost pulled it back, clinching second going into Chuparosa but ultimately falling just behind the race winner, Mazzkulin. Dev3 fought valiantly in the next two races and was in prime position going into the final race, but wound up falling to a 5th place finish - credit to Mazzkulin. for the overall win.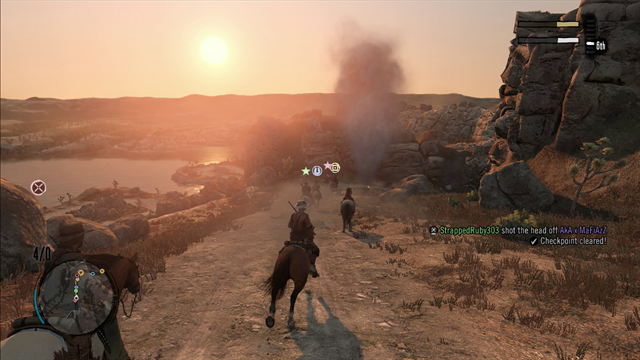 Our Dev player rides into the sunset during a race around Chuparosa
Hit the jump for much more including videos, screens and a list of participants from our November multiplayer events...