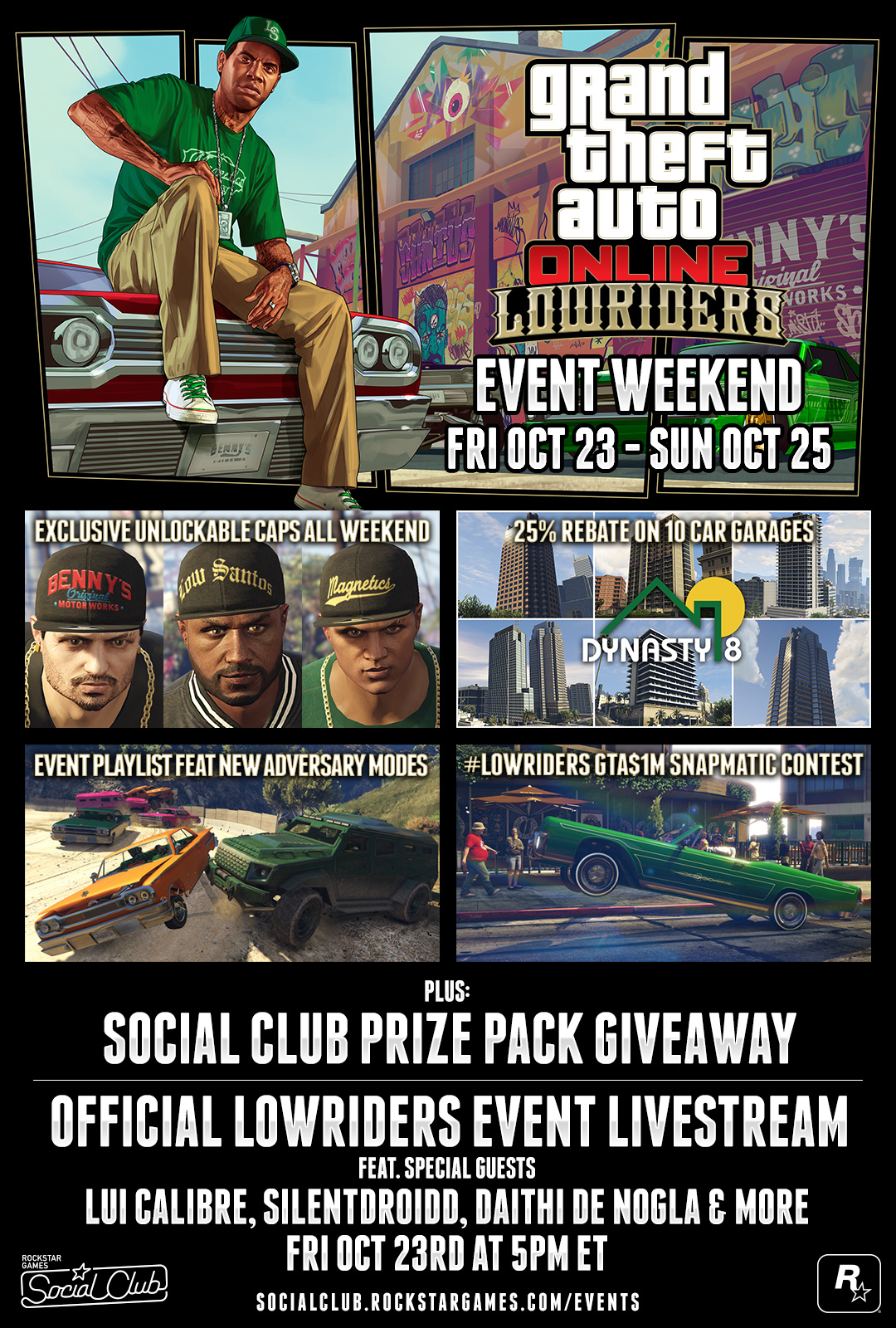 Buckle up for the GTA Online: Lowriders Event Weekend this Friday October 23rd through Sunday October 25th. To celebrate this week's launch of GTA Online: Lowriders, there will be exclusive new clothing available, as well as the opportunity to grab a 25% rebate on new properties to store your slammed versions of the Voodoo, and the brand new Faction and Moonbeam vehicles. There's also an Event Playlist featuring a few of the new Adversary Modes, with a huge ammo reward for completing it, so that you can have the new Machine Pistol locked, loaded and ready for whatever comes your way. Read on for all the details.

EXCLUSIVE UNLOCKABLE LOWRIDERS CAPS IN-GAME
It's no good having the flyest ride on the block if you don't have the threads to match. So get lids as seen in the flyer above branded with the Magnetics, Low Santos, and of course the place where all the magic happens: Benny's Original Motor Works. These caps are only available this weekend, so be sure to log in to GTA Online all three days to collect them all. As soon as you enter GTA Online on Friday, Saturday and Sunday each cap will automatically appear in your wardrobe. If you're looking for one cap in particular, here's how it all breaks down:
Friday: Magnetics
Saturday: Low Santos
Sunday: Benny's Original Motor Works
25% REBATE ON PURCHASES OF A PROPERTY WITH A 10-CAR GARAGE
With GTA Online: Lowriders, players are now able to own up to 4 different properties, meaning the most hardcore car collectors now have room for up to 40 different vehicles. The aggressive salesmen at Dynasty 8 are offering a one-time 25% rebate on a single qualifying purchase this week. All you need to do to qualify for this special limited-time offer is have your email address registered and verified with the Rockstar Games Social Club, be a member of the Rockstar Games Mailing List and a member of at least one Social Club Crew. The cash from the Dynasty 8 rebate will hit your in-game Maze Bank account by Friday, October 30. To fulfill these requirements, login to your Social Club profile. If your profile already meets these three requirements, just visit the Dynasty 8 website in game and purchase your new pad.
SOCIAL CLUB EVENT PLAYLIST FEATURING BRAND NEW ADVERSARY MODES
We're making it as easy as possible to play some of the new Adversary Modes: Offense Defense and Relay. When you launch GTAV this weekend, you'll notice an Event option on the boot up screens. Simply hit the button and you'll be placed directly into the Event Playlist alongside other GTA Online players primed for instant action. Complete the Playlist and you'll earn a huge ammo cache reward as well as all the cash and RP you usually get for making it to the end.
#LOWRIDERS GTA$1M SNAPMATIC CONTEST
With such a wide assortment of paint jobs and modifications to get creative with in GTA Online: Lowriders, there's lot for snap-happy shutterbugs to capture and catalogue. We're looking forward to seeing how dedicated Snapmatic Crews and talented novices alike frame up their proud new rides. Don't forget to tag your Snapmatic with "Lowriders" on Social Club for a chance to be one of the 5 winners of GTA$1M and have your picture featured here at the Rockstar Newswire.
XBOX 360 AND PS3 BONUSES
There's also action for Xbox 360 and PS3 players to get into this weekend, with Double GTA$ and Double RP on all Races. We'll also be upping the frequency of Event Crate Drops - falling over Los Santos and containing bumper packs of weapons, RP and GTA$. Also, up until the end of the day on Sunday October 25, PS3 and Xbox 360 players get a one-time 25% rebate on any vehicle from Warstock Cache & Carry. To qualify, just have your email address verified with the Social Club, be on the Rockstar Mailing List and a member of any Social Club Crew. Qualified players will receive the rebate on their purchase deposited into their in-game Maze Bank account by Friday, October 30.
LOWRIDERS SOCIAL CLUB EVENT PRIZE PACK GIVEAWAYS
The Lowriders Event Weekend Sweepstakes is open now at the Social Club Events page. Trick out your own ride with a bumper pack of Rockstar Games and GTAV gear including the GTAV Air Freshener, the Rockstar Games and GTAV keychains, a GTAV engraved chrome Zippo and a copy of the Welcome to Los Santos CD for you to cruise to. Five lucky winners will also receive 2 Rockstar t-shirts and a sticker pack. For a chance to win, Social Club members can head over there now and enter via our quick-and-easy entry form.
THE OFFICIAL ROCKSTAR GAMES LIVE STREAM FEAT LUI CALIBRE, SILENTDROIDD & DAITHI DE NOGLA
To kick off the Lowriders Event Weekend tomorrow Friday afternoon, the Rockstar Games Live Stream will be getting started at 5pm ET with a blockbuster broadcast of Lowrider car shows, Lamar Contact Missions and new Adversary Mode fun. The Rockstar Broadcast team will be joined by special guests via Skype live from SoCal: Lui Calibre, SilentDroidd & Daithi De Nogla. Keep an eye on twitter.com/rockstargames for more updates, or subscribe/follow us at youtube.com/rockstargames and twitch.tv/rockstargames to get instant notifications whenever we go live.


Previously:
GTA Online: Lowriders Now Available
Exclusive Unlocks, In-Game Discounts and More in the GTA Online Freemode Events Social Club Weekend