In the final edition of our Freemode Events Game Tips, we take a look at more pro-tips to help you dominate Hold the Wheel, Criminal Damage and the 19 Freemode Challenges. Be sure to check out our previous installments of Freemode Events Game Tips to gather knowledge for these brand new games and challenges.
GETTING STARTED
Before heading in to the maelstrom of Freemode carnage, make sure you're ready to go and primed for whatever will be thrown at you with these general all-purpose tips:
Stock up on weapons and ammo at Ammu-Nation, equip some strong Armor and grab some Snacks to top up your health when it gets low.
Fully stock your garage with a good range of cars and motorbikes so you're ready to take on any required terrain. Also, purchase a swift plane and a chopper to dominate some of the aerial challenges or traverse the map quickly.
Not all Events have to be a solo affair. Some Events allow you team up to seize the day. When the job is done, you can share your winnings by going to the Inventory section in your Interaction menu, and selecting Cash. From there, choose the player you'd like to share with as well as a percentage cut.
When in Freemode, keep an eye out for the purple text and UI in the top left hand corner; it will provide useful tips about the current Event.
Stay true to your objective; maintaining focus on the main objective in all the Events helps you avoid getting caught up in combat with other players, which will only slow you down.
If you want to avoid auto-targeting your friends during Events, be sure to set your Player Targeting Priority to Strangers.
HOLD THE WHEEL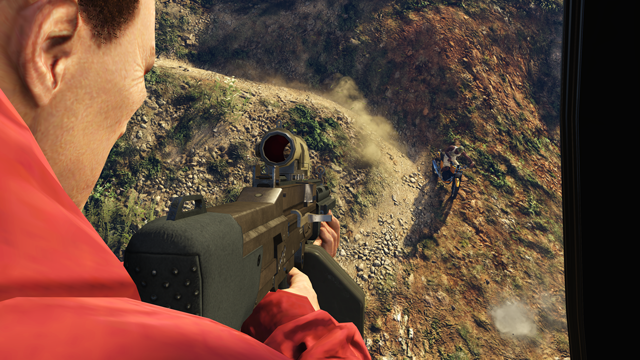 Heading off-road is a good way to lose your pursuers.
Objective
To succeed at this Freemode Event and earn a tidy pile of cash and RP, you must quickly locate a specific vehicle that shows up on your Radar. You will then be tasked with holding onto it until the timer runs out. All players in the vehicle at that point will split the rewards, so feel free to team up to keep hold of your prize.
Tips
As soon as this Event begins, make your way quickly to the vehicle's location indicated on your Radar and secure the surrounding area before stealing the vehicle. If you're trying to gain possession of the vehicle, avoid the use of explosives as the vehicle cannot be destroyed. A more efficient method is to try and ram it off the road and dispatch the passengers within. The players within the vehicle can duck to provide some cover against the attackers. They should also consider heading off-road, as this will ensure that the attackers are unable to set up roadblocks and may also help to lose any other pursuers. Remember, it's the players who are in the vehicle when the time is up who will be victorious, not those who have been in the longest.
CRIMINAL DAMAGE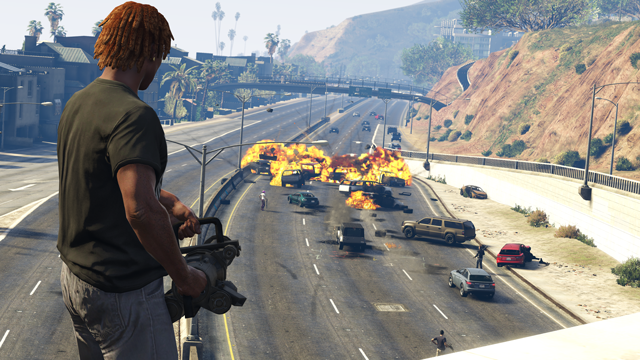 Creating a pile-up on the freeway will quickly add zeroes to your final total.
Objective
It's time to rack up some apocalyptic property damage to earn yourself a generous cash and RP bonus. Keep in mind that the more expensive the stuff you wreck, the higher the score, so head on over to The Vinewood Hills, Richman, and Rockford Hills and do Trevor Philips proud by going on your wildest rampage.
Tips
Before the Event starts, make your way to the nearest Ammu-nation and stock up on explosive weapons and ammo - and remember - the bigger, the better. After you're fully locked and loaded, head to some of the more affluent spots in the city and park up on a busy road, covering and blocking both lanes of traffic. Once the Event begins, equip your RPG or Homing Launcher and destroy all of the unsuspecting cars that have stopped at your roadblock. Focusing your fire on vehicles such as high-end super cars, emergency vehicles and buses will net you a bigger, meatier score. Killing opponents will also give you an added bonus, as you'll earn the total value of all the designer clothes they are wearing.
19 FREEMODE CHALLENGES
Search far and wide for the perfect spot in the Longest Jump Challenge.
Objectives
Freemode Events also include a series of challenges, geared to proving yourself the best in key abilities. These include achieving the Longest Jump, Most Headshots, most Near Misses and Longest Fall Survived amongst many more. These 19 new Challenges will give you plenty of opportunities to use the Action Replay feature in the Rockstar Editor to relive your crowning moment. The top 3 finishers in each Challenge receive cash and RP for displaying their talent, so time your winning flourishes well.
Tips
These Freemode Events Challenges will test you in a multitude of ways and will require you to think about the best way to tackle them. Here are some handy tips you might find useful:
Make sure that your GTA Online character is in top physical shape by increasing their stats. This will help you gain an edge over your opponents.
Learn the best areas in Los Santos and Blaine County for each Challenge. Once you've found a good spot, call Lester and use the Off The Radar option to keep your winning location a secret.
For Challenges that require you to fly close to the ground, use the altimeter on the radar to gauge how close you are to ground level.
Ensure your garages are fully stocked with bicycles, motorbikes and turbo-charged super cars to make sure you always have the right tools for the job.
Call Pegasus to deliver your helicopters and planes nearby as they may be vital for certain Challenges.
If you've come across anymore pro-tips of your own, share them with the community by dropping them in the comments section below.
Previously:
Rockstar Game Tips: Mastering Freemode Events Part Two (Kill List, Penned In, Dead Drop and Checkpoints)
​Rockstar Game Tips: Mastering Freemode Events Part One (Hunt the Beast, King of the Castle, Hot Property and Moving Target)