Along with all the customization and cruising going on over at Benny's Original Motorworks, GTA Online: Lowriders also features Adversary Modes including Offense Defense, where two teams trying to reach a finish line must protect their team's runner from enemy assault, whilst also crashing and bashing the opposing team's runner to prevent them from reaching that destination first. In this latest edition of official Rockstar Game Tips, we offer up ways to master Offense Defense along with two other recently released Adversary Modes from the Freemode Events Update.

These tips will especially come in handy tomorrow, as Offense Defense will get you Double GTA$ and Double RP as the current GTA Online Lowriders Week concludes. Be sure to stay tuned to the Newswire for part two of this Adversary Modes Game Tips series for pro tips on other new Adversary Modes such as Keep the Pace, Relay and Slasher – and to find out about other future bonus periods to get double payouts on Adversary Modes.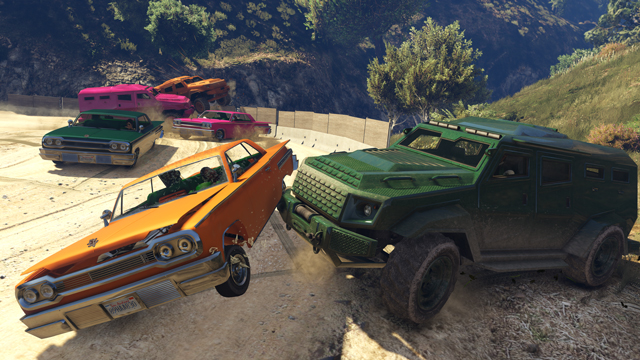 Offense Defense supports 2-4 teams, each color coded so that you know who's a friendly Protector and who's coming for your neck.
Offense Defense
In this checkpoint Adversary Mode, teams of two are divided into Runners and Blockers. While the goal of the Runners is to get to the end of the route first, the Blockers (in faster, more powerful vehicles) must block the opposing Runners from finishing while also protecting their teammate from enemy assault.
For this mode, communication is vital. You and your teammate should be constantly in contact with each other - if you're the Runner and in a jam with the enemy, give a shout to your Blocker. Speaking of Blockers: they cannot see checkpoints, so if you're the Runner, you can lead them a little astray and then quickly double back, leaving them trying to setup ambushes for routes you're not even taking. As the Runner, instead of just following the yellow route, consider taking shortcuts to head 'em off at the pass and stay a step ahead of your opponent. Just use caution, as veering off the path at times might take you through some rough terrain that is tough to get out of. If you're having difficulty getting past your attacker, there are a few maneuvers you can try. If you're in one of the new Lowrider vehicles, a well-timed hydraulics leap might get you out of a jam. Alternatively, by respawning your vehicle and thus returning you to the location of the last checkpoint hit, you'll be provided another opportunity to pick up speed and race past the blocker. Another strategy to consider as Runner is hanging back in second place until the last minute, as often all the focus is on the leader. The Blockers will take care of them, leaving you to cruise past to victory at the right moment.
If you find yourself in the role of Blocker, don't leave your Runner behind - they're the only member of your team that's able to cross the finish line. If you're having difficulty catching up to the first place Runner, manually respawn and you'll automatically respawn in their vicinity. Since as the Blocker you won't be restricted to the same path given to the Runners, with a bit of map awareness you can cut across to the players ahead of your teammate and block them.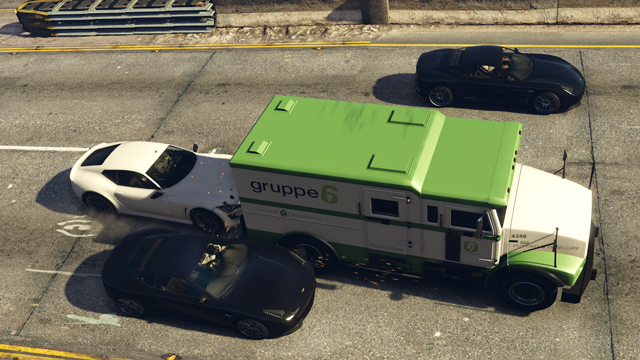 In Hunting Pack, you and your team must keep that speed up all the way to the drop point before the relentless attackers can slow you to a quick boil.
Hunting Pack
In Hunting Pack, a heavy vehicle has been rigged with explosives that will detonate if it doesn't maintain a certain speed. One team is tasked with bringing that truck or bus to an combustive halt, while the other must defend it and ensure it reaches its destination intact. The booby-trapped vehicle is slow but very sturdy, so the attackers will need more than one person at a time to try to nudge it off course. For this reason, communication is crucial to coordinate attacks all at once and brute force the target off the road or into an obstacle. Time your attacks when the Runner is turning a corner, or driving close to immovable objects on the side of the road. Once the Runner has come to a halt, surround 'em and apply your hand brake to ensure they can't get on the move again.
The Runner should avoid going uphill or off-road at all costs as there are often rocks and other debris that will slow you down. If at any point you are brought to a halt by the Attackers, reversing will give you a small chance to get clear of your pursuers and gain enough speed to get back on track. Although the GPS will show you a route to your destination, it's sometimes not the best path to take; try find a route with wide, long roads to give yourself some room should the Attackers start to encroach. Defenders should act as a buffer to fend off the attackers, stay close and in formation around the Runner, and be able to force the Attackers off the road should they get too close. If playing as the Runner, you should also keep your peripheral vision sharp for telephone poles and other immovable objects, as well as embankments that you can sideswipe would-be Attackers into (as Jasper Dolphin of Odd Future memorably did against Danny Brown's team as seen here). Should the Runner be brought to a halt, the Defenders can also help their Runner out with a friendly nudge to help get their speed back up. Be careful though - a nudge from the wrong direction can send your Runner veering into a nearby tree or oncoming traffic!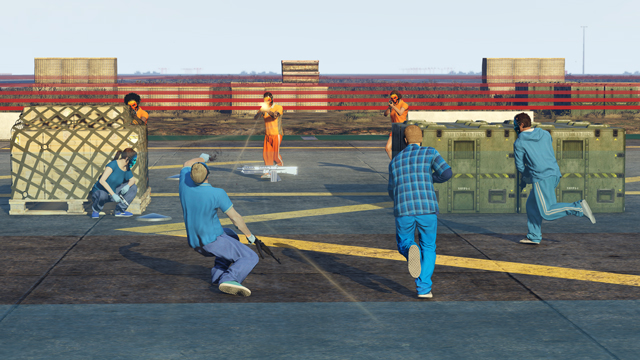 In Cross the Line, reckless individual running and gunning is a surefire route to failure. Advance as a choreographed unit with constant communication, moving from cover to cover to the end zone.
Cross the Line
In Cross the Line, the objective is to have your entire team cross over no man's land and get into enemy territory alive. Of course, at the same time you must prevent the other team from crossing your own team's line first. If you die, you'll spawn all the way back behind your own line and have to start the process again so teamwork, tactics and communication are key; going lone wolf and making a mad dash for the line will only end badly, as you'll be stuck in enemy territory with no support. Work as a team to ensure you all cross the line as one; if one of your comrades falls behind, you must provide cover fire until you're able to regroup. Crucially, play defensively and stay alive to give them time to join you behind enemy lines.
The playing field is littered with cover, so make good use of it and plan your approach. One option is to move slowly from cover to cover and make sure the coast is clear before moving up. You can also use a flanking method, either splitting your team to create a crossfire, or all going hell for leather down one side of the map. The second option is risky as you could be leaving your own end zone defenseless, so make sure to move fast as a group and gang up on any enemies encountered. In Cross the Line, you're given a single SMG as well as a Grenade; use the Grenade you're given to draw your opponents from their cover. As you make ground towards the line, make sure not to fire or sprint unnecessarily as this will display your current location to your enemy on the radar. Finally, if the time runs out before one team gets across the line the game will go into Sudden Death, using one of the two rulesets (which are chosen in the pre-game lobby):
First Over Line: You only need one player across the line to win, so make a dash for the line when you see an opening in the enemy's defense.
Kill All Enemies: Each player only has one life in this LTS sudden death mode so take it easy - don't rush for the line, and stay in cover as much as possible.

If you have any of your own personal pro-tips not covered here, please feel free to share them with the Social Club community in the comments below and stay tuned for Part 2 of this Adversary Modes Game Tips series coming to the Newswire soon.
Previously:
Mastering Freemode Events: Part 1 | Part 2 | Part 3