Presenting the first in our series of tips devoted specifically to the Rockstar Editor, which is currently available exclusively with the PC version of GTAV and coming to the PS4 and Xbox One versions of the game in a forthcoming update. Today's feature focuses on advice for capturing footage, with info directly from the developers of the Editor, as well as effective examples from YouTube creators and Social Club members. And if you're searching for additional tips on some of the basics before attempting to craft a clip worthy of garnering top prize in the Rockstar Editor video contest currently running, you can always check out our tutorial pages on Social Club.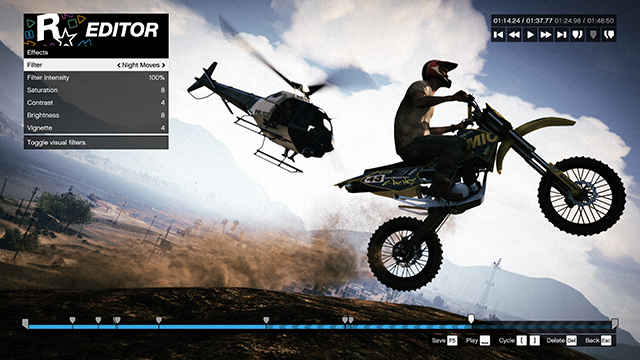 Use filters to give your movie a unique style. Proper use of the available filters can change the whole look and feel giving your masterpiece a more polished look.
For a truly unique video, plan out your action before starting to record, just as any film director would. It's very easy to record a Grenade Launcher rampage in Los Santos, and then add some slow-motion before you upload it – but a well-thought out sequence can set you apart from the crowd. And if something spontaneous happens, don't forget you can always use the Action Replay feature to record it retroactively.
If you are shooting for a specific scene, make sure to take several takes of each scene (including one or two in First Person for extra editing options). The chances of the shot being ruined by a passing pedestrian or sound effect are far less if you have multiple takes! Of course, sometimes the ambient world can work to your advantage: when shooting, try to think of the random citizens of Los Santos as unpredictable extras in your scene, each one with flawless acting abilities. Their individual characteristics and reactions can contribute immensely to setting the scene and atmosphere. bugbutts' 'Being Trevor' focuses almost exclusively on the reaction of a bystander to great comedic effect.
In fact, the city and surrounding areas have so much life that you may not even need to be the star in your own movie. You could try a documentary, cinéma-vérité approach to capturing the essence of Los Santos. Get to know Southern San Andreas; it's a big world out there.
While the camera must stay close to your game character for technical reasons, you can "cheat" this slightly by using stunt doubles. For instance, in 'Running, Man' by 8-Bit Bastard, this shot of Trevor running along the mountain ridge in front of the sunset is actually not the notorious Mr. Philips, but in fact a stunt double created in GTA Online. Clever editing makes the shot seamlessly fit into the narrative of the clip. You can transfer captured Editor footage between players, so collaborate with friends on large projects if that will save time, or allow you to circumvent camera limitations.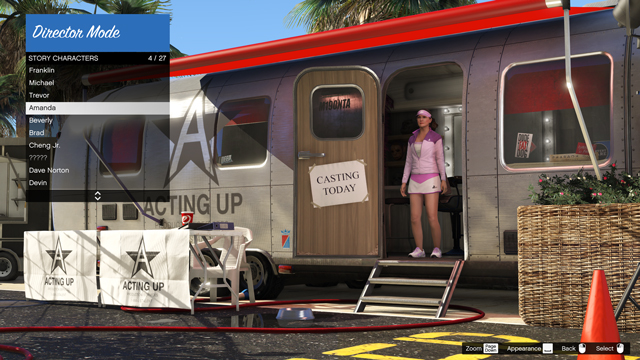 You can assemble a colorful array of characters using the Rockstar Editor's Director Mode. Each one comes complete with actions and short lines of dialogue.
In Director Mode, Settings such as Explosive Melee and Slidey Cars are fun to play around with for sure, but go easy on them unless it really adds something to your scene. 'Super Clown' by Boris The Blade is a great example of how the Super Jump Setting can be used to distort reality just enough to enhance the themes of fear and dread in a scene. Also, carefully consider the ideal Time of Day and Weather as this can add heaps of atmosphere to your project.

These are just a few tips for capturing footage, of course feel free to share any tricks of your own with the community in the comments below. Also, keep an eye out in the days ahead for some strategies on soundtrack and camera effects, and best of luck to all those attempting to achieve cinematic glory in the inaugural GTAV Rockstar Editor contest.