Check out how Crews are putting the new Business Update vehicles and attire to good use, plus more squads hitting the 1,000 member mark as well as ones that intentionally prefer to stay lean and mean - plus some standout Crew videos, Instagram pics and more.

BUSINESS IN THE FRONT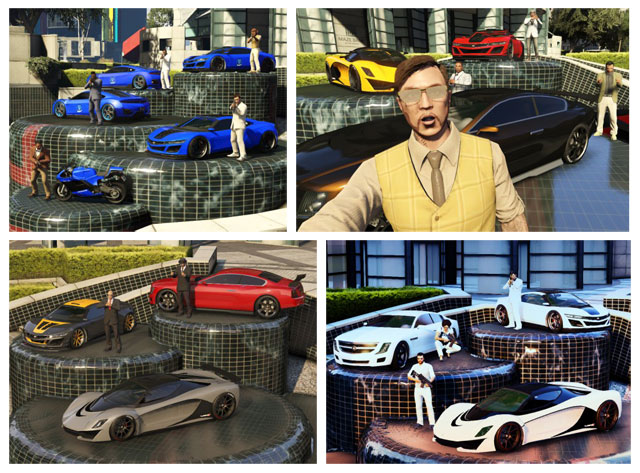 Team building at the Maze Bank Tower fountains. Clockwise from top left: xVxDarkjedixVx shows off the dread, white and blue of xVx-The Agency-xVx (AGNT); Destinsenvy and some of the RIOT Clique with their display; it's a white party for ShaolinBeast and the M0NSTARS (STAR) CrewSirShoup's Glock Shooting Sport (GSSF) Crew demonstrates the knuckle and air thrusting toasts, as well as their suits 'n' rides.
Los Santos has seen a rise in sharp dressed Crews displaying their more sophisticated tastes, with players taking full advantage of all the elegant attire options in The Business Update. Looking fresh, lots of Crews took to Snapmatic to show off. As you can see above, quite a few had the same idea to take advantage of the fountains in front of the Maze Bank Tower to display their customized new rides along with their other spoils - while this selfie by MARCUS_STROM of the Th3ClownZ (TH3C) Crew shows members of his gang stepping things up with signature top hats. Anonamix and the always entertaining Traffickers (TRFK) Crew put in work as well showing off the new Business gear in the 8th installment of their crazy Grand Theft Thursdays video series entitled "Business As Usual".
The Australia Illuminati (ORDO) Crew, who were featured along with sister Crew the Illuminati MCC (IMCC) in our last Crew Cut, sent us the below footage of the new Grotti Turismo R racing against the some of the best the Supercar class has to offer. These Crews have been busy auteurs as of late, also releasing an epic Demolition Derby (which prominently features the Roosevelt from the recent Valentine's Day Massacre Special) as well as their weekly "Show and Shine" events, which showcase the Crews' hottest rides. Meanwhile, if you're curious how intimidating some of the new 30 masks look in the heat of battle, this action-packed Free Aim Deathmatch between the JAMESTOWN RANCHOGANG (JTRG) Crew and the United Blue Nation (XUBN) Crew should do the trick.
GRAND CREWS CAPPIN' OUT
Recently we highlighted Crews that moved almost instantly and effortlessly into the 1,000 Member Club thanks to fan association with their YouTube channels or long time presence in the Social Club community. The trend of capped-out Crews continues as many more have clawed their way to capacity, promoting themselves via the Noticeboard and out there on Twitter, Facebook, Instagram and elsewhere.
Despite being named after a Chief Keef song, 3hunna Sosa Squad (SOSA) headed up by RushKush may be in immediate need of a name change now that a "3hunna" member count is no longer applicable. Long running Italian GTA fan site / YouTube channel GTASeriesVideos (GSVS), known for their clever 'Lifeinvader Look Back' series and other great videos, and the boys in blue from the original FIBS Most Wanted (MSTW) Crew led by Nimble92 have gained considerable size since we last reported on them. Sporting four additional support Crews for both the Xbox 360 and PS3, as well a central HQ. FIBS membership base has now grown to over 3 K not unlike the byPureGaming (BPGC) Crew who now have not one… but nearly six fully stocked thousand member divisions! It also appears Los Santos will have no shortage of heroes or villains with the Batman Squadron (BTMN) topped out and the Decepticons LS (DCEP) having beefed up all three of their divisions to full capacity.
Hit the jump below for some lean and mean Crews, a squad repping with their own real-world hoodies and blazing vids from the irrepressible Ganja Outlaws.