Social Club members have been quick to experiment with the recent influx of stock at Benny's Original Motorworks and Ammu-Nation, creating new Jobs in GTA Online designed specifically for the Sabre Turbo Custom, Minivan Custom, Compact Rifle and more from Lowriders: Custom Classics. Read a little bit about the Jobs we've selected and bookmark them on Social Club via the links below, so that they're immediately ready to play next time you boot up GTA Online.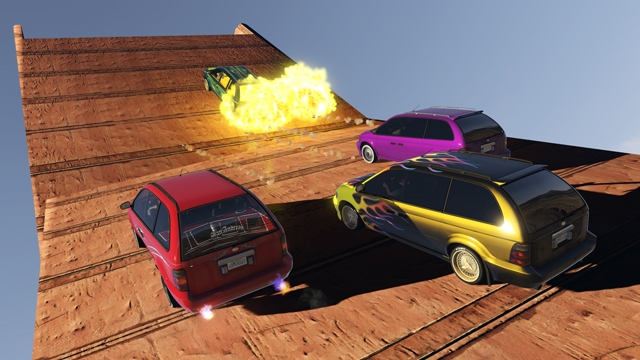 A far cry from your average car pool, you and your Minivan will have to survive a series of ramps and jumps, as well as enemy rockets in "Minivan Madness."

Minivan Madness by LOL_962 (PS4)
Take the Vapid Minivan Custom to the limit in this chaotic GTA Race from LOL_962. With over 70 created Jobs under the belt - the majority of which are Races - LOL_962 has put together this course on the runway of Sandy Shores Airfield. An array of ramps and obstacles, matched with the rocket fire of your opponents will test your Minivan Custom in a way that the drive to soccer practice never could.

Dockside Donks by zombieninjapimp (PS4)
"New weapons, new cars but same problems. Deathmatch at the Elysian Islands."
There's a bad element down at the docks, and it's up to you to take it down in this Deathmatch at Elysian Fields. A fun map brought to you by S0CCER M0MS Leader, zombieninjapimp, that includes both Lowriders: Custom Classics weapons, the Slamvan Custom and, of course, the Custom Donk. There's a slew of options you can pick from to decimate the enemy. Lacking confidence in your aim? Hopping in your ride and taking a foe out by way of vehicular homicide is a lively alternative.

Virgo Cruise by vibeaos (XB1)
The Virgo Classic Custom is the star of the show in this Point to Point Land Race from a co-Lieutenant in the Banished Breed MC. This quick miler takes you through the back streets of neighborhoods like Pillbox Hill, Strawberry and Chamberlain Hills; be prepared for several twists and turns, but there's a nice payoff by way of a straight shot down Power St. to the finish line.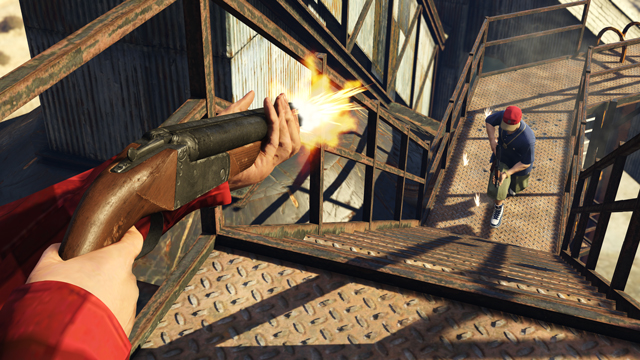 Deathmatch "War" will give you plenty of opportunites to get up close and personal with your opponents by way of the Double Barrel Shotgun.
Set in the sand and stone of Grand Senora Desert's Stone Cement Works, this Deathmatch from the CrazyBoysLS Crew's Leader takes advantage of the structure and layout of the industrial plant, and combines it with excellent prop placement - making for a thrilling and competitive map that features the weapons from Lowriders: Custom Classics. Insider tip: while you're battling on the ground, be mindful of potential sharpshooters from atop the central tower.

Dirty Lowriders by UniqueAsh (PS4)
"Us Lowriders ride dirty, it's the only way we keep our eyes on the paper. Win, that's all you gotta do."
Already recognized for Creator excellence with a Verified LTS Job last May, UniqueAsh is back in the spotlight with a four mile Point To Point cruiser, giving racers the chance to show off their custom rides (the Dundreary Virgo Classic Custom handled particularly well when we tested this out). Take it through the streets of East Vinewood, the industrial back alleyways of La Mesa and many more hoods, culminating in a finish in the mecca of Lowrider culture: Grove Street.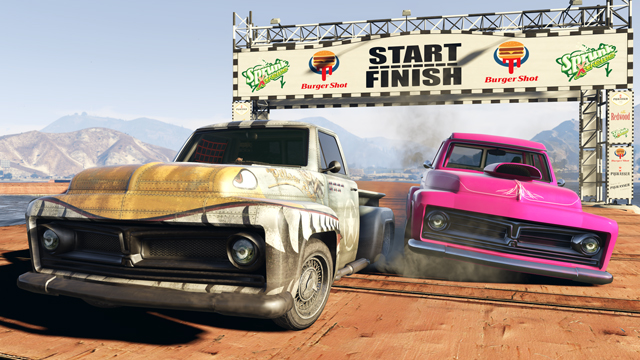 One false move in "Monaco Slamvan GP" could land you straight in the Alamo Sea.

Monaco Slamvan GP by -Sins- (PC)
Attention to detail is obviously a strong suit for Content Creators PC member -Sins-, as exemplified in the painstaking recreation of the Circuit de Monaco, home to the iconic Monaco Grand Prix race since its inception in 1929. Though the setting of the dead center of the Alamo Sea is quite different from the city streets of Monte Carlo, and you're racing the new Slamvan Customs instead of F1 racecars, comparing -Sins-' map to that of the original you'll find them nearly identical. In some ways, this Race is more intense than the original, because in addition to avoiding collisions with your competition, going off track will have you headed into the unforgiving depths of the sea. Due to the plentiful turns, many of which seem to come out of nowhere and some in rapid succession, sometime it's the brakes and not accelerator that are your real friend. While you can pick virtually any car Class, make sure to choose Muscle to adhere to the Creator's original vision.

Sabre Turbo Island Cruise by darkgreenmeme (PS4)
Creator darkgreenmeme of Kush Motorcycle Club made this tour around Elysian Island with the new Sabre Turbo Custom specifically in mind. Though there are some nice straight aways sprinkled in, there are plenty of sharp turns not meant for the green and will showcase the handling of the latest addition to Benny's inventory.

Faction Donk by leankilou33 (XB1)
Harken back to the days of old school monster truck racing but this time with Lowrider twist in this Job from Dans ton Boulls Leader, leankilou33. Right off the bat, your Custom Donk will be forced to climb up a strenuous series of steps, before entering random man-made mazes in Downtown Vinewood, followed by a trip to the Up-N-Atom drive-thru and a full parking lot in East Vinewood, where the only free space is on the tops of burnt-out cars, ready to take further punishment via your over-sized tires. It's a bumpy ride, but one well worth taking.
Have a Custom Classic Job you created you feel needs to be seen? Feel free to throw it in the comments section so people can check it out and enjoy!

Previously:
Fun Sniper Jobs and Challenges from the GTA Online Creator Community
GTA Online Player-Created Jobs: Inspired by The Epsilon Program
GTA Online Player Created Playlists: Z-Games Rallycross, Killing Time at Lake Vinewood and More