In this latest edition of the Crew Cut, we take a look at the top performing racing Crews in these first few weeks of PC release, as well as the activities of some quite unique squads such as the Heist-themed Lufthansa Collective, plus Crews utilizing the Rockstar Editor to showcase their adventures and more.

TOP PC RACING CREWS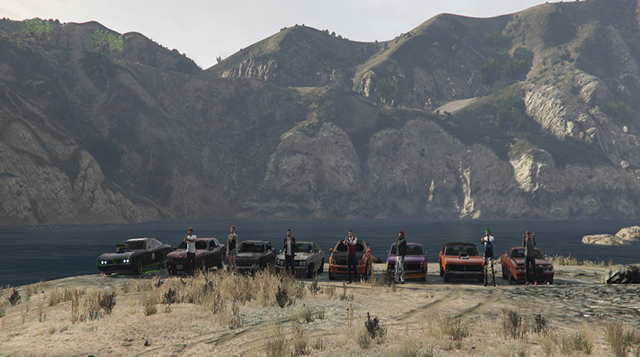 Members of 2ch PCA, currently the #1 PC racing Crew, at one of their regular car meetups.
Since last month's release of Grand Theft Auto V and GTA Online for PC, elite Crews have been off to the Races, hopping in their customized rides and racking up wins to prove who are the most feared street racers of the latest generation to invade Los Santos.

We can report that as of press time, the top racing Crew on PC is Japan's 2ch PCA led by H_I_R_O with an astounding 7,091 wins amongst their 854 members. 2CPC are also proper car enthusiasts - frequently posting car meetups on their Steam page and they're also collectively responsible for hundreds of Creator Races including the recently published "SHUA" on PC by member HyyyAngYi which has already racked up over 300 plays in just about one week's time.

Ranked second, and not by far, are Axe X Executioner with 6,199 wins. Created by RaymondWai and with a leadership of Lieutenants who all hail from Hong Kong, AXER also have numerous Creator Races under their belt (check out the popular PC Job "100" by Lymark).

Rounding out the top 3 worldwide racing Crews is Taiwanese Fraternity with 5,769 wins. Led by Phoenix_Kuo, TWFC maintain a Crew social page on popular Taiwanese gaming site gamer.com.tw and also are responsible for some very popular custom Races. Lieutenant Joker68ui most notably has crafted a Land Race called "刷勝場" with an amazing 4.2K plays in just a few days since being published.

Might we see an all-Asia battle for supremacy between these proud Japan, Hong Kong and Taiwan based racing Crews? Time – and the global leaderboards – will tell.

THE HEIST-THEMED LUFTHANSA COLLECTIVE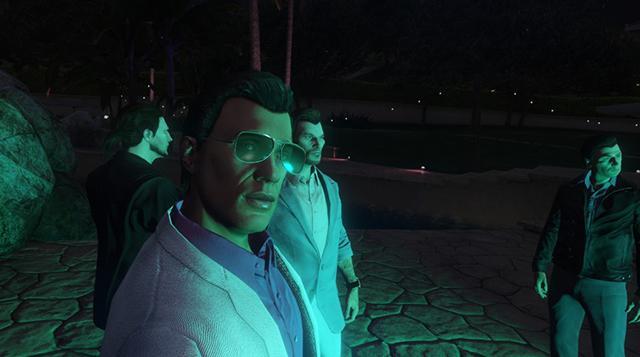 Gangsters take selfies too. Lufthansa Collective Representative seb_85 incriminates himself with some Crewmates in the background.
Any fan of Goodfellas worth their salt remembers its dramatic depiction of the well-connected crew behind the infamous Lufthansa heist. Social Club's MrRuggiero recently wrote in to boast about his Lufthansa Collective (ZIPS), a roleplaying mafia Crew named after the biggest cash heist in American history.

Founded this past January, ZIPS seem to have been casing Los Santos just in time to pull off those five big scores you may have heard about. And – like budding Scorseses – they've been quick to document their Heist exploits cinematically as you can check out in the video below. Catch up with these friends of ours at their Crew page or at lufthansacollective.clanwebsite.com – just don't forget your shine box.



THE ELITE SHRED BMX TEAM
Founded just shy of one year ago, the elite SHRED BMX TEAM has garnered renown as one of the most elite BMX collectives in the stunting scene. "The top BMX riders, racers and creators on PS and PC" as their official Motto states, is backed up with proof-in-the-pudding team-tages of amazing footage as seen in the video above, and Crew Leader sbmxplex has stacked SBMX to the brim and forged alliances with some of the most talented BMXers and Crews out there even boasting such legends as Freestyle BMX's Crew Leader erasableninja and Evolve Stunting's BMX stunting pioneer FishyDizzle. And if you're looking for some great Creator Races, tailored and tuned specifically to be played with bikes, you'll do well to browse the SHRED team's collection knowing that Crew members are always making and perfecting some awesome ones together.

THE ARTFUL HEISTERS: CRAZY BLAMMERS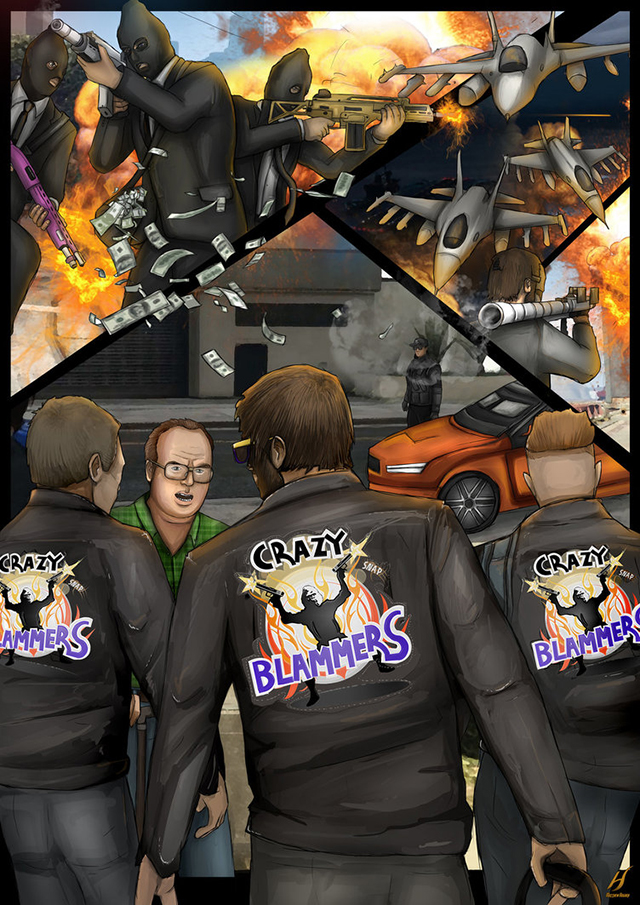 The Crazy Blammers (SNAP) were founded on the eve of GTA Online's launch, September 30th 2013 and the tight-knit 18-man Crew are still going strong especially as a well-oiled machine taking down Heists together.
Crew Leader, UK-based artist Matthew Hogben aka HoggyHogben, celebrated SNAP's criminal exploits with the fun bit of Heist Crew art seen above showing everything from their mission briefings to their fiery getaways and sky-piercing aerial maneuvers. As Hoggy states at deviantART, "The Heists on GTA Online are just amazing so I had to do some fan art for it with me and my Crew, the Crazy Blammers. Feel free to join my Crew at: http://socialclub.rockstargames.com/crew/crazy_blammers."

FROM DEL PERRO TO SANTA MONICA WITH THE VICE CITY CRIME MOB IRL
It's always amazing to see Crews who not only bond on the streets, beaches and countrysides of southern San Andreas – but who wind up forming true friendships in real life. There are some highly-respected Crews out there known for being just as tight IRL as in GTA Online such as Hillbilly Agenda and Merryweather IMF - and now add to that list the thriving Vice City Crime Mob (VCCM). We recently gave them a recruitment nod at the Crew Noticeboard especially in light of their well-organized Heists sessions, and seeing this post and photoset at the vicegamers.com Crew website from Rep nikkievercetti will really get you in the feels: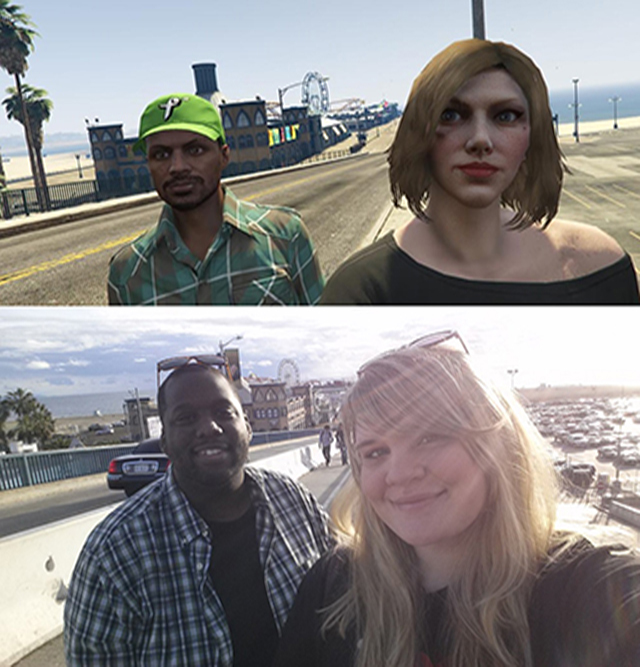 "About a year ago I joined VCCM on PS3 (as Sabrotage) and I instantly felt very welcome and at home in this Crew. I loved playing the game and felt lucky to find myself in a community full of mature and fun players. At the time I didn't know that the game or the Crew would have such an impact on my life.
After joining I met a bunch of great people including @King Duncan [aka King_Duncan_VII] who at the time was KiddKash. Over the last year he has become my very best friend in the world. It's no secret that we're often partners in crime in the game but we also became super close in 'real life'. I was extremely fortunate to get the opportunity to fly across the country (From Maine to California, literally across the whole country haha) to meet him last week. We hung out in the real world Los Santos of LA and had a blast.
The whole thing made me think about how insanely lucky I was to happen upon this Crew in a promotional subreddit and to become a part of this group. We may have different play styles or preferences, I may not always make it to events, but this Crew has given me several amazing and lasting friendships and provided a very necessary escape for me from real world drama and tragedy. GTA is just a video game but this crew is a family in its own way and I just wanted to make a mushy post to let you all know how grateful I am that I found it, all of you, and my best friend. Thanks for being an awesome Crew. :]"

THE FULL LEATHER JACKETS JOYRIDE WITH THE ROCKSTAR EDITOR
Longtime Social Club member berduu and members of his Full Leather Jackets captured some of that Crew magic in "Joyridin'" - a Rockstar-Editor-powered video (one of many recent fine creations from the prolific berduu aka Berdu on YouTube) documenting a beautiful day spent BMXing with FLJC, enjoying the San Andreas sunshine and the simple pleasures of stopping to smell the flowers (or pound the Piswasser as it were). As berduu puts it, "Ain't nothing like riding with your boys."

Previously:
The New Wave of Motorcycle Clubs, Crew Battle Report and More
Tournament Time, Crews in Real Life and More
The Flight Crew Special