Presenting the winners of our most recent official Snapmatic photo contests, held over the past two weekends in celebration of Halloween and of the 10th anniversary of GTA San Andreas, respectively. Awesomely creative work as always from the Snapmatic photographer community and we can't wait to see what you guys get up to with increased resolution in the next generation and with 30-player lobbies, First Person Mode and other new features of the PlayStation 4, Xbox One and PC versions that are around the corner. Look for a special PS4 and Xbox One edition Snapmatic contest on launch weekend to help celebrate that release and for now enjoy these fantastic and fun #TrickOrTreat and #GTASanAndreas winning shots which have each scored their creators a cool GTA$1M award and scored the San Andreas photogs a prize pack of S.A. collectibles as well.

#TRICKORTREAT SNAPMATIC WINNERS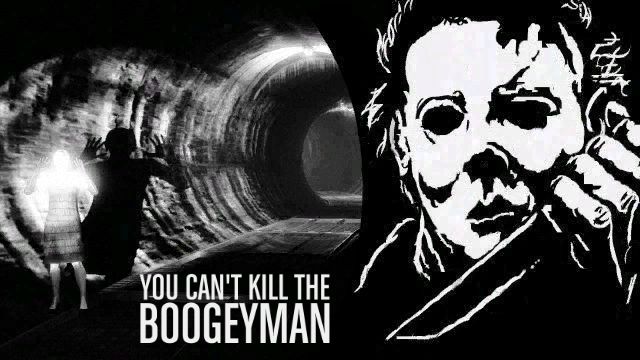 The first of a few classic horror movie tributes is repdek_2's "Michael Myers" with masterful use of the meme creator to weave an illustration of The Shape. An honorable mention also goes out to HairyHole's well-done (and top voted) meme creator horror tribute poster for The Walking Dead.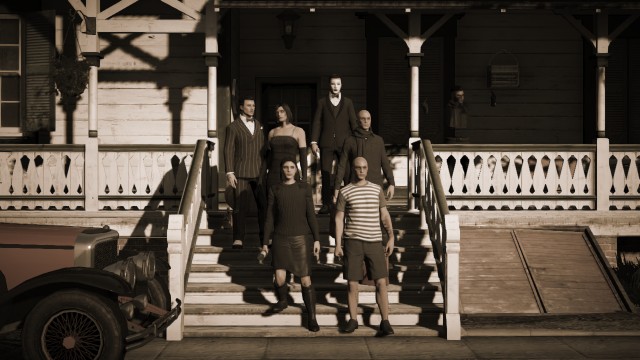 "They're creepy and they're kooky..." A very cleverly orchestrated Addams Family portrait by heathyboy94. Great work in dressing up the whole crew as Gomez, Morticia, Pugsley, Wednesday, Uncle Fester and Lurch in front of an appropriately gothic manse at "Mount Gordo"– with classic B&W TV filtering to boot.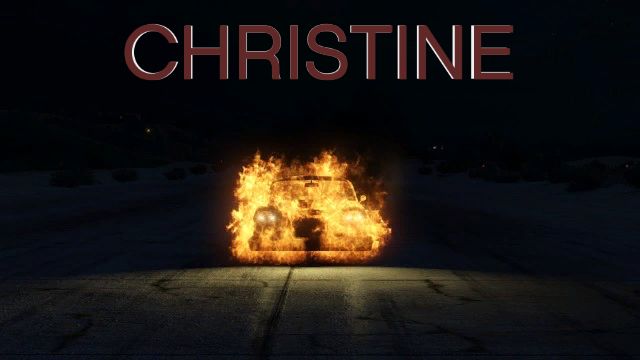 "Christine" rides again in UglyAssTurtle's fiery tribute to the sentient and malevolent titular Classic ride.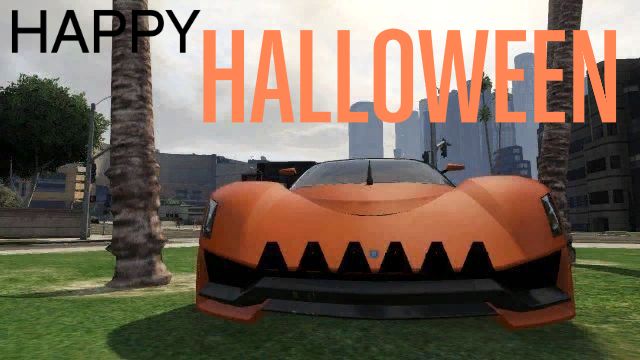 chriz_1 put in some work both at Los Santos Customs and with some inventive meme creator tricks to turn his "Turismo Halloween Edition" carriage into a pumpkin.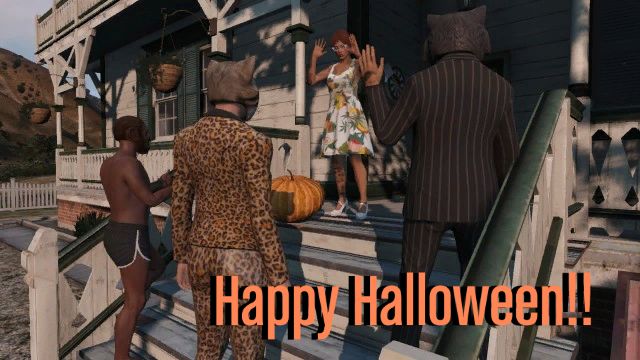 One of the early entries into the #TrickOrTreat contest was this fun photo shoot by CaPn-bOnEs entitled "Happy Halloween!!" of the iGrandTheftAuto Crew going trick or treating.
Honorable Mentions...

• "Chi Chi Chi…. Ha Ha Ha" by Davo00420 – shot on location at Camp Crystal Lake.
• The glowing, haunting "TT2" by Silver Fox1.
• "Pillbox Hill" by sungokatana - a simple and spooky skeletal snap using "no memes, just filters".
#GTASANANDREAS SNAPMATIC WINNERS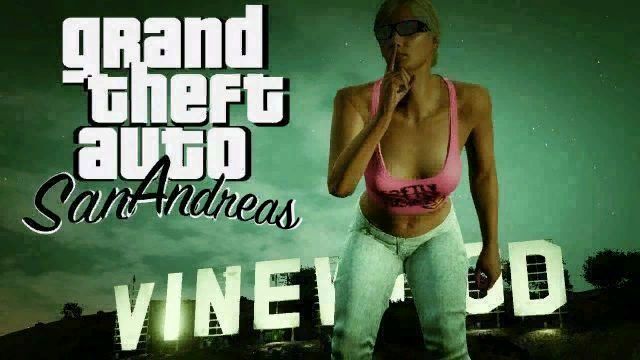 imsohood_lum's "Rochelle - GTASan Andreas" is a stellar re-creation of the signature Vinewood Chick artwork from San Andreas that has deservedly received quite a bit of love from the community. Editor's note: While that artwork is not actually based on the 'Rochell'le' character mentioned at westcoastraplegends.com, it's pretty fun to see how fans have envisioned her as being Madd Dogg's one-time protégé and paramour.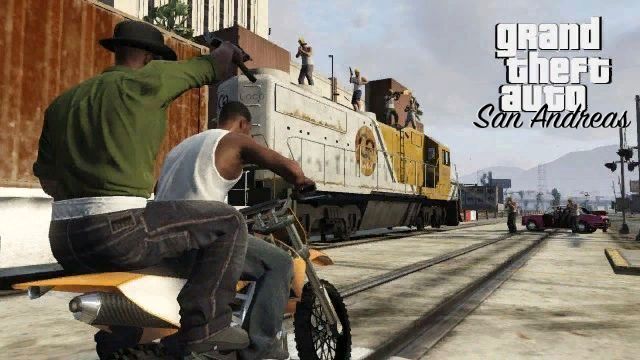 If you're going to reference one of the most memorable missions (and popular memes) from San Andreas, it better be on point. Pre233's "Follow the Damn Train CJ," based on the Wrong Side of the Tracks mission with CJ and Big Smoke, passes with flying colors and then some.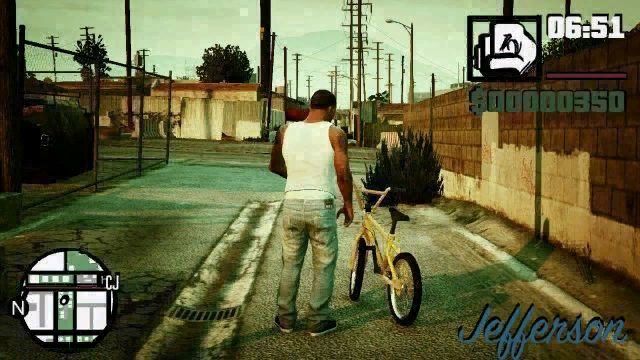 Classic. Tharnuk is clearly detail-oriented - even going so far as to use the meme creator to simulate as close as possible the original heads-up display from GTA San Andreas. Entitled "Welcome Back" as a nod to the first few steps everyone took playing the game's first mission.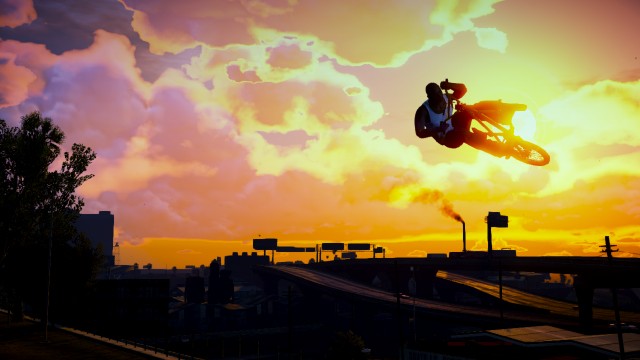 Looks like CJ's still got it in him. The sky's the limit in "Sun Grind" by SilverFox1, capturing some serious air on a BMX and framed in beautiful natural light.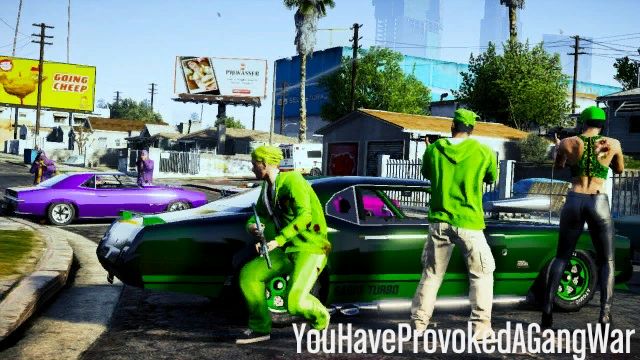 "San Andreas Gang Warfare #1." Taken by Bjodjus_LXG, this photo is a nostalgic depiction of the original Los Santos family feud between GSF and the Ballas.

Honorable Mentions...
• "After ten years... it's time to come back". 0lucaspc holds a candle for CJ and company in "Brouge Avenue", a dramatic B&W that gets you right in the feels.
• The "Truth" is... well right here. Fantastic bullet art courtesy of sicaro12.
• "San Andreas Throwback - KDST Flyer Card" by that_VIP_guy takes K-DST's radio promotion to new heights.
• "I'll have two #9's..." You know the rest. AlexSniperBullet gets Big Smoke and the gang back together for one last drive-by "Drive-Thru".
Previously:
#LTS Winners
#FlightSchool Winners