CAPPING A THOUSAND
Clockwise from top left: Nexxus Shoot My Ass (NXXZ), Crew Quoty (0410), The Procrastinators (NERD), Devastation (DNYT), Landed it HIKE (HIKE), Italian Figa Hunters (FIGA), The Meat Department (MEAT), Monster Drift Team (DRFT)
A round of applause for the very first batch of Crews to skyrocket up to the new member cap of 1,000 people. Out of the millions of Social Club Crews in existence, only about 50 were powerful enough to attract enough new recruits to hit the new cap within a week's time, many of which are led by popular YouTube broadcasters who rallied their viewers to officially join their Crew ranks.
One of the very first to reach that benchmark were the Nexxus Shoot My Ass (NXXZ) Crew of Spain, led by the renowned YouTube broadcaster NexxusHD who's been prolific with a constant stream of GTA Online videos lately, including clips playing through some of their own custom-made Jobs like "Base Maritima". NXXZ has the distinction of reaching maximum capacity within only an hour or two of open season. What's more, the Nexxuz army has an array of other affiliate Crews, ALL of which amazingly have rocketed up to the new Cap. Saludos to: PELOTON DE NEXXUZHD2, Nexxuz Shoot My Ass, Nexxus on Fire, Nexxuz Move My World, Nxxz Drive Me Crazy and Nexxuz lol my body who are all currently at 1,000 members strong, and there's other Nexxuz community Crews ever growing and under cap for others who want to join in.
Another mega-Crew making waves and maxing out is LANDED IT (HIKE) from the HikeTheGamer YouTube channel, whom you may have seen over this Valentine's Social Club Event weekend taking the Albany Roosevelt off-roading with the Crew. From the looks of it, there are at least seven other HIKE affiliate Crews topping off at a thousand and several others that are packing the seats as well. Some other Crews bolstering their numbers impressively include the Italian Figa Hunters (FIGA) headed up by YouTuber YTCapoBastone, VintageBeef's cheekily titled The Meat Department (MEAT) and Crew Quoty (0410) and its vice versa twin Quoty Crew (0410) led by popular YouTuber Mr Quoty.
The Devastation (DNYT) Crew were another to quickly hit the new 1K threshold, led by YouTuber and Twitch streamer DomisLive who also did some Valentine's Event live-streaming this weekend. Definitely check out DomisLive's regular Top Stunts video series, highlighting incredible feats submitted by Crew members and followers. As long as we're on the subject of burning rubber, the seriously packed Monster Drift Team (DRFT) headed up by bl00df3lla and its twin Monster Drift Team 2 (DRFT) is for serious racers and encourages its members to "smoke tires not drugs".
The Procrastinators is another fully subscribed Crew led by YouTuber Mattophobia, and with a meticulously organized Hierarchy with just two trusted Commissioners, three Represantatives and a mass of 994 Muscle keeping them strong on the streets.


LIGHTS, CAMERA, BATTLE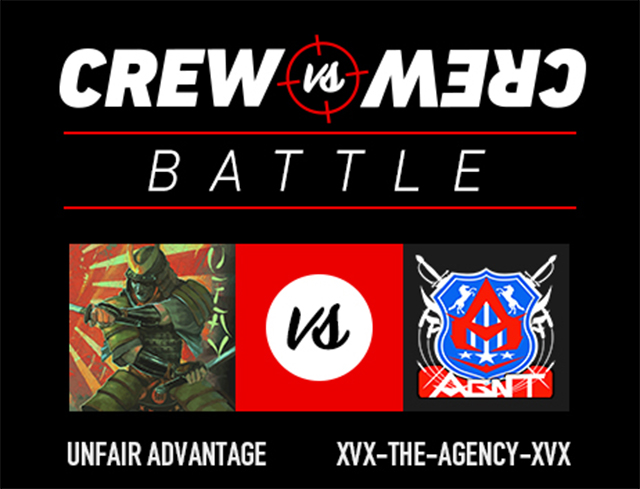 WINNER: [UFAV] 793 / [AGNT] 749
Once we announced that we'd be hosting GTA Online Crew-versus-Crew Battles live on Twitch, the requests from camera-ready, feuding Crews came flying in. Our first televised grudge match was broadcast on February 7th, pitting the xVX-The Agency-xVx (AGNT) Crew against rivals the UNFAIR ADVANTAGE (UFAV) Crew.
To keep things fair and to facilitate streaming, two of our devs, PlayRockstar and PlayRockstar2, signed on to be part of the good fight each joining a side as we played through a ten round Crew Head to Head Playlist that included Races, Capture, Team Deathmatch and Last Team Standing to see who would emerge victorious. Winning the first couple of Jobs in the Playlist by demonstrating cunning, savvy group tactics and solid racing skills, momentum seemed to be going with The Agency to start. Hanging in there, UFAV eventually won some rounds and showed off their excellence in deathmatch where gunplay was front and center. UFAV floored The Agents on one of the final battles on Vespucci Beach, ultimately giving AGNT the beatdown, 793 - 749.
You can check out an archive of the battle in its entirety at our Twitch channel and, if you and your Crew are brave enough to step in the arena and put your pride on the line on the stream, give us a shout at CrewChallenges@rockstargames.com and make your case - be sure to include a link to your Crew's Social Club page and what console you'd be playing on as well as info on any specific other Crews you may have a rivalry with that you'd like to settle. Please keep in mind that we'll only be hosting a couple of these per month, so be patient as we schedule select battles throughout the spring, summer and beyond.
Hit the jump for a look at Crews from down under making noise, some rival "families" taking umbrage and a collection of Crews on film.