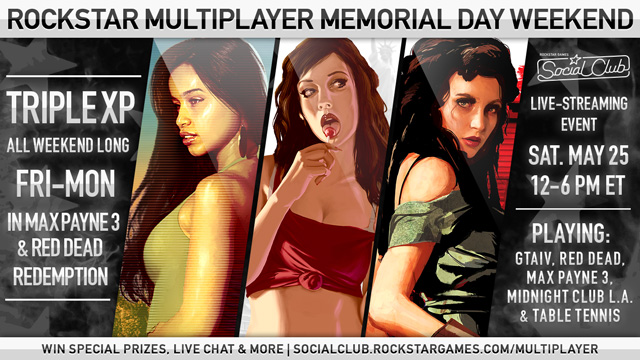 Get ready for a mighty weekend of multiplayer action coming up including Triple XP activated all weekend (Friday through Monday) for Red Dead and Max Payne 3 as well as an epic Social Club community live-streaming play session happening this Saturday May 25th when you'll be able to face your friends – and us – in your favorite Rockstar titles. Feel like taking speed runs in Midnight Club: Los Angeles' Ordered Race? Check. Want to light up someone in a rival Crew? We'll be in full attack mode with Max Payne 3 and Red Dead Redemption. We're also featuring Table Tennis, Grand Theft Auto IV and Episodes from Liberty City, all from 12-6pm EDT / 4-10pm GMT.
If you were feeling the expansive format of our previous multiplayer Saturday, we'll be at it again but to up the ante we're playing in all six games during all six hours. We're also featuring one solid video stream all afternoon so you can follow the action without fumbling between two channels. We'll also have some exclusive limited edition Grand Theft Auto IV Prize Packs to give away.
Hit the jump for more details on prizing and how to play with us during the live-stream session.