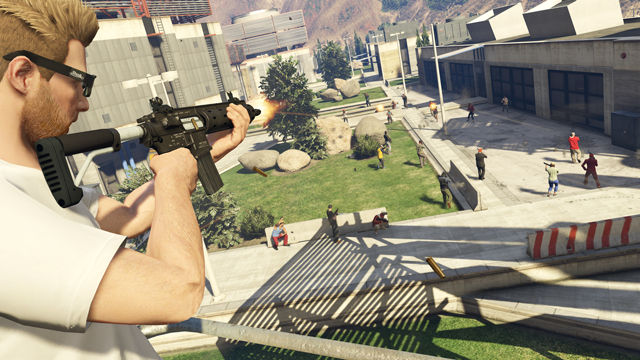 Since the launch of GTA Online for PlayStation 4 and Xbox One, the community of Online Creators have gone to town to make the most of the expanded lobbies and create even more epic Deathmatches, Races, Captures and LTS to share with the world via Social Club. We've been playing and enjoying many of those new Jobs and in our latest edition of Rockstar Game Tips, we've got pointers on how to make sure your creations are properly set up to support and maximize the action for a large player count.
If you're new to GTA Online's Creator and looking for some fundamental instructions on getting started, you may want to brush up on some of our tips to building great Races, Deathmatches and Capture Jobs. You can also check out our official how-to PDF guides for making LTS Jobs, Captures, Races and Deathmatches. And further down in today's article, you'll also find some of our specific strategies for creating nail-biting Last Team Standing Jobs (by the way, stay tuned for our Last Team Standing Creator Contest selections to be announced in the weeks ahead with a new set of Rockstar Verifieds).
Hit the jump to read these Creator tips for making awesome 30-player and LTS Jobs.