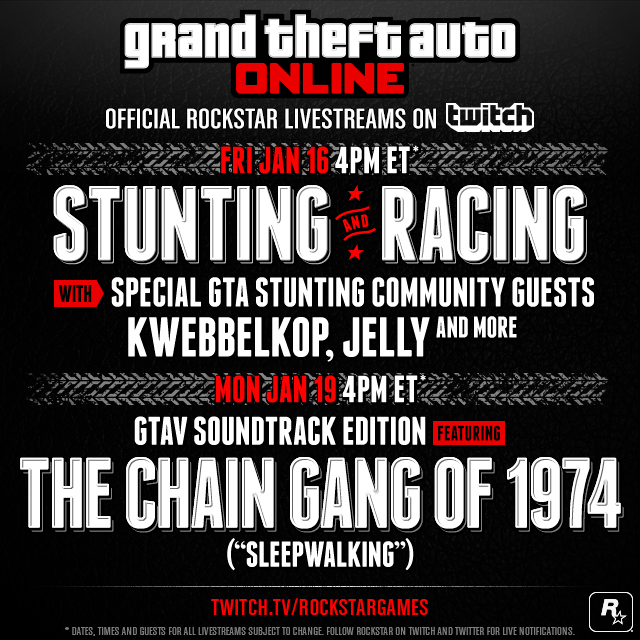 Join us over the coming days for a special pair of GTA community livestreams at the Rockstar Twitch channel:

Friday Jan 16 4pm ET*
Stunting and Racing with special guests Kwebbelkop, Jelly and more
Tomorrow, we're honored to welcome some special guests to the Rockstar livestream studio, renowned GTA stunting community veteran Kwebbelkop along with Jelly of the GTA5Videos fan channel on YouTube. You may be familiar with Kweb and Jelly's channels for their amazing stunt montage videos including many we've featured here at the Newswire over the years - both of the guys are visiting NYC all the way from the Netherlands this week, and while in town, they're dropping by for this special stream with live stunt challenges and Races along with some other special invited lobby guests from the stunting scene to be announced.

Monday Jan 19 4pm ET*
GTAV Soundtrack Edition featuring THE CHAIN GANG OF 1974
Kamtin Mohager aka The Chain Gang of 1974 is the artist behind one of Grand Theft Auto V's most iconic songs, "Sleepwalking" as heard in the game's Official Launch Trailer. Kam's in town this week doing shows in NYC with Dillon Francis and is swinging by this Monday afternoon to get down in some GTA Online with us live on Twitch, so make sure to jump into the chat for the chance to ask questions live and be on the lookout for some special giveaways as well.


* Please note that with all livestreams, dates and times are very much subject to change. Follow twitch.tv/rockstargames and twitter.com/rockstargames to get live notifications of when streams begin. And stay tuned for many more Rockstar livestreams in the weeks ahead to be announced.