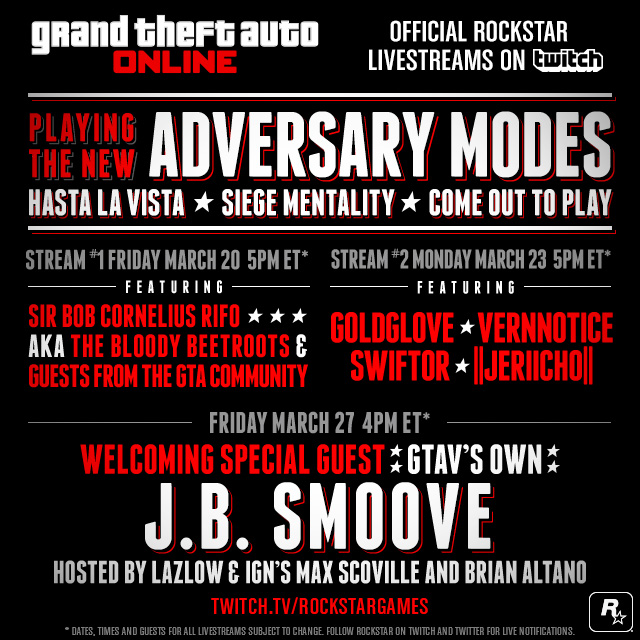 Join us for a lineup of very special Rockstar livestreams on Twitch happening through next week:


ADVERSARY MODES Livestreams Tomorrow and Monday
Adversary Modes are intense new competitive challenges that unlock as you progress through GTA Online Heists - and now that the GTA community worldwide has had a solid week or so to try and pull them off, we'll be jumping in to play all three Adversary Modes live on Twitch along with some very special guests.
Friday, March 20 5pm ET* Featuring SIR BOB CORNELIUS RIFO aka THE BLOODY BEETROOTS and guests from the GTA community
Renowned EDM master Sir Bob Cornelius Rifo aka The Bloody Beetroots is a serious GTA enthusiast in his own right and hosted his own Twitch stream earlier this week live at the DIM MAK channel. He's playing a big show tomorrow night at Webster Hall in New York City, and will be swinging by Rockstar NYC to throw down with Rockstar and other guests from the GTA community.

Monday, March 23 5pm ET* featuring GOLDGLOVE, VERNNOTICE, IIJERIICHOII, and SWIFTOR
You may have thrilled to the ongoing intense, and hilarious, Heist streams that GTA YouTube and Twitch all-stars GoldGlove, VernNotice, iijeriichoii and our old friend Swiftor have all been doing ever since last week. We're excited to welcome all these guys for a sure-to-be-insane VS stream playing the Adversary Modes this Monday.
Together, in both streams, we'll be playing all of the new Adversary Modes including:
Come Out To Play - Inspired by a certain real live bunch from Coney, a team of Runners tries to make it all the way home on foot being pursued by an opposing bloodthirsty mob of well-armed and mobile Hunters.
Siege Mentality - You must protect this house! A team defends their fort against another who are insistent on a full-on home invasion.
Hasta La Vista - In a bit of Vinewood deja vu, a team of Cyclists must evade another team of murderous Truckers hell-bent on crushing them under their big rigs.

Next Friday, March 27 4pm ET*
Special Guest: J.B. SMOOVE
You know him as the host of Four Courses with J.B. Smoove and from his classic appearances in Curb Your Enthusiasm, Top Five, and countless other hilarious shows and movies. Los Santos residents know him as the voice of Dr. Ray De Angelo Harris on WCTR's Chakra Attack radio show. J.B. Smoove is going to be in town to perform at the all-star Garden of Laughs comedy benefit at Madison Square Garden next Saturday night (New Yorkers: tickets to this fantastic event for a great cause are still available) and is coming by Rockstar NYC Friday May 27th to play some GTA and have unlimited bantz live with hosts Lazlow and IGN's Max Scoville and Brian Altano.

* Please note that with all livestreams, dates, times and guests are very much subject to change. Follow twitch.tv/rockstargames and twitter.com/rockstargames to get live notifications of when streams begin. And stay tuned for many more Rockstar livestreams in the weeks ahead to be announced.