In this week's pictorial, we shine a light on some very talented artists out there that have been publishing inspired illustrations based on the characters, world and story of Grand Theft Auto V as well as a trip back to Liberty City courtesy of the videogame photographers of Dead End Thrills. There's also some impressive nail art, an unbelievable GTAIII x Undead Nightmare half-sleeve we found, and more.
As always, if you happen upon (or make) any cool GTA or Rockstar-related creations, make sure to send them our way via Mouthoff and remember to follow us at instagram.com/rockstargames for all our latest official pics.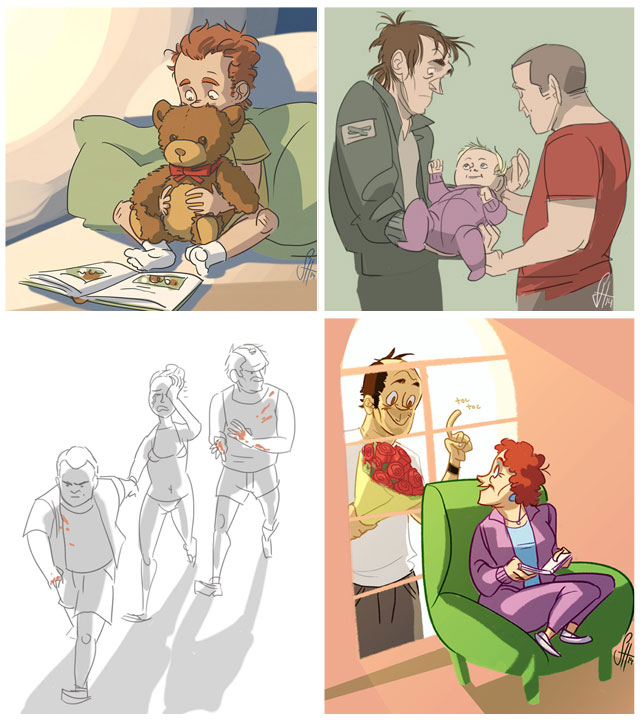 Talented German artist Saskia has been posting some very sweet imaginings and scenarios involving the characters of GTAV at wachtelspinat.tumblr. Clockwise from top left: More innocent times as Mr. Raspberry Jam and Floyd read a bed time story; "You want to hold her?" – Trevor first meets Tracy; a Valentine's Day visit from Trevor to Patricia Madrazo; and dramatically selective coloring adds some punch to this sketch of Michael and Trevor working together to keep Tracey out of trouble.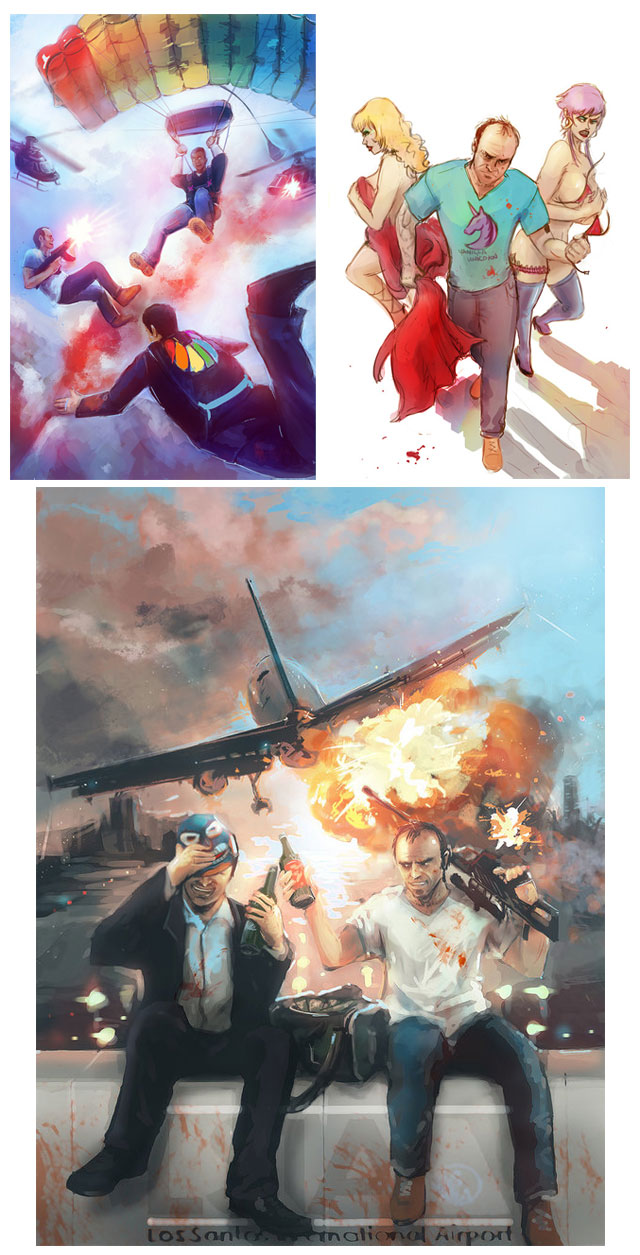 Some amazing pieces by Ukrainian artist morgenty at deviantART. Top left: Titled "Three's Company" and captioned "Where's Trevor's parachute? You really think he needs it?". Top right: "Vanilla Unicorn" as Trevor takes the reins of the eponymous gentlemen's club. Bottom: "Airport Disaster" – simply epic as Michael and Trevor enjoy a cold one while Franklin conspicuously works his way through flight school in the background.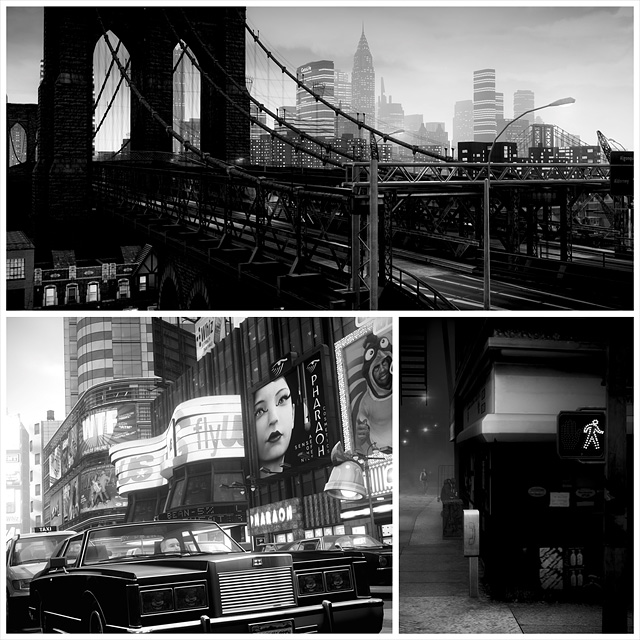 Taking it back to the East side – the amazing lensmen of Dead End Thrills have recently posted a stunning gallery of high-res GTAIV black-and-white landscape photography. A few favorite captures of Liberty City street scenery and architecture can be seen above – check out the full 'Walkabout Series' gallery on the DET site.
| | | |
| --- | --- | --- |
| Illustrator Joey Spiotto, otherwise known as Jo3bot, has created an adorably anachronistic art series imagining contemporary pop culture favorites from the worlds of games, movies and TV as classic Little Golden Books and kid's LPs. | | Wow. An explosive Rockstar themed half-sleeve for the ages - combining Grand Theft Auto III with Undead Nightmare. By Aussie tattoo artist @AdamBeattie. |
| | | |
| --- | --- | --- |
| Filing this one under okaaaay... Recently featured on Comedy Central and Huffington Post, BeaADay.com is an art project by Mike Denison that inserts Golden Girl Bea Arthur's face into a different unexpected pop culture scenario each day for one full year. Here's Dorothy Zbornak bombing our very own Beach Weather artwork. | | Nail artist extraordinaire @sammylovesfossas gives GTA game tips a whole new meaning. |