In this week's gallery of fan-created GTAV art, check out awesome needlework renditions of Trevor, Lamar, and Chop, plus a couple of perfectly-timed trick photography Snapmatics, a centerfold's worth of Jobs from a prolific Creator and much more.
As always, should you find (or create) any awe-inspiring GTA or Rockstar-related art or photos that you think other fans need to see, make sure to send them our way via Mouthoff and follow us at instagram.com/rockstargames for all our latest official pics.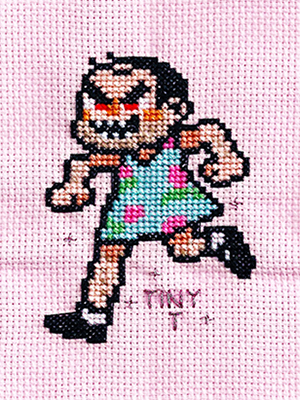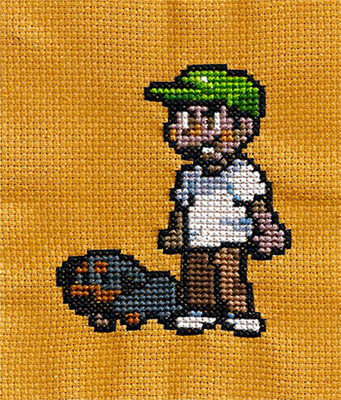 Digital pixel art becomes tangible as Grace, aka Beast Heads, cross stitched these needlepoint renditions of Trevor and Lamar that are based on yiq's original pixel art dot by dot. Likely not the first time either of these characters has been under the needle.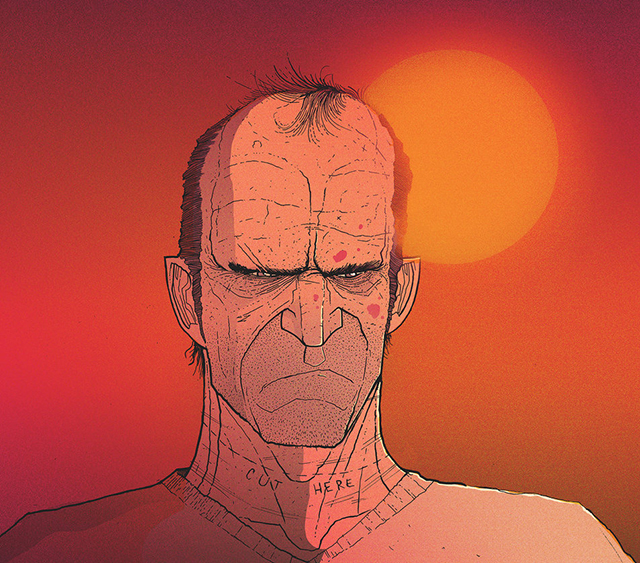 A striking study of Trevor by Reuben Dangoor on deviantART – blood spattered and looking irascible under the punishing sun of the Blaine County desert.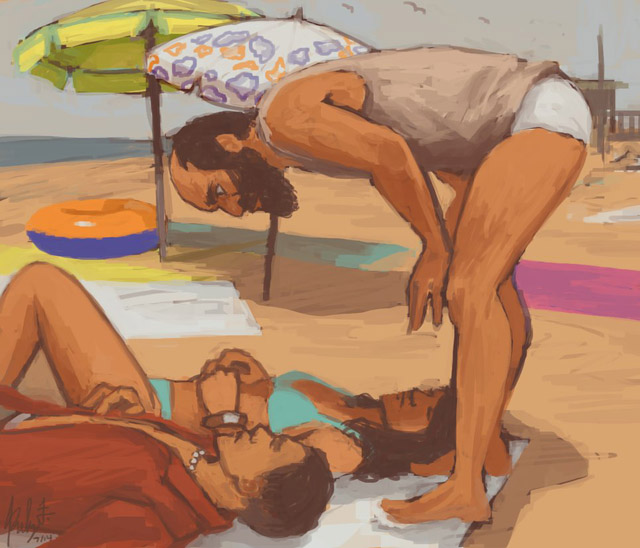 "Don't stare at the sun" is sage advice we've all most likely received at some stage, though we'd bet that's safer than opening your eyes at Trevor the wrong way in this piece by Riley, aka aumikre on deviantART. Riley drew this scene entitled 'It's Not Creepy' of Trevor invading a sunbathing couple's (perhaps Michael and Amanda?) personal space as a gift for her real life scooter brother.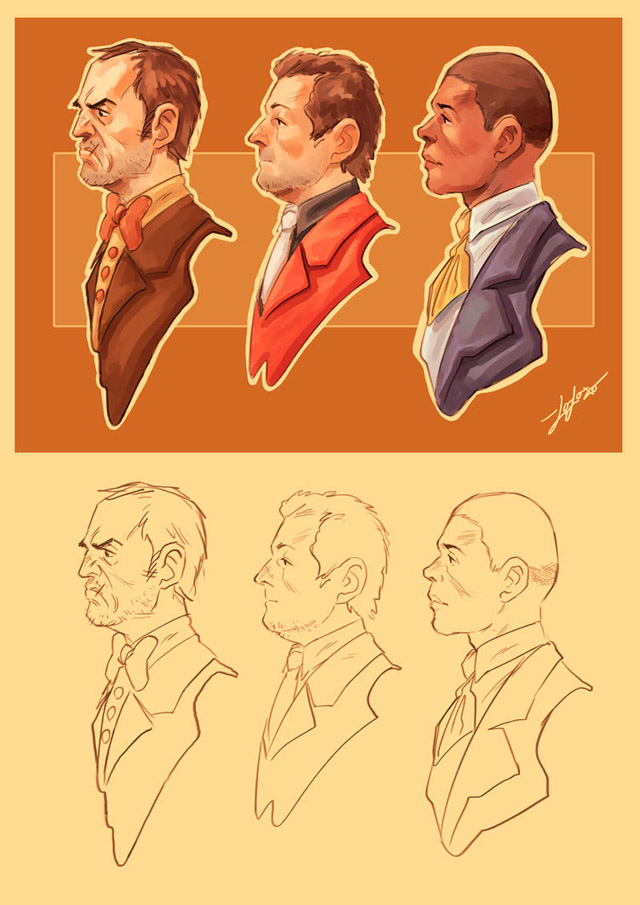 A vintage and dignified bit of bust portraiture of Trevor, Michael and Franklin looking ready to Musket up - by Spanish deviantARTist Juan Muñoz.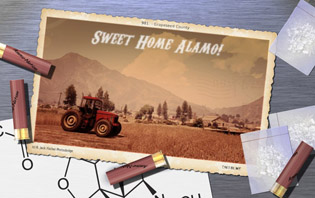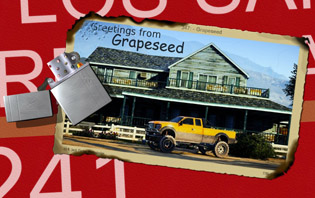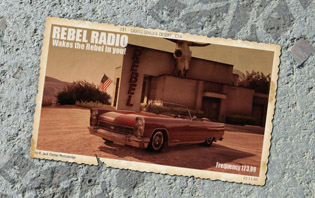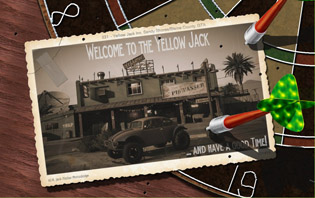 In a similar vein to some of the pre-release travelogue postcards seen at the GTAV official website, German artist Koalindl has been publishing some very inspired and fun new ones at his deviantArt page, taking in some of the many locations and local businesses Los Santos and Blaine County have to offer.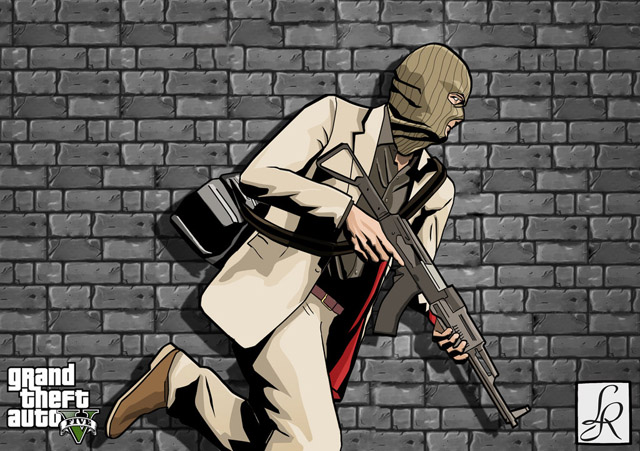 Running away from trouble or towards it? Only Michael himself and Brazil's LRart1 - the creator of this smart action shot - can answer that question.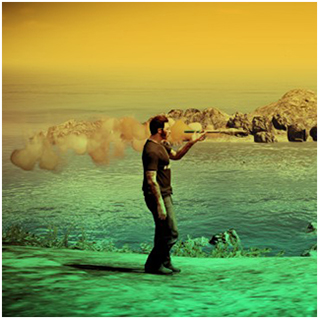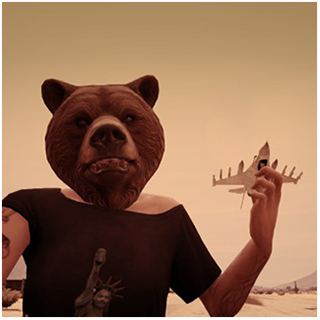 Some awesome trick photography by a couple of Snapmatic stalwarts. (Left) We're not sure which part is more impressive in the production of this shot: the aim of the person firing the rocket, the cajones of the guy it narrowly misses, or AlexSniperBullet's timing to capture it. As commenter 0lucaspc says, "THAT timing :)"; (Right) Another mindbender by MissQuickSkillz, combining perspective with insane timing to sell the illusion that a P-996 Lazer is but a toy in this bear-headed lady's hand. Amazing work!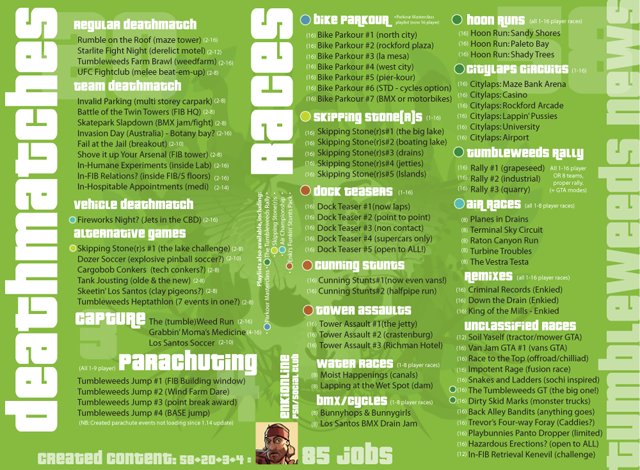 So prolific is Aussie GTA Online creator enkionline of the Tumbleweeds Crew, that they comped them all up into this nifty image that looks straight out of a magazine. (Found on Tumbleweeds' Facebook page).

Previously:
Fan Art: The GTAV Animated GIF Artwork of Julia Scott, Trevor Gets Patriotic & More
Los Santos Bullet Street Art, Homemade GTA Action Figure Diorama, Franklin's Snapmatic
The Illustrations of AmandaLeab and Takengo, Space Monkey Mask Replica & More