Episodes from Liberty City Xbox 360 Official Social Club Multiplayer Event (September 30, 4-7 PM Eastern)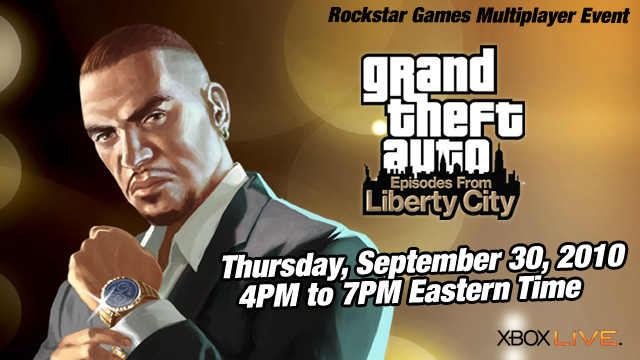 Update: The event has ended. Thanks to everyone that joined in – whether playing, watching the live stream or participating in the chat. We look forward to seeing all of you in future events, and look for our October-December calendar coming within the next week or so.
Join us today, Thursday September 30th from 4-7PM Eastern for an afternoon of Episodes from Liberty City on Xbox LIVE, the latest in our Social Club Multiplayer Events Series.

We'll be playing the many multiplayer modes of The Lost and Damned and The Ballad of Gay Tony – and keeping with the excitement of the events we'll be live streaming it all, hosting a chat and giving you the opportunity to win an Episodes from Liberty City prize pack at the Social Club Multiplayer Events page. Alternatively, you can choose to just watch the stream below beginning at 4:00PM Eastern.
Here's all the details you'll need to participate.
HOW TO FIND US
We'll begin the event in
Team Deathmatch
in
The Lost and Damned
. To join, start the in-game
Party Mode
using the in-game cellphone. Make sure that your in-game Party Mode team size is at least two people for the first round of play. Once ready, start up Team Deathmatch from Party Mode and you will be automatically placed in special lobbies together with Rockstar and other event participants. More info on using Party Mode is listed below.
As the event progresses, we'll be playing more multiplayer modes in The Lost and Damned. Later, we'll switch over to The Ballad of Gay Tony to even things out. The chat is the place to be to during the event to find out which multiplayer mode is coming up next.

NEED A PARTNER?
Hit up the chatbox during the event or just post your Xbox LIVE Gamertag in the Comments section below.

OFFICIAL ROCKSTAR GAMERTAGS
Participating Xbox LIVE Rockstar Games Gamertags for the event will be:
GwRockstar3
GwRockstar4
GwRockstar5
GwRockstar6
Only add one Gamertag to your friends list to play.
ABOUT PARTY MODE
Episodes from Liberty City's in-game Party Mode is an easy way to get your group together and find matches. Here are the three quick and easy steps to get you up and running:
Save your current game. To get started, fire up the in-game mobile phone by pressing "Up" on the D-pad. Select

Multiplayer > Party Mode > Yes.
From here, open up your phone again and select the Friends option to invite your friends (you need at least one friend to play with Rockstar).
Once your team is ready to roll, open up the in-game phone again and select Ranked > Team Deathmatch for this event.
SPECTATE AND CHAT
Cant jump in and play? You can still follow the event at the Social Club Multiplayer Events page. As usual, we'll have a live streaming video broadcast of the in-game matches plus a chat box so you can discuss the stream with others. Look below for specific directions you can follow to get online, grab a partner, and jump into the fray.
We will be giving instructions and updates in the chat box as the afternoon rolls on. See you there...

And look for the new October - December 2010 calendar of events to be announced very soon.

Previously:
Recap & Screens: Red Dead Redemption Social Club Multiplayer Event on PSN (September 9th)
Recap & Screens: Red Dead Redemption Social Club Multiplayer Event on Xbox LIVE (August 27th)
Recap & Screens: Red Dead Redemption & Episodes from Liberty City Doubleheader Multiplayer Event on PSN (August 12th)