Multiplayer Poker and Liar's Dice - New Screens and Details (from the Liars and Cheats Pack)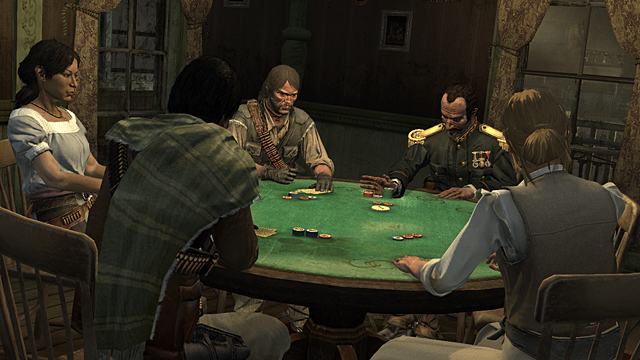 The Colonel goes all in on a hand of Multiplayer Poker - part of the Liars and Cheats Pack for Red Dead Redemption.
Tomorrow's release of the Liars and Cheats Pack for Red Dead Redemption features the debut of Multiplayer Poker and Liar's Dice, another of the most fan-requested free roam additions to the multiplayer world of Red Dead Redemption.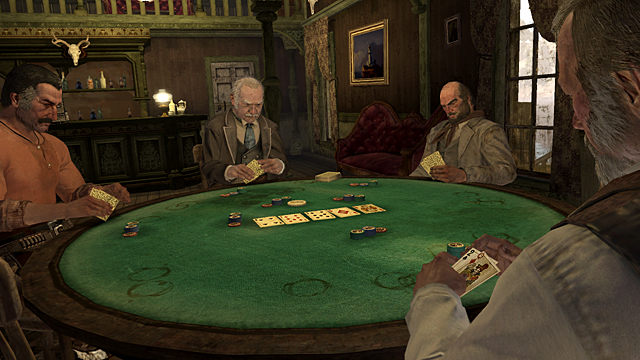 Queen-Two off suit... You should have probably folded this hand, Marshal.
All players begin with a $200 daily gambling allowance and once you run out, you will have to wait until the next day before your funds are replenished.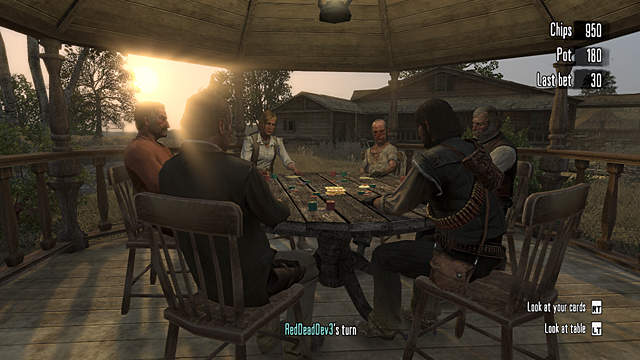 Agent Ross, Dutch, Bonnie, Seth, Marshal Johnson and John Marston engage in a friendly game at Beecher's Hope.
In Multiplayer Poker, 2-6 players can compete in Armadillo, Beecher's Hope, Casa Madrugada, MacFarlane's Ranch or Thieves' Landing. The initial buy-in varies depending on your choice of location, with MacFarlane's Ranch being the lowest and Beecher's Hope being the highest.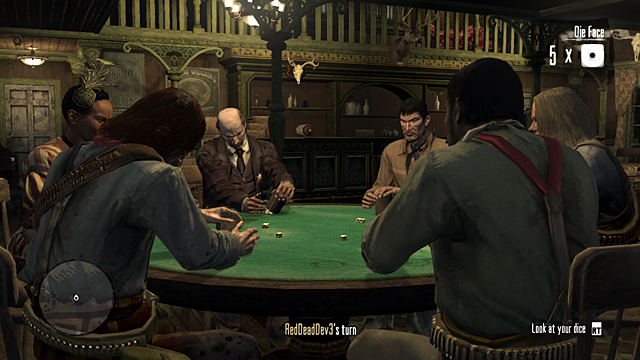 Players examine their hands in Liar's Dice.
Liar's Dice can be played with 2-6 players in Casa Madrugada, Escalera and Thieves' Landing. Similar to Poker, Liar's Dice buy-ins will vary depending upon location. Escalera is the lowest buy-in while Thieves' Landing is the highest.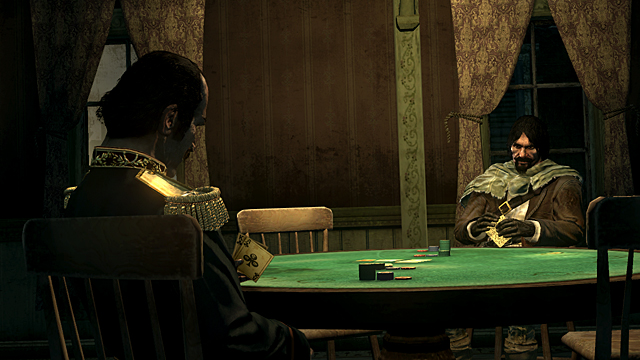 A showdown at the poker table between sworn enemies.
Despite being alluded to by the title of the pack, we're afraid there's no cheating (or fighting) permitted while gambling... all games are on the up-and-up. You'll be able to launch either game from their new respective Multiplayer playlists or via Free Roam by finding their icons on the map and going to it.

Check out all the shots above in High Definition at the official Liars and Cheats page, and we'll see you at the tables.
Previously:
Multiplayer Horse Racing in the Red Dead Redemption: Liars and Cheats Pack
Screenshots and Details from the All-New Stronghold Mode in the Liars and Cheats Pack