Recap & Screens: Red Dead Redemption Social Club Multiplayer Event on Xbox LIVE (August 27th)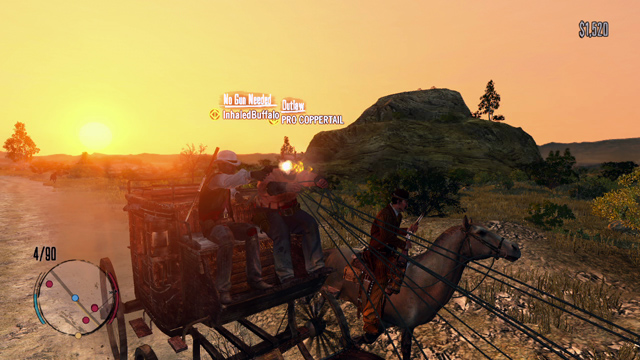 (A stagecoach drive-by with Pig Josh at the helm during our most recent Red Dead Social Club multiplayer event...)
Thanks to everyone for joining us online, as well as in the chat during the live broadcasted stream of August 27th's official Red Dead Redemption event on Xbox LIVE in the Social Club Multiplayer Events Series. We rocked for three hours straight of fan-requested playlists during the afternoon including ones from the new Legends and Killers Pack, getting a taste of just about everything from the world of Red Dead Redemption multiplayer to date.
Read on for a recap highlighting some of the evening's memorable battles, followed by a choice selection of captured screens...
Beginning with the Legends and Killers Gang Matches playlist, 16 players gathered for a round of Hold Your Own in Manzanita Post, located in Tall Trees. During one part of the match, RedDeadDev3 set his sights on Bye Black Sheep who was using Legends and Killers exclusive Red Dead Revolver character Pig Josh from the Outfitter. RedDeadDev3 made his way through catASTROPhixxx and then faced off with Bye Black Sheep. But RedDeadDev6 had other plans, putting a bullet in his Rockstar brother RedDeadDev3's back. Ruthless. Congrats to xColinax for being the top player of that match, and to others in the posse: BigBilldo, K33nym, RedDeadDev5, St Jacob II, drsxbox and RedDeadDev3.
Looking for something a bit more open than the woods of Tall Trees, we headed to Río Bravo for some Gold Rush. Ludo xb360 got off to a rough start with a Tomahawk to the skull, courtesy of RedDeadDev3. RedDeadDev3 continued the barrage by delivering the business end of some Tomahawks to RedDeadDev5, House Of Kane, TheKnownOutlaw, RedDeadDev4, vamp616 and rcmTatersalad. Emanuel1989 ended with first place, racking up 15 kills, shooting 7 headshots and getting 7 captures.
Later in the event, we entered Gang Shootout in Escalera. The opening Showdown started with Camouflage Lion landing a fatal head shot on RedDeadDev4. After almost all players fell, Revolvers CYPRESS44 and RedDeadDev3 faced Cattle Rustlers jesus27 and xN1PP3Rx. Only one would remaind standing: jesus27. By the end of the round, Camouflage Lion, also using Legends and Killers Pack character Pig Josh (a fan favorite all over again), won top player. Props to you, sir.
Switching over to Outlaws to the End for some Cooperative Missions, PRO COPPERTAIL, InhaledBuffalo, PERRYzulu and RedDeadDev3 started The Escape. After getting the Gold Coach to Benedict Point, manning the cannons above Tumbleweed (check out the screen below) and facing the Showdown with the law, the four made their way with the Gold Coach to Ramita de la Baya. On the way, PRO COPPERTAIL and InhaledBuffalo both needed reviving, and RedDeadDev3 didn't fail them. Back on your feet, boys. A credit to their marvelous teamwork, the foursome ended with a score of 4090, Gold status and a time of 12:04.67.
In the final hour of the event, Cattle Rustlers and Revolvers faced off in Blackwater for a proper Gang Shootout. RedDeadDev3 headed for the roof of the Blackwater Hotel to get the high ground on the opposition below. While looking out for enemies, LukeLSD (playing as Annie Stoakes) climbed the eastern ladder and shot our dev in the face with a Repeater Carbine. Kudos to the top player II Ziv II (27 kills, only 3 deaths) and the rest of the Cattle Rustlers for winning $4600-$3600: LOOPSIDED, RedDeadDev5, KISS TH33 RING, SAWTOOTHPACK2, RedDeadDev3, RedDeadDev6 and RedDeadDev4.
And in the end, we finished up strong with another wild finale of Free Roam... no better way to close out the night and start the weekend off than by tossing around some dynamite, doing some stagecoach drivebys and collaborating on some bullet-riddled Gang Hideouts...
Check below for a gallery of screens of just a few of the exciting moments during the event...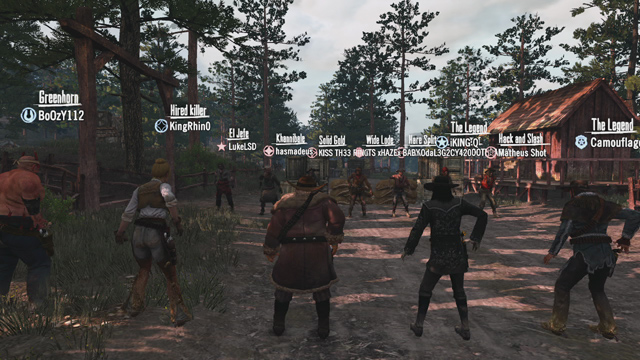 (Two posses prepare to face off in Manzanita Post, just one of the 9 Competitive Multiplayer maps included with the Legends and Killers Pack.)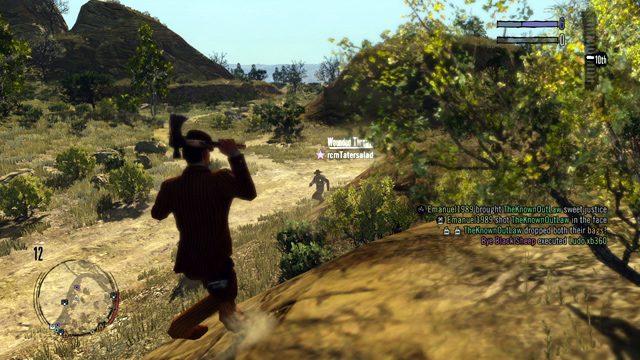 (RedDeadDev3, playing as Legends and Killers Pack character Jack Swift, throws a Tomahawk at rcmTatersalad in Río Bravo.)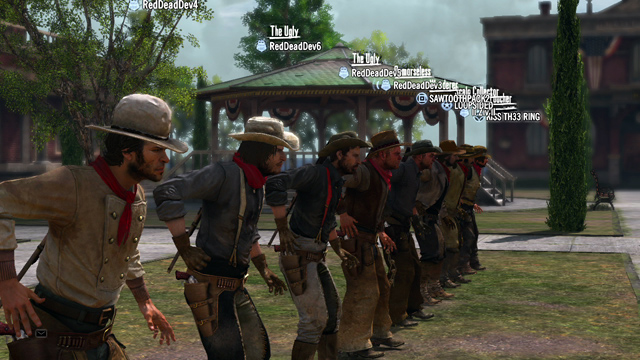 (Cattle Rustlers prepare to fight Revolvers in a round of Gang Shootout in Blackwater.)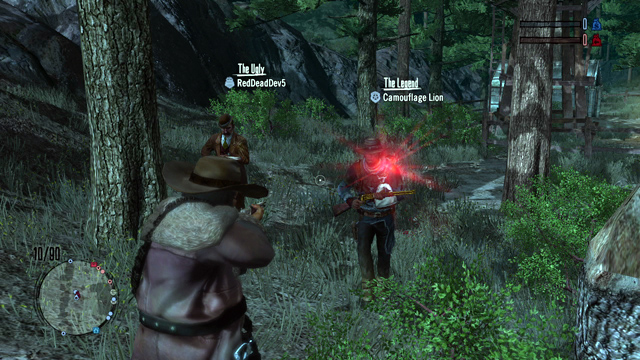 (RedDeadDev5 [Jack Swift] and RedDeadDev3 [Ugly Chris] protect bag carrier Camouflage Lion [Red Harlow] in Manzanita Post.)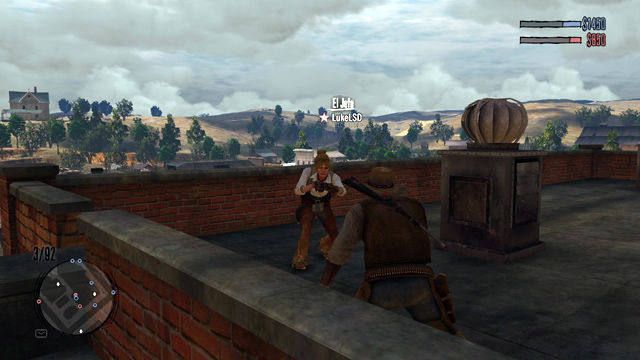 (LukeLSD sneaks up on RedDeadDev3 on the roof of the Blackwater Hotel, shooting down the Rockstar.)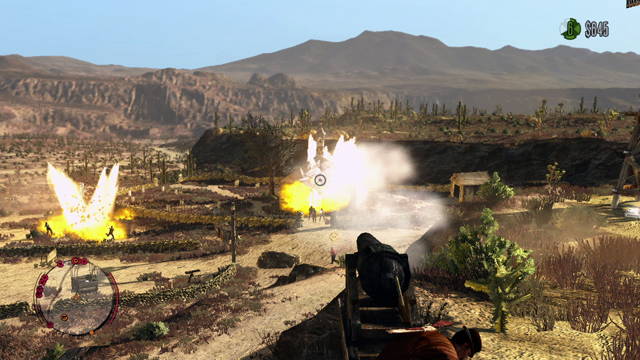 (RedDeadDev3 and InhaledBuffalo [out of frame to the left] reign cannon fire down on enemies in the Co-op mission, The Escape.)
Thanks again to all participants - whether in-game, chatting or watching the live stream. A roll call of attendees is listed below, and apologies as always to anyone omitted:
-Keoki-
Aaronomy
AboutBarrel
Aerigor
Agent_of_Anarchy
aj8494
All Outta Angst
antoniopagano
AoD KingPin
ARMY T93
Ashaman519
AT0MIC CHRIS
ATRX is CrUnK
baddog455
Bawheidbob
BeastlyPappy
beast__
BeatCrazeboy
BeefJerkyTurkey
BeetleComet
BellaBellic
benbezef
BENCI013590
BFShaman
BigBilldo
BigtimeDoomsday
big_bounty
BIG_STRONG_NIKO
BleedingShock
bombtom86
Bongenstein420
BOOYAKACHAA
BoOzY112
bountymoana
BrutalxMethods
bryandu27530
Bye Black Sheep
Camouflage Lion
candy hardiman
CaptNHempleg
caseydilla21
catASTROPhixxx
cheetah84
CHROBY
CinciOne
CircusRock
ClassicalJedi
codemonkey21236
Compani0nCube
Condition Dead
coneecheewa
CorgiJulien
CrazyScott
CynicalDemon
CYPRESS44
D4CHEK
DaFugginMan
DARIOO_O
darktristanb
darthjp86
DazManTheRazMan
DeadlyMuggings
Debiarh
Degsey
DiggityDank007
DJ2230
DJSplitt
DmcBass22
Donkey-Lover
DonkeyJack
DonPascualino
doubled215
douccy
Dr.Euthanasia
DravinClaw
drongozombie
drsxbox
drummer5
DSanta
duelfish13
DVCanti
Ed121
Edwardkill
EedyRLegend
eflo86
EliteOp1226
Ellocomotive
Emanuel1989
EPIC FALLEN 99
Erx IIG3FK0
ExtremeJames89
FFFoxFFF
fg45rr2
flapjk_epik_fail
flyinflea
FoD STALKER
Forgotten_Hero
FormlessSpawn
FugetSudo_Jr
fuzion17c
gam3fr3ak93
gamemaster257
GER x Bartjez
GER x Bismarck
GiantApe8
gingersquirrel94
GirLLy
GM-Shenmue
GOLEM 72
Gonin
goumel
GPA Caveman
GPX ROY
gros44
GT 10
GTAMASTER_08
gunpro
GURU MORRISON
GVRafioso1
habardia
hasmadeus
Hawk506
Hi im dody
HippiePsychopath
HoSKinS BoBish
House Of Kane
Husaria
IAIIXXI
I Am Ledster Oo
icchill10
ii BeZzA
II Ziv II
iKING Q
imonfire911
ImTheKid
InhaledBuffalo
inogard
iNoLiFezZ
I PuLs4r I
Irish RPG
I Steel Cats
iTS xHAZEx BABY
ITZ JoRdaN E
IvanLawless
IVIr x0x ViP xo
IZA808BAGaBUDZ
J4Y 1664
Jack-Trey
Jack subway
jaczko123
jaffez
Janes got a gun
jeepnutboy
JEEZY 81
jeky11nhyde
jesus27
JID123
Jimmy No Eyes
JiveRock
joe901993
John123Keel
johnsonOogle
jsxbox360yo
Juicy378
JustThrowIt
K33ny
kanedennis
kappa mikey1
Kaz 24
Kennebrew01
KennyTehKeed
KhrisRedfield
KibblesMcGee
KillerStefan
KingRhin0
KISS TH33 RING
KoG Kermit
Kruse Got Beats
Kungpowski
kush4220
Lake_B0d0m
LaughingCoops32
Lebensbaum
LESHON CALVIN
Li1 Nicky
libertyismine
lilzpimpster529
LiL_EgG_bLaZeR
Little I Moth
Live Action Ken
loeffler_5
LOOPSIDED
LUCANTONI
Ludo xb360
LukeLSD
M1sHrA
MakeshiftViper
MALLYJAY
Mambaah
Marco-Bue-Sani
marseilleguy
MarshalJT
Maru99
Matheus Shot
max_odissey666
MCKing
mellisa colvito
mewzs
Mirko_GTA
MiSSLEAH468
moXmurdaX
MPRVS81
MrDadie
mrmarlow69
mrmcdonald69
mutorcs
NaenaeBoy
Nagase87
NBK HGAMER
ni2kow
Niki LArs0n 91
Niko_Bellic
NINJAxXxBLOOD
Nirvian
Noru122
Nostradamus74
NTGDamu031
o0MENTALVIRUS0o
O m3sSd UuPkido
OmikronPi
OneFromSaudi
OnlyJBizzle
OtherJiveturkey
OX4 INSAINE 0X4
oXx R1C0C0 xXo
oXx ST3VO xXo
oXx Tanne xXo
P-D-T-M-K
Pawned N Awned
PayxUpxSucker
PERRYzulu
PixelatedSamuel1
pkiniraq
posila
PrepMike sarah
PrestigeGamerz
PRO COPPERTAIL
PSYKO SMOKE
queops
r0gUeLi0n
raffozor54
Rafioso
RAINxMANxKENNET
RandomxxHeroxx
rapidmercenarie
rawesley
rcmTatersalad
RDGunslinger
RedbrickJC
Reillers99
RetroRonny
RICHIE Cooldude
robbdogga
RockyJ21
RomanBellic1
RosZzo
RP4_BR
sailorpower
saiprathap
saphire lyle
Sarial Deschain
SAWTOOTHPACK2
scottobear
sCUbastEvE590
Selager
septicsavlon
SFX_Acidic
Sgt Grech
ShADoW X RuSH
ShortCrkt
Shotudown2255
Simple_Man_tm
Sincap
SirSmok3Alot225
SkepticalStatue
sketch7
sking2xtreme
Skorpiopat
skysofrenetik
slyTmatt
Snakehunter05
snarf HITMAN
snookin561
Snow Marley
Speedstick43
Stealth Sp33d
steluteaalpine81
Stickydiarreah
StivGTA
St Jacob II
StopTheMachine
Stormer90
Strikeagle3
STRINGxMASTER
STRTLMTSTAR
sublime90
SuperPG
SweetestMattias
TarTar420
teeazy
tenderloin420
Terranoid
TFR Bptex
the2handtikler
TheHiddenLegend
TheKnownOutLaw
TheSpiderSilva
The_Deej
ThorniestMason
TinyOC
TJY1998
Tokem-R2D2
TomBlfc8
TomonUK
tprimex
traneming
TriableFarrar
TUCKST3R
Tyers0123
TYJ1972
UKzGANJA KING
umburon
UmPumpsAssassin
UNDEAD721
unfriendlyghst5
UnholyKnight60
UnPlayer88
Uor8shot
V4ii 3XPLOSiiV3
Valeo1993
vamp616
vikang
vonMarkes
Waffles8603
wav3yxkid
Webbie27
WiLdStOrM1984
william90706
WolfRogers
WolfWorm Harv
X1 AchiIIes 1X
xBatman23x
xColinax
xEmm28
Xenovarocker
xII GirLLy IIo
x IVIoNsTerZ v
xmagicboyx
XMasterXXGamerX
XMRXBILLZX
x MVPxCLUCHx
xN1PP3Rx
xNRBxLEGIT SOAP
xoUr MUMox
Xraystorm
xXDEEGEXx1
XxIHARRYIxX
XxJesusFreakxX
xxREVELSxx
XxToRrEsOsAxX
xXxc3ns0r3dxXx
xXxROBB0xXx
Xxx Ryttt xxX
YAKOdal3G2CY420
YAKOdaL3G2CY420
yogoober
Zappanale
ZenZachRiot822
Zidder571
zX James Xz IRL
ZzShOn3zZ
The next official live streaming event is for Red Dead Redemption on PlayStation Network today, Thursday September 9th from 4-7PM Eastern. And as always, make sure to follow us on Twitter and on Facebook as you never know when we'll feel like grabbing the controller and getting online for an impromptu game....
Previously:
Recap & Screens: Red Dead Redemption & Episodes from Liberty City Doubleheader Multiplayer Event on PSN (August 12th)
Recap and Screens: Red Dead Redemption Official Social Club Multiplayer Events Weekend (July 23-24)
Recap & Screens: Red Dead Redemption Official Social Club Multiplayer Event on PlayStation Network (July 13th)