Recap & Screens: Red Dead Redemption & Episodes from Liberty City Doubleheader Multiplayer Event on PSN (August 12th)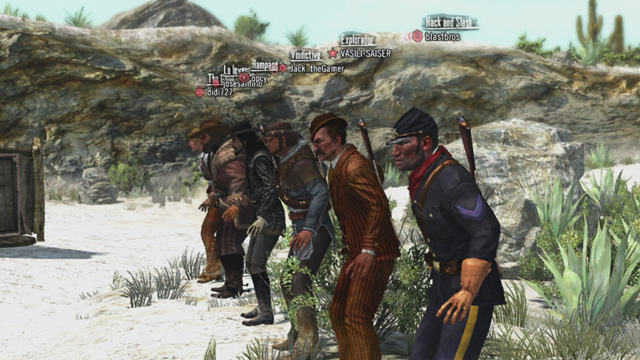 (Players using Red Dead Revolver characters with the new Legends and Killers Pack get ready for Gang Shootout in Escalera...)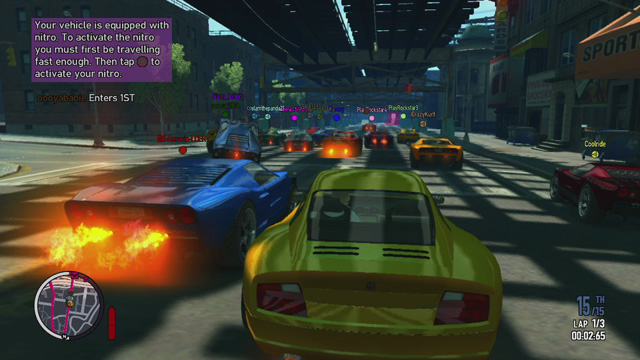 (...as well as racing and gunplay in Episodes from Liberty City during our afternoon of gaming on PSN.)
Thanks to everyone who joined us for our most recent Social Club Multiplayer Events of live streaming, chatting, and of course multiplayer mayhem - the August 12th epic double-header of Red Dead Redemption Legends & Killers and Grand Theft Auto: Episodes from Liberty City on PlayStation Network.

Xbox LIVE players, make sure to join us tomorrow for our next event - a proper Red Dead session all the trimmings and modes by request from 4-7 PM Eastern.

Read on for a recap and screens of some memorable moments from the 8/12 PSN doubleheader...
We began in Gang Shootout in Thieves' Landing with the Legends and Killers Pack for Red Dead Redemption. During the round out on the foggy docks, funkynoob found comfortable cover behind a crate, taking down RedDeadDev3 and cierajd3jeralynn. In the end, Dutch's Gang earned the win, and top player honors went to didi727 with 13 kills, 9 deaths, 8 headshots and 1 capture. Other players on the winning team included opcy, josesanlirio, MegaDonaldduck1, Jack_theGamer and boshell.
Next up, a new batch of players with the four Rockstars entered Shootout in Pacific Union R.R. Camp. All but two fell during the opening Shootout: RedDeadDev3 and cacarin. Hiding behind a wagon wheel, cacarin fired rounds toward the Rockstar, but RedDeadDev3 aimed, fired and took care of business. Later in the match with less than a minute remaining, cacarin got revenge, hiding in a bush and gunning down RedDeadDev3 with a Winchester Repeater. Congrats to the winner Mr_BadAss911 with 33 kills, 13 deaths and 3 robbed kills.
After a few more modes, we went into Gang Shootout in Escalera, and in the opening Showdown blastbros propelled his team to a win with three early kills. Later on while RedDeadDev3 and RedDeadDev5 were taking position atop a hill, leptics73, using the new character Mr. Kelley (available exclusively with the Legends and Killers Pack), snuck up from behind and claimed kills on both of them with the High Power Pistol. The top player was darkpower760 along with teammates blastbros, VASILI-SAISER, didi727, Jack_theGamer, josesanlirio, leptics73 and gunyolan.
To end things in Red Dead, we entered Free Roam with 16 players and plenty of snipin', dynamite and rooftop knife fights. After a short intermission so everyone could head to the john and grab a snack, we switched over to Episodes from Liberty City for a some combative street racing. We started things in The Lost and Damned with 16 players in Team Deathmatch in Liberty City. The first of a whole lotta kills went to Henning92 who shot our own PlayRockstar1. A bit later while PlayRockstar1 was shooting at gtafreak112 from behind cover, Henning92 once again ran up and got the kill on PlayRockstar1. No surprise that Team Six's Henning92 and gtafreak112 were victorious with 43 kills, 12 deaths and $4,398 - nice.
Later in the event, we brought in a new crop of contenders and started Witness Protection. The Rockstars were the N.O.O.S.E., driving the prison bus and several police cars and dropping off prisoners at different police stations across the city. PlayRockstar1 was protecting bus driver PlayRockstar4 when a bit of trouble crept up from behind in the form of The LOST's MarcoGT5 and redhondamike. They sprayed PlayRockstar1's car with bullets, catching it on fire and causing the car to explode on the highway high above the streets. Props go out to The LOST for winning this one: pocman2008, MarcoGT5, barney1610, redhondamike and slamthepanda21.
Switching episodes to The Ballad of Gay Tony, we fired up GTA Races with Sports Bikes for two laps on the track Tour D'Algonquin with traffic set to parked and pedestrians set to medium. Late in the race, PlayRockstar1 was doing tricks with his bike when Coolride hit a bump in the road, sending him flying high into and wrapping around a street lamp...and seconds later getting flattened by PlayRockstar1's wheels. In 1st place with $1,350 and a time of 08:13:46 was Slamthepanda21. Grats.
A new set of players came into the next lobby with the Rockstars, this time for 10 minutes of Deathmatch in Global Domination with Episodic weapons. In one 15 second span of this particular round, PlayRockstar1 took down PlayRockstar2, CrazyKurt shot PlayRockstar1, jorgesmok and redhondamike killed each other at the same time, and after respawning PlayRockstar2 took care of both PlayRockstar1 and CrazyKurt. And someone completely uninvolved in that wild mess won the round: Coolride, finishing first with 32 kills, 17 deaths and $3,719. Seems best to watch the stooges from far away.
Ending in Free Mode, dklw567, PlayRockstar1, FUNKY_MEDINA, minty12a, kitkatp, adamconnor4 and PlayRockstar3 all got in a punching and kicking fight at the airport that eventually escalated to knives, and then grenade launchers. It was really a spectacular way to end the big afternoon for sure. Check below for screens of just a few of the many memorable moments...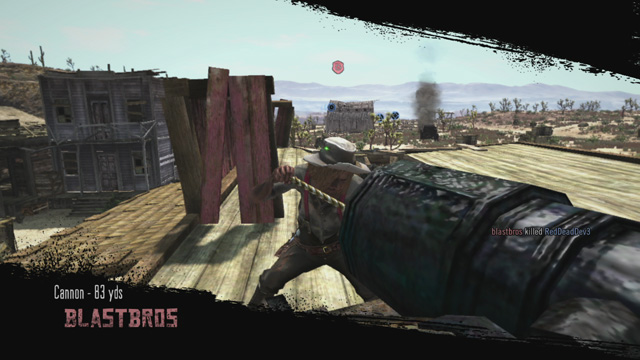 (In a round of Hold Your Own in Tumbleweed, blastbros manned this cannon and got 31 kills with zero deaths. Superb, sir.)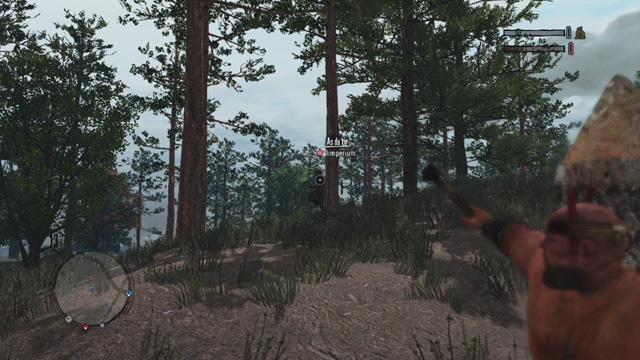 (RedDeadDev3 uses Pig Josh to tomahawk Imperium, both the character and weapon exclusive to the Legends and Killers Pack.)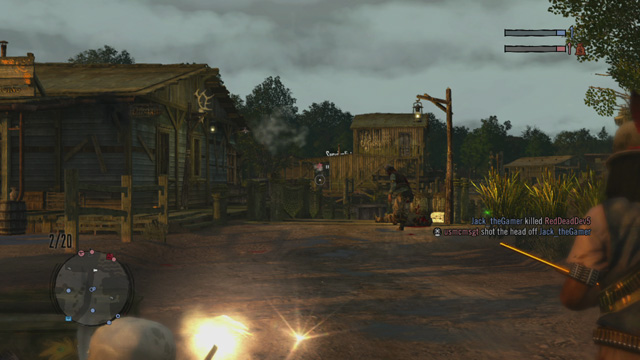 (Jack_theGamer falls to usmcmsgt's bullets in Thieves' Landing while RedDeadDev3 and opcy (foreground) seek revenge.)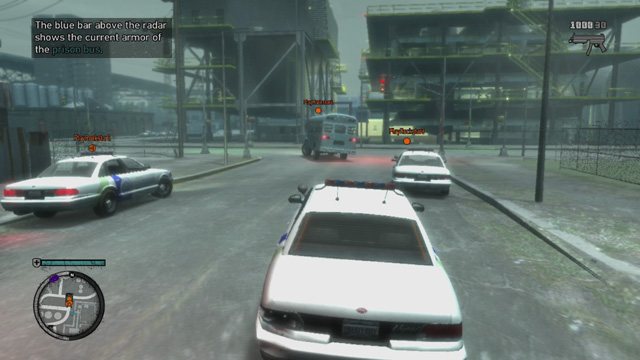 (PlayRockstar1, PlayRockstar2 and PlayRockstar3 protect prison bus driver PlayRockstar4 from incoming The LOST enemies.)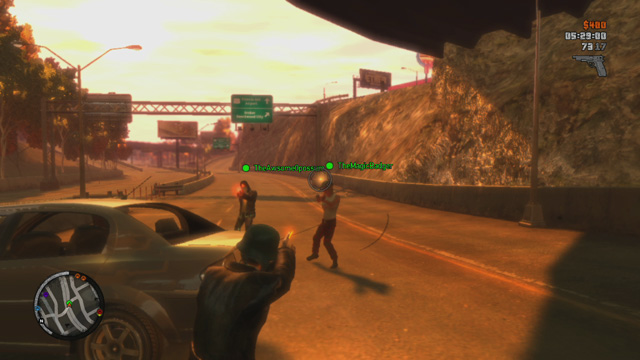 (TheMagicBadger and TheAwsome0possum fire away at PlayRockstar1 during Team Deathmatch in Liberty City.)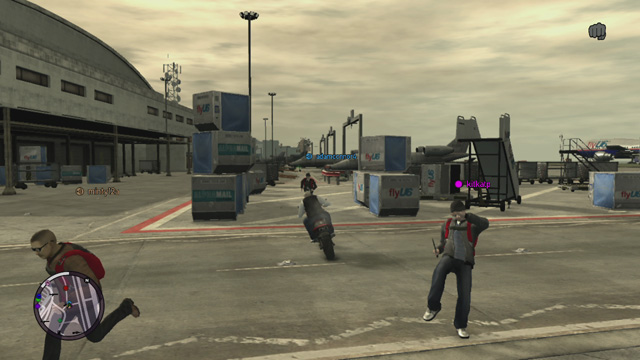 (Minty12a, adamconnor4 and kitkatp make way as PlayRockstar1 aims for bodies in Free Roam.)
A round up of participants are listed below, and apologies as always to anyone that may be omitted:
aaronwoods
ac-409
ACE_OF_BEATZ
adamconnor4
afroboy227
aj2good4you2
alteremagam
amazing_blazing
amstaff94800
Andrej69
Artem_Firsov
asko75
awesomeoppassum
AZZA_4321
backpain-4
BamaZeus
Banminator
barfly14
barney1610
BAVS42
beast__
BenHoppus
BIG_STRONG_NIKO
blastbros
BleedingShock
Boogeyfan
boshell
cacarin
Californian_Cat
cesarbezer
Chardd
charlie_320
cierajd3jeralynn
CircusRock
commandy
Coolride
cpcool3
Crazyfrig23
CrazyKurt
Croczy
culinwino3000
CyanCobra
Damionjeremiah
danielstorlid
DaProjectTuRtle
darikco
darkpower760
DeadgunWhiskey
DeadHorizon
DeathStar671
DeezleDan
dev120
didi727
dino85
dirtbag101
DirtyJebediah
dirtymoney777
DJALEC0
dklw567
Dodoayres
DravinClaw
Driverguy
driverjackboy
Dr_Gonzo1971
dtoll2000
D_Dog_43NL
Edstar2409
ed_marco
EmerAdam001
emess123212386
envy12
erick_117
er_dan
F33tis-Kidd
fjalfil
Floyd-Burger
FugetSudo_Jr
funkynoob
FUNKY_MEDINA
funky_talent
fuzion17c
G0rat4
gam3fr3ak93
gameboy00934
Game_Warrior
gazziboy
Gene17
GermanScientist
GGX34
gjjukj8151z
GK-Assasin-LDER-
Glamus
GM-Shenmue
gtafreak112
GTAJoanmafi
GTAMASTER_08
guillaume25000
gunyolan
Gus_Bullard
Hectorsoldado
Heisenberg_81
Helper_for_games
Henning92
HuangDennisLee
Husaria
iLL-egal
Imperium
insanelaughing
Insane_Gamer
ISI_Thuga
ivan.n
IWIHooligan
IWJOSH
j2mm_EST
Jack_theGamer
jaky2008
jamesjamjames
JamieMilne
JasonFrost
jasonontherun
JaviS89
jenss1983
Jeroen52
jesusFA
JetPilot5381
jmanm56
John_TheIrishman
Joker-64
jorgesmok
josesanlirio
JustThrowIt
kcull69
KecsoV
Ken_Swettie
Khalsa84
KibblesMcGee
kidhayes
KidKelly33
kindermann
kingslayer1000
kitkatp
LadyLuck07
LegalRenegade
LEGITassassin431
leptics73
LG__333
LIL_ASSASSIN_3
limperium
LIMP_BIZKIT
LOKISZORN
Louifgcv
LtColumbo15
LUCANTONI
luckycantrell13
luckyPoison
LukinhasM2
MAFIABOY10
majed6
manik-uk
mannion1988
MarcoGT5
masta_jeff
mc_javi
MEATSHANKER420
MegaDonaldduck1
meme4567890
Milikito_cp
minty12a
mobile4arab
modemkabel
mooseas
Mootoowhoto
Mr_BadAss911
msinu10
nathan450
nathan246450
NemisizZ-DK
NeoCrank
Ness--94
NiallDavids
Nickolski
NikoBelic47
NineToez
ninjaro
nkjhnjvsnljv
Nostradamus74
Nova_Jeevas
o0Eddzy0o
oneeyejohn
ONE_EYED_EEL
oooyababie
opcy
Orangeluva56
PaddyD_123
patombomb-3294
PhantoMdz36
PHIL_MOST_CHILL
pocman2008
Pottsy11895
PRBIGBOSS
ps3isbest
ps3killa
quentiindu78
rackemupgz
Rafioso
Rajinikanth
Ramsinator_33
RandomPerson8423
RANDY-SAVAG3001
rawesley
RayRay43
RDGunslinger
RedDome187
redhondamike
red_and_dead
Rich_Boi_86
rkBrain
RODLEY1703
Rodrigaum
Rollaw
rosco9237
RosZzo
Ruanteen
Scoonie
Silent.Mike
Silent_Infinity
silversun_111
simonlafosse
Singh-King-LA
skyhugo
Slamboni
slamthepanda21
SoulStunner
SOUR_DEEZLY
SpartanJhonny
spikington
SRJ-123
StayFly316
steeler011
StivGTA
Studeacon
SuperSoviet
swervo
The4ourTy67
TheAwsome0possum
TheDudeManBro
TheKoenigseagle
TheMagicBadger
themoney5
therealtreefitty
thezone96
The_Deej
The_Rock316
ThuGzNiGGa
Tilestone
TimOn63
tofu666
Tomuss94
TonyCipriani1065
too_addicted2U
ToxicTersk
TsSkorpion
tukk128
tundrasumurf1
Tybone10
Ujigum
UltimateFulgore
Ultra_Gizmo_64
UselessShyster
usmcmsgt
VASILI_SAISER
venom20000
VictorHTorres
W1ckeD
Weber121
websterboi
whiskas12
WiLdFoXx
xboxkiller626
xGraCx
xxsliceandicexx
y3rp_5150
Join us tomorrow Friday, August 27th, when we'll be playing Red Dead Redemption on Xbox LIVE from 4-7PM Eastern. And if you haven't yet made your way over to our Twitter or Facebook pages, we recommend you start following us as you never know when we'll feel like having a random game...
Previously:
Recap and Screens: Red Dead Redemption Official Social Club Multiplayer Events Weekend (July 23-24)
Recap & Screens: Red Dead Redemption Official Social Club Multiplayer Event on PlayStation Network (July 13th)
Recap & Screens: Episodes from Liberty City Official Social Club Multiplayer Event on Games for Windows LIVE (June 29th)
Recap & Screens: Red Dead Redemption Official Social Club Multiplayer Event on Xbox LIVE (June 18th)
The Official Social Club Multiplayer Events Series Calendar for July - September 2010