New Achievements/Trophies in the Red Dead Redemption Legends & Killers Pack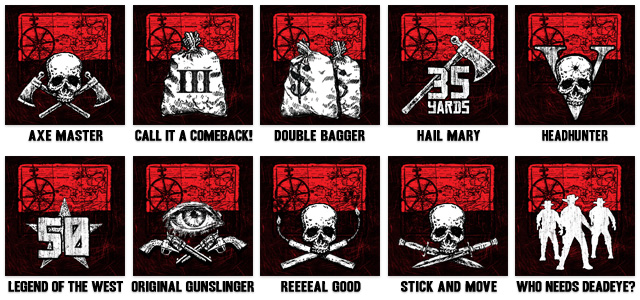 In addition to the 9 new multiplayer map locations, 8 new multiplayer characters from Red Dead Revolver, and the devastating new Tomahawk weapon for single and multiplayer, tomorrow's downloadable Legends & Killers Pack for Red Dead Redemption also features 10 more new Achievements/Trophies to unlock and add to your collection. Check out the descriptions for these new in-game accomplishments below.

AXE MASTER
Complete all Tomahawk challenges in Single Player.

CALL IT A COMEBACK!
Come back from a 2-0 deficit and win a Hold Your Own game.

DOUBLE BAGGER
Double capture 3 times in a single Gold Rush map.

HAIL MARY
Get a kill greater than 35 yards with a Tomahawk.

HEADHUNTER
Kill 5 players via headshot in a single Shootout or Gang Shootout.

LEGEND OF THE WEST
Reach level 50 and pass into Legend.

ORIGINAL GUNSLINGER
Get 25 Deadeye kills with Red.

REEEEAL GOOD
Get 25 Dynamite kills with Pig Josh.

STICK AND MOVE
Get 3 kills with knives or throwing knives in a single competitive match.

WHO NEEDS DEADEYE?
Kill 3 or more players in a standoff or showdown.
Previously:
Earn 10 New Achievements/Trophies in the Red Dead Redemption Outlaws to the End Co-Op Mission Pack DLC
Red Dead Redemption: List of Achievements & Trophies