(UPDATED) Asked & Answered – Re: Vice City, Red Dead Redemption and Chinatown Wars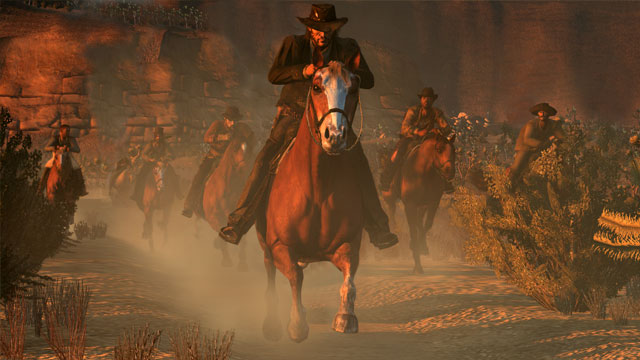 (*UPDATE - Some of your questions from this morning answered straight away at the bottom of this post. Hot off the press. Keep 'em coming...)

Another fresh batch of answers to soothe inquiring minds – Keep 'em coming. Hit us up via Mouthoff email, Twitter, Facebook, YouTube – and of course in the Comments area here.


"Hey Rockstar! I've been a huge fan of Vice City... and was wondering; is that Victor Vance who is gunned down in the intro of Vice City? All sources seem to say "yes", but no official word has been given on that." - received via Mouthoff

Yup... that's Vic. After having been dragged back into the Vice City criminal underworld by his brother Lance following the events of Grand Theft Auto: Vice City Stories, Vic Vance dies in the ambush that occurs in the opening scene of Grand Theft Auto: Vice City.

"When will we see some Red Dead Redemption footage or another trailer?! Even some information?! Come on R*!" - received via Twitter

Red Dead Redemption is currently shaping up to be one of our biggest action games of 2010. We will have more info very soon – and thank you for your interest. Trust us, it will be worth the wait. For all the latest screenshots, be sure to check out www.rockstargames.com/reddeadredemption.

"Does anyone know the name of the song in the Grand Theft Auto: Chinatown Wars trailer?" - received via YouTube

The song featured in the trailer for Grand Theft Auto: Chinatown Wars is aptly named "Chinatown Wars" by Ghostface Killah and Doom. It was produced exclusively for the game by Oh No (of Stones Throw fame, from the west coast), and is currently available on iTunes.

**********

"In GTAIV, there's a wall that contains the names of previous protagonists in the Grand Theft Auto series, and after some of those names, there are the words 'R.I.P.' or something similar. Is this a way of confirming that the GTA3 timeline is over, or will you bring it back someday?" - Rodrigo6411

This was a little joke for fans of the series. The Grand Theft Auto III timeline is not necessarily over - but it is a different world to Grand Theft Auto IV - only the branding and certain radio personalities exist across both worlds. The reason for this was that we felt Grand Theft Auto IV was a high-definition experience and required different kinds of characters. That - and the fact that most people from the previous world are dead.


"I want to start by saying you guys are my favorite developers, not that I am pulling any strings here so that my question gets answered. Anyways, I am dying to know more about Agent, when can we learn more, for god's sake tease me!" - Rock1m1

Thank you - it's not likely we will have any more news this year, but the game is shaping up to be something truly spectacular.


"One mystery gone, another to explain :):
Did Claude kill Maria at the end of GTAIII?" - Mastah27

Certainly gun shots were fired, but nobody is sure as to exactly what happened.