Recap and Screens: Red Dead Redemption Official Social Club Multiplayer Events Weekend (July 23-24)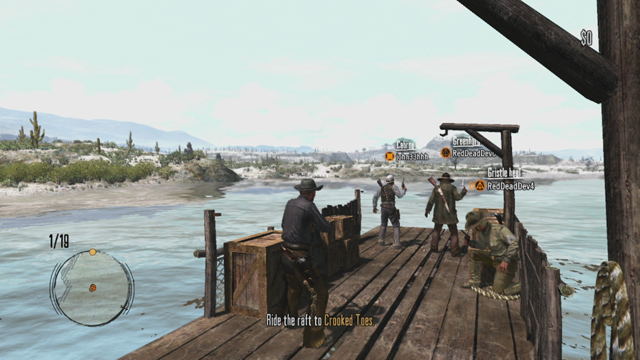 (Participants from around the world gathered together online for a weekend of multiplayer for two events in late July...)
A big thanks goes out to everyone that participated in our weekend of Red Dead Redemption on Friday, July 23rd on PlayStation Network and on Saturday, July 24th on Xbox LIVE. Complete with a live stream and chat, the latest event in the Social Club Multiplayer Events Series was packed with spectators and players from around the world.
Below we've put together a proper recap followed by screens of the events on both days.
After gathering a posse of Rockstars in Free Roam on PSN, we started up Shootout in MacFarlane's Ranch. During the opening Standoff, RedDeadDev3 recorded the first kill, shooting the head off LAMEMO. In an interesting moment later in the match, coropaulo and RedDeadDev3 fired on each other in the stables, but Mandalore357 casually entered and took both players down. NamelessMercury ended with top honors, getting $1000, 20 kills, 12 deaths and 2 robbed kills.
Entering the Outlaws to the End Cooperative Mission 'The Escape' were Sylar02, Thethirdeyeball, JuNh17 and RedDeadDev3. After clearing the first waves of enemies, the posse took to Tumbleweed to get rid of all of the gang members. Thethirdeyeball manned a cannon, but it was RedDeadDev3 and his cannon that got 32 consecutive kills, the green timer constantly restarting in the top right corner of the screen. A real spectacle to watch from the top of the hill...
GHOST_DOG_69, RedDeadDev3 and supercrazy95 began 'Ammunition' next, continuing the Outlaws to the End series of Cooperative Missions. Taking directly to the east gate, the three battled through the thunderstorm in and out of Tesoro Azul. As supercrazy95 and GHOST_DOG_69 made their way up the south hill, RedDeadDev3 sniped from far away. The three finished with a time of 9:39.11, a score of $5000 and a Gold award.
The next day on Xbox LIVE, Rockstars started up a round of Gang Shootout in Las Hermanas. RedDeadDev3 took to the roof of the east building, taking out SolaceBuster, Zackthar and Caustic1984. FightingERITHAN joined him and shot down RedDeadDev5. Nice cover up there on the roof for sure. Congrats to Zackthar for being the top player, though it was the other gang that won: D1rtySanch3z18, FightingERITHAN, RedDeadDev6, RedDeadDev3, xGOMLx Hellboy, MY JBMOOZoCOM, Jackbox15 and kn0ckOut98.
Going into Gold Rush in Pacific Union Railroad Camp, 16 players fought each other for bag captures. At one point, RedDeadDev4 picked up two bags, got a Mauser Pistol out of a crate and then got a gunshot to the face from jamkilla4877. Not really a good series of events, but it did start well, eh? GAlaXY92 came away with the win: 15 kills, 12 deaths, 2 headshots, and most important... 7 captures.
To cap things off, 16 players headed to Tesoro Azul to take on the Gang Hideout again and again. It was a killer way to end an action-packed evening, and a lot of fun shared with GAlaXY92, judd2114, Gi Joe of Doom, m16a1mike, DwK x ReFleX x, Scoonie, heronny, BlackNightmareX, snta cruz, D 1 S G R A C 3, IDrunken Elitel and day from asia...
Below you'll find some screens from just a few great moments during the event: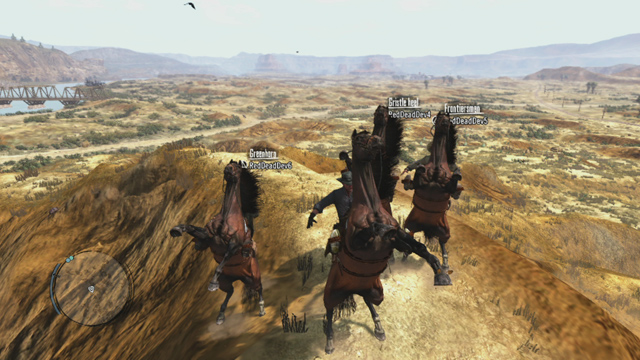 (The RedDeadDevs prepare to roam the epic open world...)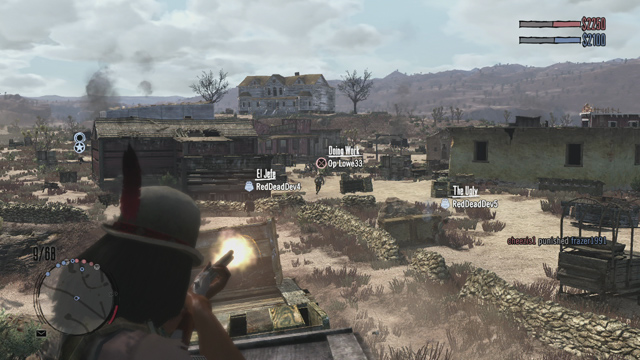 (Gang Shootout ensues in Tumbleweed as Op Lowe33 flees, realizing he is surrounded...)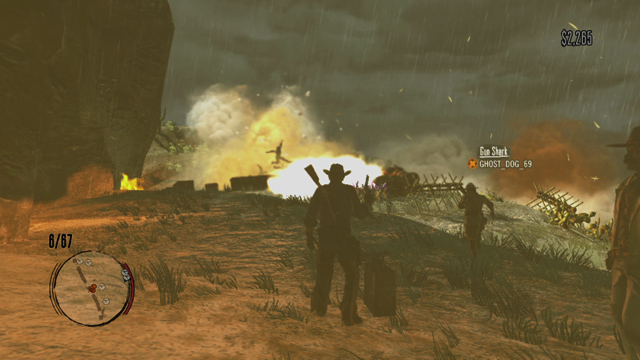 (Explosives go off at the end of Ammunition in the free Outlaws to the End Cooperative DLC...)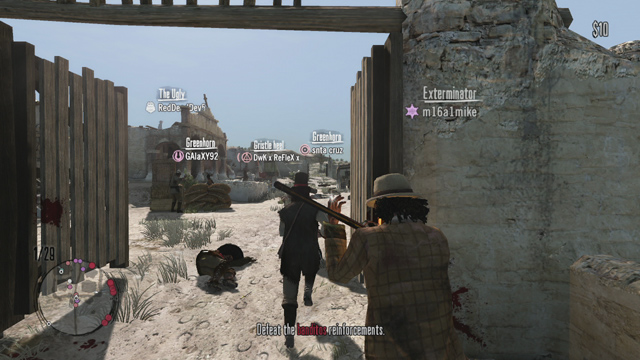 (16 players in Free Roam gather together to inflict ownage on the bad guys at the Tesoro Azul Gang Hideout...)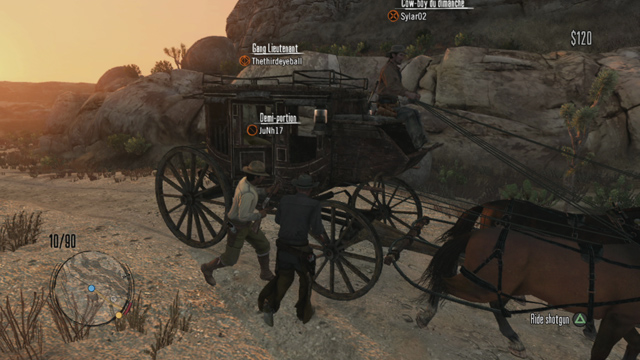 (Thethirdeyeball, Sylar02, JuNh17 and RedDeadDev3 get in the Gold Coach in the Cooperative Mission 'The Escape'.)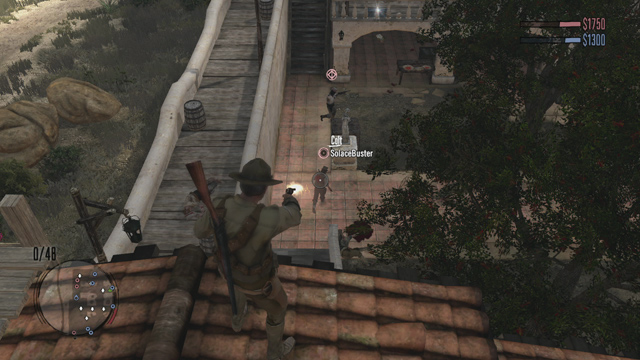 (SolaceBuster gets a bullet in the back from RedDeadDev3's comfortable high ground positioning...)
Thanks again to everyone that participated - whether in-game, chatting or watching the live stream. Participants are listed below, and apologies as always to anyone omitted:
AbsurdBubbles
Ace Gunmaster
aceofclubs
acoustic monkey
Acurios
A Ferret Army
A LITTLE PUNK 1
Always Wipe
anaconda07uk
ANCHORLESS
andrews1536
ant1iih3r0
arknash
AURAWOLFxTAKKUN
Austin7612
ayul88
B0GiE-uk-
Barmat67
BasilTenn
BBITKID
bdbomar
BEASTkid48
beau350
BeeKay HD
BeetleComet
Beezy F BayBay
BforBendetta69
Big Diezel94
BIG_STRONG_NIKO
BlackNightmareX
blaze9990
BleiD_VsK_95
blood urchin
bluekenneth
BoochArt
BornAssassin20
Bounty_Hunter98
BrothersNArms11
BRUTE DANGER
bryant112233
Bteck826
Cairine
CammoFalcon
CaptainCool07
Captaindanger
Caustic1984
CCC RIDER
cdk417
ChampxStatusx85
ChanceDotCOM
ChangedThe one
cheezis1
chevrotine008
Chinchilla2012
chris13re5
chrislovespills
chrisstophere
chucknicks
coconut213
cona_chameleon1
CorgiJulien
coropaulo
Count_Ovulate
cpt killa kloaf
CryoNeoZero
CSIXTY
Cupla cubans
CyclingRedds
D 1 S G R A C 3
D1rtySanch3z18
DaHRox
DamagedJustice69
dantheman1102
darcmadetattoo
DaRikco
Darkratos995
DavyDSlam
day from asia
DBWs Great One
DCM K1ller
Death 2 Ronaldo
DEUCENINE
DevoidGrain
Dj_Deaz
Doc Jones216

Doctor Of Sound
Dogbone7
Dom_1986
DoubleY0U
Do Work 8807
Dragon-Mud
dragon11molon
DravinClaw2
drifterhero
DrofSound
DSPITE
dsTHAman09
DwK x ReFleX x
Dylanmaster11
EATINGOXICLEAN
ecolide546
EGG71
Elektr0ns
ELMINIWHITEO
EnriquePastor
EpicJones
Evilrip0306
evray22
EXILLON PRIMUS
Father Corby
feinduspimp
Fiebiger
FightingERITHAN
firebird97
Firecat4
FormerBossHog
franky floas
Frazer85
frazer1991
Fresh Chan
freshmasta
FrodoBuddins420
fruunkis
fsu311
funeralxdirector
fuzion17c
gaby_R0
GAlaXY92
gam3fr3ak93
GAMING DRAG0N
Gavin20059
G Dawg3414
gelos7008
GermanScientist
Geronimo V
GH0ST_D0G_69
GhandiWaffles
Gi Joe of Doom
GM-Shenmue
GM x DrOwZy
Gorjess
GrimJack2012
Groovenaut
GTAMASTER_08
Hand Of Death6
Hasss a
HedMunky84
Hemulencius
Herby Douglass
heronny
highguy1978
HondaBond
HooRah180
H_I_T_M_A_N_AE
iCameron99
IDrunken EliteI
IIBatouII
ImAnEagle
impollinator
iowasownpd563
iRoyalty xD
itsbenni
IV PR1ME VI
IxIAlexLsIxI
IX M4ST3R XI
I_vinom_I
j-rayahniwake187
Jack-Trey
Jackbox15
Jake-Jake

jaky2008
jamesdredge420
JamieMilne
jamkilla4877
JCT200397
JCT200397
JFSmokee
JLut3s
joefresh817
john33hhh
Johnaclese
Johny-Mohawk
John_TheIrishman
jordan_866115
josTHEtcX
JoylessTuna
judd2114
JuNh17
JustHayden
JustThrowIt
JUWI911
Kealvarez
Kekudula
Kevin9315
KILLA REY 15
KILLERSTAR123
killswitch750
kn0ck0ut98
KoG Wreckless
KROCK4820
KrOniK KiiiNg
KwE 316
Kyriuu
LAMEMO
lavezzi97
laxstar-73
lDrunken Elitel
lDrzPrince
ljonny
loeffler_5
Lord Ali Of Tor
LTDLC Ghost96
Luis-VIP
M4Mastery
m16a1mike
macdude77
MAFIABOY007
MaliciousMayhem
markyu27
Marnit
MasterGorE1000
MatchedANDY
MattyVegas5
MCKing
MetalBoxFan
MetallicBeast15
Metal Marines 2
MIAMITHREE0FIVE
mikeham98
milega
minenleger99
MiniWeed
Misandope
mosher512
MothersMilk89
MrDiegol
MR Toxican
MUFFINSOFJOY
muyrapido
MY JBM0DZoC0M
NamelessMercury
NBK x BoLT
Needlez
neurohemotoxic
NGGentertainment
nicow4367
NikoBond
Nismomuch
nitro6262
noahthemonster
NYGiants310
OMS316
Op Lowe33
OrganicTissue777
OsloGamer

oXxDOMiNGOxXo
pablitooloko
ParagonParadox
PatientBow
PATRIOT4912
Phartemis
PhillyFan12
PlentifulNut
pocket02
Portaguy
posila
PrincezzXena
Pureedward
PVRaider2
qtkitycat
r6y6a6n
Rad McAwesome
Rafioso
ramb033
Reaper8245
RedDragon1844
redlobo7180111
REDREEREE
Resthead
Ret-law
Ringo742
RIZZ083044
RobotNixon1820
RomainRacine
RomanticLung
ronthebig
rrichard4099
Rubeen_93
Ruju7
RundownBoss
Rustlr
S4M WINCH3STER
saiprathap
SaltySteve
SandMaxxPayne
santib97
ScallywagXpress
SCARFACE 707CA
Schwabe_81
Scoonie
seandaddy88
SeniorClean23
senqin
SerenadeIsDead
serioustoto
Sgt Slaughter4U
shake_puig
shams1
shaphown
shawnmscribner
SHELLSHOCKED723
shnitzal36
shottacody
SickKaosAZ
Sir Lex of HIM
SkepticalStatue
SkilfulJordan
Sledge4
SmartSped
smilly_killa
SmokieFresh
Snappingquill
SniPrbXanclXit
snosio
snta cruz
SOOPRFREK
SpecTacula1
splitenheads
StayFly316
Stay IFrosty
steel heart 542
Sterbend
stoner2121
STRTLMTSTAR
sublime154
supercrazy95
SuperiorThunder
SUREshot219
SWAT NASTY
Sylar02

tah321
TakeItYard
Tasunka_witkoo
teamstreets
Teh Shark
tewdric
THE BEAST381
theGaMe9703
thegigglegoblin
TheHaxx
thejaar69
TheKnownOutLaw
thenatkid94
TheNemesis274
therealtreefitty
Thethirdeyeball
The Third Lyon
ThornierGinger
Thrashinator
Thug-Life_42069
TigRig
TIKI ICE
TioTodi
titans2891
Toffe261
tomidu68
tomnyo
tony_ch635
tosyd
TreDuce3233
trinidy693
Troublemaker1976
Trubleshot Trev
TsBiscuit
tsmith2012
TwankyDK
tystyle12
uD_L0z3
UnkleOdin
vince_42069
VTIMESXLFC
VwieV1KT0R
W1ckeD
waggy44
WARcAsh4
WarcraftHeroGod
WatsonBizzle
Wilcken420
Wrachet5150
www_shibby_at
xCraziexSniperx
XenoJie
xEP1CxLEG3NDS
xFFDPx
xGOMLx Hellboy
x iKC MeXiCaN
xImproperSaintx
x iSuPerStaR xx
xKBSx killmode
xl B14CK0UT lx
x N i C O L A o
xRemziBx
xSangreMalax
xTxFxIxSxHx
xV-E-N-0-Mx
xxIRISH SINxx
XxWolfheartxX
XxxS0ULFLYxxX
YOLLLY
YxBlackSmithxY
z3r0grav
Zachthar
zjo2010
ZOMBIE POODLE
zumerg
Our next live streaming multiplayer event will be a PlayStation Network doubleheader event tomorrow August 12th with us hopping on from 2-4PM to play Red Dead Redemption and continuing with Grand Theft Auto: Episodes from Liberty City from 4-7PM. Stay tuned for more details later today and check the full calendar of events for all future opportunities to get in on a game with Rockstar. Also, make sure to follow us closely on Twitter and Facebook especially this week following the release of the Red Dead Redemption Legends and Killers DLC Pack when we'll be throwing down the gauntlet - or tomahawk as it were with lots of impromptu play sessions...
Previously:
Recap & Screens: Red Dead Redemption Official Social Club Multiplayer Event on PlayStation Network (July 13th)
Recap & Screens: Episodes from Liberty City Official Social Club Multiplayer Event on Games for Windows LIVE (June 29th)
Recap & Screens: Red Dead Redemption Official Social Club Multiplayer Event on Xbox LIVE (June 18th)