Recap & Screens: Red Dead Redemption Official Social Club Multiplayer Event on PlayStation Network (July 13th)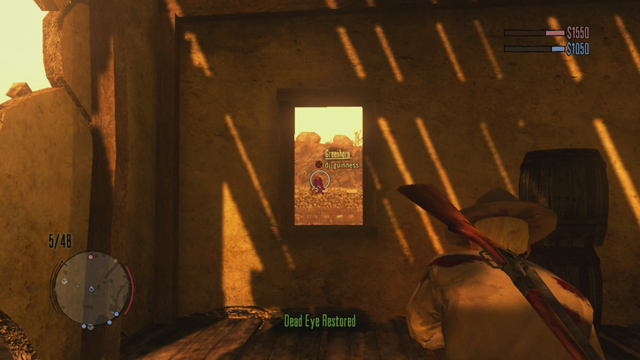 (RedDeadDev3 takes Dead Eye aim at dj-guinness from inside a building in Tumbleweed in the latest Social Club multiplayer event...)
Players and spectators from all around the globe came through on Tuesday, July 13th for an evening of Red Dead Redemption on PlayStation Network, the latest in the Social Club Multiplayer Events Series and the first of many events on our brand new calendar spanning through September. Players spent hours fighting in multiplayer, watching the live video stream and participating in the chat.
Read on for a recap of some of the memorable rounds we played during the event, followed by screenshots.
Four Rockstars entered Gang Shootout in Las Hermanas, and after RedDeadDev3 and his Dutch's Gang companions won the opening Showdown, they scattered to take cover from the soon-to-respawn Cattle Rustlers. RedDeadDev3 climbed to the top of the tallest building and scoped the courtyard for enemies. Meanwhile, down below, MC_Manux landed a perfect headshot on mick4739, someone that RedDeadDev3's LeMat Revolver couldn't quite reach. Congrats to FrankyeBoy for being the Top Player and for Dutch's Gang for ending with the win.
Entering Outlaws to the End, Red Dead Redemption's free Cooperative play multiplayer DLC, RedDeadDev6, OCELOT-1985, Zx_DarkAngel_xZ and BeazelWeasel posse'd up and chose their classes for The Escape. After wasting the first wave of enemies, everyone piled into the Gold Coach and headed for Benedict's Point. OCELOT-1985 and RedDeadDev6 leaned out the sides of the coach while Zx_DarkAngel_xZ took the reins and BeazelWeasel rode shotgun. No revivals needed for the rest of the mission as the posse reached the Point with nary a scratch, strong enough to claim Gold.
Continuing with Cooperative Missions, RedDeadDev3, RedDeadDev4, EC-11NYY and POINTS702 entered The River ready to take out some rebel encampments. They pretty much owned the first area, no one needing any revivals whatsoever. However, after landing at The Scratching Post, the enemy gunfire proved a bit much for EC-11NYY, falling down injured and helpless. RedDeadDev4 ran to revive, but quickly had to take cover when he saw that three enemies were right around the corner. After picking them off one-by-one, he got EC-11NYY back on his feet and the whole posse ended the round with a Silver.
Returning to Competitive Multiplayer, the Rockstars began a game of Hold Your Own in Tesoro Azul. RedDeadDev3 and Joescasino headed around the north wall after the Showdown ended, hoping to capture the enemy bag. RedDeadDev3 killed FrankyeBoy and Joescasino slaughtered onlinegamer2, but MC_Manux ended both of them with a few rounds to the head. Grats to Joescasino, ga1994-33, nuttslap, Black_Zangetsu91 and the Rockstars for winning 1-0.
In true Social Club multiplayer event fashion, we ended the event with a good 20 minute dessert of Free Roam mayhem, complete with Dynamite, High Powered Pistols and more. Most of the Free Roam took place in and around Armadillo. An always bloody fun way to end a great evening of multiplayer with everyone from around the world...
Below check out screens from just a few of the action-packed moments during the event...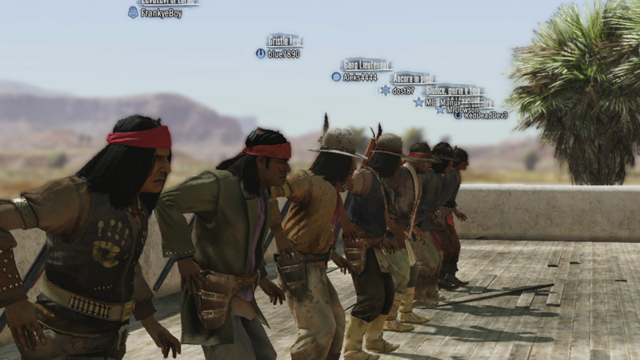 (FrankyeBoy, blue7890, Aleks4444, dost87, MC_Manux, MrDowson and RedDeadDev3 prepare for a Showdown...)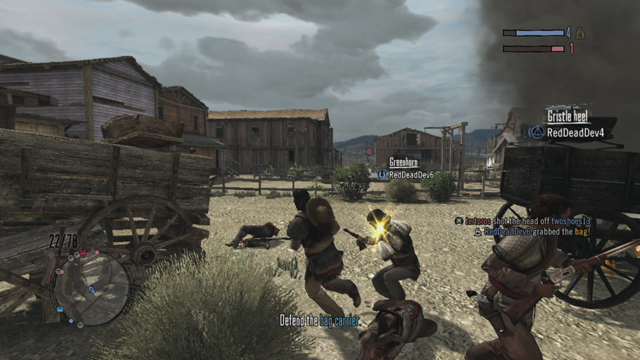 (Running around scattered bodies of the fallen, RedDeadDev6 grabs the bag while RedDeadDev3 and RedDeadDev4 defend...)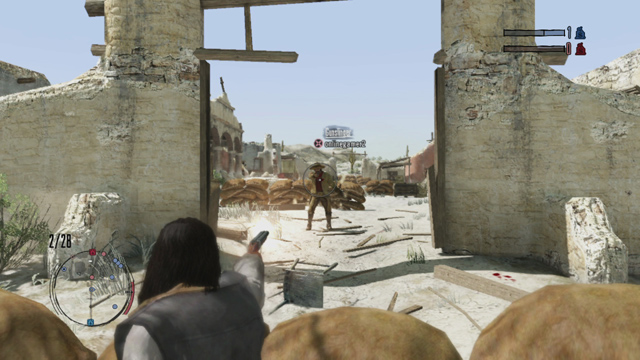 (Onlinegamer2 finds himself in the wrong place at the wrong time as RedDeadDev3 delivers a fatal shotgun blow to the chest...)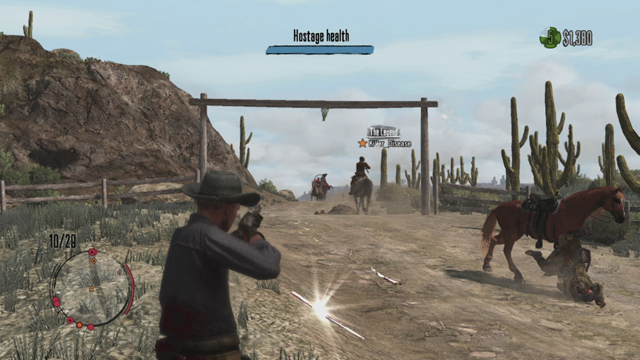 (A dead law man gets dragged by his horse as RedDeadDev3 and Killer_Disease fend off the final enemies in The Kidnapped Girl...)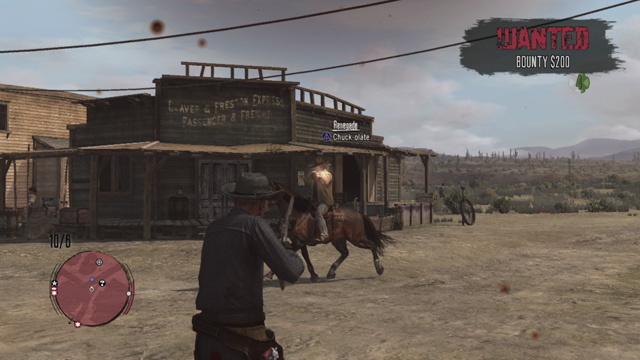 (Chuck-olate and RedDeadDev3 shoot it out in Armadillo during Free Roam...)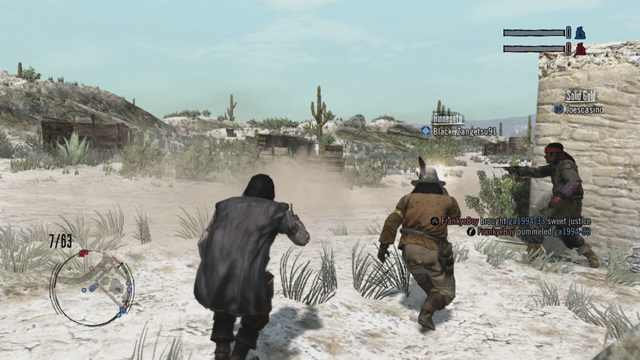 (Black_Zangetsu91, Joescasino and RedDeadDev3 run around Tesoro Azul to get the bag.)
A round up of participants are listed below, and apologies as always to anyone that may be omitted:
Agent_of_Anarchy
Aleks4444
AlexKennedyKD
ALI786x
aLiieJj
Alixey
alkapone89
ALODUS
alpha079
alvesgta
Amy_isa_Killer
andee9
AngelGurl27
Anthrax821
ayul88
bazza852
bbbbiiiillllllll
bder215
BeazelWeasel
bellicbond007
betterdayz
BGursky59
bhuddahdude
Big25Mike
BIG_STRONG_NIKO
billbailey11
Black_Zangetsu91
BleedingShock
BLOOD_HOUND-323-
blue7890
BORN-TO-GAME
bousoltane-dz
Brian40107
brutogonz
Callewaert
cannonxfodder
Carbonarra187
castle_spaugh
Chardd
choko06130
Chuck-olate
Clinthimself
CMarra95
Coldmarshall
CorgiJulien
craigie83
crazycat690
CubaYankiel
DaiHard79
DamagedJustice69
Damiensey
Damionjeremiah
Daniacorp
DANIELzeinMANIA
Darapalooza
DarkBlyth
darkos1976
Darkratos95
david1234_221057
deejayJOKER
Diego_2909
dj-guinness
dost87
driverjackboy
EC-11NYY
ehs90123
EL_PUT0
Endwar11
etape
Evanidus
EX_DeMon
Fahrenheit555
Faustin19
fazzykid
fester112
fjalfil
Flyrabbit927
FrankyeBoy
freeman1685
freshmasta
future172
fuzion17c
ga1994-33
gam3fr3ak93
GambettiMob
GameOverRG
Gamerzworld
gaza2010
Gen1usCat
giorgioantonio
GM-Shenmue
Goateesox
goku-du-69
GOLDY-GOLDGUNS-
graefocs
greaveshipowa
GTAMASTER_08
GTAsoldier
GTRHRO
GV-Rafioso
HAL6_70
Haloth
hayt22
Htownluver
iamtruck
Impollinator
imtheboss666
IMVU14828
iTzTaInTeDxX
IWIHooligan
JakSmoke
JamieMilne
Jamoking
Jebus_420
JLut3s
jmg24bad
Joescasino
Jonyboymarston
jtiggy
Jurabomber87
Kenomorph
kevinzino
kidneyeater
Killer_222108
Killer_Disease
kylebaptie
laurenjo
LCpl_HansHans
Leiva96
Lesk_original
Liberty_King
LIMP_BIZKIT
Littlecezer
Lohengriehn
lologo69
LupoLucio89
MachiavelliFARC
MachoFern
MaddoggWii60
MAFIABOY007
magestik
MajorPsychoWolf
MangoLu
Maniac_br
mannion1988
Marshall4
MCDrank
MCKing
MC_Manux
michaelrossi1
mick4739
miniwally
mister-bold
Morganthaler
MrDowson
MU_420
myju94
NaTuRaL
nikobellic9111
NM_Jeff
nolliethebum
nuttslap
onlinegamer2
-OPAZO-
Oprobio
O_Grizzly
panokko
Pencil-Pusher
Phantm90
POINTS702
PUG1138
PVT_TACKLEBERRY1
qtkitycat
qxlply
R1one
radnor5
Rafioso
RDRRox
reconest33
RedDeadRe123
RED_DEAD_GUNNER
RemiCorps
rickysayrelax
Rizzounit
Roy-Pan
Rstarfan3000
Rubenvks
S1RoCCo
SallyTwoDicks
SamuraiShadow
Sanador62
seisups
skoalbandit66
SlyNo0X
SmokeFTW
smokey7659820
Sonny-Setsujoku
SpaceInvader97
Spidey47
splicer11
StonyBudz
SublimeLabs
suicunekiller
suspence98
Swigzoo
TariX-
Tasunka_witkoo
Teamcool_5
tertoros
that-tyler-guy
the3rdSequence
TheTudiscoKid
TicoLoco
Timmehor
TimOn63
Tomuss94
Trevisworter
Trey_Williams
Tsarconic
TTBandit13
tukk128
twoshoes13
UnderBub
UnkleOdin
vince_123
vince_42069
VioletBandito
W1ckeD
warduke_40
WeaponsCache
Welshy11
Welsh_Red_Devil
Whitewolf10
Wolverine-2_
xdreambreakerx
xX_MDNTCLB_Xx
YoYo-Pete
Zinith
Look for a recap of our weekend doubleheader of events, on Friday, July 23rd and Saturday, July 24th very soon, and be sure to stay tuned via our Twitter or Facebook pages as you never know when we'll feel like getting online and playing a session...
Previously:
Recap & Screens: Episodes from Liberty City Official Social Club Multiplayer Event on Games for Windows LIVE (June 29th)
Recap & Screens: Red Dead Redemption Official Social Club Multiplayer Event on Xbox LIVE (June 18th)
Recap & Screens: Red Dead Redemption Official Social Club Multiplayer Event on PSN (June 3rd)