Rockstar Game Tips: Hunting Wildlife in Red Dead Redemption (Part 1)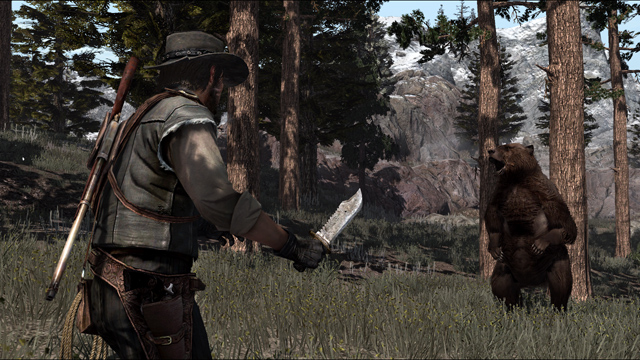 Hunting
is one of the most fun and unpredictable gameplay offerings of the epic open frontier
Red Dead Redemption
experience - and judging by what we've been seeing at the
Social Club
and from player impressions on
Twitter
, it's also a fan-favorite Red Dead pastime.
Today we'll be providing some tips to help you become an expert in some of the single-player aspects of hunting wildlife...
After hunting and skinning animals, keep in mind that the further away the shop is from the native land of the animal that you are selling, the more money they pay for the hides and parts.
If you see a cougar, immediately take action and begin shooting. Best to move side to side instead of running in one direction as the cougar will follow right behind you.
If you hear a rattling noise when riding your horse, climb off and retrace your steps. A rattlesnake is nearby...
Use rifles on soaring birds as pistols and revolvers aren't as accurate at long range.
When hunting deer, elk and other fast animals, stay on your horse so you don't lose them.
Master Hunter challenges for single player include the following:
Master Hunter 1: Collect five coyote pelts by killing five coyotes, skinning the carcasses and collecting the pelts. Search around Hanging Rock north of Armadillo or on the hills surrounding MacFarlane's Ranch.
Master Hunter 2: Collect five deer pelts by killing five deer and skinning them. One place you'll find them is prancing about in Hennigan's Stead.
Master Hunter 3: Kill five wolves with your melee knife and collect five wolf pelts. Look for wolves south of Blackwater and north of MacFarlane's Ranch.
Master Hunter 4: Collect five boar tusks and three armadillo carapaces in addition to those you already have. Search for boars southwest of Thieves Landing and for armadillos in the areas surrounding Armadillo and Ridgewood Farm.
Master Hunter 5: Kill two cougars with your melee knife and collect two cougar pelts. This will unlock the Buffalo Rifle in town weapon shops.
Master Hunter 6: Collect five raccoon pelts, five skunk pelts and five fox pelts in addition to those you already have. Look for these around Armadillo at night, and in Tall Trees in the green regions.
Master Hunter 7: Collect five elk meat and five bighorn skins in addition to those you already have. Search for elk in the snowy region of Tall Trees.
Master Hunter 8: Kill a bear with your melee knife and collect a bear pelt. Bears are found in Tall Trees.
Master Hunter 9: Search Ojo Del Diablo for Khan the jaguar and collect his pelt.
Master Hunter 10: Search Aurora Basin for Lobo the Wolf, Stillwater Creek for Gordo the Boar and Nekoti Rock for Brumas the Bear. This will unlock the ability to harvest vittles from animals that create a consumable health item.
We'll be covering more hunting tips and also all of the Sharpshooter Challenges in part two of our Hunting Wildlife tips series, coming soon. In the meantime, let us know if you have any hunting tips or questions in the comments below and we may answer them now or in a future edition of Asked & Answered.
Previously:
Rockstar Game Tips: Red Dead Redemption's Free Roam Challenges Part 3 (Lawbringer and Survivalist)
Rockstar Game Tips: Red Dead Redemption's Free Roam Challenges Part 2 (Outlaw)
Rockstar Game Tips: Free Roam Challenges Part 1 (Hunting & Sharpshooting)
Rockstar Game Tips: Dueling like a Pro in Red Dead Redemption
Rockstar Game Tips: Red Dead Redemption Quick Tips