Recap & Screens: Episodes from Liberty City Official Social Club Multiplayer Event on Games for Windows LIVE (June 29th)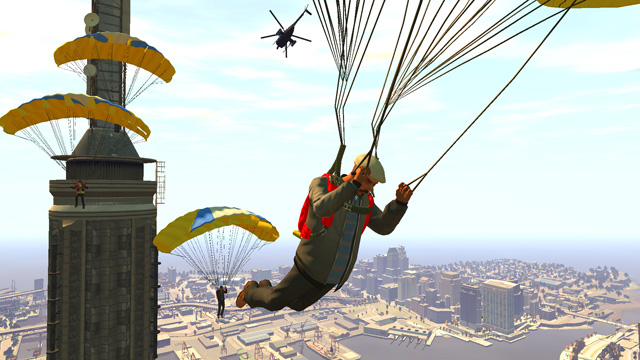 (Parachuting over Algonquin in last week's Episodes from Liberty City multiplayer event on Games for Windows LIVE...)
Big thanks to everyone that played, watched the stream and participated in the chat during last week's Grand Theft Auto: Episodes from Liberty City PC multiplayer event Tuesday, June 29th on Games for Windows LIVE. We're all looking forward to continuing on with more online mayhem over the coming months per the brand new calendar of Social Club Multiplayer Events Series we announced recently that will carry all the way through September with lots of Red Dead and Grand Theft Auto action.
Below find a recap of last week's session along with screenshots, captured during the live stream and using tools in the in-game video editor.
To begin the night of carnage, we announced in the chat that we were first going to be playing some Team Deathmatch in The Lost and Damned. Players formed parties, entered the lobby and when the round began, everyone scattered about in Bohan to gather weapons and armor. Veteran players knew to expect the unexpected, as exemplified by Team Five's DegradingGTA witnessing teammate Oleg Rambo turn the corner and get instantly hit by a pedestrian vehicle. Look both ways, folks. Congrats to Team Three's EddiePwnsYou, DuncanM33, ProGamerArun90 and Blindfeezy for coming out on top.
From there, we felt like getting behind the wheel ourselves, entering Races in the map Uncoupled. Players chose vehicles from the Trucks class and revved their engines at the starting line, ready to head into an area that proved to be tight grounds for 32 large vehicles. IvanGTAIV, ALPHAATTgoXbox, our own GwRockstar1, ISI Salvatore, Oleg Rambo, DegradingGTA, PihtoDed, Alekc Holland, DuncanM33, ProGamerArun90, GUSSI111 and many others all attempted to fit through a narrow alley, causing a lot of hilarity and overturned vehicles at the same time. One racer that made it through the destruction was ISI Salvatore, winning with a time of 2:25:48 in three laps.
In the final match of multiplayer in The Lost and Damned, the N.O.O.S.E. and The LOST went to war in Witness Protection - where one team is tasked with busing an informant safely to police headquarters, while the other team of rogue bikers does all they can to thwart them. ISI Claws drove the prison transport bus alongside N.O.O.S.E. teammates ISI Salvatore, IWIHooligan, GwRockstar1, GwRockstar2, ISI Thuga, ADDICT Grimm, ALPHATTgoXbox and Caleb 141. The LOST's monoxrom, DuncanM33, VB Project, ProGamerArun90, UA Gorazio Kane and others chased after the bus, but couldn't do the damage - as all of the prisoners were dropped off at LCPD police stations with ease. Strong work, N.O.O.S.E.
Those in the live chat rejoyced when we announced it was time for some parachutes, APCs and Buzzards. Switching episodes to The Ballad of Gay Tony, we gathered players in a lobby for Team Deathmatch in Lower Algonquin. While one of the big battles of the match was Team Seven's HappyHumanLucky and zabawa num1 versus Team Three's IvanGTAIV and GUSSI111, Team Six's third team member proved to be a difference maker as ISI Claws, ISI Salvatore and ISI Thuga won with an impressive $4777.
Next up was a round of Races with Cars at Francis International Airport. Taking off on the runway, 32 players boosted their speed with a healthy dose of starting NOS, propelling them to the first turn... a disastrous one. Only a few made it out without a scratch, one of 'em being ZF1R who finished first in two laps with a time of 4:27:50. Congrats also to RomanBOY123 who ended the race in second with a few extra milliseconds on the clock: 4:27:78.
Finally, everyone was waiting for it and anticipating the traditional grand finale: a powerful nightcap of Free Mode. Explosions, gunfire, hit and runs... always the fan-favorite way to end another action-packed event. Check out selected screens below from across the entire evening session...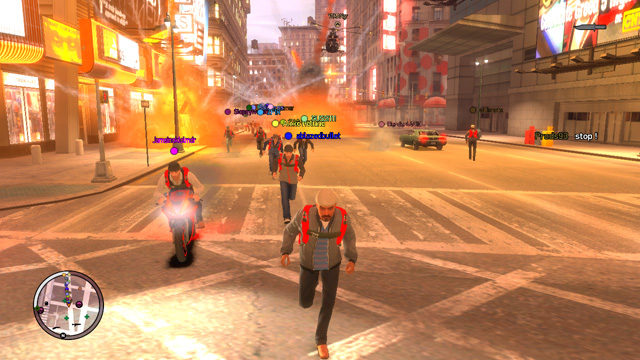 (Players chase GwRockstar1 in Free Roam while being fired upon by a Buzzard.)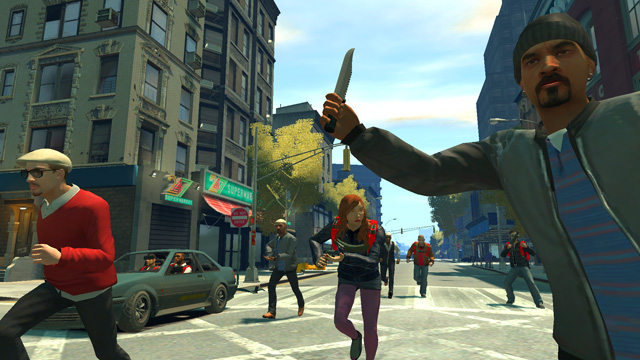 (Evanlution, Shortcot, MoNsTeR Jayce22, Joker0064, Z J4Y, Sloppy Iverson,
l Studios5107 l, Faust3101, Prods93, TAG l Dat and denisras007 run amok through Liberty City.)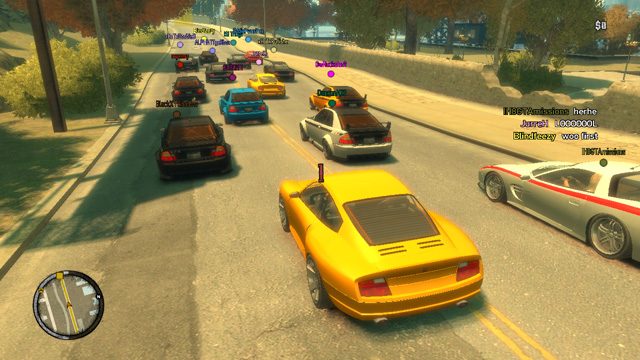 (Preparing to tear up the streets with a race of high-octane sports cars...)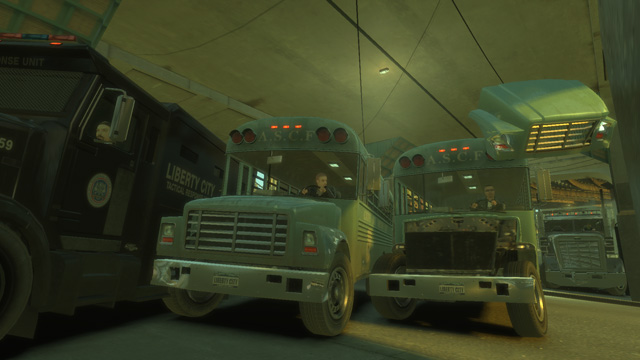 (Bus Diss. From left to right: ALPHATTgoXbox, GwRockstar1, Alekc Holland and GwRockstar2.)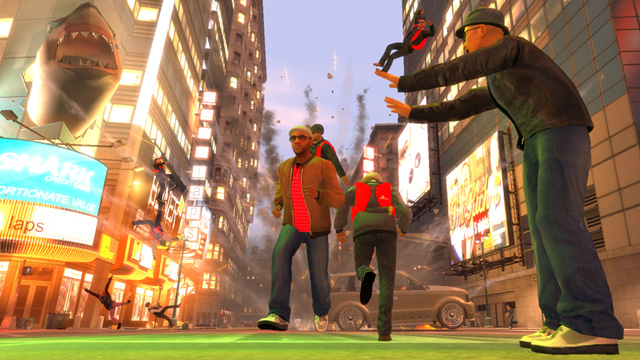 (The evening's night cap - Free Roam,a grand way to bring things to a close...)
Thanks again to all of you that were able to make it through to the event – here's a list of attendees by our accounts – our humblest apologies to anyone omitted:
ablazedbullet360
ADDICT Grimm
adri95
Agent460
Agent Lynx
alberio
Alekc Holland
Alexser15
Alper93
ALPHATTgoXbox
antodonegal
ARTEmFIRSOV
artemmoder
Becket269
BerkeLIVE
BIG_STRONG_NIKO
binkbink
bipulfx
BjR 47
Blindfeezy
BloodierDen95
Brandonizer
Bro0klyn KING
Bruno BR RuleZ
Busta Crusher
Caleb 141
chuchu747
cKy4life
crazyjointje
Crobbbex
cys446
D.E.LB.
DaLgakiran
DegradingGTA
DenisPoAl
denisras007
djdbigtimer
DuncanM33
DuxTm
eastmanblues
EddiePwnsYou
Edison
Eli-vl
elie9210
espontaneo
Evanlution
Faust3101
fenix9
Feriakiller
filon1001
frank13
franmomo
fredyfredo
fresh678
fuddy_duddy
FugetSudo
gangstaoleg
GeorgioVercetti
GermanScientist
GM-Shenmue
graefocs
GrandComet
GTABartek
GTAJoanmafi
GTAmishunzLOL
Guardian914
GUSSI111


Gustei
GVRafioso
HappyHumanLucky
HotAlteredDreamZ
HS2712
Husaria
Indiiyana
Infinity8
irinel1996
IRISHarseEATERS
ISI Claws
ISI Salvatore
ISI Thuga
itsyawman
IvanGTAIV
ivan.n
IWIHooligan
jacobgeary
Jamsinoklolmdr
japanisepilot
JAZZWA
Joker0064
JOLOBAILO
Juroslaw6012
KaNaSiS
KenjiAiz
khallol
Kin22356
KINGGHEEDORAHHH
kljjjjjjjjjjjjjj
KoenT1C
koperta4514
Kraphty
Krschin
Kwolski34
LimpBizkit4LiFE
l Studios5107 l
Lucassster
lyn006
makc61russ
MehmeTDemiRCi
monoxrom
MoNsTeR Jayce22
mos_handy
MrBean922
Mr Ximio
mr_widd
MUSkhaTA
myxeny
N0rax
nathan02200
Nismomuch
Nomad641
NotriusMonster
oilala
Oleg Rambo
Olimos
OmegaXtreme6sic6
PacoGTA4
PacoX8
PENDULUM RULIT
PihtoDed
Prods93
ProGamerArun90
rafek131
Rathel21
rattletop1

RGC Elman
RGC HeKuT
RGC Magnum27
robertbrawngp09
Roizzer
RomanBOY123
RosZzo
Rstar15
Rstarpro
saleen ns
SecAm Pro
sellingparents
Sergey81.ag
Ship E1
Shkiz
Shortcot
slddd_
Sloppy Iverson
Slyed09
SlyHardrock
SpideR06
steeleman2121
Svatsa
SYBERDYNERBRA
TAG l Dat
tengoldengta4
tennessee241
The-Death22
TheDoctor921
thegunslayer
The_Z-jay
TO1997
tom455olds
Tomer077x
TouchedExpert
Trevisworter
turboege
TurkiyeBora
TyTy4ever
UA Gorazio Kane
ultimatx
UltraRoyce
vansaiyuki
VB Project
VisefieD
W1ckeD
warbug33
WavedPc
WhiteWolfPL
WiseSoul96
WojtasZiom
wtlg
Wuodoo
wwehht
wwestman96
xHoTxPunisher
XpoloDave
xtremesupreme
yeti1221
YMHYMS
YOMANgr
yrrorel
YTBmxismylife123
zabawa num1
ZF1R
Z J4Y
Also make sure you follow us very closely on Twitter and Facebook, as you never know when we'll feel like having a random game.
Otherwise - get with us for our next official Social Club multiplayer event for Red Dead Redemption on PS3 coming July 13th. Check the July-Sept calendar announcement for more.
Previously:
The Official Social Club Multiplayer Events Series Calendar for July - September 2010
Recap & Screens: Red Dead Redemption Official Social Club Multiplayer Event on PSN (June 3rd)
Recap and Screens: Red Dead Redemption Official Social Club Multiplayer Kickoff Weekend (May 21-22)