Episodes from Liberty City Games for Windows LIVE Official Social Club Multiplayer Event (June 29, 4-7 PM Eastern)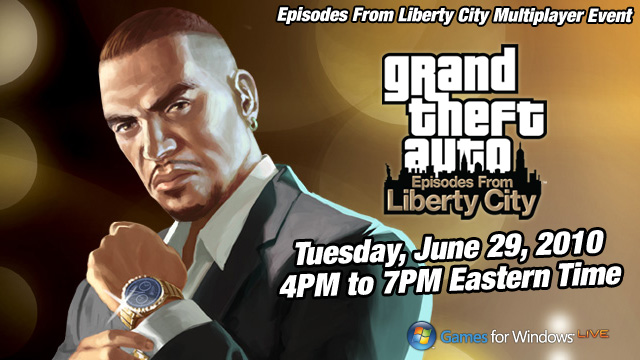 Update: The event has ended. Thanks to everyone that played, watched the stream and participated in the chat...
Join us today from 4-7PM Eastern when we'll be playing Grand Theft Auto: Episodes from Liberty City on Games for Windows LIVE. Also stay tuned this week for the calendar announcement of our July through September events in the official Social Club Multiplayer Events Series – expect lots of Red Dead Redemption online action through the summer and into the fall...
As always, those who aren't able to play today can watch the live streaming video as the event unfolds and join in on our official live chat.
We'll be starting the afternoon in The Lost and Damned in Team Deathmatch. Those of you clamoring to get into base jumping, an APC or a Buzzard - we'll be switching over to The Ballad of Gay Tony at some point during the event.
SPECTATE AND CHAT
Can't reach a gaming PC during our play time? You can still follow everything at the Social Club Multiplayer Event page with a live streaming broadcast on both days. We'll also have the chat box running during the events for those that want to discuss the action with fellow fans.
HOW TO FIND US
We'll be starting both events in Team Deathmatch in The Lost and Damned, so navigate through your in-game phone to Party Mode and have at least one friend join your Grand Theft Auto party. Once you and your friend(s) are ready and you're sure that the event has begun, start up Team Deathmatch. Rockstar players will be scattered through a number of different lobbies to allow for the maximum amount of people to play on each day.
As always, shout in our chat box on the Social Club Multiplayer Event page if you have any questions.
NEED A PARTNER?
Hit up the chat box during the event or plan ahead and coordinate your party by posting your Gamertag in the Comments section below.
OFFICIAL ROCKSTAR GAMERTAGS
Participating Rockstar Gamertags from 4-7PM Eastern will be:
GwRockstar1
GwRockstar2
GwRockstar3
GwRockstar4
ABOUT PARTY MODE
Party Mode is an easy way to get your group together and find matches. Here are the 3 quick and easy steps to get you up and running:
To get started, fire up the in-game mobile phone by pressing "Up" on the D-pad. Navigate to Party Mode.
From here, open up your phone again and select the Friends option to invite your friends (you need at least one more friend to play with Rockstar).
Once your team is ready to roll and the event has begun, open up the in-game phone again and select Ranked > Team Deathmatch.
Again, please be sure that you enter the lobby in a group of two if you plan to get matched up against us and other players for the event.
Previously:
Recap & Screens: Episodes from Liberty City Social Club Multiplayer Event on Xbox Live (May 13th)
Recap and Screens: Episodes from Liberty City PS3 Social Club Multiplayer Event (April 27)
Recap and Screens: Episodes from Liberty City PS3 & PC Multiplayer Kickoff Weekend (April 16-17)