Recap & Screens: Red Dead Redemption Official Social Club Multiplayer Event on Xbox LIVE (June 18th)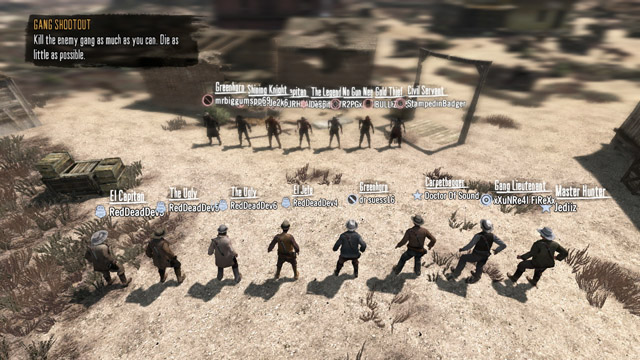 (Players stand off to begin the latest Red Dead event in the live streaming Social Club Multiplayer Events Series...)
Big thanks to everyone who joined us for the most recent Red Dead Redemption event on Xbox LIVE - the latest installment in the Social Club Multiplayer Events Series of live streaming online sessions with Rockstar along with live chat at the official Events page (www.rockstargames.com/socialclub/multiplayer).
Here's a proper recap from the event complete with stories and screens - and be on the lookout later this week for our announcement of the extended new calendar of events for the months of July through September.
We began the evening last Friday with 16 players in a round of Gang Shootout in the broad daylight of Tumbleweed. The opening Showdown began with our own RedDeadDev5 landing a head shot on WestSide2k6 and culminated with a first win for the Lawmen. During the match, RyanCable223 took cover out in front of the mansion, but RedDeadDev3 parlayed a little Dead Eye to take him down. YOURHEADGOBOOM got revenge for his fallen teammate by rounding the church and putting a bullet in RedDeadDev3's back. Congrats to the Lawmen for winning the match with $5000: Doctor Of Sound, Jediiz, dr suess16, xXuNRe4l FiReXx and four Rockstars.
Next, we entered Hold Your Own in Chuparosa with 16 players. Entering the town from the outer wall, RedDeadDev3 spotted Los Payasos. Using crates and sandbags for cover, RedDeadDev3 waited for the perfect moment and blasted Los Payasos with a shotgun. Robopimpbot ran out into the open area in the middle of town and quickly met his end after receiving a bullet fired by RedDeadDev3's Bolt Action Rifle. RedDeadDev3 was able to get a bag capture of his own to help his team take the lead 2-1, but the Rebeldes came back and won 3-2. The winning team included Los Payasos, Anubas911, GeneralAfroKing, Robopimpbot, B4 Hoi, shollis39, TheMonkeySong00 and Ron GZ006 HK.
We stayed in Chuparosa for the next match but brought in new players and switched modes to Grab The Bag. After the Showdown ended, x UCK x OSI 79 was the first to grab the bag, but WarnedAce shot him down and teammate Dan the Statman was there to pick up the bag and get a capture. The Miners defeated the Rockstars and others 7-1, the top player being Scoonie. The Miners included Scoonie, Dan the Statman, WarnedAce, xX Noobhuntr Xx, Vincent Dropher, Legit Sneak, Tiny Loz and SilentStriker49.
Nearing the end of the event, we gathered a few players into a round of Shootout in Armadillo. After o EnV won the opening Standoff, the dead re-spawned and scattered about the town. Near the schoolhouse, RedDeadDev3 managed to shoot and kill MrThankUvryMuch and o EnV before taking a bullet to the back from GNG Monster NRG. Congrats to MrThankUvryMuch for winning with $2000, GNG Monster NRG for coming in second place with $1950 and to o EnV for coming in third with $1600.
In the last Competitive Multiplayer round of the evening, we entered Gold Rush with a few brave players in MacFarlane's Ranch. Newby Scooby started the Standoff by with a buckshot to RedDeadDev3's face. Twizkid Kris was able to narrowly defeat GNG Monster NRG, Newby Scooby and RedDeadDev3, ending with 5 captures.
And in what has quickly become something of a tradition with Red Dead Redemption, we ended things off with a grand finale of Free Roam. With lots of cougar huntin', gang hideout challenge action and general mayhem - a great time, and thanks again to everyone who came through and ran amok with us.
Check below for screens of just a few memorable moments...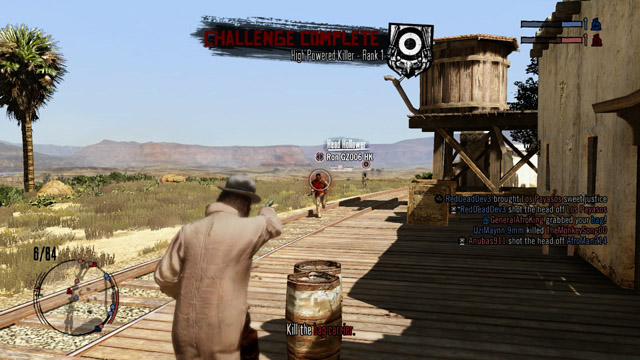 (Ron GZ006 HK and RedDeadDev3 exchange fire outside the walls of Chuparosa.)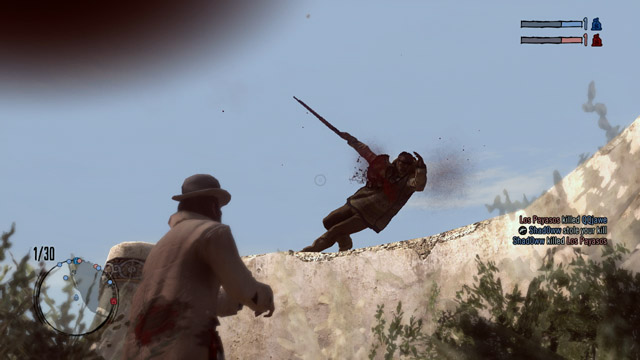 (RedDeadDev3 knocks Los Payasos off the wall and to his death...)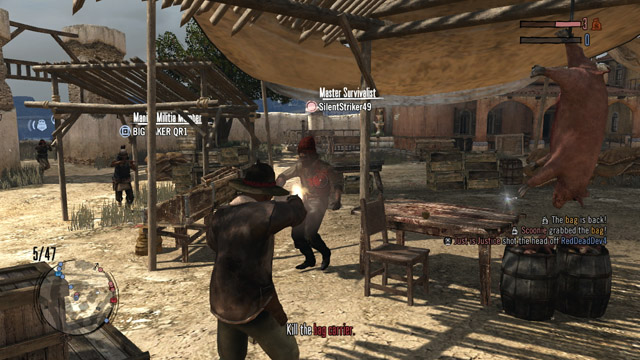 (A battle is waged amidst the marketplace of Chuparosa.)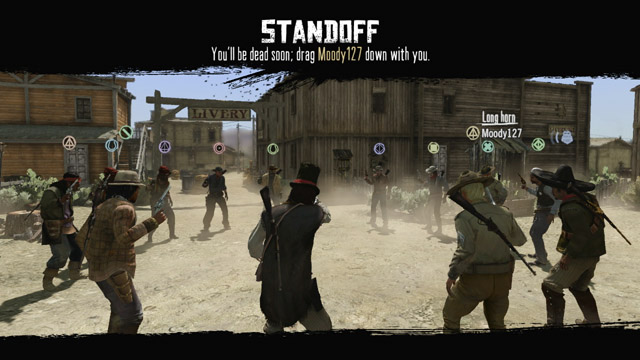 (Right before a Standoff in a round of Shootout in Armadillo...)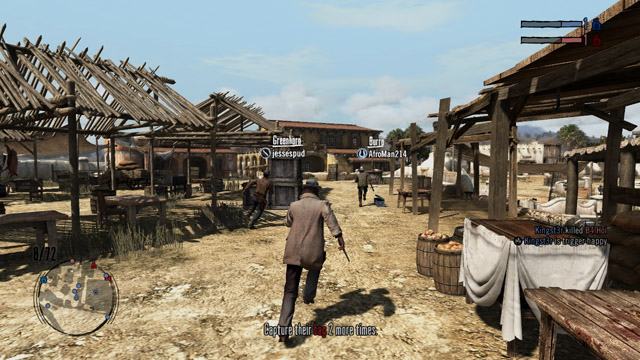 (Teammates working together to collect the bag.)
A round up of participants are listed below, and apologies as always to anyone that may be omitted:
AceAnihilator
acod13
AFFLicTiioN 7
Alpha 1871
amar4546
An333D
Antidepressiva1
Anubas911
ArchAngel X7ST
ArmedGraboid
ArmThePandaz
Artem_Firsov
ASMQ369
AssAssin0967153
AStraitUpBeast
AsunderSteven
AtomAssassin
atornros
attack77bulb
Azuregaze
b0omz
B4 Hoi
B1BBEE
baby bus
BagOfSkulls
Bamstead
BananaHalla
Banetome
Barre Babe
Bigevoil
BIG GMG
Billythekid158
BK XxHAZExX
blackgrav1ty
BLACKMACK90 JR
Blazen_W_Power
BleedingShock
BLIZZIExBEAST
Bludshott
bman4782
BobbyJohnson
BOJ whiteballz
bongo pazuzu
BOOMBOXTRIST89
boombye
Browsers
brute 757
budburkeen69
bzo1973
cakebandit
Caligulardicus
camcole1
Captain Wilfy
Carrionlust
CasperH
catdady7
CavalierG dog
CBass2008
cbkblaze
C DA RED DEAD
Chabs1
Chansta87
Chocoflo
chrislovespills
CIARAN EK
CircusRock
ColdHowdy420
COOKIEDENTONBOY
cooper909
CosmicStrike
CowboyWho
cptdoogle
CRAVEN73
CrazyNinja367
crazywhiteboy44
CrunchatizMeCpt
CUDDLY CAINE
D3baucher CHCI3
Daaniedude
DaBombardier
DankerThe Truth
Dan the Statman
Danyal San025
DarkestStarMomo
DARKMAN1RST
DeadlySniper308
DeafAtheist
DEJAsView
DelishusSalmon
Despite37
DevilEnigma
DINGDONGDANIEL7
DJ Darkel
DJR141
Doctor Of Sound
DontTaseMeBro02
DOODLEJUMPER247
DragonTriphop
DRAKES54321
DrSeuss101
dr suess16
DrVen0mie97
DSanta
Eldegon117
ElementalOke
eliseo2
El Mexi Can 915
emoney12094
ENDOHOG
ep1s0de2
Erick Mercy
Evanidus
evanm43
EverydayPlaya1
EVIL APOCALYPS3
ews108
ExeRoX LonEwOlF
fallout3master9
Fattyboy122
Fausto72
FinalFracture
fisheman
FLAMING SPAZ 13
FlipZeppelin86
FluffyPaladin
FortyOzKillah
Frank Monkey
freakinmario
fresh678
FrydCheez
FSOWxN00B
G0DOFM4DN3SS
G3ORG3QUAN
gameboyv
Gencsta
GeneralAfroKing
genkishi
GermanScientist
gingeb34
GM-Shenmue
GNG_Monster_NRG
Godly Spawn
Godofwars53
GR1M ASSASS1N X
GravyDavy78
Grimwall
GriptheBurn3r
gta13x123
guitarfarr
harrydrew101
harvesterbikes
HawkyNymph
HaydnSturman99
HELLISH BEAZT
hell satan95
hic93kup
HieroGTR
HighKiLLerKoeib
highwayseven
Hum 4 CHAOS
HuricaneHalibit
I-ARE-G1FTED
iG0DZILLAuJAPAN
II BOOGEY II
IL33ROY JENKINS
illdmgdu4rl
InsipidSword
IntellectualGuy
irinel1996
I SuperSHOTzz I
its a BLUNT
ItZz LaTtE
ITz_Norwood
Jacob Geary
JAD Echo
JakeTheKnight
jasonadaw
jclark1216
JCowden54
JDahIa
JdotJONES
Jediiz
JeefroTull
jeffsandrock
jesus holguin
JewmanJoe
JLRumbel64
JLut3s
jmw10
joego67
John123Keel
JokerSniper69
jonavalde
Jordan9o7
Jumper Baltzer
KATKON
keky123321
KiiDxDynamiiK
kingmasterhalo
King_Abortus
KMASTAH
Kraig Potta
KrisG87
kuma89
kymbelly
L33T DUFFLEBAG
lacyboy2
Lauritz24
Legit Sneak
LewisJGB
Lightsoutsd1
LiL EgG bLaZeR
LIMP_BIZKIT
Little River 7
LittlexTacoxBoy
LoneWolfCB2011
LoOkinKiller10
losimo
Los Payasos
Lost 4ssassin
loui400
LSGStarfire
L the last BAMF
LukeLSD
LurkingHornet
M15t3R0M3N
MachoFern
Maldonado11
Marauder 8000
Mark_8819
Marnit
marsimoto 4life
marvelfan54
mctoro
MEGAMODE
menerrus
MIke51595
mirko2828
MisanDope
monky pits
Moody127
Moosesashi
MR N00D1ES
MrThankuvrymuch
Mr Wright 1982
msinu10
Mudderdan672
munkeyman210
MxGrimreaper xM
N1GHT3LFM0HAWK7
navyjs1989
NeededAdam
neubourn
Newby Scooby
NewRM
NFusco
NickoVelick
NJDevilNYGuy
nolosers13
nothingbutneck
NSR xX01BirdXx
NYC PwnStar
o EnV
OfficialLORDZED
OmegaSpartan91
ooMrFlyGuyoo
oO VeNoMzZz Oo
Outlaw_bumfree
owningreddead
Ozzywichi
pablitooloko
PDiddy91
PGS NeoDraven
Pharaox2
Plasma Turkey
playmak
PooWarrior
posila
posila87cz
Prawn Tickler
Puff killa62
PWN3D62
QQjawe
quentin0214
R2PGxJORDANBHOY
raphi91
RAPiiD TRiGGA
RedDeadLover
RedX808
REEFER215
RegentRaven
RetroDoubleDJ
Rifkk
robanto
Robopimpbot
ROBOT SAMURI xx
Ron GZ006 HK
Ronnsen999
RossLewis xXxXx
RosZzo
Rotsen2010
RoubanNackleJak
RoyceR
RusDimXXX
RyanCable223
SaintI87
Scoonie
scorpion502
SecretLifetaker
SeereKane
SeniorPyroNight
senor chompy
serp
Sgt USMC 68
Shaun_S-K
shollis39
Shotguns Smith
Silent Smashbal
SilentStriker49
Silky Lobster
Skitzo zero
Slayin247
Slugger 005
smash dog24
snake5112
socialkiller23
Solrac138
soultaker4u
SpartanSnake
SpringwodSlashr
stahgate sg1
stealerboy16
StupidHenrik
superpope9
Swann27
sw HuSTLe
SWV Punisher
talkaboutdesign
TanmanElSandman
Taseen_Hussain
Taylor190
THA 401 BULLY
The50thGamertag
TheArcaneEmpire
The Art oF Luck
TheMonkeySong00
theredbigz
the strong jedi
TheTrueTruth
ThomasJDDJ
ThundaCATWilson
Tiny Loz
T IU C IK E IR
Tomuss94
TonyCipriani1065
TR1GGAHAPPYK1Dx
Travia
traximaz
Trevisworter
tubb3h
Tuna n Crackers
Twiztid Kris
Two-Ton_Taunka
UglierShootemup
UKxw3Lfy97
UnbakedSniper
UncommonDiablo
UnholyMagpye
UnlockedWarrior
USACorrales
UziMaynn 9mm
Variable08
vdarkeaglev
vDark Eaglev
vI Bam Monk Iv
ViciadoaGTAIV
vince_42069
Vincent Dropher
ViperRKO
Vortex345
vV Snafu Vv
W1ckeDxt
WalkaDaTalka
Wanzey
WarnedAce
We OwN x RuSSiA
WesTerN JackAzz
WestSide2k6
WetShartSauce
WillyWonkaMan
X-Screwicide-X
xCSQx E FiGGA
xCSQx SHaP00Y
xdimebagbutcher
XDogzX DUDE
xDSx SuB SoNic
x IDANK
xiiTz IKiLlErI
Xion41
x Itzz Rippn x
xKJxIronwarrior
xLEG1TxP1NC0NEx
xLTx Hershey
xpuddingdevilx
xSAVAGEx HiT UP
xSLEEPYdaBOSSx
XSR OWL
x UCK x OSI 79
XxApocalypse420
xXDarkShadow5Xx
XxFrozenDiim3xX
XxGamma10xX
xXI Bryan IXx
xxJV0 SKiLLzxx
XX LOUIS YPILXX
xXNATEUKXx
xX Noobhuntr Xx
xXuNRe4l FiReXx
xXxDARKENDxXx
xxxpapasmurfxxx
XXXSHADOWFATE
y0ungbuck85
Yadoo95008
yan059
Yidhra
YOUNGSTACKS804
YOURHEADGOBOOM
zCR4NKzNINJAZz
Zeeshan810_NikoB
zIxGxKiLLERxIz
ZxSOUL THIEFxZ
ZyK.90
zZ JAM1E Zz
Join us for our next event tomorrow, June 29th when we'll be playing Grand Theft Auto: Episodes from Liberty City on Games for Windows LIVE from 4-7PM Eastern - and stay tuned for that new calendar announcement of dates for the coming months. Lastly, if you haven't yet made you way over to our Twitter or Facebook pages, we recommend you start following us as you never know when we'll feel like having a random game...
Previously:
Recap & Screens: Red Dead Redemption Official Social Club Multiplayer Event on PSN (June 3rd)
Recap and Screens: Red Dead Redemption Official Social Club Multiplayer Kickoff Weekend (May 21-22)