Recap & Screens: Red Dead Redemption Official Social Club Multiplayer Event on PSN (June 3rd)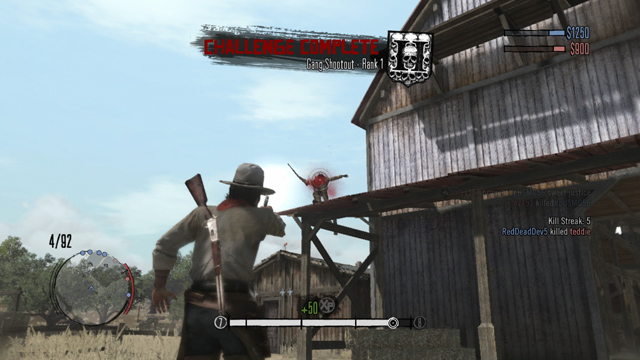 (Had a blast of a time with everyone in last week's Red Dead Redemption PSN Social Club event...)
Thanks to everyone that joined in on the action in-game, in the chat and watching the live broadcast stream in last week's Red Dead Redemption event on PlayStation Network in the Social Club Multiplayer Events Series.
Below you can find a recap offering up stories of some of the evening's memorable moments, followed by a choice selection of captured screens.
One of the first rounds played during the event was Gang Shootout in Tumbleweed. When the opening Showdown began, discms claimed the first kill when he shot LordSputnick. Rebeldes and members of Walton's Gang scattered about the abandoned town for cover. For instance, our own RedDeadDev3 ran into the abandoned saloon and used the second floor balcony for his Carcano rifle hunting, shooting the head off Rik-E-Ragga. Players on the winning team included An-dz, RedDeadDev4, adibob6, JLP_M, TSP_mouDAmou, Alleyboy-Night and the top player: RedDeadDev3.
Next, Free For All in MacFarlane's Ranch was absolutely dominated by RedDeadDev3. His streak fell one short of reaching 14 when CEEKO aimed down from the barn and pulled the trigger. RedDeadDev3 respawned, ran back and got sweet revenge on the barn dweller, easily coming away with the full round win.
Chuparosa was the site of the first round of Grab The Bag as two sides squared off under the stars and glowing moon. The first capture went to RedDeadDead5 with the aid of Crazy_nemo, and here's how it happened. On the way to the capture point and running along the outer wall, they both fought off coffey2000, lemon12 and samet. In the end coolhan70, RedDeadDev5, Crazy_nemo, event121 and kapor-al defeated the opposition by a score of 4-3.
Ercobra091 took cover behind the stone wall in front of the Tumbleweed mansion to start things in Shootout. RedDeadDev5 took aim from an old building in the center of the abandoned town, but it was franchiseplayer who came from behind and stole his kill. RedDeadDev5 went into Dead Eye but wasn't quick enough as franchiseplayer also gunned him down with his Winchester rifle.
In the last Competitive Multiplayer round of the night, Miners and Lawmen went head-to-head in Chuparosa for a round of Hold Your Own. The Miners showed strength early with the win in the Showdown and IWIHooligan's bag capture, but the Lawmen's CakeBandit also proved himself worthy, tying the match 1-1. IWIHooligan once again gained the Miners another capture, but Impollinator and SHOUTcast earned the win for the Lawmen with a final score of 3-2.
We ended things in Free Roam, hunting each other and conquering Gang Hideouts in Twin Rocks and Tesoro Azul. Special thanks to BuFFaLoSoLDieRxx for letting his mount loose to ram into all of us. It was a fun way to end an action-packed day of Red Dead Redemption.
Check below for screens of just a few of the exciting moments of the event.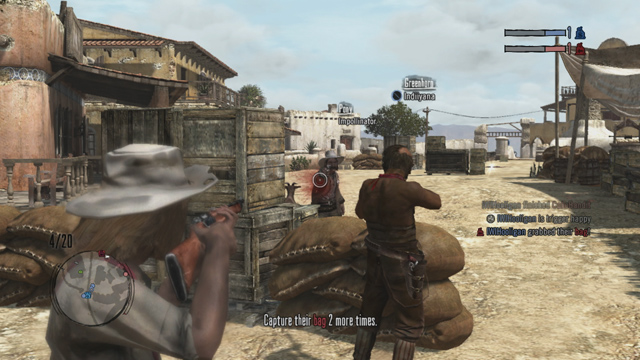 (RedDeadDev3 and Indiiyana fire away at Impollinator at close range in Chuparosa.)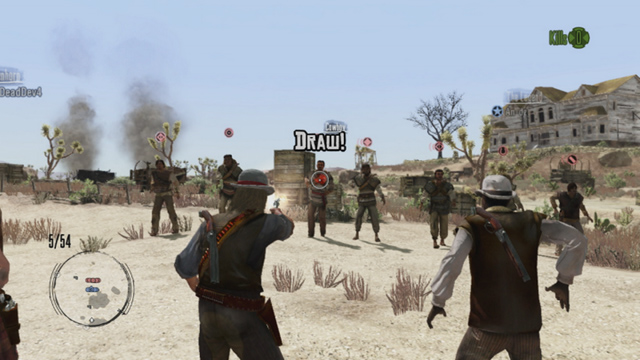 (Players draw their weapons for a shootout next to the mansion in Tumbleweed.)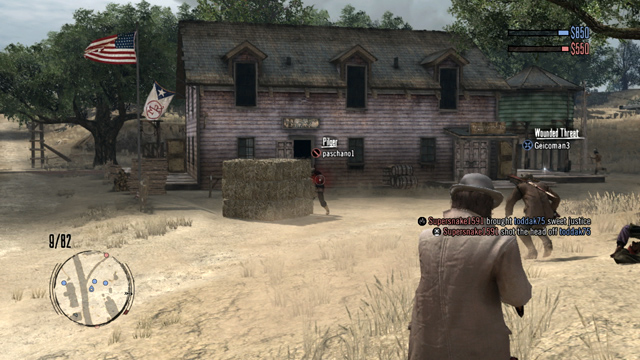 (Paschano1 uses bales of hay as cover to fight off Geicoman3 and RedDeadDev3.)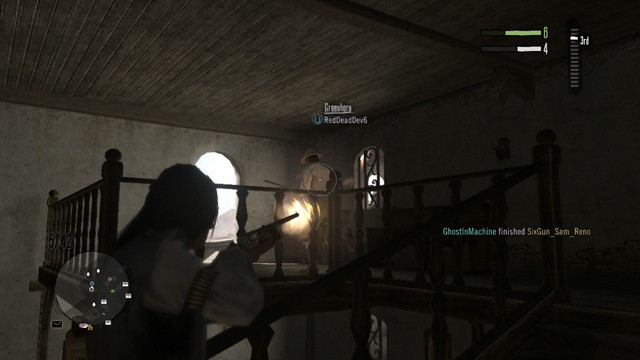 (Our own RedDeadDev6 gets taken from behind by RedDeadDev3's bullet...)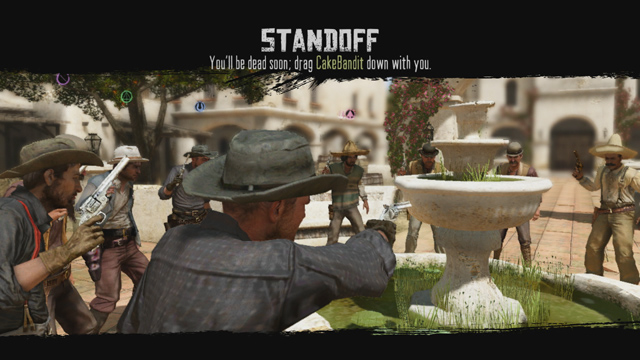 (16 players prepare to fire their weapons in a Shootout in Las Hermanas...)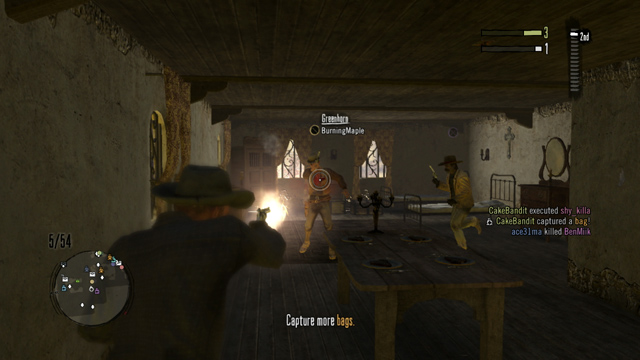 (No fighting at the dinner table, boys. BurningMaple and RedDeadDev5 duke it out as another player spawns into the match...)
Thanks again to everyone that participated - whether in-game, chatting or watching the live stream. Participants are listed below, and apologies as always to anyone omitted:
ace31ma
adibob6
adli1996
adriantgta4
ahetFIN
Aimo69
AIR-FORCES_1
ajbns87
Alleyboy-Night
AllStyle
Al_Capone_33
andy-HC
An-dz
Angus-_-Alex
Audiofan2
AyresomeAngels
B3gG4rZz
Badcow68
BanillaJoe
beast-ation
beau350
BeazelWeasel
Beboben
beernbbq
BenMiik
bigdman
BigMiKills_18717
big_p_on_da_beat
Blaze2173
blaze9990
Boertje-Matanza
BogueG
Bonshea
BTNC93
BuFFaLoSoLDieRxx
BurningMaple
C-Hills
CakeBandit
CanisDiris
caolan09
caolanmufc09
CARLITO_BRIGANTE
cart0onnightmare
CEEKO
CeltClaw
ChidiBangBang
ChillStorms
chrislovespills
ciro_tiki
Cirran
cKy4life
clavette11
CloudXVII
coffey2000
colormetwice
COMANDO6__RDR_SC
coolhan70
Cootman156
Count_Fenring
Crazy_nemo
crobex
cwolf042
D.E.LB.
dalymausi
Damionjeremiah
daniel_w_97
DANK6700
dank6700
DanLawn
DARK12PRINCE


Darkder
DarkderShadow
DarkMoIe
DatPatchy
Dav3009
Dee-Lan
deliveryboy555
Deluxnz
Devils-Amigo-1
DFX
dicekidd
Diogo_Rockstar
discms
Disko12
Dragon1114456
Dru21
dudeperson123
DVD1991
EbcdicZehetbauer
EeRrLYy
eino_t
ElectricSoul
eLiterz
El_Tabarnacos
emzee83
ENCORE-THEGREAT
epicgamer0
ercobra091
Eric-Michael
er_dan
event121
Fallen_Official
fetzed
fi8767
flironman34
franchiseplayer
FrankyeBoy
Frenchkiller1MI
Fruitmanlolli
Fussmadde
Gallardo57
GANJA_TURNER
Geicoman3
GeorgeOscarBluth
GGthanks
GhostInMachine
GhostITmachinE
GIANTPOKEMANS
GM-Shenmue
Goodman1
grandtheftmeat
GREMLIN-PILS
grimmreaper1991
GrIzDaKiLl3R
GTAMASTER_08
Guitermo
gunslinger1997
HADLEY-CHAMPION
Hanspiel
hardcoregandhi
HardPlayer92ds
HarrisonDew
HD-GUY
hendea4
HeroOfTheWastes1
HobbzChan
HunterDad
hybrid454
iamtruck
ihavejameswoods

Impollinator
Indiiyana
IrishSpuds
iRoach
IWIHooligan
I_AM_THE_WEAPON
JACK_DEMP-SEY
jamie126
jaychendy
JayDizzle04
JESSEJAMES403
Jim777
jlean806
JLP_M
JOHEisNotDEAD
JOHN-WALES
johnk112
JohnnyBravo247
john_the_don
jonesoda
JonyH
JOSERIOS1998
JoshCory
Kaelin_Kanan
Kagura_Nitrogat
KajFive
kapor-al
KellyJaye
kingstigg
KnottedRaider
kokelc
kongkenned
kruptah
LateNightFiasco
Latiod4444
lego94
lemon12
LGPEDWIN
Lil_SicKNesS
LIONSPEED_DJ_CEO
littlefriar
locoleoiv
LordSputnick
Lowell_B
LT_RIVERS_GATES
luxeeen
M-PILZ
MachinegunJake
Marlow-
MARLOW-_
MASTAGEEZY
Matanza77
Matetrix
MatOfLink
MattFNpool
maximevez
mcadley
mcallaha75
McCoy92
MCDrank
MCKing
McLovinBr
mDiGug
Megacam_007
MikeSurviving
miniwally
mjnels
MODalicious
molt2000
mos_handy

MrFrostBR
MrSoKoLoV
mr_nachos_2
Multipack
N2oJ
N17ALI
nelpac1
Nicorn7
Nicvin974
nikoinlc
Noma-T
notorius2
Obelix377
OCMike123
OGCFB
Onus111
Paschano1
Pat_Battle
paulliewallnuts
pedrada1
Phenikou
pitbull895
Prince2King
proskatercam
Psicrow
Ralfonzo
raphael57128
Ray27
Rboy12h
Redback_1978
RedDeadJon
RedDeadKing
redeyecult
RedEyeJedi420_
Rev2k8
REX94
richard18
Rik-E-Ragga
Robken7
RoyTheReaper666
RuggedBone
russelljones
RYAN-BRU32
R_H_23
Sa1Wales
SadlyBadlyy
samet
sam.j.j
SenorBarrigas
Shaun_S-K
shermenz
shinecro
SHOUTcast
shy_killa
SimpleSquad008
SixGun_Sam_Reno
skila575
Skinner87
Skullskater
slamthepanda21
Sniper-X-Dm
SoA-Karasu-SoA
Solarisphere
SoopaVillain
SouthernRider91
Space_Frog
sparky1395
SpartanMarston
ss9090
stephen241

STOFFER222
suffywuffy
supersoulllama
t-kiloz
Tag-XPGM
teddie
terminator910
ThaEpiK
TheDesperado
TheGodOfD
TheJokester
themegakiller
Theo77120
Theodore_Bagwel
ThePurpleLambo
The_Cobra_Unit
The_Great_Scott
Thromp
thx4ever
timo0034
tipitip
tomaskalecky
tommykills1
TONY-CIPRIANNI
Toocool12345
topher2099
torusdane
tost999
Toukoh
treyman7
tripplethreat
TSP_mouDAmou
tufan-celik
Twoguntony
UberTyson
ukIMPACT
UltraNative
utopianacht
v3gboy
valapc
Vamp_Wesker
venom20000
videogamer50
vince_123
vince_42069
VwieViktor
W1ckeD
Wartribution
WilliamYool
wolf164
WolfRogers
Wonkymcburger
x7eveNx
XvNamdeadvX
XXBro0klynJAYXX
XxsilferxX
xxurielxx
yingyangdr96
Zepeto60
zhupac09
zico35
ZoranSWE
Zsigawhat
zZzZzkiller

The next two live stream events are for Red Dead on Xbox LIVE next week, Friday June 18th from 4-7PM Eastern and for Episodes from Liberty City on PC on June 29th from 4-7PM Eastern. Additionally, and as always, make sure to follow us on Twitter and on Facebook as you never know when we'll feel like grabbing the controller and getting online for an impromptu game....
Previously:
Recap and Screens: Red Dead Redemption Official Social Club Multiplayer Kickoff Weekend (May 21-22)