Recap and Screens: Red Dead Redemption Official Social Club Multiplayer Kickoff Weekend (May 21-22)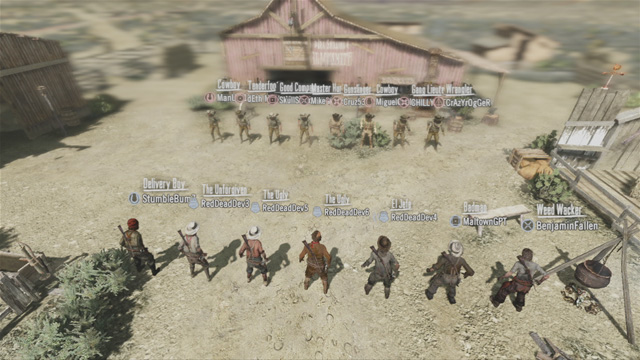 (The first weekend of live streamed Red Dead events started off with a showdown.)
It was a proper first kickoff to the world of Red Dead Redemption multiplayer action last weekend with the first Red Dead installment in the Social Club Multiplayer Events Series following the game's release on PlayStation 3 and Xbox 360 last week. Players from across the world of Rockstar - from San Diego to New York to the UK - shot it up with an unprecedented turnout of participants through all of the multiplayer modes as well as chatting up all the action happening on the live stream at the Events page for 8 full hours between Friday and Saturday on both platforms.

Below you can find a recap along with screenshots of just a few standout moments from both events - the PSN one held on Friday afternoon, and the Xbox LIVE one on Saturday...

One of the first rounds played in the PSN event was the Competitive mode Shootout in Las Hermanas. In the opening standoff, our own RedDeadDev3 aimed at the head of fjperez74, the player directly to his left. Boo-yow! A successful shot sent fjperez74 to the ground as all of the players fired their weapons while searching for cover. Later on, RedDeadDev3 climbed a ladder to a rooftop to take down lossarnach. It proved to be a successful strategy, and RedDeadDev3 placed first with a total of $1150, 23 kills and a mere 11 deaths.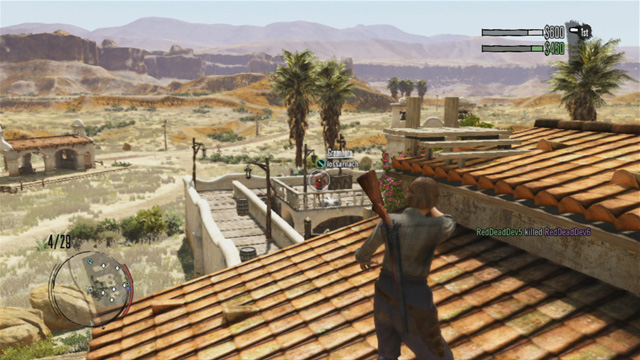 (The beautiful vistas of the environment surrounding Las Hermanas provided an epic backdrop to a glorious shootout.)
Next, the Rockstars started Hold Your Own in Chuparosa (where each team has a base and a bag to protect from infiltration and theft by the other side), going 5-on-5 against stickywarrior, B3gG4rZz, St-Christopher, nukeboy123 and TSP_mouDAmou. After the standoff, RedDeadDev4 grabbed the enemy bag and ran around the outside of Chuparosa with RedDeadDev3 watching his back. Steps away from the getting the capture, the Rockstars had one final enemy to shoot down. B3gG4rZz started firing away, killing RedDeadDev3 but then taking a bullet to the head from RedDeadDev4. The Rockstars ended the game with a shutout score of 3-0.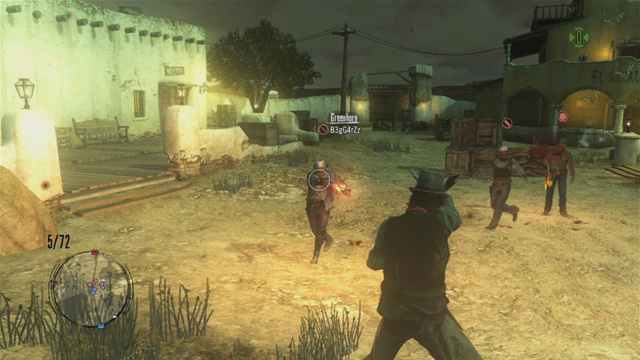 (B3gG4rZz and RedDeadDev3 exchange gunfire during the standoff in Hold Your Own.)
We moved from there to Grab The Bag in Tumbleweed - where players on opposing teams race to obtain spawned treasure bags to bring back to their team's chest, which also must be protected from looting by the other side. After the Rebeldes won the showdown, RedDeadDev6 picked up the first bag and ran to the capture point with the bodyguard assistance of RedDeadDev3. Enemies SlyCooper97 and S4YC3R- closed in to prevent the capture, but RedDeadDev4 came to the rescue, shooting and killing SlyCooper97 and giving enough time for RedDeadDev6 to deliver the capture for the Rebeldes, the eventual winners.
The finale of Friday's PSN event found us returning to Free Roam and gathering a posse to go knife hunting in Tall Trees for bears and cougars. Out in the wilderness, we were quickly shown who's the boss (no Danza). Over the course of about 20 minutes, several bears and cougars mauled all of the Rockstars as well as just about every player in the area, 'twas a really fun (and messy) way to end the evening.
Saturday afternoon's Xbox LIVE event began in Gang Shootout in Armadillo where the American Army players defeated the Rockstars (Miners) in the initial showdown. Attempting to get revenge, RedDeadDev4 nailed MiguelOneLove with a head-shot and RedDeadDev3 took down MikeGlides. The score remained fairly even for most of the match until the American Army pulled away with the victory. Bravo to SkullSavior, the top player with 18 kills and just 13 deaths.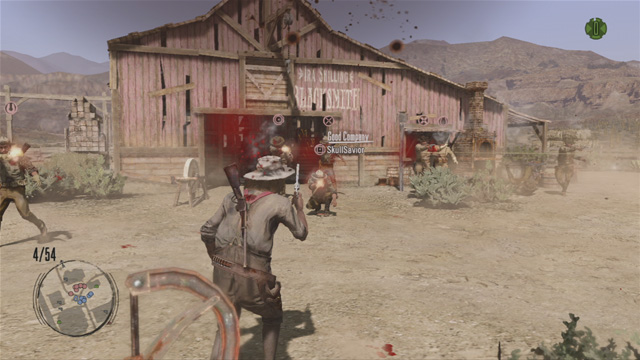 (Gunfire flies in Armadillo during the heat of the battle between the American Army and the Miners.)
The RedDeadDev's later entered a Hold Your Own in Chuparosa. After the Rockstars won the showdown, war broke out in the middle of town next to the fountain with RedDeadDev3 sliding and taking cover behind a low wall. He may not have known it, but his head was above the wall just enough for xxMR TINYxx to place a bullet riiight between the eyes. However, vengeance was served swiftly as RedDeadDev3 just minutes later went on a rampage, slaughtering xxMR TINYxx, mac12t, NaughtyDevil93 and Frozenblood25. In the end, all of that carnage just wasn't enough as x0 Hunt3r 0x and the four others just mentioned beat the Rockstars 3-1.
The epic landscape of Diez Coronas was one of the last settings in the Xbox LIVE event, this time for another round of what was quickly becoming a fan favorite of the weekend: Hold Your Own. While some players camped back at their bases, others went for the opposition's bag. RedDeadDev3 decided to crouch next to a trail that leads to his camp, gunning down TAGS o GirLLy x, xMOBx Krazeeguy, Hamsterchief and CorranFox as they all fell right into his trap. It wasn't enough to win it though as the Cattle Rustlers defeated the Rockstars (Dutch's Gang). Grats to CorranFox for being the top player of that match.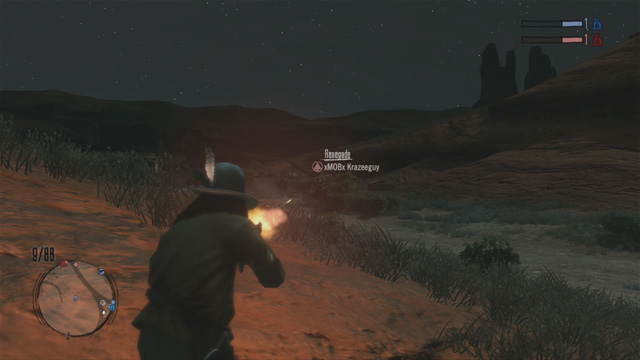 (RedDeadDev3 waits for enemies as the stars shine in the sky during Hold Your Own in Diez Coronas.)
We ended the event in the same grand fashion as the day before: hunting bears and cougars in Free Roam. No less vicious or bloodthirsty on Saturday as Friday as beasts terrorized man in the open frontier. Below are a few more screens from the event.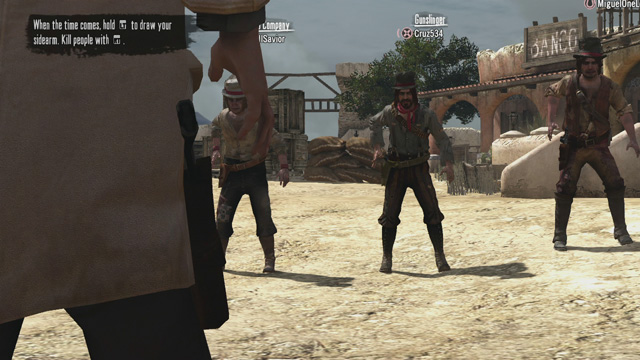 (Cruz534, MiguelOneLove and SkullSavior prepare for a Showdown against RedDeadDev3 and the rest of the Rockstars.)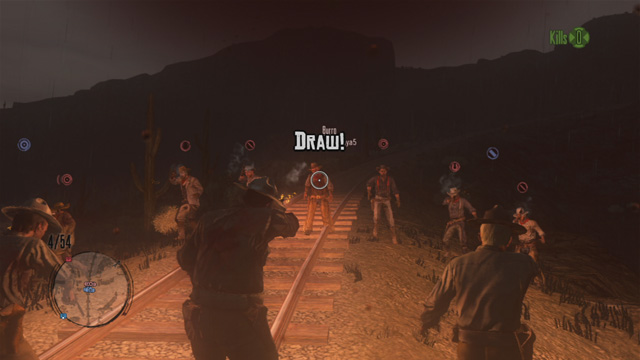 (Two sides draw weapons at the beginning of a battle on the railroad tracks in the heat of the night.)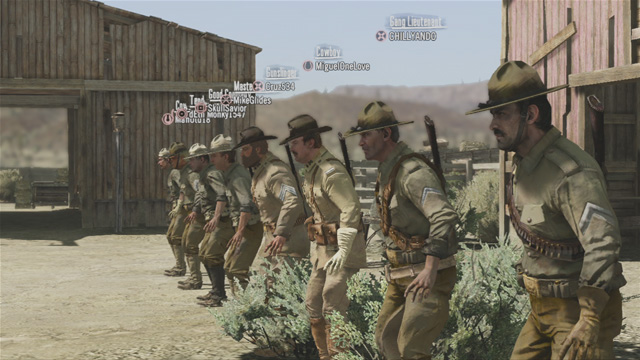 (The American Army prepares to fight the opposition in Armadillo.)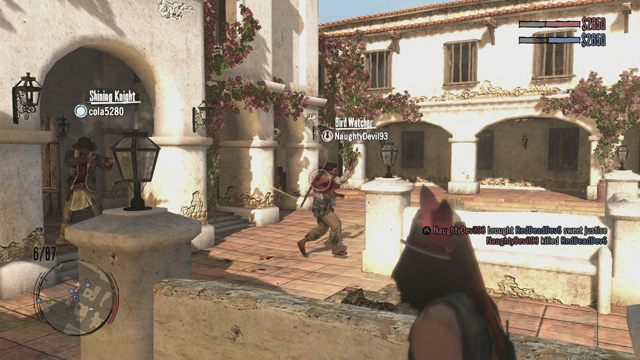 (RedDeadDev3 and cola5280 prepare to shoot NaughtyDevil93 in the courtyard in Las Hermanas.)
Thanks again to everyone that played and also to those that were watching the stream and chatting with us. Look below for a list of participants. Apologies as always to anyone omitted:

0CRuSaDeR0
A Cup of Tea x
AdamMcD09
ADamnSlowTurtle
agizinterPL
Aimo69
AiR x BoRne
Akafella 1
Al_Capone_33
am6389
AME2ICAN
Angus-_-Alex
Artem_Firsov
Audiofan2
Aussie_
av0z
AyresomeAngels
Azaan1997
B3gG4rZz
BaalLord
BadAtti2ude
Balam0
BanillaJoe
bcloaded
beast-ation
BeetleComet
Betikoh
BigChelski
BIGDADDYKARZ
BigWill 81
blackjackjk1
blacksnake
BM SniperAddict
Bo-Rican
BO JACKS0N
Bookoi
BoxingDizzle
bradleyPlatypus
BRATCH
C-Hills
cakebandit
caliboy8687
CALixKiNGx559
chloe1310
ChronosViper
ChuckHatesEmos
Cirran
Cloud_Graywords
CMAM
cola5280
COMANDO6__RDR_SC
coolhandlewke
CorgiJulien
CorranFox
CoRRuPt-AERO
Count_Fenring
Crackbone47
Crazygamerm
Cyborgmat
CYCOSOLDIER
Daniel Fungus
Dannyboyio
DarkMindPK
Dark Ritual
darkv99
DaTa-76
Dave1307
dbltrouble22
DcypheR-
DEATHDRIVEN
Deathpill6
Deciide
DeezNuttsi
deliveryboy555
demonio1818
DevilsMerc
Diablopup
digisloth
Disko12
DoeJaH 402 BoMb
Dr Dooger
DrPepperVP

drummann90produ
dudeperson123
DutchMastaCheif
DVD1991
dylodragon
EAB 187
eeLoc412
efc-luke-efc
EL-OD_HuStLa
Elbryan108
elfengor
ELITE HUNTER412
Emperor LXZ
Enkeixpress
epicgamer0
er_dan
Escorpius
Eve_of_War
eyesofreality03
_EyeR8_
f00ker_official
figure9061
fjperez74
FlautaMan
flironman34
fOr7uNe N glOry
FosterS04
FrankinOff
FreeToSpeed
Frozenblood25
FunkyMonkey2821
FUTURE299
fuzion17c
fuzzy mankey
g4asha
gachzorge
gamerm
Garchow
garcialo
GasToN26
GermanScientist
GhostofSparta54
GM-Shenmue
gojeff99
GonzoGuilt
goodster1
GregoSpartan117
grimmreaper1991
Gringo234
GrIzDaKiLl3R
gronixx
GSE THE HERO
GSE THE ONE
GSE THE PAIN
GtaChronics
GTAIVmbb2
GTAMASTER_08
GUMMY GoON
GUNCLEMCLM
GunnerReloaded
GV-Rafioso
Hadoken Josha
HaloPharoah
Hamsterchief
Hangin Johnny
HardPlayer92ds
Hatman9
Hazzy_B
helminggirl
helping angel
himbam1fan
HKeLmOnO
HobbzChan
HOMOXEXU
hybrid454
iGBeasty
IGCRINGPIECE
I LoA I
ImmanisMonk
IncredibleMin
I The Deej I
iTz CoRRuPt3D


Itzz A N00B
IWIHooligan
JACK_DEMP-SEY
JAD Hell Knight
jaekid
James0Anderson
James_Anderson
jayc4life
jaychendy
JNeal8
johnk112
JohnMarsAssassin
John_Edgley
Joker-64
Jonas88888
JONAS BROS SUCK
jonesoda
Jose Bear
josephj
JPHOENIXO1
juanki33
JuggaloJedi
KAIZERSOZER
Kaytokai
KGI Rodeia
Kid Steezy
KILLA-MATT-89
KILLAxSAVAGEx
Kinggoken
Kiro-Sama
kj_2k9
kokelc
kokelc1201
kraken6
Krmasabtch
Kronos101
kruptah
KwonZillaaaaa
Lando Griphon
Leaf17
Lil_SicKNesS
LIMP_BIZKIT
littlefriar
livingdead96
lococableguy67
LoftyLazerus123
lossarnach
Lost N Sanity
LoWWooD
LUCIUSVIRENUS
lump420
luvs2parkour
m12221
mac12t
MachinedRage
Maddcricket
mafioso4
MaLLyWoWiE
MaltownGPT
manuel1234567890
ManWthNoName
Marci124
mass75015
matschi123
Mavis316
MayhemM1ke
mcadley
mcallaha75
MC Turdface
Mick92
MiguelOneLove
MikeGlides
MikeSurviving
Milikito_cp
mMachiavelliX
ModernAssassin4
MRWHITE50
Mr_Roflcopter
muzzymancan
N-SnaKe_-
N1KO BELLIC
NaughtyDevil93


Nephilix
Nero tenerife
NeSBigBasher
NEWELL23Newt_Call
niaxZ
NickDion
nighthawk0731
Nismomuch
northleaf65
nukeboy123
nunley33
OG BADBL00D
ojkane
oO R 3 M Y Oo
PaintballAddict
PaleShelter
Palombo13
Paterson51
paulliewallnuts
Peachking
Phenikou
Phwat
PILGRAM55
pitbull895
Prince2King
Prophetic77
PSOx TaCTiiCZz
puddingpopper
PumaMan86
Pwndwith1shot
Quick_Work
quintonzo
RA1NMAN1734
Rafael_BR-95
Rage Production
Rampage1323
RaulvallecaS
ravengunblade
Ray27
RAZRBLADE427
Rboy12h
RDR JON MARSTON
RedeyeCult
ReD LaCES18
Rhapsody99
royaltackler
rudgey88
russelljones
RUSS_NeKiT
S1XK4T
S4YC3R-
SamuraiFoxhound
Scapetti
SC Void
SEAMAN_ALIEN
serydembele
SGT POPACHUNO
shirecoll
Silohit
SithLordFalx
skprgb
Skull 801
SkullSavior
Skullskater
SLNK x Slinky1
Slowslayer
SlyCooper97
SmLlTwNLgNd83
Smoky_zXz
snopy2009
SNOT15
SoA-Karasu-SoA
Soap95_
Soapd33
soldier1205
SPAZZFM
spiderboi
spongeboy1985
SPYDA PIG64
squamginer
St-Christopher
StellarGlitch


stephen241
STEREOSQUIRREL9
stickywarrior
Str8Dumpin-SMF
STRTLMTSTAR
Submish
SureDeath
SZ1992
SZ_PwNaG3
TAGS o GirLLy x
TarzoEzio
TCold05
terminator910
TerrorTorken
testnindes1
Tetsuga2RS
Tfool
TFUNFB
ThaEpiK
THE ARST LEADER
TheKillaDro
TheNimrod
Theodore_Bagwel
The_Infection
The_Killer_J
ThunderHawk11
thx4ever
timo0034
tipitip
Tmank71
toddy_1
tommykills1
TONY-85270
Trenner Dios
TRI-CO
TRIFIVE5000
TSP_mouDAmou
twiztid17juggalo
Uv7x77
Vamp_Wesker
vince_123
vvg2007
W1ckeD
whiteboy8742
Wire2k
Wolf07x
WolfRogers
WTFFAIL
x7eveNx
x256kx
xACIxHiphop
xCertifiedKillax
XI Billy95 IX
XI Chris96 XI
xiLL xBuShiDo
XI Max96 IX
x Matt Murder x
xMOBx Krazeeguy
Xo DeMoN oX
x0 Hunt3r 0x
xScarFAcExRBx
Xshrimp94
x Sniper x TJ
xUKxHark
xXNachoman24Xx
xxrobert1999xx
XxsilferxX
xxMR TINYxx
ZACHANESE
Zalo_5
Zebra Queeef
zeeshan810_gta
Zeeshan810_NikoB
Zoullar Xion
zPiExReHaBz
Our month of multiplayer continues on with more daily Red Dead events. The next one in the Social Club Multiplayer Events Series is June 3rd on PSN from 4-7PM. If you're on Xbox LIVE, your next live stream Red Dead event is June 18th from 4-7PM. As always, make sure to follow us closely on Twitter and on Facebook as you never really know when we'll feel like having a game...
Previously:
Red Dead Redemption: A Month of Multiplayer with Rockstar Games
Getting Online with Red Dead Redemption
Presenting Red Dead Redemption at Rockstar Games Social Club