A Rockstar Recommends Recap: Our Favorite Westerns - and Yours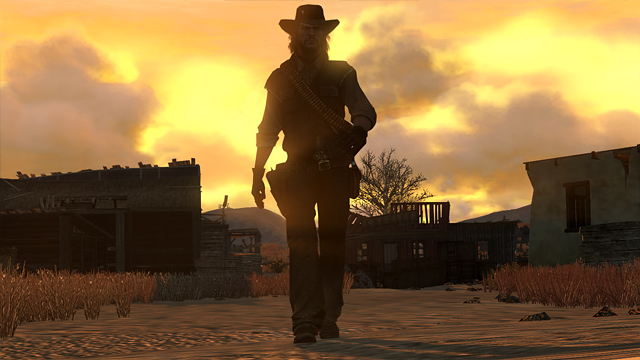 For those that may have missed it, over the past 6 months we've been periodically recommending a few of our favorite Western movies that fans looking forward to the release of Red Dead Redemption might enjoy - especially as a good means of getting into the spirit of the game before its release.

Among the ones we chose were films from both legendary director Sam Peckinpah and actor/director Clint Eastwood, along with selections from Sergio Leone, John Wayne and George Roy Hill - as well as a few more contemporary favorites, including The Proposition, an amazing film directed by our good friend John Hillcoat, plus a guilty pleasure or two, and others we consider to be certifiable modern classics.

For those yet to experience these movies, and looking for a good way of making this last week a bit more bearable in the wait up to May 18th / 21st, here is a recap of our completely non-exhaustive list of Western favorites...

The Treasure of the Sierra Madre (1948, Dir. John Huston)
3:10 To Yuma (1957, Dir. Delmer Daves & 2007, Dir. James Mangold)
Major Dundee (1965, Dir. Sam Peckinpah)
Once Upon a Time in the West (1968, Dir. Sergio Leone)
Butch Cassidy and the Sundance Kid (1969, Dir. George Roy Hill)
The Wild Bunch (1969, Dir. Sam Peckinpah)
High Plains Drifter (1973, Dir. Clint Eastwood)
The Shootist (1976, Dir. Don Sigel)
Young Guns (1988, Dir. Christopher Cain)
Lonesome Dove (1989, Dir. Simon Wincer)
Unforgiven (1992, Dir. Clint Eastwood)
The Proposition (2005, Dir. John Hillcoat)

And for those that have seen all or many of them, you can let us know which is your personal favorite via the poll below. Also feel free to leave us a note of your personal faves that we didn't include... but note that anyone suggesting "Wild, Wild West" will have their comment removed for abusive behavior.