Fun Sniper Jobs and Challenges from the GTA Online Creator Community
As any GTA Online veteran can tell you, sniping isn't just another way to defeat your enemies – it's an art form. Be sure to bookmark these very fun sniper Jobs and metagame challenges on Social Club to test your marksman skills in GTA Online.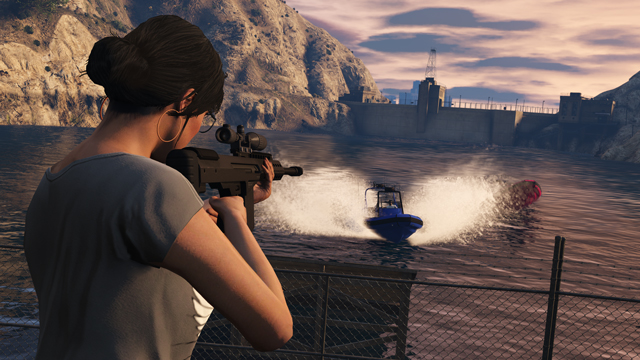 Snipe your enemies or suffer the explosive consequences in "Snipers vs Boats".
Snipers vs. Speed Boats by HitoGamer (PC)
"It's about damn time somebody makes one of those on water. This is the first Last Team Standing Job of its kind - completely built on water. TIP - press x to duck when sailing in a boat to make it harder for the snipers to shoot you."
HitoGamer of the Hitokiri Clan shares this aquatic take on the popular Snipers vs. Stunters motif. This LTS has one team perched upon a gated platform with only their Heavy Snipers to protect them while the boat team assembles on the north end of the Land Act Reservoir. If you're on the boat team, fill up on Sticky Bombs before heading out on to the lake. As you glide over your foes, you'll have the option of barreling into them or dropping an explosive (or perhaps both if you're quick enough).

Watch Jelly, Kweb and Slogoman take on The Sidemen in a session of HitoGamer's "Snipers vs Boats".
Hunting Season by Singh1409 (PS4)
"Its hunting season and the snipers need to shoot everyone on the platforms. The runners need to run for their lives and hope they survive. Good luck."
Singh1409 has created a fiendishly difficult Last Team Standing sniper challenge. This death-run is pretty unforgiving and one misstep could mean defeat for the running team. It may look as though the snipers have the easier task, but well timed sprints will take you far in this LTS. If you're on the sniper team, having each team member focus on a different opposing player will give you the best chance of making quick work of your enemies.
HEADSH0T_ADDICTIoN by muddafawker (PS3)
"Go on a headshot binge with a Heavy Sniper, be sure to be a quick-draw sniper because reaction time is everything when you're perched out in the open 50ft high. Armed with only a Heavy Sniper and your reflexes, use every advantage provided by the windmills to pierce a skull. Timing is crucial when dealing with windmills as the blades ricochet your shots. This is a challenge for skilled snipers to prove they're the dead-eye they claim, or for beginners to prove they can handle the big boy guns."
The Leader of the KYD Accepted Here Crew has knocked it out of the park with this inventive Deathmatch set atop the windmills at Ron Alternates Wind Farm. This sniper challenge is fun for every skill level from novice to expert, and as muddafawker mentions, quick-draw is important here. Don't waste time celebrating when you make a kill – a single wasted second could cost you your life.
Holes of Glory by mkRixxx (Xbox One)
Junk Energy Drink Leader, mkRixxx, setup this close quarters, sniper-themed LTS on the northern part of Elysian Island. Test your reaction time and patience, as you duck, cover, and snipe your way to victory. For a little taste of what to expect, check out our Twitch Highlight featuring the band Young Guns playing this Job on the Rockstar Games Live Stream.
Sniper Tragedy I: Atk/Def by thunderboltblast (Xbox 360)
"This is a strategy game between two sniper teams known as Alter and Preserve. Team Alter gets maximum attacking power with extra weapons and cars, but consequently are put in a defensive strategy. Team Preserve gets an incredible amount of defensive power and an advantage over Alter, but in consequence they can run out of ammo quickly, and lack everything but their fort, basic traps, and ammo."
The Leader of The Gods of Purity Crew, has split the teams up into offensive and defensive sides in this Del Perro LTS. If you are on the "Alter" team (offense) you will have tons of firepower and vehicles, but you'll be vulnerable on the ground. The "Preserve" team (defense) gets the best vantage point to shoot from but has very limited ammo with which to do so.

Have you constructed your own sniper-themed Job or challenge - or another type of uniquely-themed Job? Make sure to share it in the Newswire comments section for others to enjoy or send it to Rockstar via Mouthoff so we can check it out and possibly share it with the GTA Online community here in the future. Also, be sure to tune into the Rockstar Games Livestream, on both Twitch and YouTube Gaming, this Friday February 5th at 5pm ET where we will be playing the Jobs featured in this post with invited Creators themselves and other special guests.

Previously:
GTA Online Player-Created Jobs: Inspired by The Epsilon Program
GTA Online Player Created Playlists: Z-Games Rallycross, Killing Time at Lake Vinewood and More
GTA Online Creator Player-Made Challenges: Human Darts, Skeet Shooting, Triathlons and More