This Week's Rockstar Livestreams: Hot 97 Edition feat GTA Soundtrack Alums & Rockstar Verified Community Session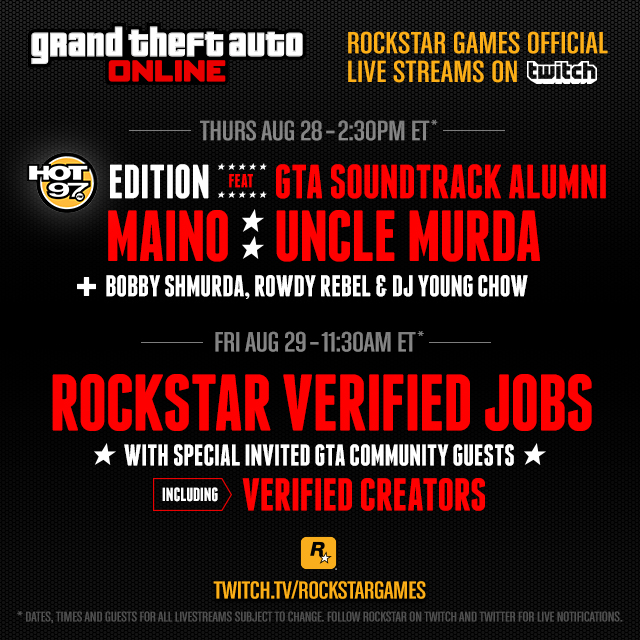 Join us today and tomorrow at the Rockstar Twitch channel for upcoming GTA Online livestreams:


Thursday Aug 28th 2:30pm Eastern*
Hot 97 Edition featuring GTA Soundtrack Alumni Maino and Uncle Murda plus Bobby Shmurda, Rowdy Rebel and DJ Young Chow
GTA fans will remember both Maino ("Getaway Driver") and Uncle Murda ("Anybody Can Get It") for their super hard original contributions to DJ Green Lantern's Liberty City Invasion radio show in Grand Theft Auto IV. These guys are also no strangers to the livestreams, having let off many rounds a couple years ago playing Max Payne 3 on the Rockstar Rooftop. This week, they'll be in the house live at Hot 97 for a full-fledged GTA Online session and will be joined by hot new Brooklyn rapper Bobby Shmurda, Rowdy Rebel and DJ Young Chow playing the new Verifieds, Flight School Jobs and hopefully doing the "I Just Caught a Body Dance" after winning a TDM or two.

Friday Aug 29th 11:30am Eastern*
Rockstar Verified Jobs Livestream
This Friday, we'll be hosting a live session of this week's brand new Rockstar Verified GTA Online Jobs. From slick Races like "That's What She Said" and "Hit The Apex" to the gripping Capture "Raid:Claustrophobia" - we will be leading a special lobby of GTA community guests including some invited creators of the Jobs themselves as we see who will emerge victorious at the top of the Playlist.

* Please note that with all livestreams, dates and times are very much subject to change.
Follow twitch.tv/rockstargames and twitter.com/rockstargames to get live notifications of when streams begin. And stay tuned for many more Rockstar livestreams in the weeks ahead to be announced.