GTA Online Livestreams on Twitch: Motorcycle Club Crew Battle & GTA Soundtrack Alumni Edition feat Statik Selektah, Sean Price & Termanology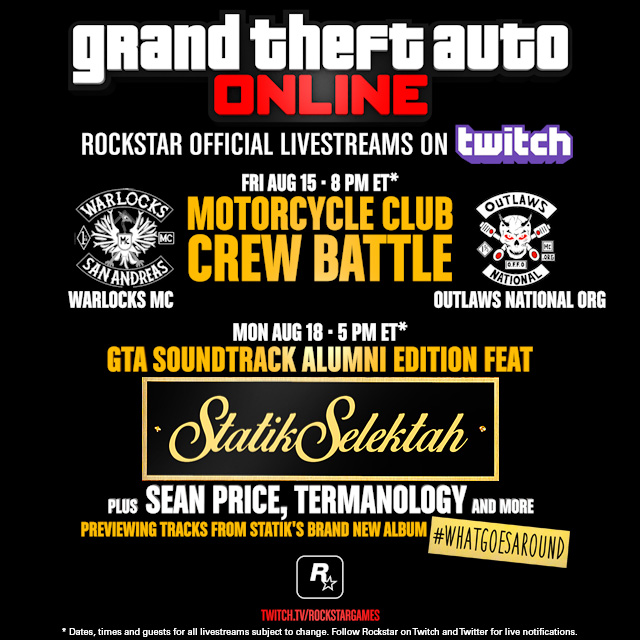 Tune in to upcoming official GTA Online livestreams on the Rockstar Twitch channel:

Friday Aug 15th 8pm Eastern*
Motorcycle Club Crew Battle featuring
Warlocks MC VS Outlaws National Org
Two hardcore Motorcycle Clubs will ride out against each other all across Los Santos and Blaine County to prove who's the baddest on two wheels. Get ready for some hardcore GTA Race action and some nitty gritty biker gang beatdowns.

Monday Aug 18th 5pm Eastern*
GTA Soundtrack Alumni Edition featuring
STATIK SELEKTAH plus SEAN PRICE, TERMANOLOGY, EA$Y MONEY and other special guests
Rockstar and GTA fans should be very familiar with Statik Selektah from his original contributions to the soundtracks of both Grand Theft Auto: The Lost and Damned as well as Midnight Club LA and Max Payne 3. Regarded as one of the best producers in hip-hop today, Statik's brand new album What Goes Around is coming out this Tuesday August 19th - and he's coming by our Rockstar NYC headquarters on the eve of its release to world premiere some exclusive new tracks from the album live on the Twitch stream while playing a special #WHATGOESAROUND inspired Playlist of GTA Online Creator Jobs. Joining Stat will be fellow GTA soundtrack alumni who are also featured on What Goes Around including Sean Price (GTAIII), Termanology (GTAIV and Midnight Club LA) as well as Ea$y Money and others to be announced.

* Please note that with all livestreams, dates and times are very much subject to change.
Follow twitch.tv/rockstargames and twitter.com/rockstargames to get live notifications of when streams begin. And stay tuned for many more Rockstar livestreams in the weeks ahead to be announced.