GTA Online "I'm Not a Hipster" Weekend Recap: Videos, Snapmatic Winners and More

From all-new toasts to post-ironic fashions and haircuts, to the Antique Cavalry Dagger, Panto microcar and 6-wheeler Dubsta and so much more - the good people of the GTA Series Videos YouTube channel whipped up this groovy 20+ minute video comprehensively showcasing just about everything from The "I'm Not a Hipster" Update.
This past weekend, the painfully hip, faux bohemian masses turned out to take full advantage of limited-time double GTA$ and RP bonuses and lots of other opportunities to score rare collectible unlocks and goodies in the "I'm Not a Hipster" Event Weekend celebrating the release of last week's brand new GTA Online content. If you missed your one-and-only chance to redeem the weekend-exclusive vintage GTA t-shirts for your Online character – stay tuned, as we've got lots of other great Events lined up ahead. Read on for a recap of some of the most awesome video highlights from the weekend as well as to see who the winners and honorable mentions were for the Event's Snapmatic Contest and winners of the GTAV Hipster Prize Pack sweepstakes (stay tuned for Creator Competition Verified selections to be announced in the weeks ahead as well).

THE OFFICIAL ROCKSTAR BROADCAST "I'M NOT A HIPSTER" LIVE STREAM FEATURING SPECIAL GUESTS, THE SIDEMEN

If you missed the live broadcast of the "I'm Not a Hipster" Rockstar stream on Twitch and YouTube this past Friday, you'll definitely want to give the archived stream a watch below – as we welcomed special guests from The Sidemen along with many other notables from the GTA and YouTube community to join us for 2 hours of all-out mayhem playing brand new Jobs as well as some ridiculous original metagame challenges.

Three of The Sidemen, a renowned collective of YouTubers who specialize in addictive GTA Online Funny Moments clips (a special shout to Vikkstar who recently celebrated his 100th ep), joined us for the 2nd hour of the show: Vik (aka Vikkstar123), Josh (aka ZerkaaPlays) and Simon (aka Miniminter). After a brief and fairly hilarious how-do-you-do, we got straight into the action - watch the archive below and read on for some particular highlights:
(00:54:24) Fantastic Hipster Fox Hunt
This custom Point to Point GTA Race featuring the new Vapid Blade muscle car was played with some additional metagame challenge parameters: the designated titular 'Hipster Fox' (in this case, our own PlayRockstar) had to try and cross the finish line within 8 minutes - all while being hunted down by the other players. The fox being the only player allowed to use weapons, the hunters had to rely on their vehicles and their wits to get their target off the road. With PlayRockstar maneuvering through his hunters like a running back finding holes in the offensive line, it seemed the only way they'd get him was with some outside the box thinking. This came in the way of Vik picking up a Lazer with about a minute left in the match. Sure enough, such cleverness proved to be too sly for our fox and PlayRockstar was defeated with about 20 seconds to spare. See below for an epic freeze frame courtesy of Vik.
This is me stabilising @RockstarGames in their livestream :D #EpicJetTakeout Footage will be on YouTube soon :) pic.twitter.com/RrjUPE9Au0

— Vikkstar123 (@Vikkstar123) June 20, 2014
(01:20:58) King of the Roof
In this rooftop demolition derby-styled game, players had to use their hipster cars to knock each other off the roof of a docking terminal in the Port of South Los Santos - last man driving wins. Initially at a slight disadvantage, due to the fox mask he was wearing, our PlayRockstar was the natural target of all contenders, PlayRockstar then removed the mask and was indeed the king, ramming every last player off into oblivion. Still needing to kill off each other, the originality award once again goes to Vik, who nabbed a Frogger from the dockside helipad, attempting to use its spinning blades to julienne PlayRockstar into pieces. Unfortunately that didn't work out, but MVP Josh did get the job done simply using the grenade launcher - match point goes to The Sidemen.
(01:28:43) Los Santos FC
In honor of the World Cup, the Rockstar Devs took The Sidemen on in a soccer-inspired Capture-powered metagame in which players needed to grab a Panto from the center of the pitch and attempt to bring it back safely to their goal (and a bit unlike soccer, players would have to avoid the Molotov cocktails being launched at their heads and flaming patches of grass). Within the first minute, Josh got things going for his team, safely delivering two vehicles to take an early lead. Just a minute later however, our PlayRockstar and PlayRockstar2 were able to even the score. The match remained fairly even for the first half, until PlayRockstar and PlayRockstar2 barreled through their home goal right after each other, thus getting to eight delivered Pantos first and winning the game in the clutch.
(01:36:04) Coroner's Corners
For the second custom GTA Race of the day (though this time with tight laps at the docks), players took each other on with nothing but Pantos and guns. As opposed to our Devs who kept blowing each other up, The Sidemen used excellent teamwork and communication to dominate the course - resulting in Josh and Simon trading off between first and second place throughout. PlayRockstar managed to take the lead and just as he was crossing the finish line, Vik (in last place and having nothing to lose) blew him up allowing Josh to take the win. PlayRockstar had to settle for second while Simon wound up in third.
(01:42:37) Dubsta Delivery
For the last challenge of the day, using Lazers and Cargobobs, each team was to deliver two of the new 6-wheeler Dubstas each to the island drop zone - first to do it would prove the victor. Between Simon's dominance with eight kills and deliveries from teammate GTADev4, The Sidemen took this Job and sealed their overall W for the afternoon.
And just prior to our shenanigans with The Sidemen, we live-streamed udring the first hour with some additional special guest players from the GTA and YouTube community. Popular GTA Online YouTubers M3rkmusic, Who's Chaos and Granty joined in with fan community mainstays and recent Crew Battlers GTAV Informer, GTAm3n and iLewisGTA to play some of the new Hipster Jobs before they got too mainstream.

GTAV Informer and iLewisGTA came in sporting the brand new Bitch'N Dog Foods T-shirts while Granty and Merk couldn't resist rocking the brand new bugged out raccoon masks. In our first Job, the new TDM "Puerto Del Sol", GTAVinformer picked up 13 kills fighting through the narrow apartment blocks of Puerto Del Sol to take his team to a 25-22 victory. From there, we played through Jobs from the Double GTA$ Event Playlist, with a frighteningly quick "East Vinewood LTS" followed by a Pigalle-exclusive voyage in the "Beach Odyssey" Race. Check out highlights here from the vantage of the GTA Online spectator helicam. To finish off, PlayRockstar2 hosted a tour of the new garage to show before-and-after examples of how all of the vintage cars from The "I'm Not a Hipster" Update can be customized to stunning effect. Check out this clip to see all the bug catchers, ski racks, "Chaka Khan" exhaust pipes and roof racks o' crap.
"I'M NOT A HIPSTER" COMMUNITY VIDEOS & STREAMS
Our friends HikeTheGamer and Swiftor, both GTA Online Event Weekend veterans who have hosted some great live stream moments with us in the past, decided to join forces for one epic broadcast on Saturday. Since they were on Hike's turf, Swiftor had to get customarily initiated - in this case, meaning by way of a grenade launcher to the face - but all in good fun. Once that was out of the way, the two (along with the rest of the lobby) spent the next hour and a half playing awesome themed metagames such as Hipster Hunt. An excellent collabo, gentlemen. Watch the archived show below.
Our friend and fellow Social Club Weekend veteran live streamer, Garrett Sutton aka RedRobinz of Jobless Gamers held a super sized Dubsta-exclusive car meet with some of his followers on Sunday. gta1358233 had one of the most popular customized Dubstas with what people in the chat dubbed "The Superman Car."
An up-and-coming GTA Online live-streamer whose shows we've been enjoying recently for her good natured and genuine vibe is LadyMiss80s and her Awesome 80s Crew on Twitch. On Saturday, she turned up rocking the vintage Vinyl Countdown tee and did two special "I'm Not a Hipster" editions of her Saturday Bootcamp series, each over two hours long including their metagame Job "smash" (by Awesome 80s Crew member TIT4NS) and a full-lobby Hipster car show with some spiffy Blades, Pantos, Rhapsodys and more. Watch the late show embedded below and the matinee archived on Twitch.



The guys from the Poor Boi Racing Crew were among several (scroll down to the Snapmatic Contest honorable mentions) who figured out that the new Rhapsody vehicle is reminiscent of Garth Algar's ride and put together this amazing recreation over the weekend of the famous "Bohemian Rhapsody" scene from Wayne's World (intercut with clips of the original for good measure). You'll definitely laugh, but hopefully not cry nor hurl.
#IMNOTAHIPSTER SNAPMATIC COMPETITION WINNERS
The five winners of the #IMNOTAHIPSTER Snapmatic contest below (shown in no particular order) each took a unique and creative approach - from the use of the Panto microcar as an extreme sports mobile to some clever takes on the new animal masks - and more. As you can see in our quite lengthy honorable mentions list further down below, it was truly tough to narrow down just 5 winners so congrats to each of the talented photogs who will be receiving GTA$1M and the HIPSTER vanity plate.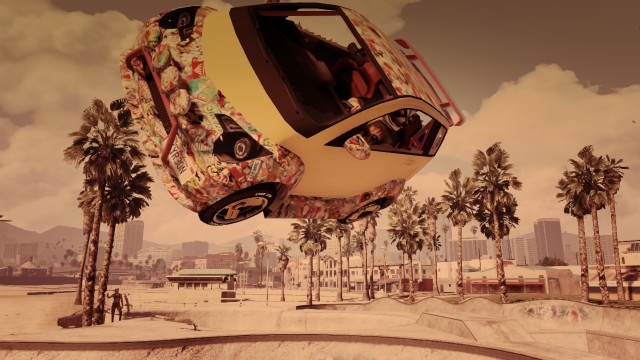 "Haters Gonna Hate..." by CaPn-bOnEs
This awesome aerial feat is brought to us via CaPn-b0nEs of the iGrandTheftAuto Crew, who's also known for sharing some reliably great Snaps on the regular on Twitter. CaP spent a good part of this weekend with his friends at the Vespucci Beach skate park, where they took their customized Pantos for a literal spin in and out of the cement bowl. The above shot of a Panto catching some serious air, whilst a raccoon-faced Crewmember looks out is just epic – but also check out some other shots b0nes shared including this honorable-mention-worthy shot of a Panto leapfrogging another one and narrowly scraping by someone standing on its roof. These guys are some serious smart car tricksters.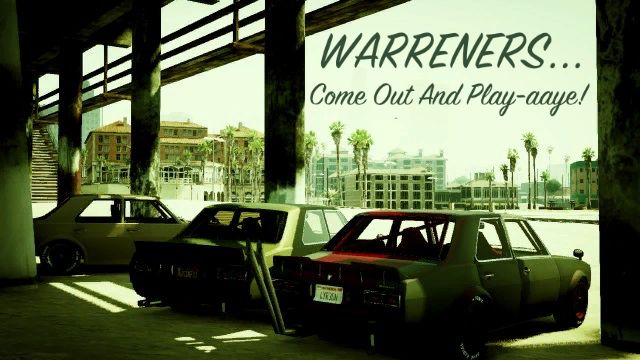 "The Warreners" by DuPz0r
Start clinking those e-Cola bottles together for this pun-tastic reference to one of our favorite cult film classics. The Warrener on the far right rocking the outrageous Shakotan exhaust tailpipe and Warriors-red racing stripe is another fine detail that seals this one for returning champion DuPz0r.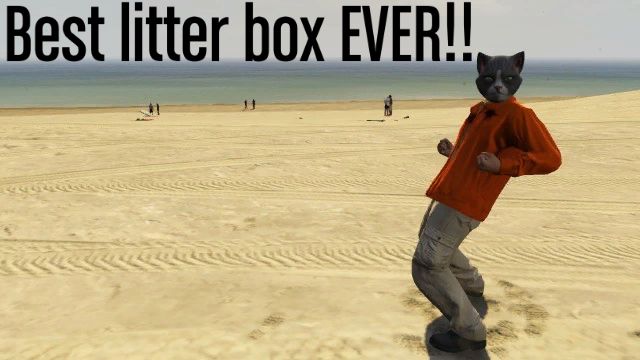 "LITTER BOX LOTTERY" by carsonclick9002
It's the Internet, so cat pics FTW. There were lots of fun uses of the cat mask to choose from (scroll down for some great Catwoman honorable mentions as well), but the caption, the pose and the composition here combine to perfect effect. An additional honorable mention as well to "Cat on a Hot Tin Roof" by GhostmanNo1 who had similar cheeky Cheshire notions of his own.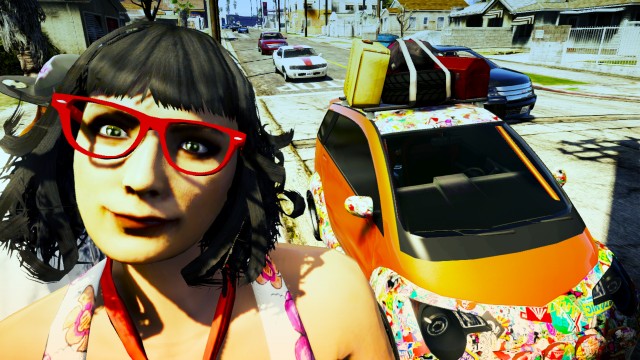 "HIPSTER IN THE HOOD" by ZazDillinger
ZazDillinger's character here is just such a quintessentially cute and quirky hipster, she stole our heart. The aptly titled "Roof Rack o' Crap" mod on top of the brightly sticker-bombed Panto really suggests she's off for a bit of hardcore antiquing, an artisanal cheese tasting, a weekend of emo-rock festival partying or another such certainly-not-a-hipster leisure activity.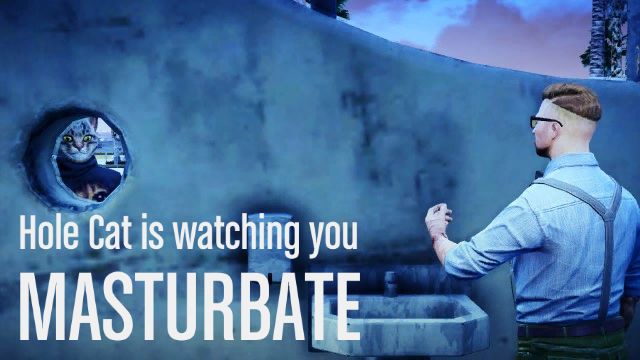 "HOLE CAT IS WATCHING YOU MASTURBATE" by Ayreon01
If you watched Friday's live stream, then you know that this one was an early favorite. An absolutely inspired tribute to the classic "Ceiling Cat" meme, there was zero chance that Hole Cat was not going to win. Props to Ayreon01 who had been an honorable mention bridesmaid in both the Valentine's and the Business Event Weekend Contests and now enjoys back-to-back wins.
SNAPMATIC HONORABLE MENTIONS
With so many excellent photos to choose from parlaying hipster humor and crafty customization ingenuity, our list of honorable mentions this time is longer than ever. Here are a bunch of other favorites who bear mentioning...
• Several people had the clever idea of using the Declasse Rhapsody and new toasts to pay homage to Wayne's World, including this shot by Poor Boi Racing's Meth83 and this one by ChocoMongo.
• "Hipster's Vacation in the 70's" - Perfectly set with the sepia tone and hippie vibe, by AnimB_015.
• "Raccooon Burglars on the Run" - A very inconspicuous scenee by AlexSniperBullet.
• Two very stylish tributes to Cat Woman by Francky5exy, here and here.
• "The Panto Mime" - A literal play on words by SomeLegend.
• "Go Go Panto Rangers" - We've seen some fun Power Rangers tributes in the past, but the Pantos really drive it home - by Thr33X.
• "Hipster Rules" - A decidedly incomplete list by Hotack.
• "East Vinewood" - An appropriately stylish Los Santos Hipster lineup at East Vinewood by SPLAP-FART
• "Innocence Blvd" - An "I'm Not a Hipster" double handlebar mustache selfie by t0msmudgey.
• "Capture The Moon" - A brilliantly posed photographer toast used to crush the moon by AngelOfArkham.
"I'M NOT A HIPSTER" GEAR GIVEAWAY SWEEPSTAKES WINNERS
Thanks also to everyone who entered and a big congrats to the lucky five Grand Prize Winners of the "I'm Not a Hipster" Gear Giveaway Sweepstakes: vvenom23, xXxCarrick, CCFCRyan99, Kincaid1103, and Djcred456 who all won the ultra-hip Los Santos Trucker Hat, Republican Space Rangers & Trevor Philips Industries Tee and the GTAV Zippo Lighter. We're still confirming some of the runner-ups to win GTAV tees and stickers so be sure to check your inbox of the email attached to your Social Club account.


Stay tuned for the next GTA Online content updates as well as more Social Club Event Weekends to be announced very soon.