GTA Online High Life Event Highlights: Snapmatic Winners, Videos and More

Lui Calibre's very thorough video tour of the new High Life content he posted before getting into such High Life weekend insanity as the Car Horn Orchestra and Jobs with Zentornos and Bullpups.

Droves of players and their Crews turned out rolling in style in new Pegassi Zentornos and wheelie-stunting on Dinka Thrusts during the Social Club High Live Event. There were weekend-only Double GTA$ payouts in High Stakes Impromptu Races, and Triple RP in both golf and tennis, plus other limited time in-game bonuses like increased $10K wages, valuable Event Crate Drops containing free weaponry, RP boosts, and GTA$ stacks. Read on for some highlights including High Life live-streams and other fun weekend videos plus winners of the #HIGHLIFE Snapmatic photo contest and more.

THE OFFICIAL ROCKSTAR BROADCAST HIGH LIFE LIVE STREAM
Friday afternoon, we joined up with special guest members of the esteemed Achievement Hunters outfit (part of the Rooster Teeth comedy and gaming community), along with other members of the Social Club community to get into some High Life action, Verified Jobs and metagame craziness all streamed live. Check out the full two hour episode:
Some highlights not to miss:
(00:16:13) Bullpup Buttondown Beatdown
We invited the Achievement Hunter crew up to GTADev1's brand new apartment at the Tinsel Towers to get acquainted. Once the ice was broken, we asked them to join us in an impromptu challenge. The objective: With Dev1 (aka Goose) and GTADev3 (aka Maverick), AH split into two teams - the first side to get dressed to impress at Ponsonbys, acquire the new Bullpup rifle from Ammu-nation and make it to the Vinewood sign hilltop (to lay in ambush for the other side) would win the challenge. Dev1 and MLP Michael's team won handily - and once at the Vinewood hilltop, all bets were off and Bullpups, rocket launchers, and renegade helis ran appropriately amok between everyone involved.
(00:30:02) The Los Santos Riots
Using their newly purchased Bullpups, the Devs teamed up with Piggjam, kwebbelkop and others on the recently Verified Deathmatch The Los Santos Riots, created by TIdoubleGGRR of the BMX bandit gang (BMXG) Crew. Matched up against the likes of the Killer Smoking Aces' Beetle007KSA and other top-notch players, they were led to a decisive 40-23 victory by Los Vagos Banditos' Piggjam (17 kills, 3.40 K/D).
(00:36:50) FOREplay
The Achievement Hunters returned to mix it up with us in FOREplay, a custom Deathmatch we created in honor of the Triple RP in golf and tennis that was available all weekend. Consisting of an iron, sticky bombs, carts and ramps, it wound up being 15 minutes of explosive chaos beyond what even Carl Spackler would have been capable of. There were even a few hilarious "look behind you moments" that caught everyone off guard.
(00:54:20) GTA: That's My Rhino
We were honored to welcome the xxNoFatChicksxx (NFCX) Crew's RikkiVercetti into our lobby to do a live play-through with us of his very own Verified Capture Job, GTA: That's My Rhino (a super intense Capture that we've also been playing in recent Crew Battles where two teams of Lazers dogfight over one coveted Rhino tank). We also welcomed community notables GermanScientist (cheekily dubbed "Japanese Scientist" during the game for his proclivity for kamikaze maneuvers) and MRGTAVInformer who popped in to take part - you can also watch highlights of the action from Scientist's perspective on his YouTube channel.
(01:11:40) Loss Leader
In this High Life Land Race featuring the new Zentornos, there are more than enough hairpin turns and curves to ensure crashes aplenty. After a race which was heavily led by Piggjam and FeymHD, RNT.2412 of NFCX took the lead late and won with a tidy time of 2:52, followed by KILLER_99997 in second and DrunkxDemon pulling up the rear in third.
(01:27:42) Tinsel Towers House Party
GTADev3 was generous enough to invite a whole lobby's worth of players over to his new Tinsel Towers pad for a little housewarming soirée and tour. Setting the mood with a barechested celebratory air thrust, things would only get more unruly from there. After some uncomfortable sleep creeping and a bizarre encounter in the powder room, it was clearly time to head on out and round out the rest of the stream playing some more Jobs including AH's own Juggernaut TDM. Thanks to our A-list house guests for stopping by: GTAm3n, MRGTAVInformer, Piggjam, RikkiVercetti, GermanScientist (who snapped a little selfie at the house party below), FeymHD as well as GTA fan site Crew The GTA Base's Lambentbunny and Crew Leader TylerTGTAB
Housewarming party in GTADev3's new Apartment from the #HighLifeUpdate in #GTAOnline #GTAV http://t.co/1bfBrldg5c pic.twitter.com/JbY1hXNMBr

— Vicke G (@GermanScientist) May 16, 2014

HIGH LIFE WEEKEND COMMUNITY VIDEOS & STREAMS
The High Life Event Weekend also saw some awesome new videos and live-streams having fun with the all-new cars, weaponry, toasts and even the car horns.
We mentioned earlier that Lui Calibre and some of his friends including Vanoss Gaming and H20Delirious held a little High Life Car Horns Orchestra last week – and then on Saturday, the always creative GTA Series Videos guys truly took it to the next level with their full-fledged 5+ minute "GTA Online Concert" performance which you can watch below in all of its glory. Performed at the Sisyphus Theater in Vinewood Hills, the GTA Online Concert features their renditions of "Seven Nation Army" by The White Stripes, "Stand By Me" by Ben E. King, the "Star Wars (Main Theme)" and even the "Soviet Connection" theme from GTAIV - to name a few. Slow clap, indeed.


On Saturday, there was also a full program of special featured guest live-streams hosted by some of our friends on Twitch and YouTube - including some where Rockstar devs were able to get in on the action:

Swiftor, who you may remember as having joined us in-studio during the last couple of Rockstar Broadcast Event streams, was kind enough to invite GTADev3 in to play with his community in some of the new Races and a couple fun minigames of his own. You can check out a segment of us chasing down each other's Zentorno's above..
Returning featured guest streamers from previous Event Weekends included HikeTheGamer and his Landed It Crew who did High Life Weekend broadcasts on both Saturday and Sunday - and Garrett Sutton (RedRobinz of Jobless Gamers) who did an epic 5+ hour stream on Saturday that was simulcast with fellow featured streamer and Squadcaster DatSaintsFan on his own Twitch channel. Watch Jobless' full stream archive above to see us all getting down in some new High Life Races, homemade Captures, free mode car show fun and lots more.

Also check out the archived High Life stream hosted by one of the new faces in our featured guest stream lineup, MrBossFTW who broadcast some non-stop gameplay focusing on lots of the new Races and Zentornos with GTADev1 joining in a couple along the way.

#HIGHLIFE SNAPMATIC COMPETITION WINNERS
And here are the winning Snapmatic photos from the #HIGHLIFE contest – each of these clever photographers walks away with GTA$1M and will get the exclusive in-game HIGHLIFE vanity plate as well.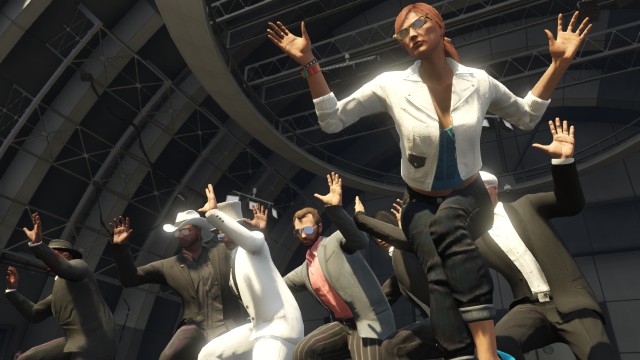 "iGTA Off Off Broadway Play - Jazz Hands" by Ayreon01
The iGrandTheftAuto Crew really out did themselves with this imagined Off-Off-Broadway musical held at the Sisyphus amphitheater. Using the new High Life Jazz Hands toast to full Bob Fosse effect, the iGTA Crew were able to pull off one hell of a show. It was actually difficult to choose between a few of the Snapmatics that Ayreon01 posted from this musical performance, but the above one really stole the show. To check out the full gallery, including some behind-the-scenes rehearsal shots and some candids from the wrap party, check out the full image set posted on imgur.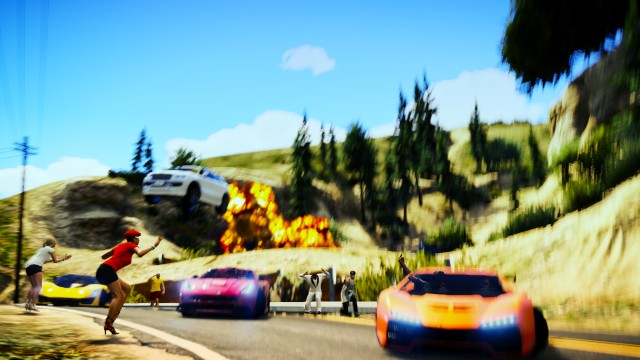 "High Stakes" by shenizian
Well, this one pretty much has it all. An airborne Huntley S and the Massacro and Zentorno all poised for a fast getaway from whatever was responsible for that raging explosion in the background. All while spectators from the ZWAME PT Crew cheer, salute and toast away by the roadside. A great use of the blur effect tool to capture a hectic and outrageous moment (the returning Snapmatic contest champion, shenizian also posted a blur-free version for those who may prefer that look).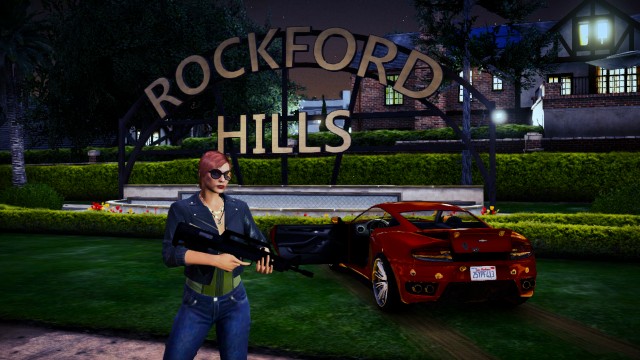 "High Life DLC Artwork by Snapmatic Art" by McGoooo420
We'll admit we're suckers for Snapmatic pics that faithfully recreate our official artwork – but especially when it's done as spot-on as this one from a shining member of the Snapmatic Art Crew.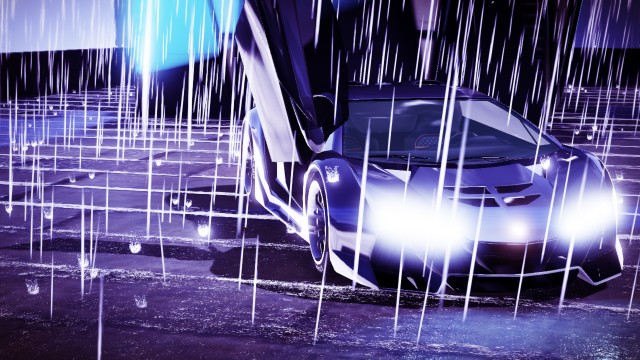 "Pillbox Hill" by repdek
An absolutely stunning entry that was taken by a member of the serious shutterbugs club of the 1,000 strong GTAPhotographers Crew. This SAGMA-worthy piece of Snapmatic art combines dramatic lighting to complement the heavy rain and an impeccably chosen Snapmatic filter that all play across the custom chrome surface of this Pegassi Zentorno.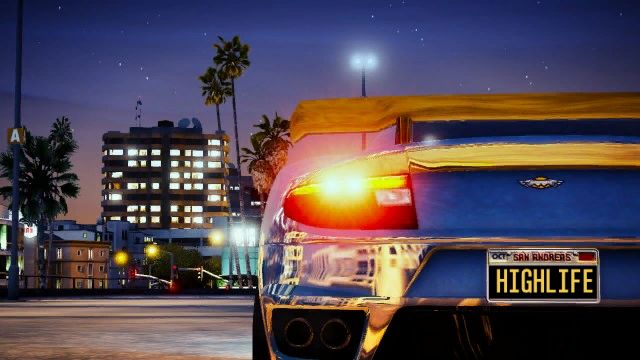 "HIGHLIFE Plates" by HairyHole
Also from the GTAPhotographers Crew, HairyHole was quite busy over the weekend with a few solid entries into the #HIGHLIFE competition including one that made it on to our Rockstar Broadcast live-stream on Friday. This one was truly sweet though - HairyHole cleverly used the Meme text feature in Snapmatic to simulate what the HIGHLIFE plate might look like on his own Massacro. Well, no need to fake it any longer, you've made it. Look for Hairy cruising around L.S. with a legit HIGHLIFE plate soon.
SNAPMATIC HONORABLE MENTIONS
It's always tough to narrow it down to just 5 winners, and here are some that we're pained to say just nearly made the cut.
"Welcome 2 the HighLife" - A perfect use of the new Face Palm toast and Snapmatic Meme generator to illustrate the pain of wrecking your brand new Zentorno, by YoungMottz.
"Cheatin' Like a Boss" - #1 most liked #HighLife shot on Social Club, ZazDillinger definitely deserves a shout out for this wonderfully framed shot admittedly using the in-game weather cheat to summon mother nature's wrath at the Del Perro Pier, while watching from the safety of a Zentorno.
"Power Street" - An awesome light show effect coupled with space-age High Life text makes for one sweet and artful Snapmatic, by Banjabi.

HIGH LIFE SOCIAL CLUB EVENT SWEEPSTAKES WINNERS
Cheers also to all who participated and entered to win this weekend and of course to the V lucky grand prize winners of the High Life Event Sweepstakes giveaway - we are still presently confirming a few of them via email but for now we can congratulate mad2ko0l, stanggman75, iits.bee, jayjuttz and its_not_unusual. All of the final confirmed winners will be taking home the limited-edition GTA Five Iron Golf Club as well as official GTAV tees and stickers. There's also 10 Runners-up being confirmed who will each receive official t-shirts and stickers.

An important reminder to be sure to check your Social Club-linked emails account for possible notifications (check your spam folder as well to be safe) - and to make sure that your Social Club account is updated to be linked to your most actively used email account for just such occasions.

THE HIGH LIFE EVENT PLAYLIST
As an extended bonus to the High Life Event Weekend fun, you may have seen the High Life Event Playlist still live in-game. The Playlist is available from the Rockstar Playlists section of the pause menus, and contains the four new Races in the High Life Update so you can play through them back-to-back with the same group and find out who is the best player across a multitude of different car classes. With each Race locked to one of the new High Life vehicles, it's a great opportunity to get to grips with the Dewbauchee Massacro, Enus Huntley S, Dinka Thrust motorbike and of course the Pegassi Zentorno. Keep an eye out for Event Playlists to play a part in future Social Club Event Weekends with some special challenges as well.


Stay tuned for information soon on the next content updates coming to Grand Theft Auto Online as well as more in-game bonus reward opportunities to be announced.