Crew Cut: Latest Live-Stream Battles, Return of the Homage and More...
This edition of the Crew Cut features recaps of our latest rounds in the live-stream Crew vs. Crew series, along with more Hollywood inspiration and re-creation, plus all the latest Crew-themed videos.
LIVE BATTLES: THUG VS. ORDO
Crews have been coming out in force looking to settle their differences and prove their supremacy over each other in the official Rockstar Twitch channel live-stream Crew vs. Crew Battle Series. After a fun, but somewhat lopsided skirmish between the Traffickers (TRFK) and Le Kops (KOPS) we were recently treated to a faceoff between a couple of Crew Cut vets from opposite corners of the globe: France's Shine Thugz (THUG) and the Australia Illuminati (ORDO).
ORDO Leader PaxSierraMike was up and at 'em at 6:30 am local time to not only play with the rest of his Crew but to also chat with us on Skype, sharing photos and videos while letting us know what they're all about. When these gangs got down to the action though, THUG emerged as the favorite in any Job requiring guns and ORDO seemed to have the leg up on Races. THUG took the first Job in a tight one at 41-32 (the Land Race Stars in Your Eyes) and from there, THUG continued to build up momentum and a growing lead. Despite some solid racing work from ORDO down the stretch, THUG came out the victors, 953-625. Much respect to the blokes in ORDO who acted with nothing but graciousness and honor in defeat.
LIVE BATTLES: KOAR VS. PBNK
After an unofficial, unsanctioned match of their own in which they dominated the ALL BOUT PAPER (ABPG) Crew in a series of Team Deathmatches, the Los Vagos Banditos (PBNK) wanted to take their skills to a larger stage against the Killers On A Rampage (KOAR). With PBNK ranking 50th in TDMs and KOAR ranked 55th (both in Free Aim), this looked to have all the makings of an intense Crew Battle. However, KOAR lived up to their name, dominating from the start and winning all 10 Jobs in this Capture-heavy playlist en route to a convincing 973-713 victory.
LIVE BATTLES: GTAF VS. XKSA
This past Friday, the stream saw the folks from the popular GTAForums (GTAF) fan forum take on the Killer Smoking Aces (XKSA) in a series of 10 handpicked Jobs. Despite a tough exterior and a big endorsement from member-for-a-day PlayRockstar2, XKSA fell behind GTAF right from the start and never quite recovered. After Desu_Nei killed XKSA Leader trill81 in Kortz LTS it was official - GTAF won 938-794.

Think your outfit should be given a shot on the next live-stream broadcast? Send us a link to your Crew page, preferred platform and what makes your squad stand out at CrewChallenges@rockstargames.com.
GOIN' VINEWOOD 2: CREW CUT BOOGALOO
As noted in the previous edition of the Cut and a recent collection of fan pics, the world of Los Santos and Blaine County has served as fertile ground for some fun recreations from iconic film scenes and album covers.
First up, the Warriors Gang (1IWI) give us this trippy ode to the 1998 cult fave Fear and Loathing in Las Vegas - an adaptation of the 1972 Hunter S. Thompson book. It's as if IWIKongZilla and company were actually on ether. You can also check out their homage to Top Gun with P-996 Lazers, set of course to the recognizable sounds of "Danger Zone" from Captain Loggins himself.
And as seen below, the LXG Crew (LXGC) recently posted Snapmatics of their own interpretation of the famous walking scene from Reservoir Dogs. As cool as it is in isolation, watching their behind the scenes footage of the photo shoot will give you an even better appreciation for the effort that goes into these.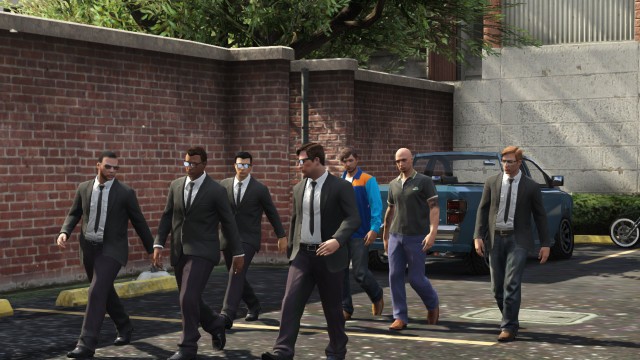 Meanwhile, the SOYAPANGO (SOYA) Crew decided to take on something a bit more obscure. Inspired by a Honda Odyssey commercial with an old school feel, SOYA created their own Respect the Van vid - complete with action shots and the theme song from The A-Team. While their version might not match the original shot for shot, the Crew certainly took a good idea ran with it... hitting every barricade and stunt jump along the way.
CREWS ON FILM
We've also noticed an upward trend in the number of Crew-themed music videos lately. Here, the Hood Donz (DONZ) Crew interprets 50 Cent's "Straight to the Bank" with an excellent use of Crew colors and music video clichés. Also check out the Mob Up DTA (MOB1) Crew's intimidating yet wonderfully color-coordinated Crew music video featuring "F*** All Dis S***" by Quake.
Set to "Go with the Flow" by MC3 soundtrack alumni Queens of the Stone Age, this Sons of Andreas (SONS) video is full of jump cuts between Snapmatic photos.
And finally, the Diamond Lane KingZ (DMND) Crew did something rather unique with this video, using footage from the game and their editing talents to create an original GTA Online series.
Previously:
Crew Cut: Film Crews Remake Fave Action Sequences, Plus Live Battle Recaps feat TRFK, KOPS, Freddie Gibbs & Hip Hop Gamer
Crew Cut: Crew Business and Killer Squads Large and Small