Fan Art: Radiopappa's GTAV Bullworth Alternate Universe, Plus Spirit Animals, GTA Online Comic Strips and More
Check out a latest pictorial of amazing fan art creations including the work of radiopappa who's been making a really fun Bullworth alternate universe series imagining a crossover with the characters of Grand Theft Auto V. There's also some bizarrely brilliant Michael, Franklin and Trevor spirit animal sketches, a homemade illustration of LS Rock Radio's Captain Loggins at work and more.
As always, if you find (or make) any cool GTA or Rockstar-related creations, make sure to send them our way via Mouthoff and remember to follow us at instagram.com/rockstargames for all our latest official pics.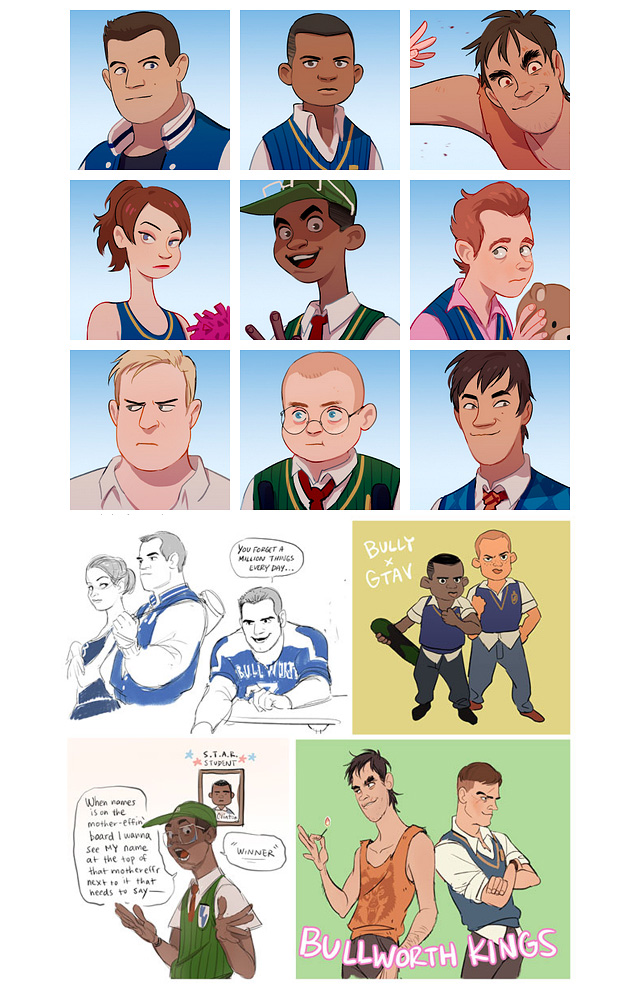 Presenting a few selections from the inspired radiopappa on tumblr from a super fun GTAV x Bullworth alternate universe series. You've got Trevor as "their weird townie friend" and his "wolf pack" that are on "shaky terms with the greasers." You've got Michael as the Bullhorns quarterback struggling in his relationship with his high school girlfriend Amanda who's "tired of listening to his corny movie quotes." And of course star student Franklin Clinton and his nerdy friend Lamar who's "always getting beat up." Love it.


Definitely click this one above to see it in more detail. In vintage comic strip fashion, artist Misia posted this original piece at the onemagpie tumblr of "Lester, Jimmy, Patricia, Davy, Steve, Ron, Wade with strippers, Trace, Amanda, Chop, Lamar, Frankie, Trev and Mikey" with the hashtag " #i could draw more characters but it would be one long ass drawing."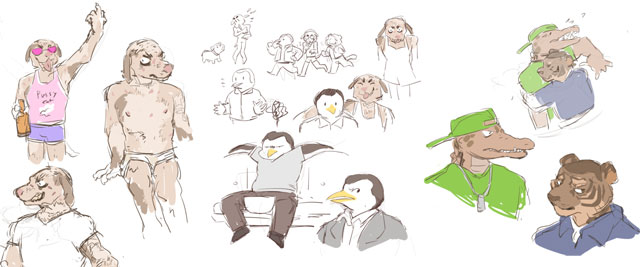 A bizarrely brilliant rendition of GTAV characters as spirit animals, with respectively Trevor as a "mangy mutt", Michael as a penguin, Lamar as a gator and Franklin as a tiger. Credit: yiq.tumblr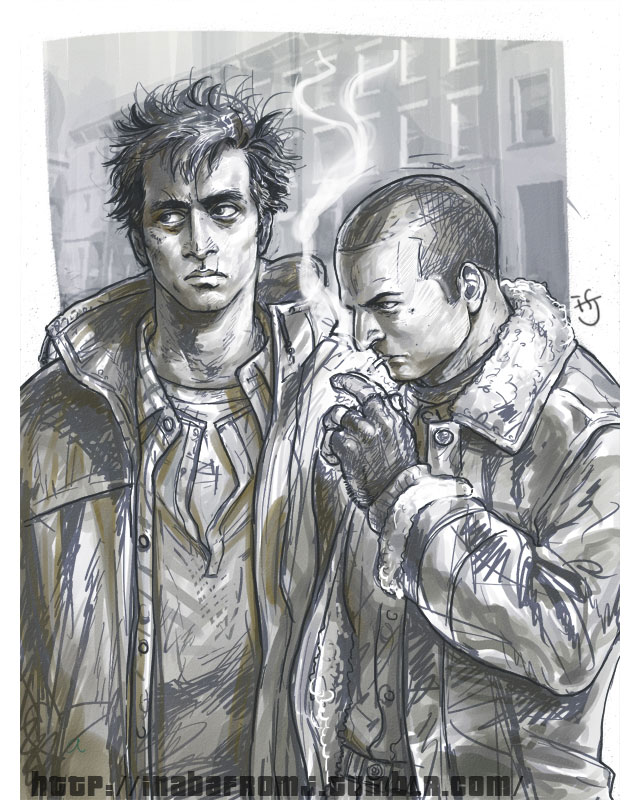 Artist Ricky Yagawa of Tokyo drew this imagining of a young Trevor and Michael saying "Recently I finished Grand Theft Auto V and I'm totally crazy about this game. Especially I was attracted to the relationship of mid-age crisis bastards, Michael and Trevor. I really want to know how their golden age is and how crazy Young Michael is…"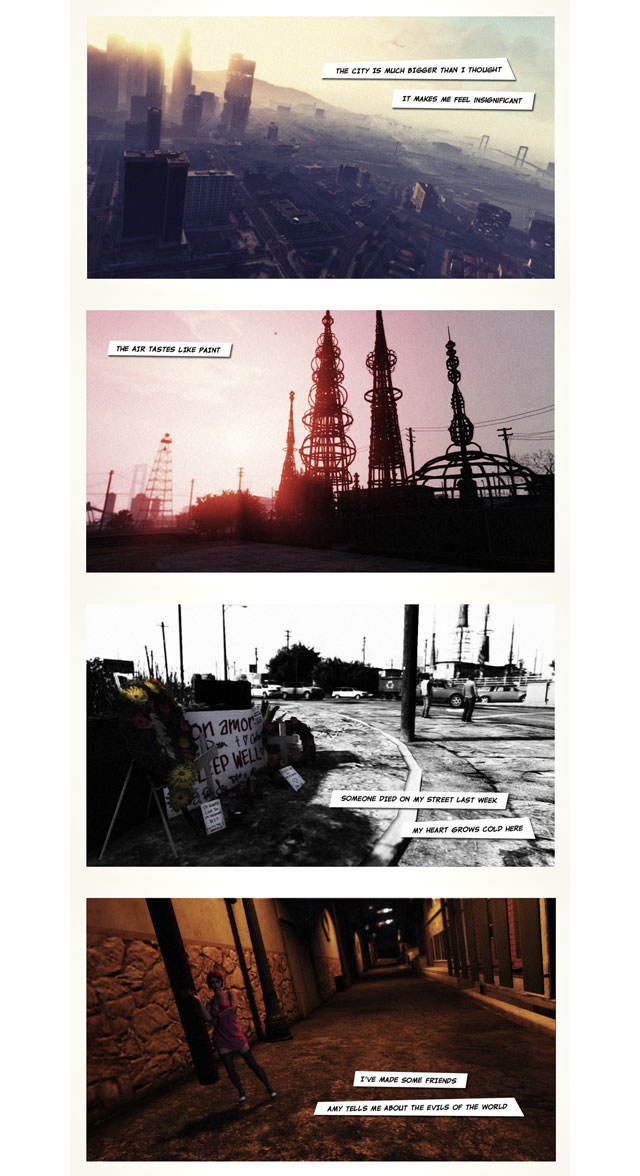 An excerpt of just a few panels from a poetic and melancholic GTAV graphic novel style photo series entitled Dear Mom and Dad. created by Redditor Berdu, also known for this awesome Rebel advert and previously featured here at the Newswire for that clever KITT from Knight Rider gif.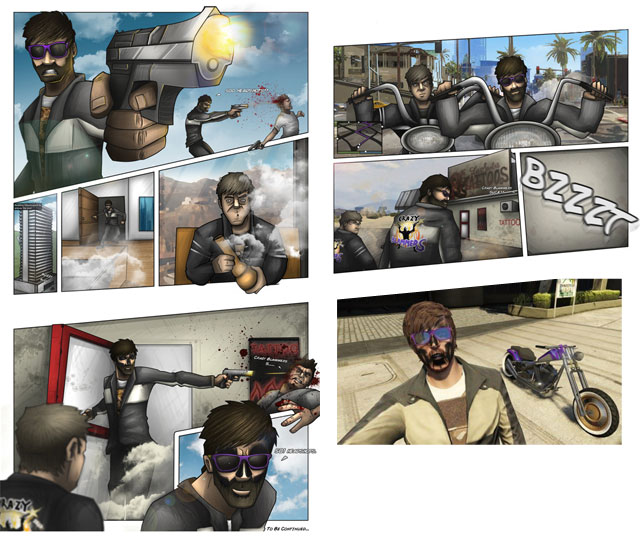 500th Headshot!!! is the first of deviantARTist mattwhogben's Grand Theft Auto Online inspired comic series, which follows Matt, aka HoggyHogben leader of the Crazy Blammers Crew. After his 500th headshot unlocking the intimidating face tat pictured in game above, Matt meets up with his second in command, Joe on to get his hard earned ink. It didn't take too long to take his 501st headshot out on a Crew naysayer.

"I'm Captain Loggins and you're on a cruise!" Big time Kenny Loggins fan and deviantARTist Jonathan Kautzsch aka Atteez envisions Captain Loggins behind the mic live from the broadcasting booth of Los Santos Rock Radio. "He's kicking back and relaxing as you can see. I tried to make it look like he enjoys being a host. After all, he's given an iFruit computer and a great view of the city of Los Santos. And a beanbag." Classic Kenny.

Previously:
The GTAV Art of Morgenty and Saskia, Stunning B&W Landscapes from Dead End Thrills and More
A Study of Trevor in Wool, Los Santos Noire and Tributes to GTA San Andreas
V Reimagined in 80s VC, Homemade Infographics, Fun with Filters and More