Crew Cut: Family Business
MOB DEEP
After featuring The DONZ Family Crew in a recent Crew Cut edition, we came upon a couple of Crews cut from the same pin-striped cloth, including the illustrious Financed and Corrupt (FNCO). Their recruitment vid, which features The Godfather's classic theme and shows off their trademark red and black on everything from three piece suits to freshly painted Vapid Peyotes, sends a clear message to all of greater Los Santos that they are not to be crossed.
Speaking of mafiosi, the MADE OF STEEL MOS (1MOS) is all business, gravely warning "Don't mess with our money or our family". In contrast, the crimson-striped Based MOBB (MOBB) Crew appears to take a lighter approach to the whole la famiglia thing - by the looks of things on their Snapmatic page they seem to be mostly about the fun, but mess with them and you might get burned.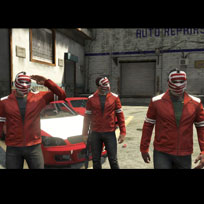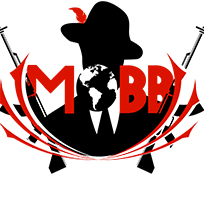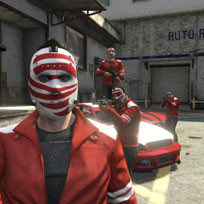 MOBB wear the masks of red death.
The Richkidzz (RICH) Crew are mobbing in their own unique way, rocking their signature orange getups like a modern-day GTA Online chain gang. Commissioner thaforce wrote to us with great pride in the photos they've been taking, confident they were strong enough to be featured here in the Crew Cut. Feel your Crew should be represented? Give us a shout and convince us why at mouthoff@rockstargames.com.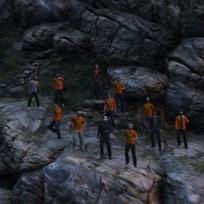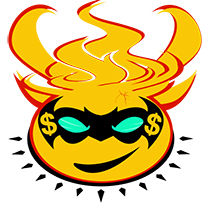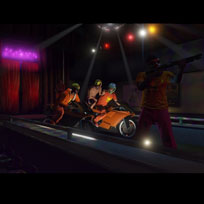 Blood orange. The Richkidzz at various stages.

SNAP-HAPPY CREWS
Most Crews have at least that one member with an itchy iFruit finger, eagerly out to capture every mission and ill moment to post to Snapmatic and/or Instagram. The Pack of parasites (1124) Crew have quite the active leader and lensman in 3rdeyeopen47, whose Instagram is solely dedicated to Crew drift action.
The Grave Reapers MC (GRMC) Crew, known for pushing iron horses above and beyond, have been taking the same approach with their own Instagram feed as seen in some selections below: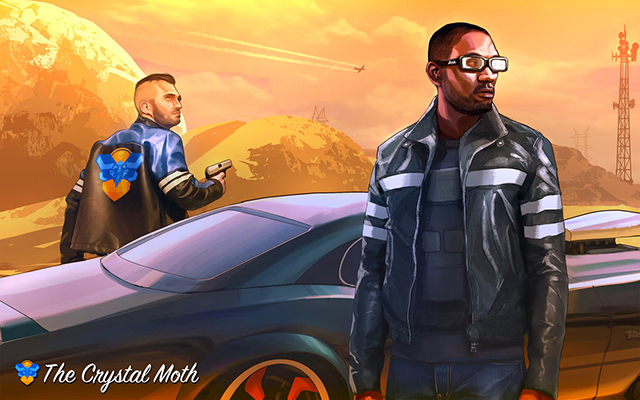 Commissioner TDSpiral of The Crystal Moth (MOTH) Crew released on deviantART this impressive GTA-artwork-style original illo in honor of his squad.


PARTY PEOPLE

Crews have been out in full force at the first couple of GTA Online Social Club Event weekends - check out some party photos snapped during the #VespucciBeachParty and the recent Social Club #CreatorWeekend Event.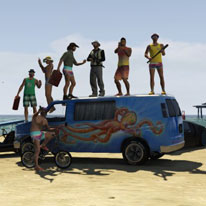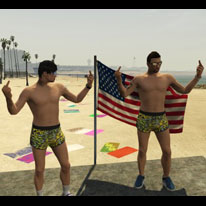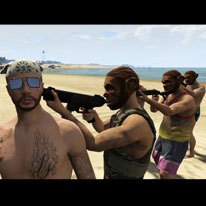 Vespucci Beach Partygoers. From left: The Asylum MC (SYLM) Crew a rockin on top of the new Paradise van; the Public Enemy GALICIA (PEGA) Crew salute with panache; and the SN1-SN26 (SN26) Crew are the most frightening thing to happen to the conga line since Buster Poindexter.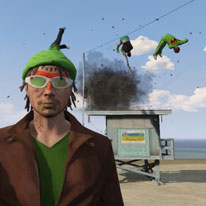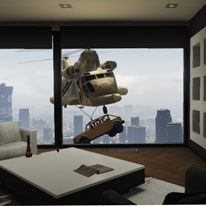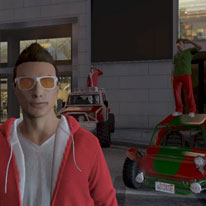 Crews styling during the most recent Social Club Event. From left: Joe_Dirt_Yall captured some of his Reapers - LosSantos (ROLS) Crew having a blast; GTA Paris (7593) Crew Leader sebbob93's usual unobstructed city view out of his apartment window just got blocked by one of his Crew-mates hoisting a Canis Bodhi with a Cargobob; mathduf27 and a couple other members of the Saguenay (SAGS) Crew of Quebec in festive red and green duds.
CREWS ON FILM
The Social Club Crew community has been on a hot streak with stellar videos as of late. The GamerFuzion (GMRF) Crew captured their very first time in Survival mode. If you have yet to test the waves, this run through at the Railyard is a nice introduction. For even more guidance, look to HikeTheGamer and his group of compatriots the LANDED IT (HIKE) Crew below for a fun capture of an epic live-stream session they had filled with custom car flexing and wanton destruction.
Previously: