GTA Online Player-Created Jobs Making Noise
Recently, we announced the first batch of officially Rockstar Verified player-made Jobs - and your amazing Deathmatch and Race creations continue to impress, adding on to the over one million Jobs currently available to play.

For those looking for more great ones to give a whirl over this holiday season, here are some more player favorites that have been making noise out there so far garnering grassroots attention via YouTube, Reddit and other places by virtue of their creativity and sheer fun.

We'll have more Rockstar Verified user-made Creator Jobs to announce soon. In the meantime, please feel free to share in the Comments section any of your personal favorite Jobs or ones you are particularly proud of that you've made yourself that you'd like others to give a try.

Jump the Lake by Gaming Delimited
Reminiscent of a Japanese game show, members of the The Last Rising Crew use the concept of skipping stones across the water to create some semi-aquatic motorbike madness with a series of ramps and a fleet of motorcycles. Watch the hilarity unfold in the video above and play the Job for yourself if you're up for the challenge.

Busted (Rancho) & Busted (Police Station) by RatchetAU
Finding new and creative ways to have fun in Free Mode was a big part of the GTAIV online experience, and Redditor RatchetAU is now using the Creator to bring custom Busted and Demo Derby matches to GTA Online. Ratchet's even provided a handy guide on Reddit explaining how to create your own.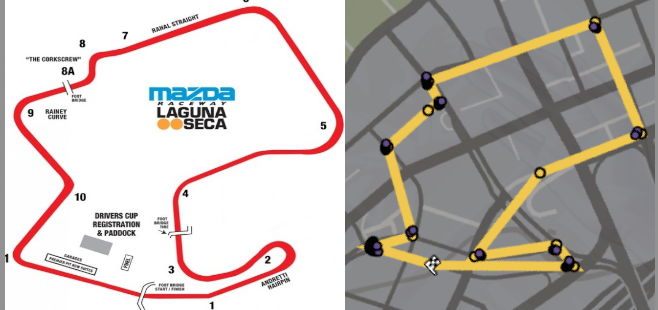 Laguna Seca Remake by GTAVDriver
Based on California's legendary Laguna Seca Raceway, this one's also gotten a lot of attention on Reddit. We applaud GTAVDriver's attention to detail in recreating this famous circuit, right down to the rally style wall-tyres that demarcate its epic twists and turns.
Fort Zancudo Race & Spyhunter V1 by rechyyy
Catch-me-if-you-can daredevil rechyyy (aka clayman90 on YouTube) has pulled off some incredibly well-timed and expertly evasive GTAV police chases in the past. Now, with the help of the GTA Online Creators, he's calling all the shots with well-placed ramps and power-ups in a GTA style race, that leaves even the toughest hot-pursuit lawmen coming up short. He's also taken it a step further with a nostalgic nod to the classic arcade shooter Spy Hunter.
Meet Your Match
To find created Deatchmatches & Races to play, head over to
the Jobs area of the Social Club
. From there, you can select different options from the dropdowns to filter your search. Once you you've found something you want to try out, click the screenshot and then hit the yellow
ADD TO GAME
button in the bottom left corner of the description. Next time you head into GTA Online, pull up the pause menu and head to the Bookmarked Section, within Jobs. Here you'll see all the Jobs you've flagged, ready for you to play. For maximum efficiency put them into a Playlist and invite your buddies to play through them one after another – no messing around.