Fan Pics: Fan Gets Trevor's 'Cut Here' Tat, Plus Snapmatic Homages & More
This week's featured round-up of fan photos, Snapmatics and artwork brings us certainly one of the boldest Rockstar-themed tattoos we've ever seen – along with some impressive Snapmatic homages to everything from TMNT to Speed Racer to our own recently released GTA Online Beach Bum update.
Check it all out below and as always, if you happen upon (or take) any cool GTA or Rockstar-related shots, make sure to send them our way via Mouthoff and remember to follow us at instagram.com/rockstargames for all our latest official pics.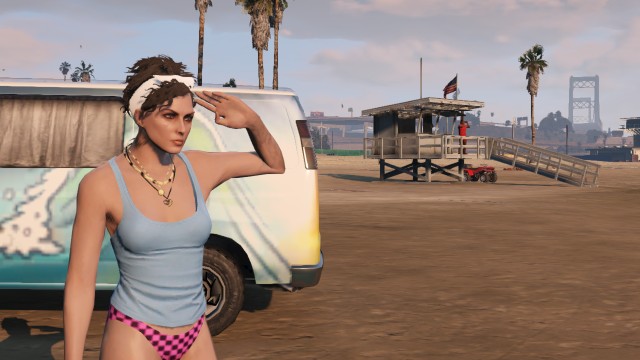 Kudos to Kivlov- of the irrepressible Cyclop 9 Crew for this excellent recreation of the recent GTA Online Beach Bum artwork staged and snapped over the Vespucci Beach Party Social Club weekend - even nailing the necklace, headband, tat and background details. Rockstar Games character artwork staged as Snapmatic photo shoots… Perhaps a good candidate for a future Snapmatic photo contest? Hmmm…
| | | |
| --- | --- | --- |
| Red Dead Multiplayer character Sarah Grace apparently has quite the cult following with the ladies of the Antipodes. Last year, we featured her gracing the leg of a hardcore RDR fan in Australia. Now, New Zealand's @pullthepins hit us up on Instagram to share hers: "Thought you might like my Sarah Grace of Red Dead Redemption tattoo. We gave her a little outfit change but she is still the badass Sarah through and through." | | Yikes. @RepeaterLegend tweeted us this quite bold tattoo "Tribute to Trevor Philips." |
| | | |
| --- | --- | --- |
| New Zealand based tattoo artist Aja Anna's rendition of the gruesome Zombie Marston from Undead Nightmare. | | Crew on the half shell: DanglyZoidberg on Reddit gathered some friends together in Blaine County to get that TMNT look just right. |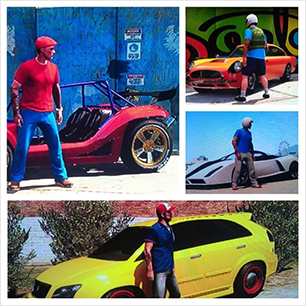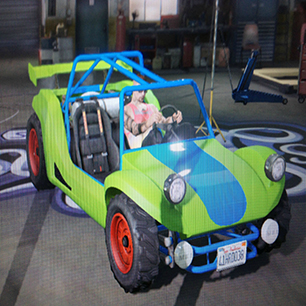 Ride at V. On the left, inventive caricaturist and illustrator Andy Urzua aka @mr_urzua showed off his collection Saturday morning cartoon and pop culture inspired Los Santos Custom rides with Mario Kart, Adventure Time, Speed Racer and Pokemon all making their way into the mix. On the right, Redditor SmokeySlim took the new BF Bifta from the Beach Bum update and kitted it out a la RC from Toy Story.
| | | |
| --- | --- | --- |
| There's tons of Trevor sketches out there, but Finnish artist @Nurmink's stuck out to us for its detail and pathos. Trevor as the proverbial sad and tormented clown. There's also perhaps a bit of Michael in there - intentional? | | In the grand tradition of Rockstar and GTA themed cakes and confectionaries, comes this epic multi-layered GTAV cake shared by @nothin_but_truckz on IG. We want a slice. |
Previously:
'GTAV on Floppy' and More Awesome Costumery
Epsilon Meta Masochism, Trevor Toons & More
Snapmatic Selfies and Scenic Photography