Fan Pictorial: Treats, Trickery & Trevor
The GTA fan photos keep coming, this week with a special Halloween-heavy edition - with a variety of spot-on Trevor costumes (Ron Oil trucker hat and trusty jerry can in tow) to a Bugstar heistress and a frisky LSPD cop and an artful pumpkin carVing. Not to mention plenty of in-game action, hijinks and beauty courtesy of Snapmatic.
As always, if you happen upon (or take) any cool GTA or Rockstar-related shots, make sure to send them our way via Mouthoff and remember to follow us at instagram.com/rockstargames for all our latest official pics.

And also, all avid L.S. & Blaine shutterbugs, don't forget to enter the first Snapmatic photo contest #epicphotobomb with call for entries through this weekend into Monday.
| | | |
| --- | --- | --- |
| @itbealec gets in the Halloween spirit with his gourd-geous V-carved pumpkin in this year's lineup of carvings. | | We've seen a lot of excellent Trevor get-ups so far for Halloween with surely more to appear today and this weekend - but this one we spotted shared by sifnightmare on IG is a sure stand out, |
| | | |
| --- | --- | --- |
| Longtime Social Club member Piemanthe3rd shows us how to give a San Andreas fire truck a hand with this group effort. | | Rightly titled "Business as Usual", illustrator Eric Meister puts his spin on Trevor, Michael and Franklin exchanging a few rounds in an explosive getaway. |
| | | |
| --- | --- | --- |
| @Djunya and @digitallovechild are the picture of law and disorder, Los Santos and Blaine County style, in this clever couples costume. | | We're not quite sure how they pulled this one off, but hats off to Snapmatic photographer iTYRONE99 and whoever his wave running partner picture here is (perhaps one of the RUG MUNCH3RS Crew?) for this epic shot. |
| | | |
| --- | --- | --- |
| These right wing radicals really stuck the landing. Photocreds: nR_Zizer, | | Trevor's inspired some fairly off-kilter artistry thus far for sure including this trippy amphibian looking number courtesy of the talented @thegimps on IG. |
| | | |
| --- | --- | --- |
| The flesh and blood @doctorbattledoomstar and the in-game Trevor twinned up in these side-by-sides. The RON hat was a great touch to really bring home that authentic Blaine County savoir faire. | | Honored for GTAV to be a part of this dude @Stet92's 21st celebration. Photocred: @Stret91 |
| Sniff Sniff! Here's one we posted ourselves on Instagram today for Halloween. The super rare (and anatomically correct) Piggsy doll we made 10 years ago when #Manhunt came out. #TBT #HappyHalloween | | Redditor daemonology gives Michael, Trevor and Franklin a run for their money in this Bugstars getup. Favorite comment: "So are u grabbing candy loud and dumb or quiet and smart?" - b3nd33z33. |
Finally, 'Grand Theft Auto V Photographer' Luis Serrano of Spain has pulled together a fine gallery of stunning, artfully composed GTAV Snapmatics. Here's a couple of our favorites below and view more at his official gallery site.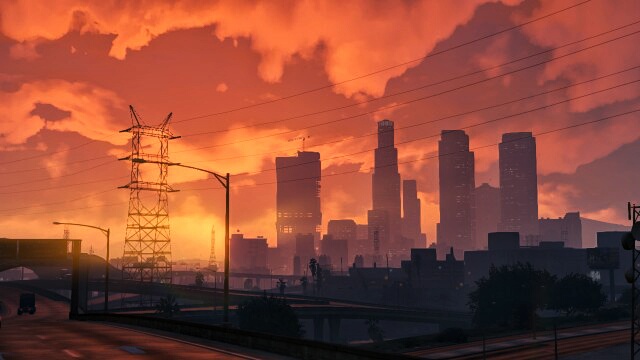 Dulcet amber tones brush across the city of Los Santos.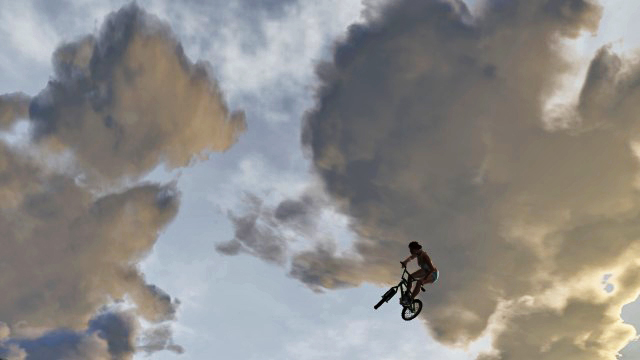 This BMX rider catches major air in this perfectly captured shot.

Previously:
GTA Fan Pics on Instagram & Snapmatic: Epsilon Meta Masochism, Trevor Toons & More
Fan Photos: Snapmatic Selfies and Scenic Photography
Found on Instagram: #RDR Tattoos, Toys and Rockstar Costumes, A Few #GTA Instagram Faves