Eduard Grosu Wins Final 2013 Red Hook Crit Race in Milan and Neil Bezdek Wins the Championship Series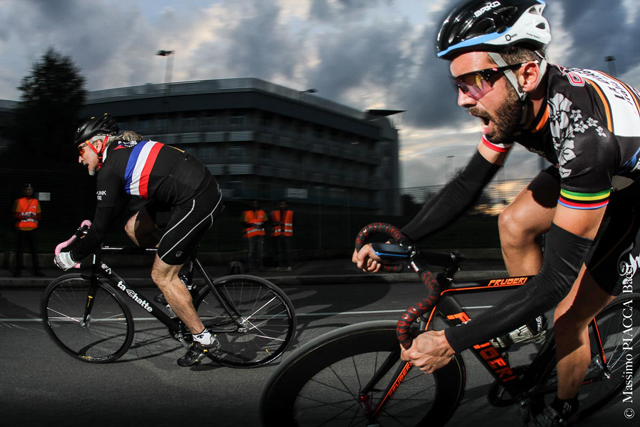 Sprinting racers qualifying for the Criterium. Photo by Massimo Detto Il Bacci.
After an intense series of races from Brooklyn to Barcelona, the 2013 Red Hook Criterium came to its dramatic conclusion with the final leg in Milan, Italy this past weekend. Congrats to Eduard Grosu, who came in first and Neil Bezdek, who was crowned 2013 series champion after a strong 3rd place finish in Saturday's race. 200 riders from over 15 countries vied for the 85 qualifying positions in what wound up being the fastest course in the history of the RHC, according to race organizer David Trimble.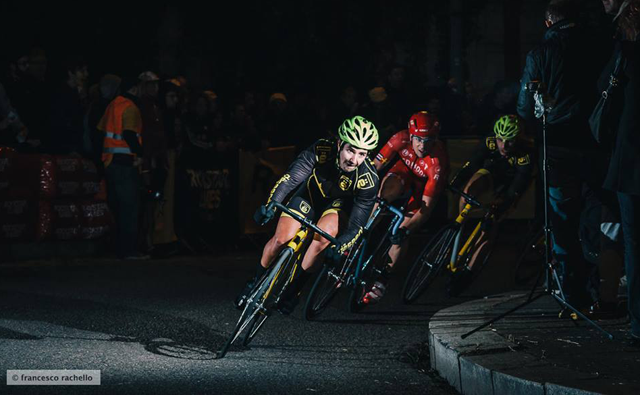 Race winner Eduard Grosu, who set the fastest lap of the race with a 1:38.30 on the final lap. Photo by Francesco Rachello.
For the top riders, the best strategy was to get out in front as quickly as possible, to avoid trouble, set a furious pace and to hold onto the top positions throughout the race. Pre-race favorites, Bezdek, Grosu and Evan Murphy took turns at the front, pushing the pace and trying to break away from the chasing pack. This tactic worked and by the later stage of the race a group of 20 riders had made a significant gap, lapping many of the other riders out the race. Congratulations go out to Grosu for his first RHC win, to Bezdek for taking the championship, and to Stefan Vis, brothers Evan and Kyle Murphy and Rainier Schaefer for their top tier performances throughout the series. Compliments are also in order for race director David Trimble, for creating an incredibly exciting international racing series. Check out the full results for Milan and the overall championship series below, and for more details be sure to check out redhookcrit.com, along with the official Facebook, Twitter, Instagram and Tumblr.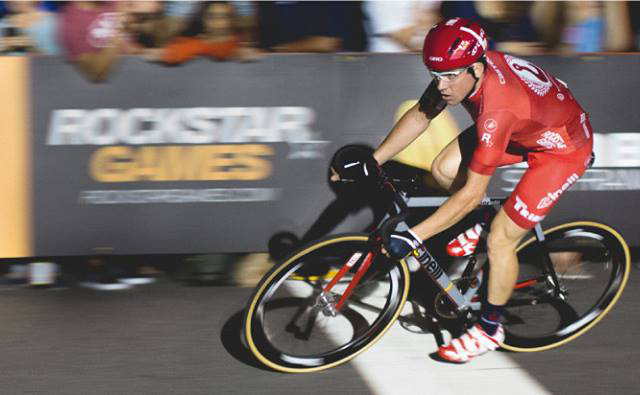 Series Winner Neil Bezdek. Photo by Eloy Anzola.
Red Hook Crit Milano Results
| | |
| --- | --- |
| 1st | Eduard Grosu |
| 2nd | Evan Murphy |
| 3rd | Neil Bezdek |
| 4th | Pablo Lopez Rodriguez |
| 5th | Marius Petrache |
Final Overall Championship Standings
| | | |
| --- | --- | --- |
| 1st | Neil Bezdek | 116 points |
| 2nd | Evan Murphy | 93 points |
| 3rd | Kyle Murphy | 76 points |
| 4th | Stefan Vis | 72 points |
| 5th | Rainier Schaefer | 62 points |
| 6th | Francesco Martucci | 52 points |
| 7th | Walton Brush | 44 points |
| 8th | Pablo Rodriguez | 43 points |
| 9th | Thibaud Lhenry | 42 points |
| 10th | Eduard Grosu | 38 points |
Update: Check out the official video from this year's Red Hook Crit Milano below.
Previously: