Event Recap: The Rockstar Multiplayer Memorial Day Weekend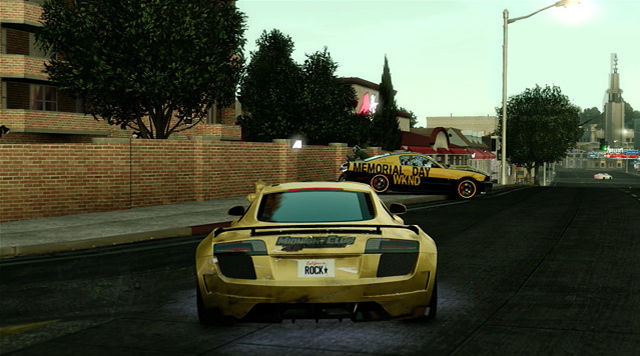 These guys came dressed for the occasion with rides done up in honor of Rockstar and MDW for the Midnight Club LA portion of the day's proceedings.
Here's to all the Memorial Day Weekend warriors who came out in full force both to soak up three full days of Triple XP in Red Dead Redemption and Max Payne 3, but also those who partook in the live-stream Social Club community event we hosted smack dab in the middle of the weekend on Saturday May 25th. It was six epic hours of action playing a cavalcade of Rockstar online modes from across Grand Theft Auto IV, Episodes from Liberty City, Max Payne 3, Table Tennis, Red Dead Redemption and Midnight Club Los Angeles with other Social Club members and with some of us here at Rockstar as well. Thanks as well to all who tuned in to the broadcast at the Social Club Multiplayer Events page and over at the official Rockstar Twitch page keeping the color commentary flowing. Here's a breakdown of just some of the action we saw.
Beginning the day's journey in the mean streets of Liberty City on PS3 with a bit of Team Deathmatch, Team One's LarsDK and MagicShadowZ had the inaugural snuffs on the stream, at the expense of Team Two's Walisson-_-Game and StephanRask1970 (PSN ID), respectively. Our PlayRockstar tried to set the bar high and went hunting after two of the early standouts on Team Two: Nissan_GTR2012, who was impressively mowing down everyone in sight and southparkmayor who turned the tables and straight Kenney'ed us. Seconds after our teammate and Newswire regular ferguson99 deaded kalanchoe88 and LarsDK, that pesky Nissan_GTR2012 stepped out and shut us down. On the upside, it was right at the doorstep of the hospital - thanks for the courtesy. Moments later, Nissan_GTR2012 got a bit of a comeuppance when Walisson-_-Game machine gunned 'em down. With a minute left and desperately trying to catch up, Team Two's jay-bolty (PSN ID) appeared from out of the shadows to ventilate MagicShadowZ. But it just wasn't enough and Team One wound up taking the match, with vince_42069 and LarsDK getting 13 kills apiece and southparkmayor contributing 9. Team Two's top player was good ol' ferguson99 with 7 kills.
A few seconds into a Deathmatch in The Lost and Damned on Xbox LIVE, our PlayRockstar took a pretty ugly shotgun blast to the face, courtesy of
gamefreak23228
. Inspired and thirsty for redemption, we copycatted that kill on
Stormkiller1122
.
CreepyEyeball
then went on a sick tear, taking out gamefreak23228 and
plasticboy199
once and Stormkiller1122 and our guy two times a piece - all in what felt like a heartbeat. More than three minutes into the match, we were desperately trying to add to the one lonely kill to our credit, but that was to be delayed when Stormkiller1122 took us down from behind their ride over by Big Bad Al's. In a period of crossfire down under the Broker Bridge, CreepyEyeball took out Stormkiller1122 and plasticboy199, but not before the latter put us out of our misery. With a little under two minutes to go, we unloaded into Stormkiller1122's vehicle trying to get him with a barrage, but wound up having to open up the car door and fire one from close range to finish the job. Hard target indeed. CreepyEyeball crushed everyone to win the match with 22 kills and $2,332, gamefreak23228 came in second with 8 kills and $842 and Stormkiller1122 came in third with $629 and six kills, many of them unfortunately and painfully at our expense.
In the next Deathmatch, this time on PC and at Francis International, we came with RPGs a blazin'.
GTAplayer2508
blasted sadlybadlyy (GT) and
flashgta10
blew up
MawericK19
to open things up, but PlayRockstarPC soon atomized GTAplayer2508 to get on the board. There was a quick succession of brutal violence -
GTAstorm
took out
Seco94
,
IH8GTAmissions
executed
msever
,
AceSeven
rocked IH8GTAmissions - as MawericK19 pointed out, "THAT escalated quickly." Halfway through the match, it was just one blast after another -
QuAd205
was leading with $2,307, our guy was in second with $1,521 and an apparently avowed free-roamer and multiplayer IH8GTAmissions (GT) was right behind with $1,483. Nearly face to face with Seco94, PlayRockstarPC did not stand a chance, getting absolutely decimated at close range. Soon after, Seco94 also knocked off
Rafioso
, making a slow climb upward in the standings. With two minutes left, Seco94 had moved up to fourth, with QuAd205 still in first with $3,742, GTAstorm in second with $2,742 and flashgta10 now in third with $2,246. Not letting up, QuAd205 continued to hit one player after another - getting msever, Rafioso and
GUSSI111
within seconds of one another. The relentlessness paid off - QuAd205 wound up winning the match with 42 kills and $4,479. With 30 kills and $2,959, flashgta10 was able to get second, inching past GTAstorm, who had 31 kills and $2,868.
Big thanks to
ShenmueSaga
for faithfully capturing the entire event.
We kicked off Max Payne 3 on PS3 with a Deathmatch in Nova Esperança, taking on 7 members of the prolific
Murda Squad Gang Crew (MSK1)
. With a little help from Crew leader
MURDA_SQUAD_LOVE
, we broke our kill cherry on
MURDA_SQUAD_BADZ
. Immediately after, MURDA_SQUAD_LOVE dealt with
showmestate
in an epic faceoff volley of bullets, shooting through doors, walls and ladders - jumping in on the alley-oop we took out showmestate ourselves, by way of a trusty M10. After offing MURDA_SQUAD_ BADZ again with two minutes to go, the Vendetta against us was on. In the meantime,
thembones928
emerged to gun us down with an LMG .30 and
MURDA_SQUAD_FUNK
rocked us with the 608 Bull. Not afraid to shed some blood, Murda Squad lived up to their name, taking the top five slots. MURDA_SQUAD_LOVE, using Weapon Double Dealer and donning a Bomb suit, finished in first with 24 kills. MURDA_SQUAD_FUNK came in second with 23 kills and showmestate was right behind with 22.
Trading the blood for some sweat and tears, it was time next for a little back and forth in Table Tennis in what has become a live-stream favorite amongst the live chat spectators from the past 2 events. We headed to the National TT Auditorium: PlayRockstar playing as the fearless Frenchman, Luc VS IHleisenberg (XBL GT) playing as the masterful Mark. After a 21 count rally, IHleisenberg got on the board first. Things got even more intense on the next volley. Luc's signature ponytail flopping in the air, IHleisenberg made us work it but still wound up taking the point in an epic 86 count volley. Suddenly behind 8-1, it was turning out to be a drag of an afternoon for us. Three serves later, IHleisenberg won the first set easily 11-2. Down 0-2, the second set against IHleisenberg was looking just as bleak for Playrockstar. Refusing to give up, we had two solid volleys in a row, tying things up. That's as good as it got for us - no matter how much spin or power we put on the ball, IHleisenberg just kept delivering and won again, 11-2.
Down but not out, our next opponent on the tables to step up was
GimletGreendog
. Both of us twinned-up playing as Haley, Gimlet struck quickly getting an early jump on us. In it to win it, we had a couple of strong rallies but suddenly found ourselves down 8-4 after some ace shots we couldn't quite return. Our back against the wall, we got up off the proverbial mat and fought Haley Deux with everything we had bringing the score to 9 all. With Gimlet rattled, we were able to capitalize and completed the come-from-behind win, 11-9. All respect due though to Gimlet for a memorable hard fought battle which you can see a glimpse of at 4-minutes into the below in his
highlight reel video
of all the day's events:

Cheers to GimletGreendog for a vigorous game of Table Tennis as well as for creating this awesome highlight reel of his play across all the games that day.
Heading out into the great West in Red Dead Redemption's Chuparosa, we dove into a Gang Shootout on PS3, where
rmarte
of the Cattle Rustlers took out Dutch's Gang's PlayRockstar with a semi-automatic before we even had a chance to squeeze the trigger. With kalanchoe88 headshotting
Deadmin666
and
ferguson99
ending sharkman_90 (PSN ID), the Rustlers won the opening Showdown with ease. Trailing behind $300 to $500, we ironically repped Dutch's Gang whilst taking out our old Dutch friend
Scareface1970
all while simo98Tr (PSN ID) killed kalanchoe88, making it only a $100 difference. Not willing to let go of their team's lead, SwaG_inHD (PSN ID) went on a bit of a spree, offing simo98Tr, Deadmin666 and
miller1945
in a blip. Xx_-NWaaF_-xX (PSN ID) and ferguson99 each helped out by ending PlayRockstar and Captain-bOnEs, respectively. With a little more than halfway to go, the Rustlers were ahead of Dutch's Gang $1900 - $1450. The lead widening, our Dutch's Gang team started to kick things into high gear, beginning with Beaconite6's (PSN ID) death at the hands of
Captain-bOnEs
. Soon after,
MoneyP_Lax
blasted the faces off of Scareface1970, SwaG_inHD and kalanchoe88 and simo98Tr executed Xx_-NWaaF_-xX. Before we knew it, Deadmin666 and Captain-bOnEs had consecutive kills and it was a tie ballgame. With sharkman_90's kill of SwaG_inHD, Dutch's Gang pulled ahead for the first time in the game. Our lead remained until almost the very end. Tying the game with just 10 seconds left, the Rustlers won off SwaG_inHD's decisive murder of MoneyP_Lax. The former was the top overall player with $950 and 19 kills, followed closely by ferguson99 with $900 and 18 kills and simo98Tr with $800 and 16 kills.
On the Xbox LIVE side of things, we rode into Tesoro Azul for a little Hold Your Own. Representing Dutch's Gang,
shavedtrain
shot up TROTTER4THr33 (XBL GT), helping their team win the Showdown against the Miners. Our guy was the first to snag a bag but, despite some excellent protection from
obedientadvice49
, we dropped it when Trotter4THR33 shot us from 28 yards out with the Bolt Action Rifle.
m3THBREATH
grabbed the bag soon after and this time was successful - Dutch's Gang took a 1-0 lead. They wound up grabbing the Miners' loot a second time and, with PlayRockstar getting their back, safely delivered it for capture numéro dos. About 90 seconds later, m3THBREATH was at it again, capturing the third and final bag and thus victory for Dutch's Gang.
Going from the Wild West to the Wesssyde - we closed the day's action out in Los Angeles with players flexing their Midnight Club memberships. PlayRockstar partied with a group of plucky gearheads to push pedal to the metal in a circuit race around Midtown, where a crashing thunderstorm made the asphalt slick, punishing any mistake. With no driver able to push their car flat out through the wet surface, this was a game of inches.
iLewisGTA
took an early lead but one crash sent him spinning and Tchalla75 (XBL GT) was poised to storm out in front. PlayRockstar struggled to navigate the Audi R8 through the pillars in the underground car park and soon found himself floundering in 7th, with toanovatusdios2 (XBL Tag) bringing up the rear. The pack thinned as Tchalla extended his lead, and while goldpanzer took a spill to put him firmly in Rockstar's sights, a poorly timed nitro boost meant that our PlayRockstar was not able to capitalize and ended up finishing last. It was Tchalla75 riding the 07 NINJA ZX14 two-wheeler who eventually took the checkered flag.
Later the group took a stroll down the Promenade in a fearsome pack featuring Skylines and Ducatis. Standing out from the crowd was
LifeOfAStranger
's pearlescent pink Gallardo complete with Powerpuff Girl decals - quite a statement. However, the design of the day goes to
Whisp3ringD3ATH
's awesome Mustang 08 S302, seen up top, which featured a vinyl set created especially for Memorial Day Weekend.
The opening exchanges in that race saw everyone maximizing their draft boosts and picking their moments to strike. iLewisGTA led through the first corner but was blown away by LifeOfAStranger as the pack screamed under the overpass. iLewisGTA got tangled with St34lthyxL34d3r's (XBL GT) bike midway through the first half, allowing PlayRockstar to storm into second, however a misjudged corner into the pedestrian precinct meant that the pack quickly closed in behind. There was no comeback to be had as LifeOfAStranger boldly cemented the lead with a near perfect race.
Fast and fabulous
.
Prize Pack Winners
In addition to a packed day of Multiplayer action and a weekend bounty of Triple XP, we also had a bunch of winners in Social Club sweepstakes. Grand Prize winners
LUGO626
,
Genesicity
and
seloe_1
each will be receiving the collection of vintage GTAIV collectibles including the dart board, pool cue with case and chalk, Swingers foam finger, Tw@ Internet C@fe mouse pad, Statue of Happiness figurine, a pin set, license plate, coasters and stickers. The following runner-up winners will each be receiving a Rockstar Prize Pack with an official t-shirt, GTAIV coasters, Tw@ Internet C@fe mouse pad as well as Rockstar and GTA stickers:
ignacio2693
,
z6qjmr
,
hedgehoggy
,
casanova6669
,
Kevcoolman
,
mistermean
,
KLC_DUKES
,
d-real-noob
,
IceDan001
,
LyleLanley
,
theR2D2midget
,
TheTCD
,
iGrenade
,
VeinStain
,
ChicagoEnigma
,
MrDeWit
,
TheGreatGuero
,
cartoonfreeke
,
LACrew
and
Aaron_Forsaken
.
Thanks to everyone who made the latest Social Club Multiplayer weekend mad fun all around. Be sure to also catch
ferguson99's hourlong video
for more action from the day. We appreciate all of his efforts in the past to capture video in just about all of our events. Stay tuned to the Newswire as we'll post info on the next one soon. In the meantime, here's a few select screens from the 25th, followed by the roll call of attendees according to our records:
Previously: