Rockstar Multiplayer Memorial Day Weekend with 3XP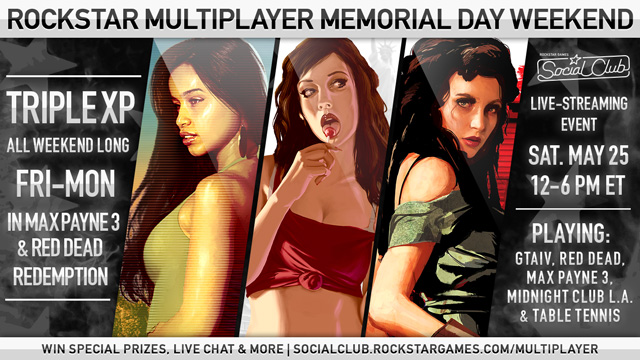 Update: Triple XP is live for Red Dead and Max Payne 3 until Tuesday morning. And thanks to everyone that joined in Saturday for the six hour playsession, including those chatting, watching and entering the sweepstakes on the event page, and those that were playing in-game.
Get ready for a mighty weekend of multiplayer action coming up including Triple XP activated all weekend (Friday through Monday) for Red Dead and Max Payne 3 as well as an epic Social Club community live-streaming play session happening this Saturday May 25th when you'll be able to face your friends – and us – in your favorite Rockstar titles. Feel like taking speed runs in Midnight Club: Los Angeles' Ordered Race? Check. Want to light up someone in a rival Crew? We'll be in full attack mode with Max Payne 3 and Red Dead Redemption. We're also featuring Table Tennis, Grand Theft Auto IV and Episodes from Liberty City, all from 12-6pm EDT / 4-10pm GMT.
If you were feeling the expansive format of our previous multiplayer Saturday, we'll be at it again but to up the ante we're playing in all six games during all six hours. We're also featuring one solid video stream all afternoon so you can follow the action without fumbling between two channels. We'll also have some exclusive limited edition Grand Theft Auto IV Prize Packs to give away.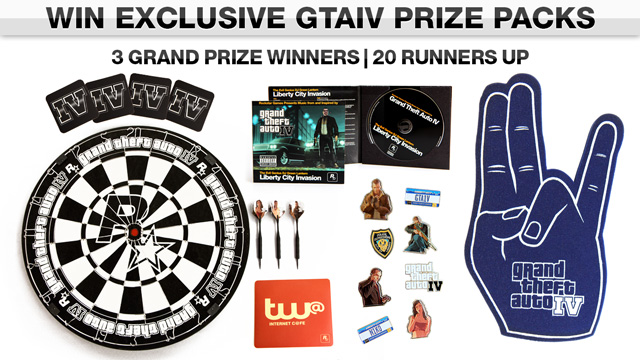 Three Grand Prize winners will receive a full size GTAIV dart board, pool cue with case and chalk, Swingers foam finger, Tw@ Internet C@fe mouse pad, a Statue of Happiness figurine, a pin set, license plate, coasters and stickers. If you don't win a Grand Prize, entering still puts you in for the second random drawing for one of twenty runner-up prize packs, each containing a Rockstar t-shirt, GTAIV coasters, a Tw@ Internet C@fe mouse pad and stickers. Enter on Social Club on Saturday May 25th, and good luck to all.
Again, we'll be playing all six games during all six hours. The schedule below only reflects what you'll be able to watch on the video stream that'll appear on our Social Club and Twitch pages during the afternoon.
GTAIV, 12-1pm EDT / 4-5pm GMT (Streaming on PS3)
EFLC, 1-2pm EDT / 5-6pm GMT (Streaming on Xbox)
Max Payne 3, 2-3pm EDT / 6-7pm GMT (Streaming on PS3)
Table Tennis, 3-4pm EDT / 7-8pm GMT (Streaming on Xbox 360)
Red Dead Redemption, 4-5pm EDT / 8-9pm GMT (Streaming on PS3)
Midnight Club Los Angeles, 5-6pm EDT / 9-10pm GMT (Streaming on Xbox 360)


Gamertags and IDs to look out for during the afternoon:
PlayRockstar (PS3 / Xbox 360 / Max Payne 3 on PC)
PlayRockstar2 (PS3 / Xbox 360)
PlayRockstarPC (GTAIV on PC)